Peanut Butter lovers will go nuts for this Peanut Butter Chocolate Cake featuring rich chocolate cake layered with smooth peanut buttery goodness and topped with rich chocolate ganache.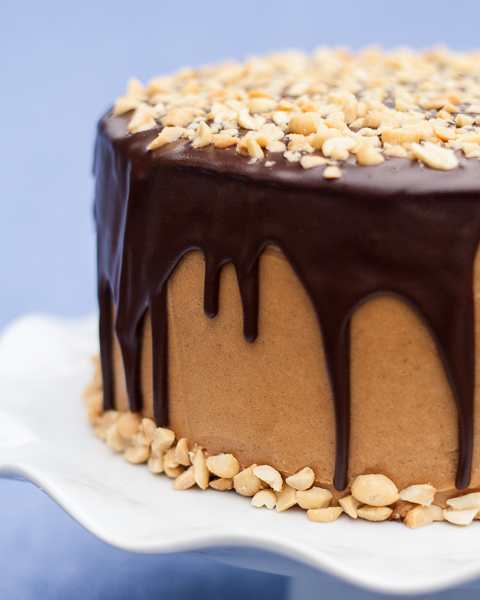 The peanut ban at my kids' new school has my family obsessing about peanut butter. Even though Eliza no longer takes a peanut butter and jelly sandwich to school everyday, we seem to go through more peanut butter than ever.
Perhaps its forbidden nature spurs us on, but I suspect that the frosting on these brownies is largely responsible for our uptick in peanut butter consumption.
In fact, I realized that I've been baking this rich dessert just so I could indulge on its ambrosial peanutty topping. When I admitted this to my husband, he asked how I thought it would taste on chocolate cake.
Since his birthday was coming up in a few weeks, I suggested that we find out then.
Fast forward to his birthday, which coincided with the first day of the BART strike, a transportation nightmare for the entire Bay Area. Rather than assemble the cake early in the afternoon as I had planned, travel delays forced me to throw it together at the last minute.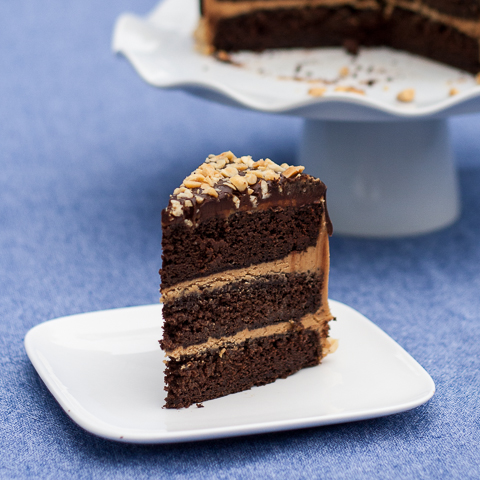 As I attempted to slather frosting on chocolate cake, I realized that, while perfect frosting for brownies, the stuff was far too thick for a cake.
I didn't have time to start over, so I added a bit more cream and spackled the cake. It tasted great, but the frosting's texture needed serious work.
Knowing full well that I'd bake another cake as soon as possible, I pawned the remains off on my parents, who seemed somewhat stunned by our unwillingness to take his birthday cake home with us.
Soon after, I baked another cake and attempted to turn the filling for these Mini Peanut Butter Pies into frosting. Since it's so light and airy, I figured I couldn't go wrong.
It tasted fine, but it includes much less peanut butter in favor of incorporating cream cheese, so it didn't have the strong peanut butter flavor that I've come to crave. Additionally, its airy texture made it difficult to achieve a smooth finish on the cake.
I knew I would bake the cake yet again, so I asked my husband to take the leftovers to work the next day, no small feat since the BART strike forced him to bike the nine-mile commute to his office in downtown Oakland.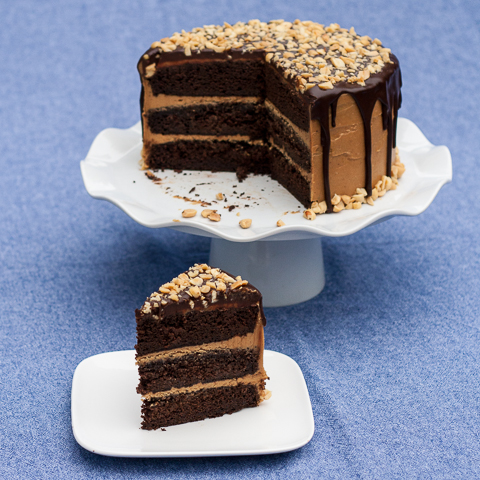 For my next try at this cake, I revisited the original brownie frosting recipe. It seemed only right since it did, after all, inspire the cake in the first place.
I added quite a bit more cream to the mixture than I had before, and, as I watched a smooth consistency whirl together in the bowl of my mixer, I knew I'd finally gotten it right.
Sweet, creamy, and full of peanut flavor, this frosting glides on a cake like magic. Frosting cakes usually stresses me out, but this time I actually enjoyed the process.
And while I usually end up glazing a cake with ganache to cover up my botched frosting job, in this case, I did it just for taste.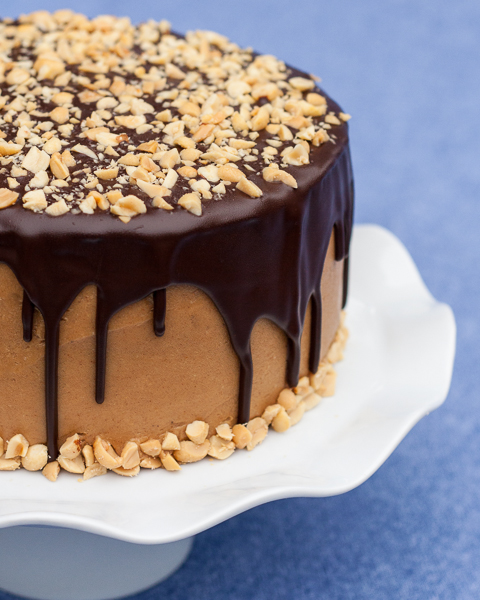 Finally, if a bit late, I created the birthday cake I'd envisioned for my chocolate-and-peanut-butter-loving husband: moist chocolate cake layered with smooth peanut buttery goodness and topped with rich chocolate ganache.
Oh, and the chopped peanuts sprinkled over its glossy chocolate surface added such a satisfying crunch that I'm tempted to add them between the layers next time.
After baking and eating three versions of this cake during a four-day period, we're now completely out of peanut butter.
I'm almost afraid to go get more, but, as far as addictions go, it could be worse.
Some of the links in this post are affiliate links. If you click through and make a purchase, I earn a small commission for my referral at no additional cost to you. Thank you for supporting Flour Arrangements.
Pin Peanut Butter Chocolate Cake for Later

You might also like