Dense and fudge-like, these Cinnamon Chocolate Brownies pull off a gooey texture without feeling under-cooked.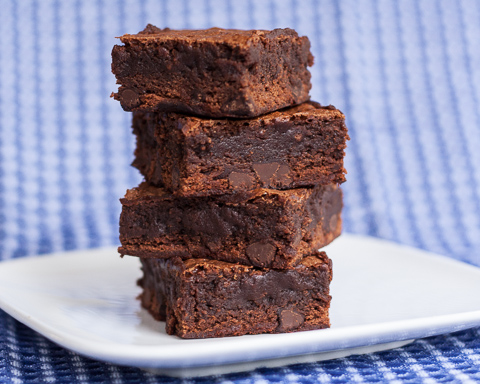 M
y daughter Eliza eats cinnamon sticks. Watching her gnaw them down to nothing makes me squeamish; I always worry that she'll end up with splinters in her mouth, though she swears this never happens.
Clearly my qualms have made me stingy with the supply in my spice cupboard because Eliza requested her own stash of cinnamon sticks for Christmas this year.
In addition to her affinity for eating bark, Eliza also believes that ground cinnamon improves most foods. Whenever I'm baking, be it lemon cake or monkey bread, she always asks me to shake in some cinnamon.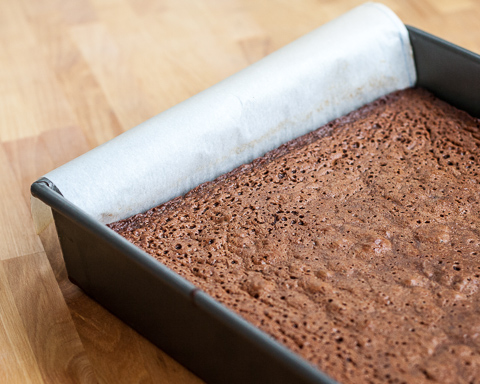 After telling her that the flavor wasn't quite right so many times, I asked if she wanted to bake the cinnamon chocolate brownies with chocolate ganache that she loves so much. She declined, saying that she'd rather create a new recipe because there just aren't enough recipes that include cinnamon.
I felt disappointed; as soon as I mentioned these rich, cake-like brownies topped with a decadent layer of ganache, I wanted them. Mostly, though, I felt concerned about whatever visionary recipe she might suggest. I resisted trying to stifle her creativity, though, and handed her a stack of cookbooks. I tasked her with finding a recipe to tinker with that would make both of us happy.
The first one she showed me — a straight-up chocolate brownie recipe — looked like a winner. She'd even made some notes about what she wanted to change: 1) more vanilla, and 2) add cinnamon. We had everything the recipe called for, so we got to bake them right away. They filled the house with a near-dizzying aroma of chocolate and cinnamon, making it almost impossible to wait for them to bake and cool. Later, I found out that their intoxicating scent had our next-door neighbor salivating as well.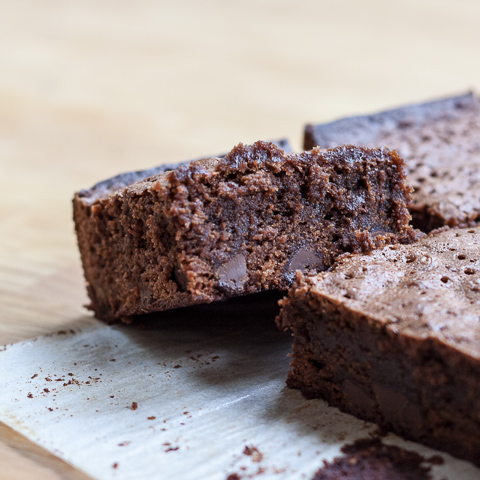 Dense and fudge-like, these brownies pull off a gooey texture without feeling undercooked. They're studded with chocolate chips for extra richness, and a subtle backdrop of cinnamon fills each indulgent bite with an understated sophistication.
I didn't know I needed one more brownie recipe, but I totally did. Remind me to listen to my kid more often.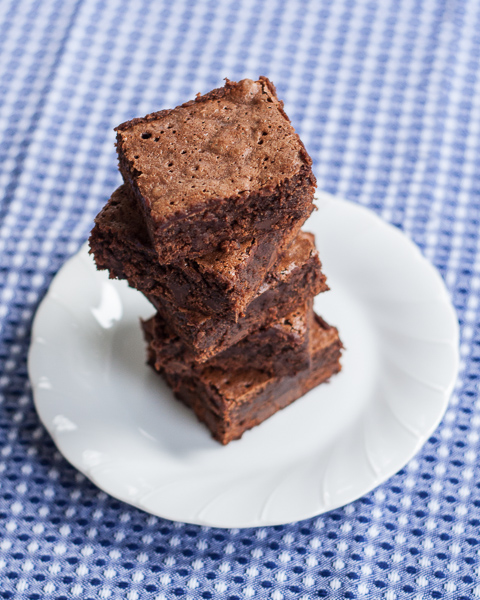 Cinnamon Chocolate Brownies
Adapted from The King Arthur Flour Baker's Companion. Makes 2 dozen 2-inch brownies.
6 ounces unsweetened baking chocolate
12 tablespoons (1 1/2 sticks) unsalted butter
5 large eggs
1 tablespoon vanilla extract
1/2 teaspoon salt
2 1/2 cups granulated sugar
1/3 cup light corn syrup
1 1/3 cups unbleached all-purpose flour
1 teaspoon cinnamon
1 cup chocolate chips
Butter a 9-by-13-inch pan, and then add a layer of parchment paper, leaving the edges long enough to lift the brownies out of the pan once cool or easier slicing. Butter the parchment paper, pressing it to adhere smoothly to the pan.
Melt chocolate and butter in a medium saucepan over low heat. Set aside to cool slightly.
In the bowl of a standing electric mixer, beat eggs, vanilla, salt, sugar, and corn syrup together until light and fluffy, about 6-8 minutes.
Stir flour and cinnamon into the chocolate-butter mixture. Fold the chocolate batter into the egg mixture until well-combined. Stir in chocolate chips.
Spread the batter in the prepared pan. In an oven preheated to 375° F, bake for 35 minutes, until the top is crisp, but a toothpick inserted in the center comes out coated with chocolate.
Remove brownies from the oven and cool completely before slicing.
Some of the links in this post are affiliate links. If you click through and make a purchase, I earn a small commission for my referral at no additional cost to you. Thank you for supporting Flour Arrangements.