Pastel fondant hearts and a customizable letter stamp help create a personalized conversation hearts cake.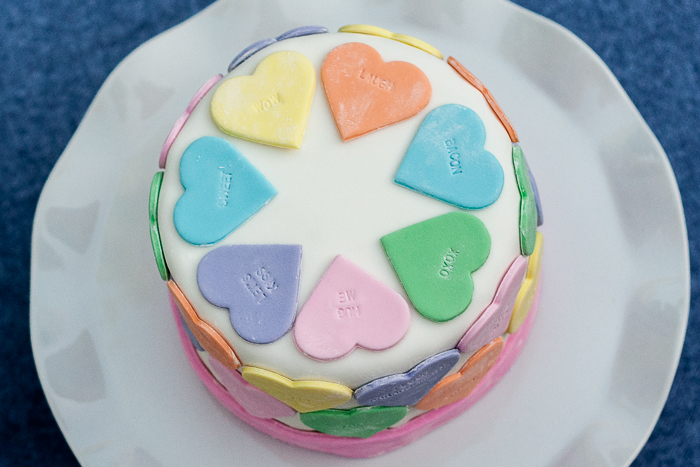 I've been thinking about conversation hearts ever since ever since I stumbled across the poem "Valentine "in the sidewalk near the Ferry Building in San Francisco last November.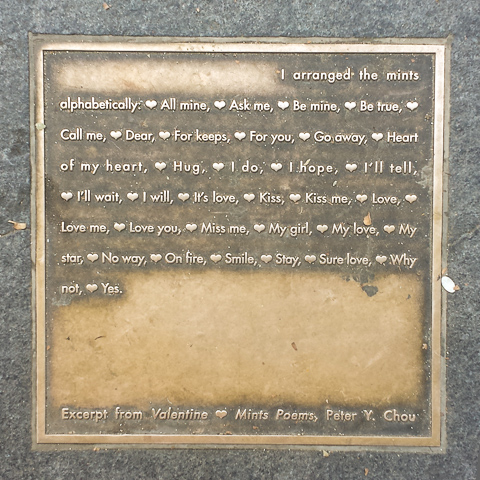 I always stop when I see a bronze poetry plaque embedded in the sidewalk, even when I'm in a hurry. Since these poems fit inside a small square, they're usually short enough not to slow me down too much (although they typically come in multiples), but they often stay with me for quite some time. In this case, I love how this alphabetical arrangement of conversation hearts tells a story.
Since I'd been thinking about candy hearts for months, as soon as Valentine's day approached, I decided to make my own conversation heart creation in the form of a cake.
I'd already made a heart cake a few years ago. While that particular cake's multiple tiers made it an elaborate project, its pattern of repeating white hearts was simple yet stunning. To make a conversation heart cake, I just needed to figure out how to put sweet sayings on pastel colored hearts.
When I mentioned the cake idea to my husband, he ran down to our basement without a word and started digging through unpacked boxes still piled high from our move.
I couldn't see him amid all that clutter, but I called out to ask him what he was doing. In a muffled reply, he said he had just the thing I needed for my project.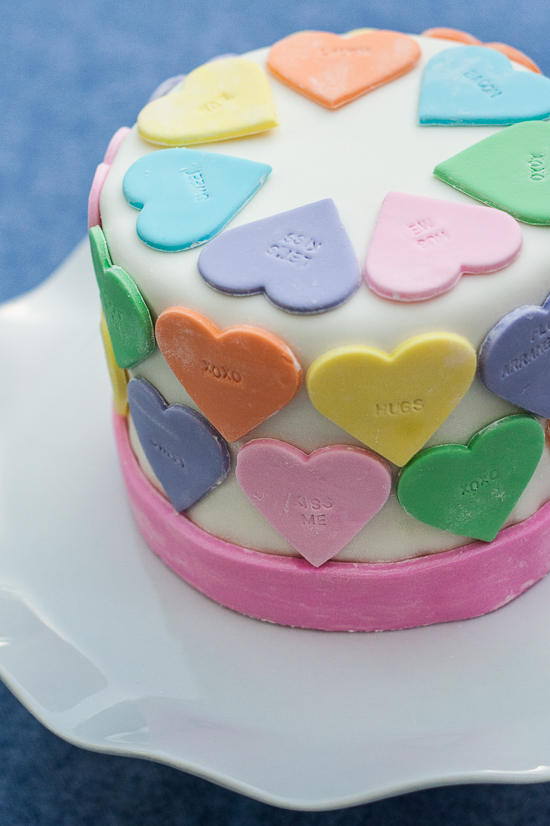 I didn't press him because I assumed he'd never find whatever obscure tool he thought remembered owning once upon a time. Most of the boxes in our basement sat in storage for five years while we lived in Friday Harbor; we rarely missed anything inside them, and, after all that time, I can hardly remember what's in them anymore.
While the boxes are all carefully marked with black Sharpie, their labels entertain rather than elucidate; the friends who helped pack our house scribbled words like "leopard-print man things" and "little french maid outfits" on them.
Miraculously, he emerged from the chaos in record time holding two small customizable alphabet stamp kits. Instantly, I saw how right he was: I totally needed them for imprinting messages on my fondant hearts.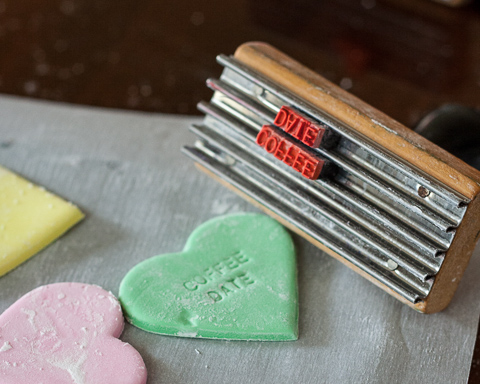 I hadn't even known that such kits existed, but it didn't surprise me that my hoarder husband had, not one, but two of them stashed in our basement. On the spot, I swore I'd make an effort to relax about the uncatalogued jumble of paraphernalia plaguing the basement.
When I finally got to work making fondant conversation hearts, it took some time getting used to mirror-image spelling, and I eventually gave up on the idea of dipping the letters in pink decorating gel to color the words; it just never filled the letters consistently enough to make it worth the trouble and mess.
I also gave up on the idea of creating a different saying for every single heart on the cake. Assembling each phrase took a fair bit of time, so it seemed a shame to stamp just one heart after all that trouble.
I managed to make way more fondant hearts than the 27 needed to cover my three-layer, six-inch lemon-raspberry swirl cake.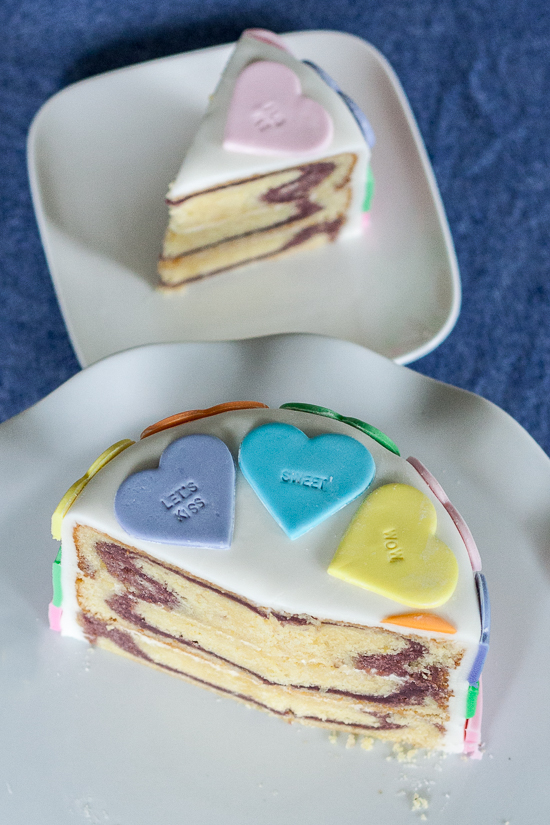 I promised the remaining stacks of colored hearts to my kids for some project they're dying to create, but before I hand them off, I'm going to go imprint one with "MY TREASURE" for my husband.
He can read it as a sweet token of my affection, or, if he likes, he can hand it to me next time I start getting pissy about all the crap in our basement.