Chock-full of chocolate chip cookie dough enveloped in rich fudge brownie and neatly packaged in smooth dark chocolate, these Chocolate Chip Cookie Dough-Brownie Bonbons are deliciously indulgent.
My 15-year-old niece and I baked like maniacs during her recent visit from New Mexico for spring break. On her second day at our house, she asked when we could start baking; I handed her a pad of paper and told her to make a list of ideas to try.
I love that we experimented with recipes I never would have attempted my own, like chocolate chip cookie dough-brownie bonbons.
I have to admit that I felt skeptical about these little treats as we got started. Since both cookie dough and brownies shine gloriously in their own right, was it really necessary, I wondered, to combine them?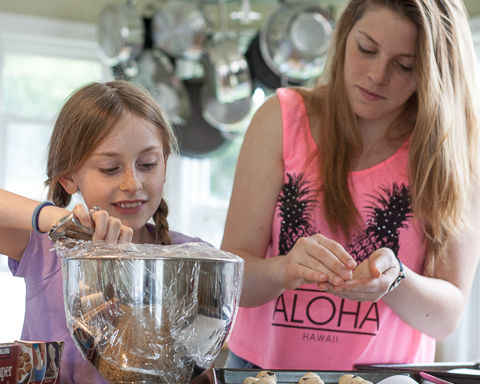 But when I finally sunk my teeth through those layers of goodness, I realized that yes, in fact, it really was.
Imagine, if you will, the pure perfection of chocolate chip cookie dough enveloped in rich fudge brownie and neatly packaged in smooth dark chocolate. If like I did, you are thinking that this extravagant combination sounds like a cacophonous competition, think again.
Rather than compete, the mouthwatering flavors in each sweet element harmonize. And since the cookie dough is raw and the brownies are baked, their contrasting textures make the eating of one (or say, eight) of these little bonbons much more satisfying than eating mere cookie dough or brownie alone.
Here's maybe the best part: you can eat them gluttonously without looking like a complete slob. The outer chocolate coating adds richness and elegance while helping to keep your fingers clean.
Before you protest that chocolate melts on your fingers, rest assured that while this might be technically possible, nobody in my house managed to hold on to one of these bonbons long enough to test that theory.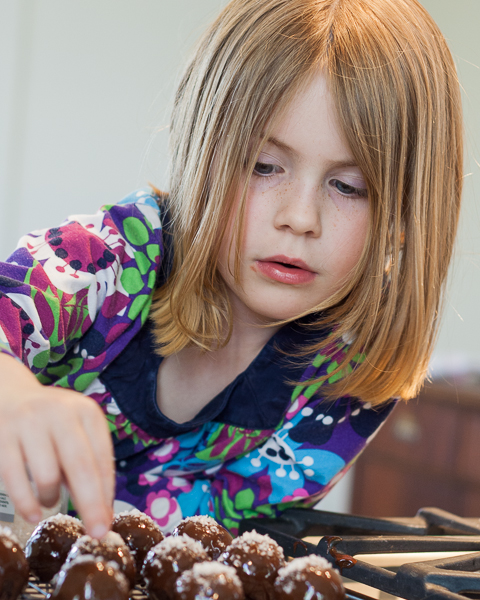 But I'm getting ahead of myself. Before you can get your dainty fingers on one of these bonbons (or "bomb bombs," as they're affectionately called at my house), you'll have to make a mess several times over.
There's the baking of brownies, the mixing of cookie dough, the shaping of cookie dough balls, the mashing of brownies around dough balls, and the submersion of brownie covered dough balls in molten chocolate.
It sounds like a lot of work, I know, but take it from a converted skeptic, it's worth every bit of effort and clean up along the way.
Chocolate Chip Cookie Dough – Brownie Bonbons
Inspired by The Domestic Rebel.
Chocolate Chip Cookie Dough - Brownie Bonbons
Ingredients
Brownies:
1/2

cup

unsalted butter

1

cup + 2 tablespoons

granulated sugar

1/2

cup + 2 tablespoons

cocoa powder

1/2

teaspoon

salt

1/2

teaspoon

baking powder

1 1/2

teaspoons

vanilla extract

2

large eggs

3/4

cups

unbleached all-purpose flour
Cookie Dough Filling:
1/2

cup

butter

softened but still cool

1/2

cup

brown sugar

1/4

cup

granulated sugar

3/4

teaspoon

salt

1/2

teaspoon

vanilla extract

2 1/2

tablespoons

heavy cream

1 1/4

cups

unbleached all-purpose flour

1

cup

mini chocolate chips
Chocolate Coating:
16

ounces

dark chocolate

chopped

sea salt

for sprinkling
Instructions
To prepare brownies, butter a 9-by-9-inch pan, and then add a layer of parchment paper, leaving the edges long enough to lift the brownies from the pan once cool for easier slicing. Butter the parchment paper, pressing it to adhere smoothly to the pan.

Melt butter in a small saucepan over medium heat. Add sugar and stir to combine. Continue to cook until the mixture is hot but not bubbling; it will become shiny as you stir it. Transfer mixture to the bowl of a standing electric mixer. Stir in cocoa, salt, baking powder, and vanilla. Add the eggs, one at a time, beating until smooth. Add flour, stirring until well combined.

Scrape the batter into the prepared pan, spreading it as evenly as you can.

Bake for 20 to 25 minutes in an oven preheated to 350°F, until a toothpick inserted in the center comes out clean. Remove from the oven and cool to room temperature on a rack.

While the brownies bake, prepare the cookie dough filling. Beat butter, sugars, and salt on medium speed in the bowl of a standing electric mixer until light and fluffy. Add vanilla and cream and mix well. Add flour and mix on low speed until incorporated. Stir in chocolate chips by hand.

Immediately shape the dough into scant 1-inch balls (about 2 teaspoons each). Arrange dough balls on a baking sheet lined with parchment paper. Freeze the dough while the brownies cool (if making in stages, make sure you freeze the cookie dough balls for at least an hour).

To assemble, cut brownies into 1-inch squares. Squish the brownies and press them around the cookie dough balls, adding more brownie if necessary to create an even coating around each ball. Place brownie coated balls in the freezer while you prepare the chocolate coating.

Melt chocolate in a bowl set over simmering water (even if you have a double boiler, a bowl's sloped sides work better for dipping), stirring frequently until the chocolate is smooth and liquid.

Working one at a time, set cookie balls on the flat surface a fork (not speared!) and dip them into the chocolate, coating each one completely. Tap the fork on side of the bowl to remove excess chocolate before returning balls to to the lined baking sheets. Sprinkle each bonbon with sea salt just after dipping, if desired.

Chill chocolate-dipped balls until set. Store, chilled, in an airtight container for up to 1 week.