Subtly spiced with cardamom and nutmeg, this Rustic Nectarine Cake highlights the succulent sweetness of summer stone fruit.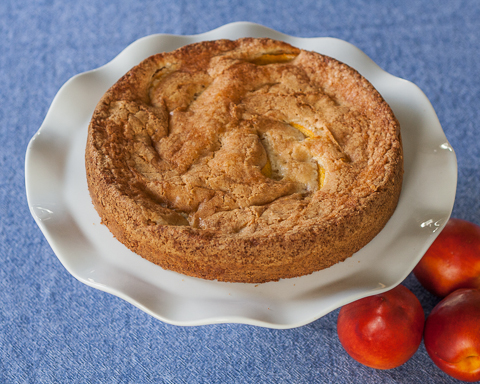 Lately, when I feel inspired by an elaborate baking project, I try to resist. It's summer. I'd rather toss a Frisbee at the park with my girls or splash in the waves with them at Muir Beach.
In the dark days of winter, I can get fancy perfecting a lemon meringue cake. For now, I'm keeping dessert simple.
I love elaborate cakes, and their splendor certainly has its place, but some days call for the understated elegance of a rustic nectarine cake.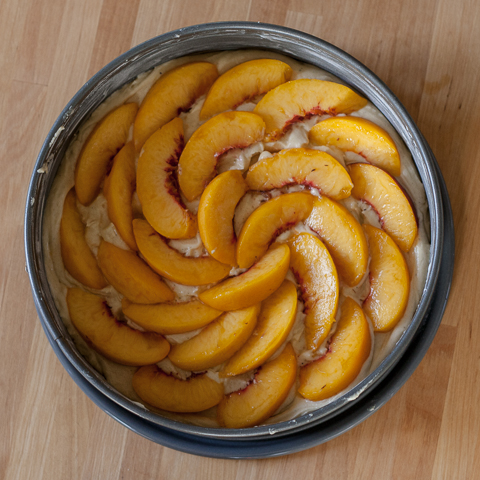 Wedges of juicy nectarine nearly disappear during baking into a thick batter subtly spiced with cardamom and a dash of nutmeg.
A suggestion of succulent fruit peeks through here and there in the cake's uneven, textured surface, but those bright wedges of fruit glow like amber jewels on the edge of each perfect slice.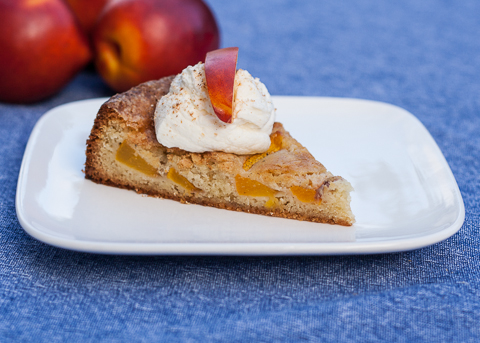 It tastes just as good as it looks, this combination of sweet cake and luscious, juicy stone fruit. A dollop of whipped cream is really all the adornment it needs, but feel free to add a dusting of nutmeg and a slice of nectarine if you can't help yourself.
Here's the best part: I can get this cake into the oven in the time it takes my daughters to finish their breakfast. And by the time everyone is dressed and ready for adventure, it's cooling on the rack.
Summer's calling. Let's have our cake and eat it, too.
Nectarine Cake
There's no need to peel the nectarines for this cake, but the last time I made it, most of the skin fell off of its own accord I arranged fruit slices. If the peel sticks stubbornly, leave it intact. You won't notice it a bit. Adapted from my mom's berry cake recipe.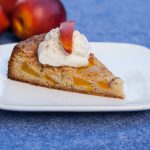 Print Recipe
Nectarine Cake
Ingredients
1/2

cup (1 stick)

unsalted butter

1

cup + 1 tablespoon

granulated sugar

divided

1

teaspoon

vanilla extract

1

cup

unbleached all-purpose flour

1

teaspoon

baking powder

1/2

teaspoon + 1/8 teaspoon

cardamom

divided

pinch

freshly grated nutmeg

1/8

teaspoon

salt

2

large eggs

2-3

nectarines

halved and sliced
Instructions
Beat butter in the bowl of a standing electric mixer until light and fluffy. Slowly stir in sugar and then beat on high speed until well mixed, 2 to 3 minutes.

Add eggs, one at a time, beating thoroughly after each addition. Add flour, baking powder, cardamom, nutmeg, and salt. Stir to combine and then beat on high speed until the stiff batter is well blended, about 2 minutes.

Scrape batter into a buttered, flour-dusted 9-inch spring-form pan. Spread the thick batter evenly to the pan's edges. Arrange nectarines atop of the batter, spacing them as closely together as you can without overlapping them. Mix the remaining 1 tablespoon sugar with 1/8 teaspoon cardamom and sprinkle it evenly over the fruit.

Bake at 350° F on the oven's center rack until the cake begins to pull away from the pan rim, about 55 minutes. Run a thin metal spatula between the cake and pan rim. Allow to cool for at least 10 minutes before serving.

Remove cake from pan and serve with lightly sweetened whipped cream, if desired.