These zucchini pancakes — featuring grated squash tossed with leeks, herbs, and blue cheese — taste fantastic with spicy dipping sauces.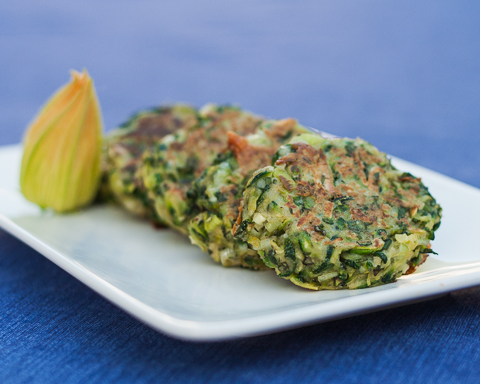 We're currently keeping up with our zucchini crop by sharing squash with willing takers, but I can see that soon I'll need to start doorbell ditching our prolific harvest on people's front steps.
For now, though, we've managed to feast on zucchini for days without repeating a recipe: zucchini & basil pasta, zucchini & rosemary soup, sauteed zucchini, and zucchini pizza. My favorite summer squash recipe so far, though, has to be zucchini pancakes.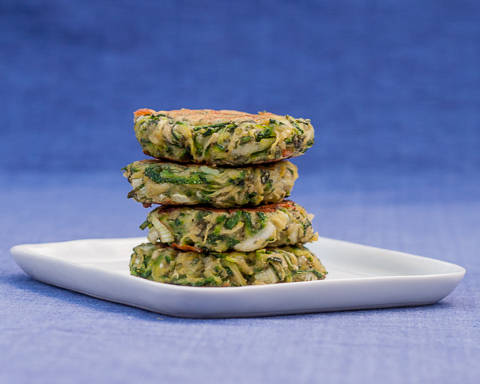 Once grated and tossed with leeks, garlic, herbs, and blue cheese, zucchini takes on a whole new personality. Eggs, a bit of flour, and a couple handfuls of breadcrumbs bind the mixture together in a thick, textured batter.
Fried on the griddle and served with spicy dipping sauces, these pancakes make a perfect appetizer for any summer party, but if you like them as much as I do, three or four make a fine meal alongside a tossed green salad. They're flavorful and tender, and they taste quite rich, despite the fact that they're mostly vegetables.
Since my street's having a block party next week, I think I'll make a double batch to share, although this may tip my hand when I resort to sneaking around decorating doorsteps with zucchini.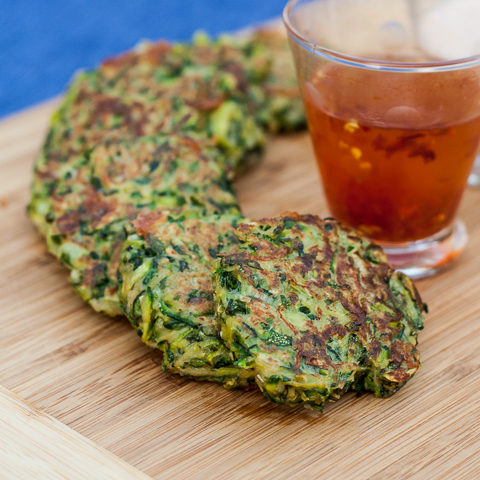 Zucchini Pancakes with Basil and Blue Cheese
My daughter decided to add maple syrup to our dipping sauce line-up and loved it, but I don't recommend it. Make the sauces ahead of time if you plan to serve them so they'll be ready when your pancakes come off the griddle.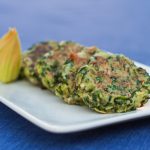 Print Recipe
Zucchini Pancakes with Basil and Blue Cheese
Ingredients
For the Pancakes
2 1/2

pounds

zucchini

salt

2

large eggs

lightly beaten

1

large leek

white and pale green part, halved and thinly sliced

2

cloves

garlic

minced

1/2

cup

chopped fresh basil

1 1/2

tablespoons

chopped fresh chives

1/2

cup

grated blue cheese

packed

1/4

cup

unbleached all-purpose flour

1/2

cup

dry, unseasoned breadcrumbs

salt and pepper

to taste

2

tablespoons

olive oil

for frying
For the Sweet & Spicy Chile Sauce
1/4

cup

water

1/4

cup

granulated sugar

1/2

cup

unseasoned rice vinegar

3/4

teaspoon

salt

1

tablespoon

sambal oelek sauce

chile garlic sauce
For the Sour Cream Chile Sauce
1/2

cup

sour cream

1/2

teaspoon

salt

1

tablespoon

sambal oelek sauce

chile garlic sauce
Instructions
Shred zucchini using a grater or food processor. Transfer to a large colander and sprinkle generously with salt. Toss and set aside.

Mix eggs, leek, garlic, basil, chives, and cheese in a large bowl. Add flour and bread crumbs and mix to combine. Set batter aside.

Rinse the zucchini and then use your hands or a towel to squeeze excess liquid from the squash. Add zucchini to the batter and mix well.

Heat griddle or a frying pan to medium-high heat. Brush cooking surface with oil before adding dollops of batter using a 1/4 cup measure filled about 3/4 full. The batter will be very thick and may need coaxing from the measuring cup. Gently flatten the pancakes and fry until golden brown on the bottom, about 4 minutes. Turn and brown the second side. Repeat with remaining batter, keeping finished pancakes warm in an oven heated to 200° F.

If desired, serve with dipping sauces. For the Sweet & Spicy Chile Sauce, bring water and sugar to boil over medium heat, stirring frequently until sugar dissolves. Remove from heat and add remaining ingredients. Cool sauce, and chill, covered, for at least an hour.

For the Sour Cream Chile Sauce, combine all ingredients in a small bowl. Chill, covered, until ready to serve.
Pin It For Later

You might also like
Baked Brie with Honeyed Cherries & Toasted Pecans
Jenga Veggie Tower with Creamy Cilantro Dip
Cheese-Stuffed Monkey Bread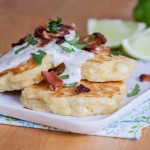 Savory Corn Pancakes with Cilantro-Lime Sour Cream