This S'mores Tart's decadent graham cracker-inspired crust holds a thick layer of chocolate ganache topped by homemade marshmallow fluff.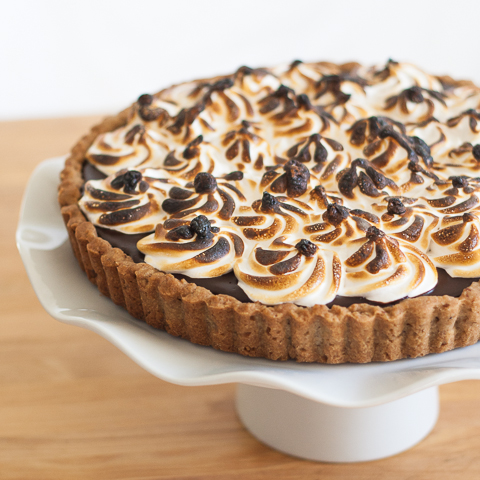 My friend Peg always brings her train case camping. This small boxy suitcase contains essentials like toothpaste and deodorant, but more importantly, it contains the necessaries for fireside facials.
When the time finally comes to tuck our overtired kids into their sleeping bags, Peg always sets large pot of water to warm over the campfire. After bedtime stories, goodnight kisses, and urgent, last-minute bathroom runs, regrouping around the fire feels downright luxurious with warm washcloths to wipe away the day's gritty layer of sweat, dust, and s'mores.
Peg, thank God, doesn't stop at fuzzy washcloths. She comes equipped with gentle cleansers, detoxifying masks, and emollient-rich creams. I'm pretty sure I take better care of my skin on our camping trips than I do at any other time of the year.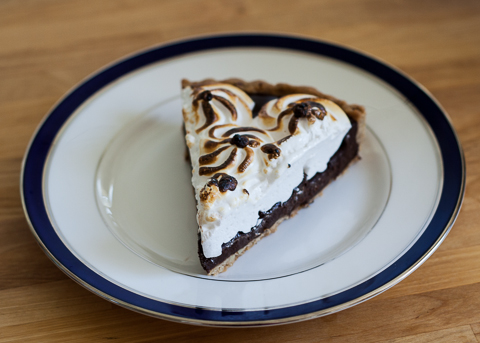 One night, before the masks' tightening effects stifled conversation, someone proposed starting a spa truck business to help the less fortunate campers of the world. As the evening progressed, inspired by toned skin, cold drinks, and a warm fire, we outlined a kick-ass business plan for the Spuck. This simple, short combination of the words "spa" and "truck" says it all. It also lends itself to the perfect tagline: "What the Spuck."
Unfortunately, this brilliant plan has not yet come to fruition. Maybe someday, in a different time or place, my friends and I will finally become professional Spuckers. Until then, I'm offering up this very Spuck-worthy dessert: the s'mores tart.
This tart captures the essence of campfire s'mores with a more dignified delivery system — no gooey marshmallow or melted chocolate will ooze up your nose as you bite down on your dessert.
Served on a dish, its decadent graham cracker-inspired crust holds a thick layer of chocolate ganache topped by homemade marshmallow fluff.
Whether you tuck in daintily with a fork or just dive in with your fingers, unless you're my six-year-old daughter, you probably won't look like a mess once you've finished a slice.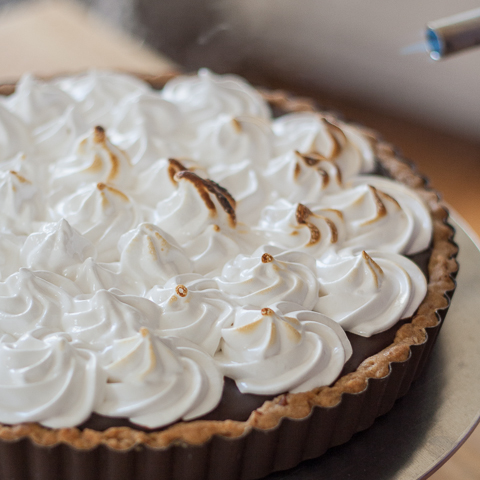 Homemade marshmallow fluff is, to be sure, the stuff of poetry. I've never really understood this gooey white confection before, despite the fact that my husband speaks reverently about eating it with pineapple as a child. I can see it now, though: this sweet, ethereal version will taste ambrosial with the pineapple dessert that I totally owe my husband. If you have any ideas for combining these two, send them my way.
Not only does homemade marshmallow fluff taste amazing, toasting it feels damn satisfying. If you don't yet own a kitchen torch (or a soldering torch, which we're tough enough to use here at our house), never fear, this fluffy stuff will toast under the broiler just fine.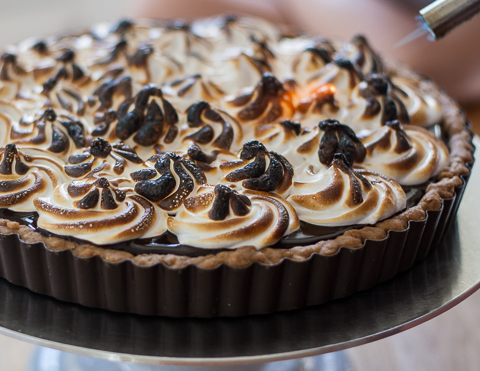 This dessert's impressive and delicious, and it may well inspire you to plan your next glamping trip. Honestly, though, it's best enjoyed at home.
Sure, you could top the tart fire-side with marshmallows toasted on sticks (like we did with these little tarts), but then you'd miss the unbelievable deliciousness of fresh marshmallow fluff. And seriously, you don't want to do that.
S'mores Tart
Marshmallow fluff recipe from Love and Olive Oil.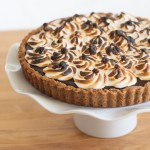 Print Recipe
S'mores Tart
Ingredients
Tart Crust
9

tablespoons

unsalted butter

melted

1/3

cup

packed brown sugar

1

teaspoon

honey

1/4

teaspoon

salt

1/2

teaspoon

ground cinnamon

1/3

cup

toasted pecans

chopped

1

cup

unbleached all-purpose flour

1/4

cup

whole wheat flour
Ganache
12

ounces

bittersweet chocolate

finely chopped

1 1/2

cups

heavy cream
Marshmallow Fluff
2 1/4

teaspoons

unflavored gelatin

(1 packet)

1/2

cup

cool water

divided

3/4

cup

granulated sugar

1/2

cup

corn syrup

divided

1/2

teaspoon

vanilla extract
Instructions
To make the crust, mix butter, brown sugar, honey, cinnamon, salt, and pecans in a medium bowl. Add flours and stir until just blended. Press the dough evenly over the bottom and up the sides of a 12-inch tart pan with a removable bottom. Generously prick the bottom and sides with the tines of a fork. Bake in the lower third of an oven preheated to 350° F until the crust is pale golden, about 20 to 25 minutes. Cool.

For the ganache, place chopped chocolate in a large measuring glass with a pour spout; set aside. Bring cream to a boil over medium heat. Pour hot cream over the chocolate; without stirring, let the cream-chocolate mixture sit for 2 minutes. After 2 minutes, stir with a rubber spatula until the mixture is smooth and glossy.

Acting quickly, pour ganache into the prepared crust. Carefully pick up the tart pan, tilting and rotating to spread the ganache to the edges as needed. Refrigerate uncovered while you prepare the marshmallow fluff (okay to refrigerate until completely set if preparing ahead of time).

To prepare marshmallow fluff, add 1/4 cup cold water in a small dish. Sprinkle gelatin over and let sit for 5 minutes to soften. Swirl or stir liquid and then heat in the microwave on high for 5 to 10 seconds until completely dissolved. Set aside.

In a small saucepan, bring sugar, remaining 1/4 cup water, and 1/4 cup corn syrup to a boil over medium-high heat, stirring occasionally. Continue cooking until mixture reaches 240° F on a candy or instant-read thermometer.

Combine remaining 1/4 cup corn syrup and the gelatin mixture in the bowl of a standing electric mixer. Mix on low speed to combine with the whisk attachment, and then slowly drizzle in hot sugar syrup, aiming for the side of the bowl rather than the whisk. When all the syrup has been added, increase speed to medium-high and mix for 5 minutes. Add vanilla extract and then increase to the highest speed and continue mixing until marshmallow is opaque, glossy, and tripled in volume, about 5 more minutes.

Immediately transfer marshmallow to a piping bag fitted with a large star tip. Pipe heaping dollops of marshmallow around the tart's outer edge and work your way toward the center, filling in any gaps at the end. Alternatively, spread the marshmallow fluff over the chocolate ganache with a spatula, using the back of a large spoon to create peaks and texture (if going this route, allow ganache to chill completely).

Allow the marshmallow to set for at least 30 minutes before gently toasting with a kitchen torch. If you don't have a kitchen torch, place the tart under the broiler until golden brown, watching carefully so it doesn't over-brown.

Refrigerate for at least 30 minutes before serving for easier slicing. This tart keeps well in the refrigerator for up to two days.
Some of the links in this post are affiliate links. If you click through and make a purchase, I earn a small commission for my referral at no additional cost to you. Thank you for supporting Flour Arrangements.