Give stale bread new life in a simple, flavorful Tuscan Bread and Tomato Salad. Garden-fresh tomatoes really shine in this easy-to-prepare recipe.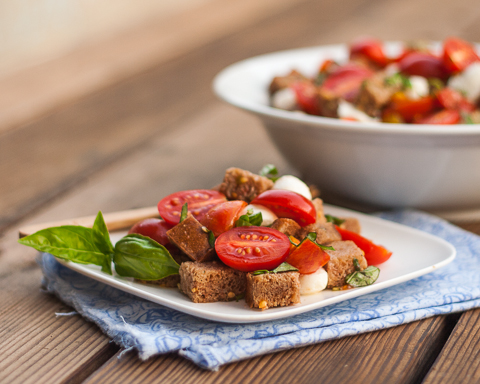 Most of the time, my family can't keep up with the steady stream of food experiments taking shape in my kitchen. Fortunately, disposing of cupcakes, cookies, and brownies — even imperfect ones — is easy to do; I can usually count on neighbors or friends to take excess sweets off our hands.
But when it comes to bread, it's a totally different story. Even if I have it in abundance, I'm often not willing to share. With cupcakes, I don't actually want to eat two dozen by myself; somehow, though, when left alone with them, I accidentally do. Unlike dessert, bread usually plays a supporting role, and this makes it super versatile. I WANT to eat all of it!
Even when bread starts to stale (which it tends to do if you're a hoarder ), I see it as an opportunity: cubed and frozen, it's great to have on hand for making stuffing, fresh croutons, or bread pudding. I love to stockpile it, and I'm pretty good about slicing it up before it's too late.
Just the other day — knife in one hand and the remains of a rock-hard rustic loaf in the other — I eyed the sheer mass of garden tomatoes lining my kitchen counter. This time, I decided to skip freezing — this loaf was destined for immediate consumption in the form of Tuscan bread and tomato salad.
Not only does Tuscan bread and tomato salad (or panzanella if you're feeling fancy and Italian) pack serious flavor, it comes together quickly and easily. After cubing and toasting bread, toss it with the rest of the ingredients — olive oil, balsamic vinegar, salt and pepper, tomatoes, basil, and mozzarella — and you're done.
Homegrown tomatoes never need much help to shine, and, as usual, they're the star attraction in this simple salad.
As their juices soak into the bread along with oil and vinegar, the result is spectacular, especially with several generous handfuls of chopped basil and some tender, fresh mozzarella in the mix.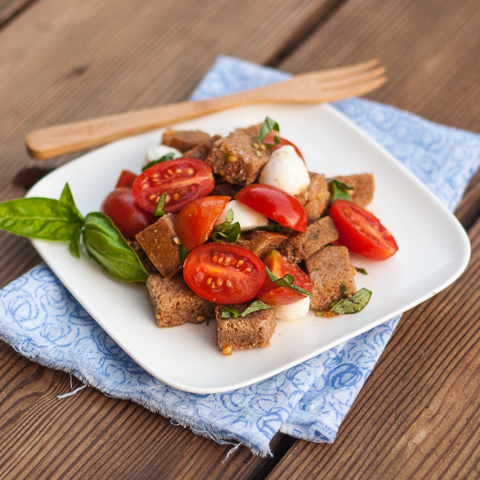 I tossed our salad right before dinner under the mistaken impression the bread would get too soggy if it sat for too long. As dinner progressed, along with multiple helpings of this addictive dish, we realized that the salad tasted better after the bread had a chance to soak up its mingled flavors. It even held up great as leftovers for lunch the next day, so I needn't have worried.
This simple salad gives me one more reason to hold on to all those extra loaves of bread. Sorry, neighbors.
Tuscan Bread and Tomato Salad
Adapted from Sunset Magazine.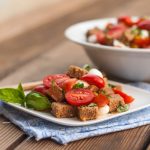 Print Recipe
Tuscan Bread and Tomato Salad
Ingredients
7

tablespoons

olive oil

divided

2

tablespoons

unsalted butter

3

cloves

garlic

coarsely chopped

10

cups

bread cubes from a rustic crusty loaf

(about 1 pound)

2

tablespoons

balsamic vinegar

1 1/2

teaspoons

kosher salt

plus more to taste

1/4

teaspoon

freshly ground black pepper

2-3

pounds

tomatoes

chopped

1

cup

loosely packed basil leaves

snipped in ribbons and divided

8

ounces

fresh ciliegine

(small mozzarella balls) halved
Instructions
In a large, ovenproof skillet, combine 2 tablespoons of the olive oil, the butter, and garlic. Warm over medium heat until the butter melts.

Add bread cubes to the skillet and toss to combine. In an oven preheated to 350° F, bake until golden, about 15 minutes, tossing several times during baking. Remove from oven and let bread cool in the pan.

In a large bowl, combine remaining olive oil, balsamic vinegar, salt, and pepper. Mix gently to combine. Stir in bread, tomatoes, about 3/4 of the basil, and mozzarella. Season with additional salt if needed.
Pin Tuscan Bread and Tomato Salad for Later

You might also like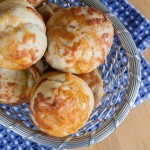 Olive & Prosciutto Pizza Rolls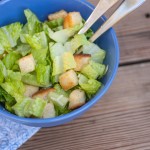 Caesar Salad with Homemade Croutons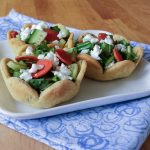 Cracker Cups with Salad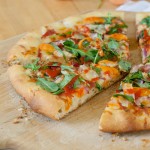 Apricot & Prosciutto Pizza with Sriracha & Honey