With their subtle hint of cinnamon and the bitter, chocolaty crunch from the cocoa nibs, these cinnamon waffles taste amazing with maple syrup.

My daughter Eliza may be a picky eater, but this frustratingly finicky trait has a definite upside. She feels passionate about the foods does like, and she can prepare and cook a few of these herself. Since she loves to experiment, this sometimes leads to culinary genius, like pizza omelets or cinnamon chocolate brownies.
Eliza's especially fond of waffles, and she's perfected her cocoa nib cinnamon waffles over the last several months.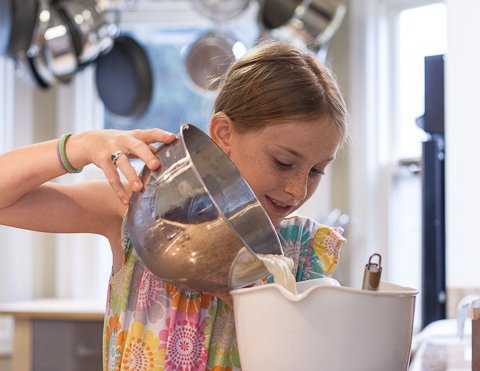 Last weekend, she deviated slightly from her standard recipe, and the resulting waffles were truly inspired. As she mixed up the dry ingredients, she noticed the bag of cocoa nibs I'd picked up for making peppermint patty tart. Her eyes lit up and she asked, somewhat cautiously, if she could mix some into the batter.
Why, yes. Yes you can.
Usually, I eat a bowl of cereal before I tuck into part of a waffle or a pancake or whatever breakfast dessert the rest of my family happens to be indulging in on a lazy weekend morning.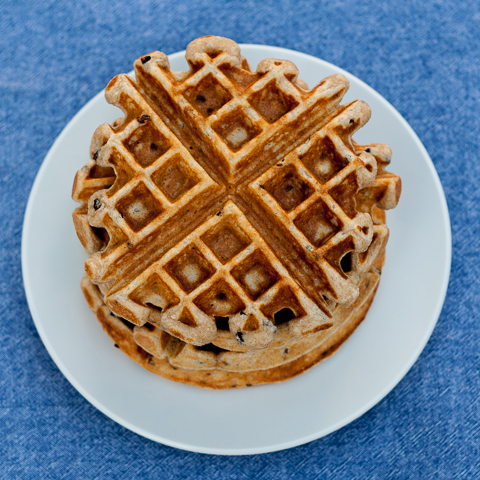 This time, though, I ate my waffle first. A whole one. With lots of maple syrup and whipped cream. Maybe I had another one and maybe I didn't.
What I didn't have for breakfast was cereal. I wasn't wasting any precious stomach space on cereal while Eliza was cranking these waffles out like a pro.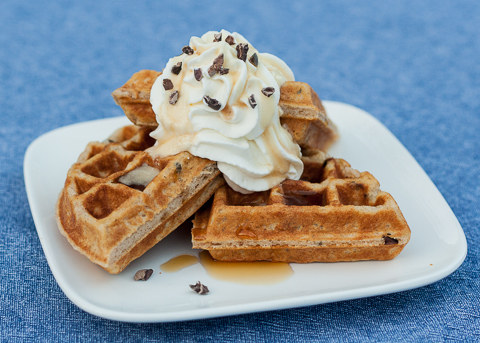 With their subtle hint of cinnamon and the bitter, chocolaty crunch from the cocoa nibs, they taste amazing out of hand straight from the waffle iron. To truly appreciate them, though, you need to douse them generously with maple syrup. Since the nibs are basically unprocessed, unsweetened chocolate in its raw form, maple syrup adds the perfect note of sweetness to complete this flavor sensation.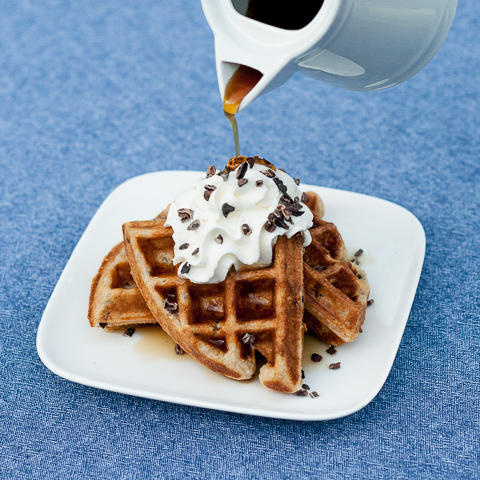 You may also want to kick up your breakfast experience with whipped cream and a sprinkling of cocoa nib like I did; these garnishes are totally optional, but totally recommended.
These nibby super cinnamon waffles rocked my breakfast world. I only wish we had time for them on weekday mornings. I think whenever I start feeling annoyed by Eliza's vehement dislike for vegetables or anything with a the slightest hint of spice, I'll ask her to make everyone waffles for dinner.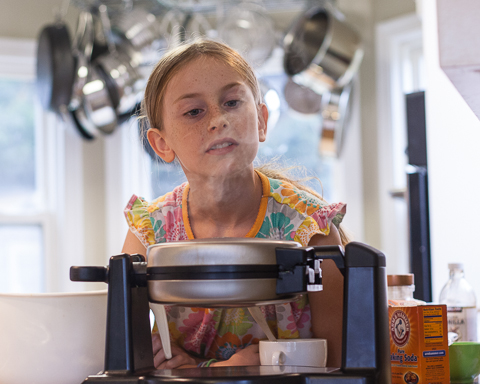 Cocoa Nib Cinnamon Waffles
From Eclaires on the Moon.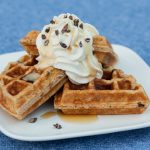 Print Recipe
Super Cinnamon Nibby Waffles
Ingredients
1 3/4

cups

unbleached all-purpose flour

2

tablespoons

sugar

2

teaspoons

baking powder

1

teaspoon

baking soda

2

teaspoons

cinnamon

1

teaspoon

salt

1/3

cup

cocoa nibs

2

large eggs

1 3/4

cups

buttermilk

1

stick butter

melted

2

teaspoons

vanilla

maple syrup

for serving
Instructions
Whisk dry ingredients together in a medium-sized mixing bowl. In another bowl, beat together eggs, buttermilk, melted butter, and vanilla. Combine wet and dry ingredients until just smooth.

Brush preheated waffle iron lightly with vegetable oil. For a Belgian-style waffle iron, use about 1/2 cup batter. Cook for 2 to 3 minutes until the iron stops steaming and the waffles are golden. Serve warm with maple syrup.