Creamed turkey and thyme-cornmeal waffles combine their warm, comforting flavors in a simple, satisfying meal. Topped with cranberry sauce and green beans, this dish is a perfect use for Thanksgiving leftovers!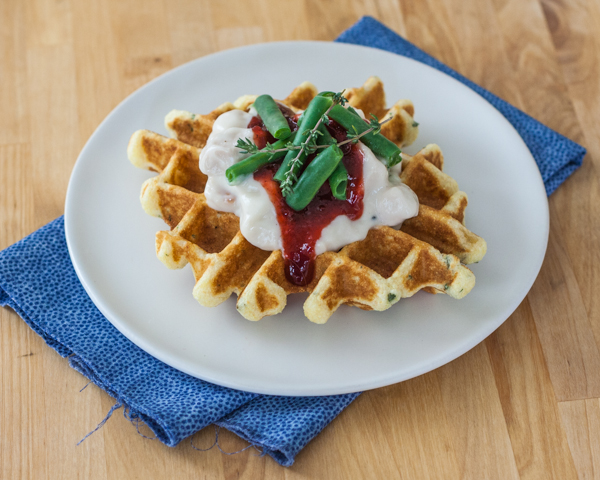 Leftovers are one the best parts of Thanksgiving. Of course I love spending time with family and friends and gathering around a big table for an awesome feast, but Thanksgiving leftovers draw out my feelings of gratitude for days and days.
As I indulge in a plate of leftover turkey loaded with all the traditional fixings, I can't help but feel grateful about having a family of friends and friends who are like family.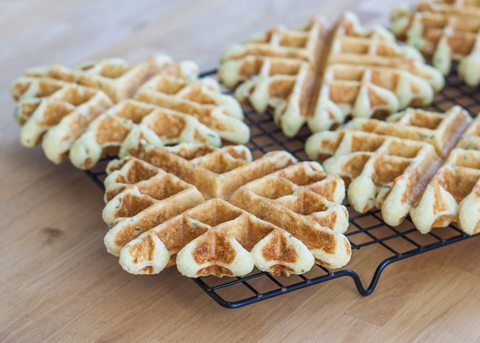 And while I could cheerfully eat turkey dinner day in and day out, it's hard not to see Thanksgiving leftovers as creative opportunities. Roasted turkey, especially, is like a blank canvas with endless culinary possibilities — pizza, pot pie, enchiladas, salads, soups, you name it. And here's one of the best things about creating meals with leftovers: since the main ingredients are already prepped and ready to go, these recipes are that much easier to prepare.
In anticipation of all those leftovers-to-come next week, I did some experimenting with Creamed Turkey and Thyme-Cornmeal Waffles. My family already loves eating breakfast waffles for dinner, so it was about time we added savory waffles to our repertoire.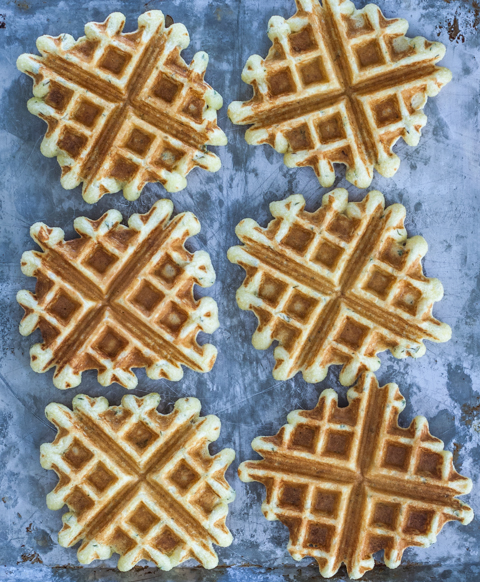 The creamed turkey came together with surprising ease, and its warm, comforting flavors taste great with herb-packed waffles. With a drizzle of jalapeno cranberry sauce and a handful of leftover green beans, this dish is simple, yet balanced and satisfying. Its deliciousness will warm your belly and your soul, not necessarily in that order.
While I wish for you a perfect Thanksgiving celebration full of mouthwatering food and heartwarming company, I wish — more importantly — for your feasting and gratitude to continue for many, many days beyond the holiday.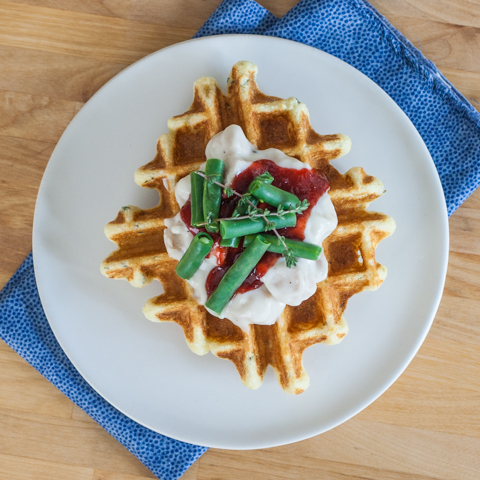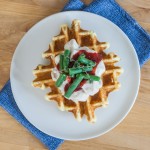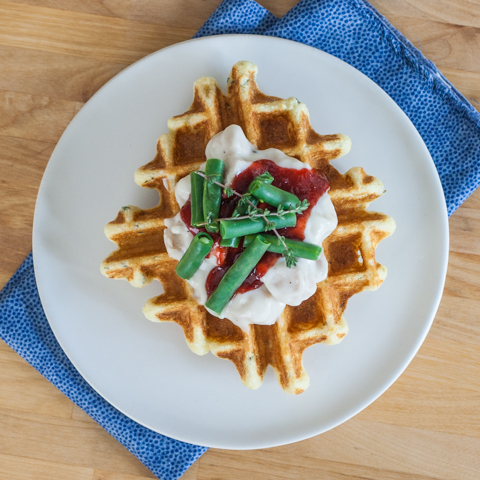 Print Recipe
Creamed Turkey and Thyme-Cornmeal Waffles
This recipe is perfect for breathing new life into holiday leftovers. Substitute chopped chicken for the turkey whenever you have that on hand as well!
Ingredients
Creamed Turkey

4

tablespoons

unsalted butter

1

garlic clove, minced or pressed

1/3

cup

unbleached all-purpose flour

2

cups

chicken broth

1 1/2

cups

whole milk

1

bay leaf

3-4

fresh thyme sprigs

4

cups

chopped turkey (about 1 1/2 pounds)

1/4

cup

dry sherry

1

teaspoon

salt, plus more to taste

pepper, to taste

1

teaspoon

fresh lemon juice

Thyme-Cornmeal Waffles

1 1/2

cups

unbleached all-purpose flour

1

cup

yellow cornmeal

2

tablespoons

granulated sugar

2

teaspoons

baking powder

1

teaspoon

baking soda

1

teaspoon

salt

2

large eggs

1 3/4

cups

buttermilk

5

tablespoons

unsalted butter, melted and cooled slightly

2

tablespoons

chopped fresh thyme (or 2 teaspoons dried thyme)

2

garlic cloves, minced or pressed

vegetable oil, for waffle iron

For Assembly

2

cups

cooked green beans

1/2

cup

cranberry sauce
Instructions
To prepare the creamed turkey, warm butter and garlic in a large sauce pan over medium-low heat. Once the butter has melted, add the flour all at once and whisk constantly for one minute.

Add chicken broth and whisk until smooth, scraping down the sides with a spatula if needed. Increase heat to medium and add the milk, bay leaf, and thyme sprigs, whisking to incorporate the milk.

Continue cooking over medium-high heat, whisking frequently, until the mixture begins to simmer. Once the mixture begins to bubble, whisk constantly until it thickens, about one or two minutes.

Stir in turkey and sherry, cooking for an additional minute or two. Stir in the salt, pepper, and lemon juice. Remove thyme sprigs and bay leaf.

Set creamed turkey aside while you prepare the waffles (Creamed turkey can be prepared several days in advance. Store refrigerated in an airtight container and reheat before serving.).

To prepare waffles, whisk together flour, cornmeal, sugar, baking powder, baking soda, and salt in a medium-sized bowl. Set aside.

In a separate bowl, combine eggs, buttermilk, thyme, and garlic, whisking until well combined. Whisk in butter. Add the flour mixture to the wet ingredients and gently fold them together.

Brush a preheated waffle iron lightly with vegetable oil. Drop 1/2 cupfuls of batter onto the waffle iron and bake until the iron stops steaming and the waffles are golden, about 2 to 3 minutes.

Top warm waffles with creamed turkey, a dollop of cranberry sauce, and 1/4 cup green beans. Serve immediately.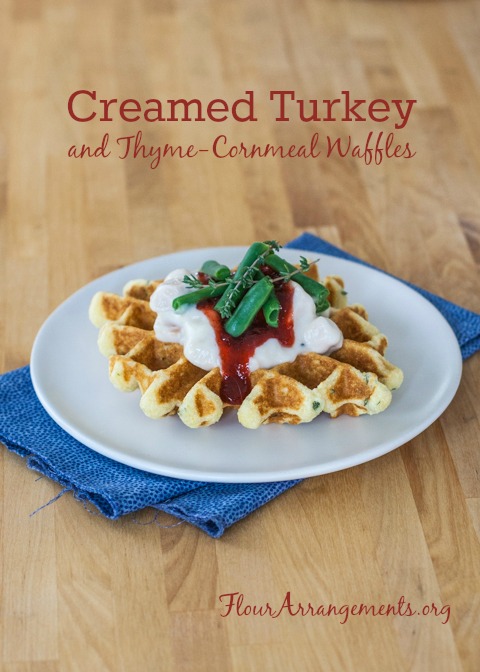 Find lots of creative ideas for cooking and baking with Thanksgiving fixings on my Reviving Holiday Leftovers Pinterest Board: