Full of aromatic rosemary, salty prosciutto, and mozzarella cheese, these savory Prosciutto & Rosemary Muffins are great for snacking on or for nibbling alongside a warm bowl of soup.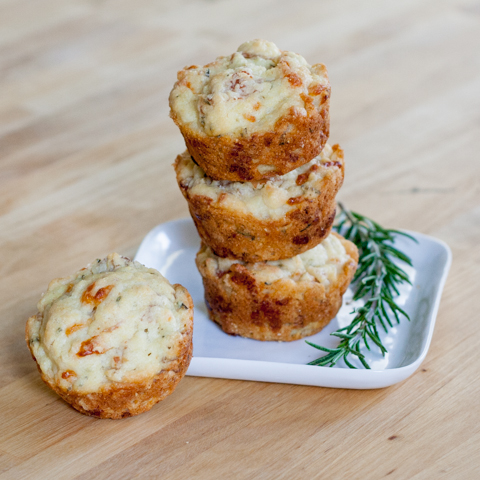 Have I mentioned that my kids refuse to eat sandwiches in their lunches? Their elementary school doesn't allow peanuts on campus, and this means the beloved peanut butter & jelly sandwich is totally off limits.
Sure, I could send ham & cheese or tuna sandwiches along with them, but they'd never eat them.
Since I'm the one who suffers when my daughters come home starved and crabby, I've had to get creative with their lunches. Not cutesy Bento box creative, mind you — I've just had to come up with ways to pack my kids full of protein without the simplicity of the peanut butter & jelly sandwich.
Enter Rosemary & Prosciutto Muffins.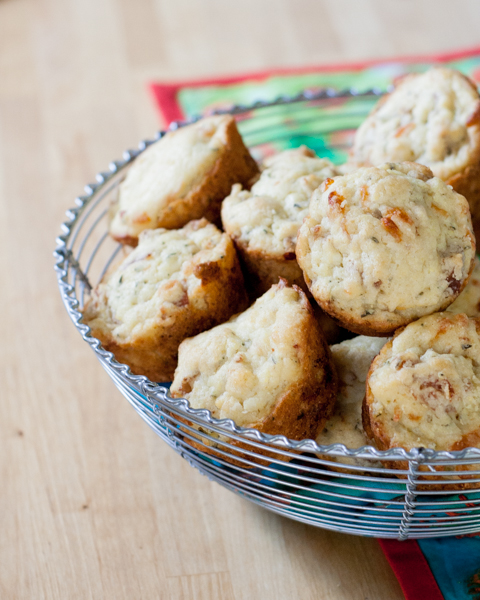 Not your ordinary sweet muffins, these savory snacks get a little protein boost from mozzarella cheese, buttermilk, and prosciutto. While not a meal in themselves, alongside a hard boiled egg, apple slices, and other lunchbox goodies, these muffins help fill my girls' bellies to keep them going until the end of the school day.
I started making these muffins to send to school with my kids, but they've taken on a life beyond the lunchbox. Warm and toasty from the oven and full of aromatic rosemary, salty prosciutto, and mozzarella cheese, they're a perfect addition to simple dinner of tomato soup and Caesar salad.
While my kids' picky eating habits frustrate me, at least they've introduced me to a whole new genre of muffins. I'm looking forward to trying out new savory combinations, especially since my kids will probably tire of this one in about a week.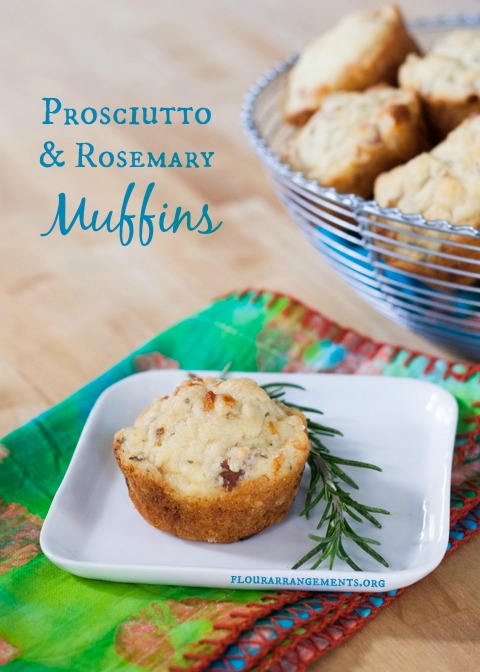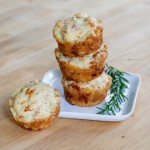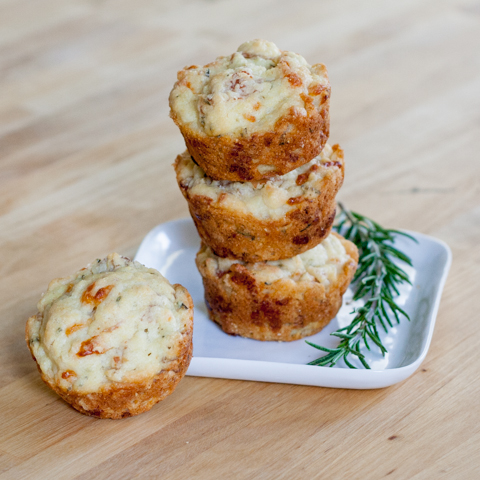 Print Recipe
Prosciutto & Rosemary Muffins
Makes 12 standard-sized muffins. This recipe doubles easily if you're serving a crowd.
Ingredients
1 1/4

cups

unbleached all-purpose flour

1/4

cup

cornmeal

1 1/2

teaspoons

baking powder

1/4

teaspoon

baking soda

1/2

teaspoon

salt

1/2

cup

grated mozzarella cheese (about 2 ounces)

1

tablespoon

chopped fresh rosemary

4

slices

prosciutto (about 2 ounces)

5

tablespoons

unsalted butter, melted and slightly cooled

1

large egg

2

teaspoons

sugar

3/4

cups

buttermilk
Instructions
Mix flour, baking powder, baking soda, salt, mozzarella, and rosemary a medium bowl. Working one at a time, dip prosciutto slices in the flour mixture before tearing them into small pieces and dropping them into the mixture, tossing well before moving on to the next slice (this will help prevent the sticky prosciutto from clumping together).

Whisk butter, egg, sugar, and buttermilk together in a separate medium bowl. Add dry ingredients to the wet, stirring until just combined.

Divide the batter evenly between 12 greased or paper-lined standard-size muffin tin cups.

Bake in an oven preheated to 375° F until pale golden, about 20 to 25 minutes. Cool briefly on a wire rack before removing muffins. Serve warm or at room temperature.