Cocoa powder and mini chocolate chips make Chocolate Chocolate-Chip Pancakes super indulgent. Serve as a special breakfast treat or a surprising dessert.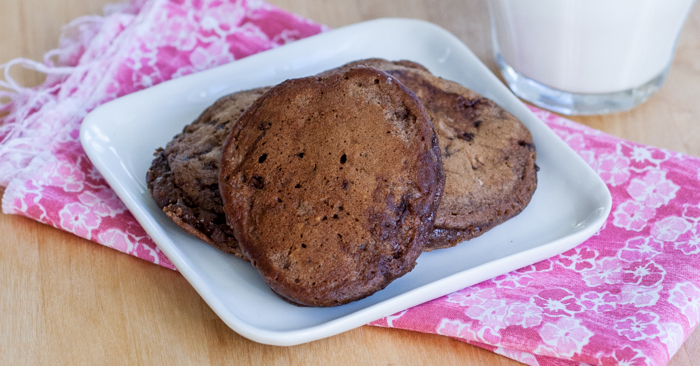 On Saturday mornings, my husband lets me sleep in while he entertains our daughters. My girls know he's a sucker for dessert, and they've worked hard to parley his sweet tooth into a weekend tradition involving a trip to the doughnut shop or the preparation of an extravagantly sweet breakfast.
I never complain about this sugary start to their Saturdays. If an indulgent breakfast maintains the fine balance that allows me to relax in bed longer than usual, I'd be out of my mind to object.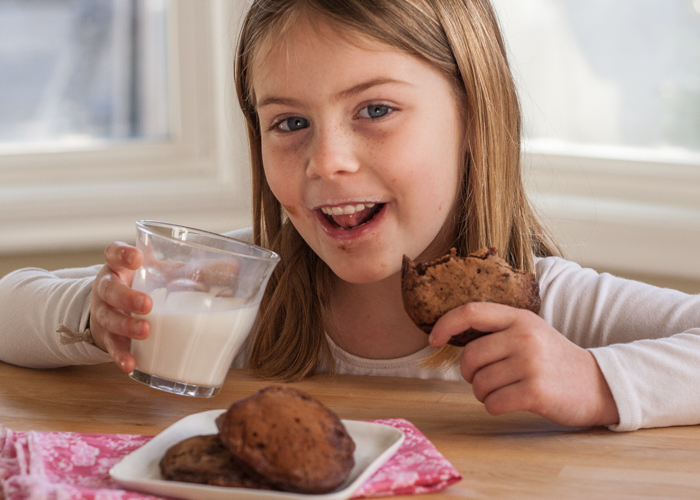 Last weekend, the aroma of their decadent breakfast lured me from bed in time to watch Tessa show off the awesome skills she's developed making breakfast with her dad.
As she scooped thick double chocolate batter on the griddle and flipped pancakes like a pro, she beamed with pride.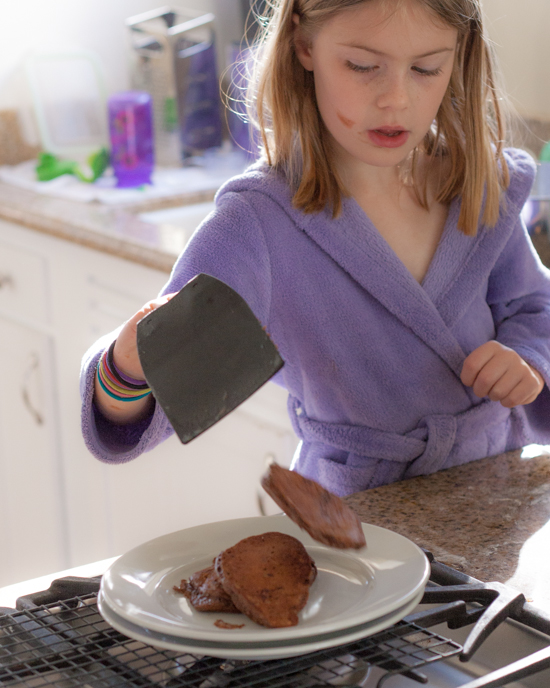 It wasn't hard to lay the praise on my seven-year-old as she worked in the kitchen. Her breakfast treat smelled and looked so tempting that I uncharacteristically passed over my usual boring, healthy bowl of Shredded Wheat for a helping of her Chocolate Chocolate-Chip Pancakes.
Unsweetened cocoa powder gives the batter a deep chocolately goodness, and miniature chocolate chips add luxuriously smooth melted chocolate to every single bite. My daughters like their pancakes a bit underdone, and this means that our pancakes are always slightly gooey anyway; the addition of rich melted chocolate in the mix made these feel especially indulgent. You needn't cook these double chocolate delights as "dough bags," as my girls fondly call them, but they're surprisingly tasty this way, so it's worth a trying out at least once before you rule out the idea.
While I savored these rich pancakes last Saturday morning, I couldn't help thinking that — topped with a generous scoop of vanilla ice cream and a sprinkling of cocoa nibs — they'd be perfect for dessert any day of the week
They're super easy to make and quick to prepare, but best of all, serving them for dessert would mean I could eat them several times before they come back into the Saturday morning breakfast rotation.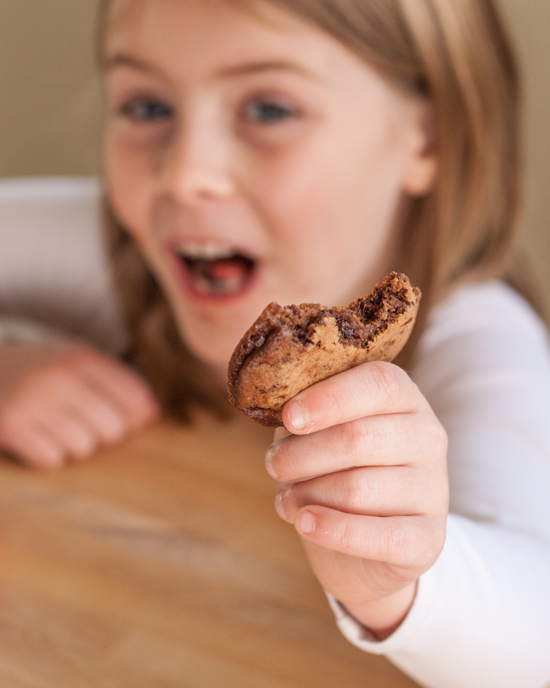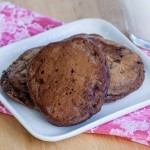 Print Recipe
Chocolate Chocolate-Chip Pancakes
Servings:
4
. Makes about 18 4-inch pancakes.
Ingredients
1

cup

unbleached all-purpose flour

1/2

cup

granulated sugar

1/3

cup

unsweetened cocoa powder

sifted

2

teaspoons

baking powder

1/4

teaspoon

baking soda

1/4

teaspoon

salt

2

eggs

separated

1 1/4

cups

buttermilk

4

tablespoons

unsalted butter

melted

1

tablespoon

vanilla extract

3/4

cups

mini chocolate chips
Instructions
Combine dry ingredients in a large bowl and whisk to combine. Set aside.

By hand or in a the bowl of a standing electric mixer, beat egg whites until the peaks are stiff but not dry. Set aside.

In another large bowl, whisk together buttermilk, butter, egg yolks, and vanilla. Pour wet ingredients over the dry ingredients and gently mix until just combined. Stir in chocolate chips. Finally, fold egg whites into the batter.

Spoon batter by 1/4 cupfuls onto the griddle, nudging the thick batter into rounds. Cook until the tops are speckled with bubbles that begin to pop before flipping. Continue cooking until the underside turns lightly brown and the center has mostly set. Serve immediately or keep warm in an oven heated t0 200º F.
Some of the links in this post are affiliate links. If you click through and make a purchase, I earn a small commission for my referral at no additional cost to you. Thank you for supporting Flour Arrangements.