Celebrate Pi Day on 3.14.15 with help from this collection of pie recipes!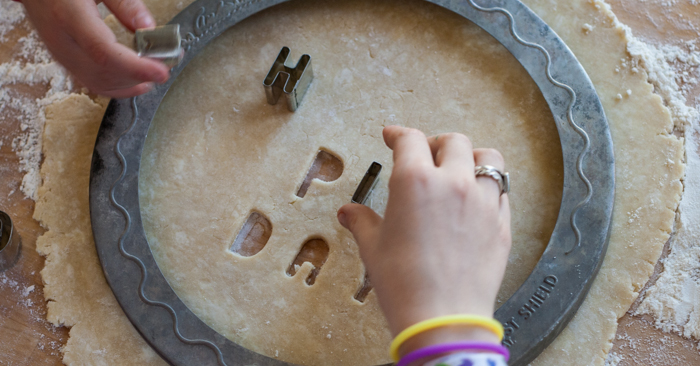 My family sent out Pi Day cards this year instead of the more traditional holiday cards people usually send in December.  Does this make us a hip family of cool, unconventional individuals  or one full of completely disorganized louts who can't get their acts together until three months after Christmas?
You don't have to answer that.
If you have no idea what Pi Day is, let me initiate you.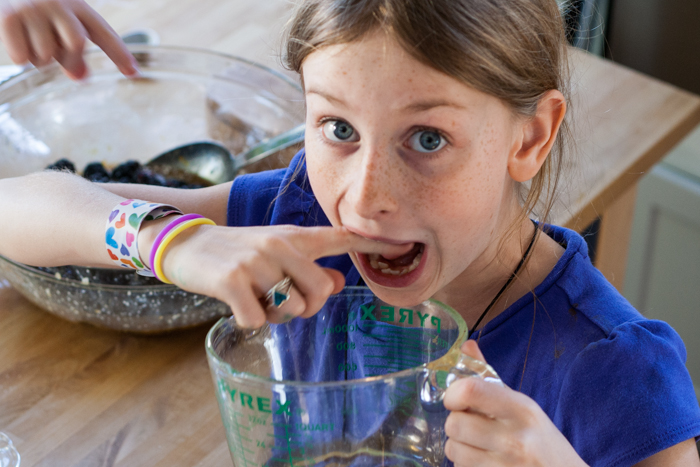 The irrational number Pi, 3.14159, which is the ratio of of a circle's circumference to its diameter, is used for calculations involving circles. I use it all the time when scaling cakes and tarts and other baked goods prepared in round baking pans.
Next time you hear some irrational kid complain that he or she will never use math after graduation, you can bust out this example to illustrate the critical relevance of seemingly obscure concepts.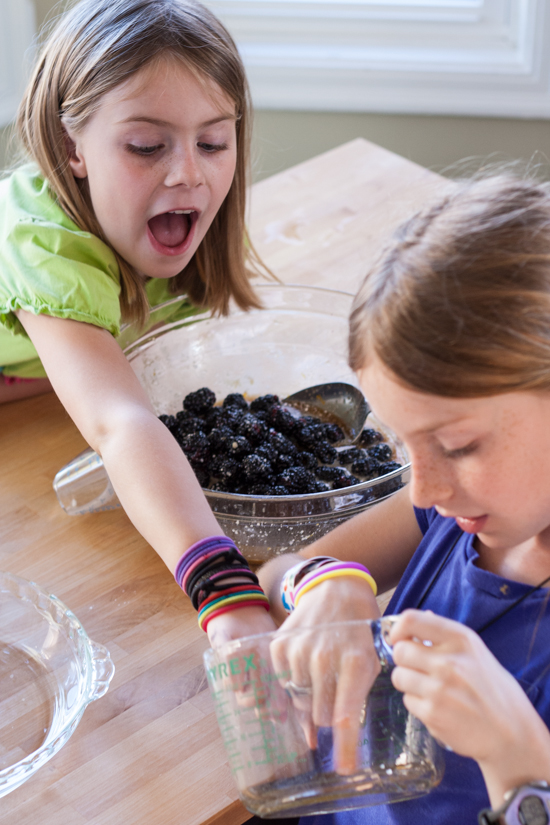 Pi is, of course, a homophone for my favorite round dessert — PIE — which makes March 14 (3.14) a perfect day for eating as much pie as you possibly can.  Since it's 2015, we're seeing as many digits of Pi as we've seen in 100 years! Top that, Pi/e lovers!
While it may be too late to jump on the Pi Day greeting card bandwagon this year, you still have time to celebrate this momentous occasion by making and eating pie.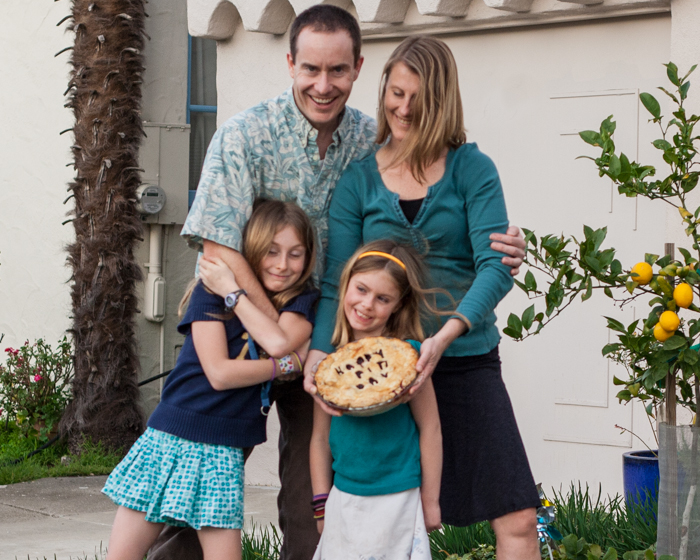 To help with your planning, I've gathered a list of mouthwatering pie recipes for you to try:
Apple Pie — This is my daughter Eliza's favorite pie to make. Maple syrup instead of sugar adds its distinctive sweetness to this award-winning recipe, which has won blue ribbons and the Apple Pie Trophy at the San Juan County Fair.
Apricot Pie — I know apricots aren't in season, but if you can find them, you'll want to make this pie. This simple recipe highlights the fruit's tangy, sweet flavor. It's bright tartness tastes like pure sunshine.
Blackberry Pie  — Berry pies may well be the easiest to make because you don't have to slice any fruit. Hooray for less effort and mess! We baked this recipe for our Pi Day card because we thought the deep purple background would help our message (stamped with little alphabet cookie cutters) stand out on the finished pie.

Butterscotch Cream Pie — The preparation of this pie will probably require every pot, pan, mixing bowl, and utensil in your kitchen.  Don't let that deter you, though, because it's totally worth the insane cleanup effort. A crisp chocolate crust, rich ganache, sweet butterscotch pudding, and airy whipped cream come together in pure perfection.
Chocolate Cream Pie — This chocolate lover's dream features rich chocolate pudding layered over a cinnamon-pecan-chocolate crust. Freshly whipped cream sets off the deep chocolate flavor. I can't remember the last time I made this pie, so it will probably be on the menu for Pi Day at my house.
Lemon-Lime Meringue Pie — The lemon-lime filling in this pie could really stand alone. The addition of sweet billowing meringue transforms it from simple pie into festive extravagance. People go totally nuts for this one both for its over-the-top appearance and amazing taste.
Individual Pumpkin Pies —  These tiny pies — made in a muffin tin — simplify serving dessert for a crowd. Deeply-spiced pumpkin filling gets extra depth and flavor from caramelized brown sugar as well as molasses.
Mini Apple Pies with Pecan Streusel Topping — These adorable little pies are strictly finger food, even with a small scoop of ice cream on top. They burst with apple-cinnamon goodness, and pecan-streusel topping adds a sweet, nutty flavor. Whenever I make them, I think I'll have too many, but they always disappear quickly. Since they're so small, it's easy to keep popping them in your mouth.
Mini Peanut Butter Pies — Is there anyone who doesn't love the combination of peanut butter and chocolate? Okay, if you're from Europe, don't answer that. These diminutive pies, with their crisp chocolate crust layered with ganache and creamy peanut butter filling are rich and delicious and always a crowd-pleader.
Peach Pie with Blackberries and Ginger — It's hard to go wrong with sweet peaches, handpicked blackberries, brown sugar, and lots of love. This recipe came out of my daughter Eliza's project to bake all of the pie recipes in Sarah Week's novel Pie. Eliza added her own flair to the traditional peach pie recipe in the book, and it turned out fabulously.
Pumpkin Pie — When she was alive, my grandmother made all the pies for our family's holiday celebrations. I always skimped on the main course so I'd be sure to have plenty of room for her pumpkin pie. This traditional favorite is full of spice, just like my traditional, yet surprisingly sassy grandmother.
Share your love for pie by adding links to your favorite pie recipes in the comments! Wishing you the very best Pi Day ever!