This scratch Angel Food Cake recipe yields a lighter, more delicate cake than one mixed from a box. Topped with rich chocolate frosting, this sweet, airy dessert tastes heavenly.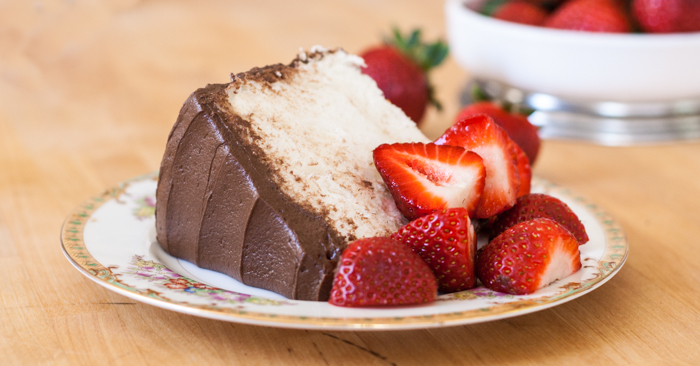 Baking angel food cake from scratch has always seemed totally crazy to me. Every time I think about baking one, I peek at a recipe and decide against it. Why? For the simple reason that an angel food cake requires one dozen egg whites to bake.
The idea of having a dozen leftover egg yolks at the end of the project has always seemed more than a bit over-the-top. And so, before a few weeks ago, whenever we've had a need for angel food cake, I've always used a box mix.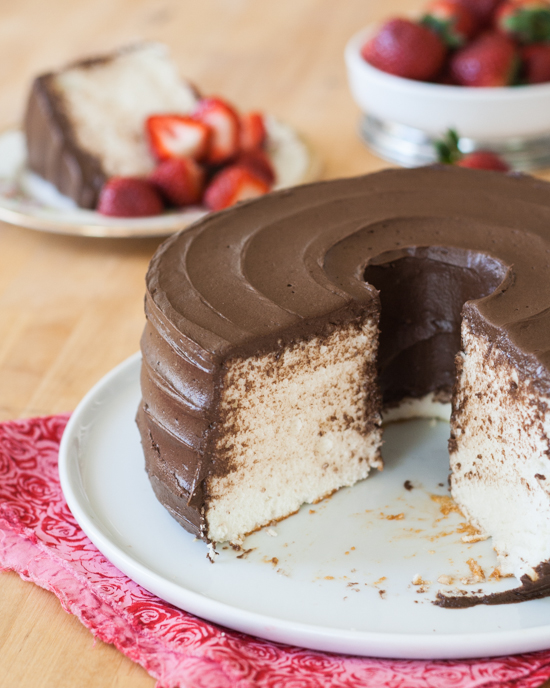 But when my husband suggested baking his family's favorite cake for his dad's birthday recently — Angel Food Cake with Chocolate Frosting — I figured it was finally time to give it a try.
I have, after all, been baking with extreme quantities of egg yolks lately, so I had some ideas about how I might these golden leftovers.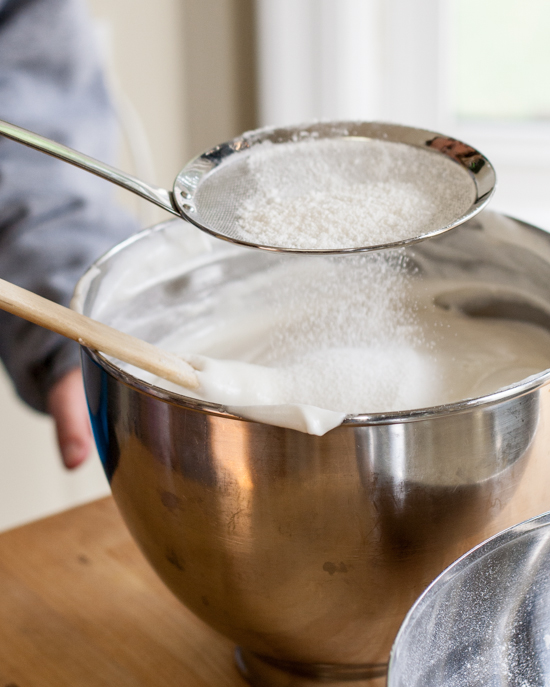 While I was totally game to try baking angel food cake, I wasn't feeling was the chocolate frosting. My mom always served angel food cake with fresh berries and whipped cream.
In fact, I couldn't remember eating angel food cake with any kind of frosting on it. Ever.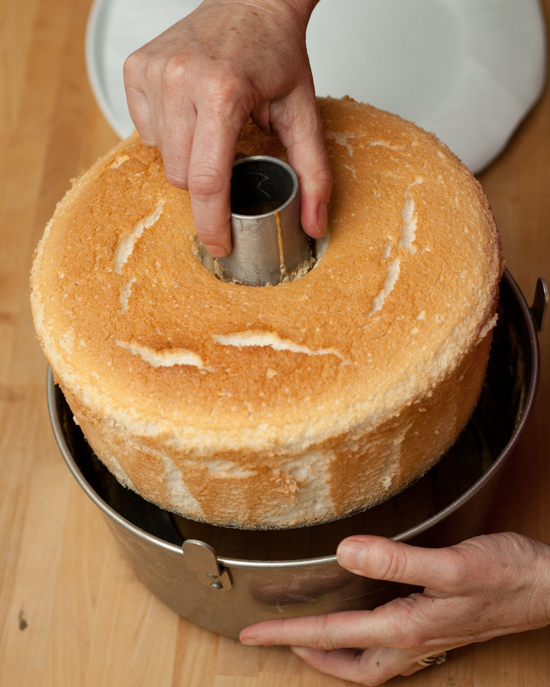 But it wasn't just that. Chocolate frosting seemed like too much for this light, airy cake. On rich Devil's Food Cake, chocolate frosting is perfect. On this cake named for angels, it just seemed wrong somehow.
So after I baked the cake, I prepared lemon curd to serve with it. It seemed like a great use for some of those leftover yolks. Besides, my father-in-law loves lemon meringue pie, so I figured this would marry his two favorites.
As dinner-time approached, my husband asked when I planned to frost the cake. I admitted that I had no intention of frosting it at all.
I explained that the frosting would be too thick and assumed he'd let it go. He always tells me to go with my baking instincts, so I was surprised when he told me I was wrong.
Utterly and completely wrong.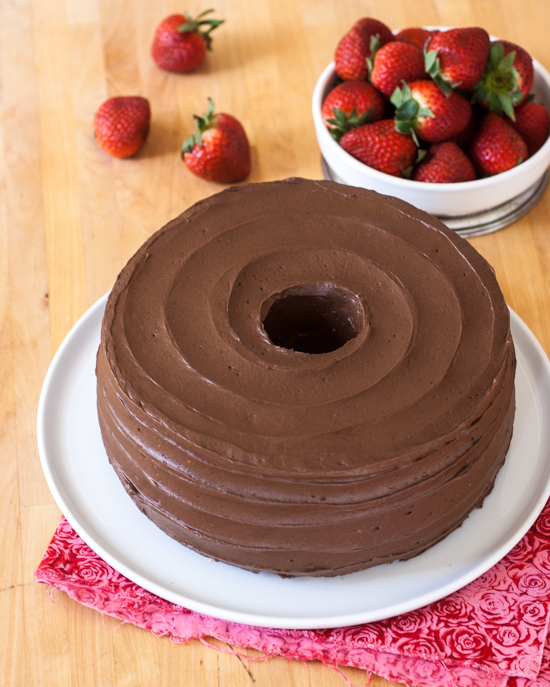 His mom had always served angel food cakes with chocolate frosting, thank you very much. My objections made no sense to him at all.
When he offered to find a recipe and frost it himself, I gladly turned the cake over to him and started eating lemon curd.
And guess what?
He was totally right. The fluffy chocolate butter cream he made spread effortlessly on the cake, and its deep, rich flavor complemented the sweet, airy texture perfectly.
Since the cake hadn't come out of the pan unscathed, the chocolate frosting actually made it look better by hiding the little scrapes and tears on its surface.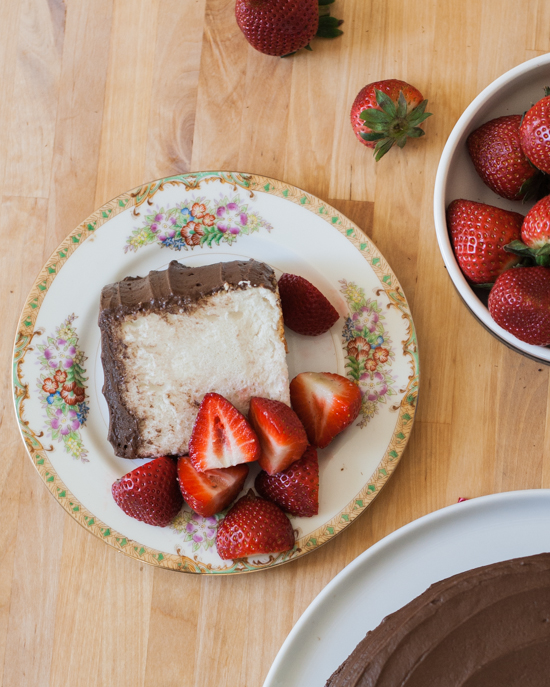 And now, you may be wondering, as I once did, if taking the trouble to separate a dozen eggs for cake is worth the effort.
It really is.
Aside from separating all those eggs and worrying about what to do with a dozen yolks, it's a simple cake to make. More importantly, though, its texture and crumb are much more delicate than any angel food cake made from a box.
When we ate it again for dinner last night, my husband said it was the best angel food cake he'd ever eaten in his life. That's saying a lot, since it's hard to compete with the perfection of childhood memories.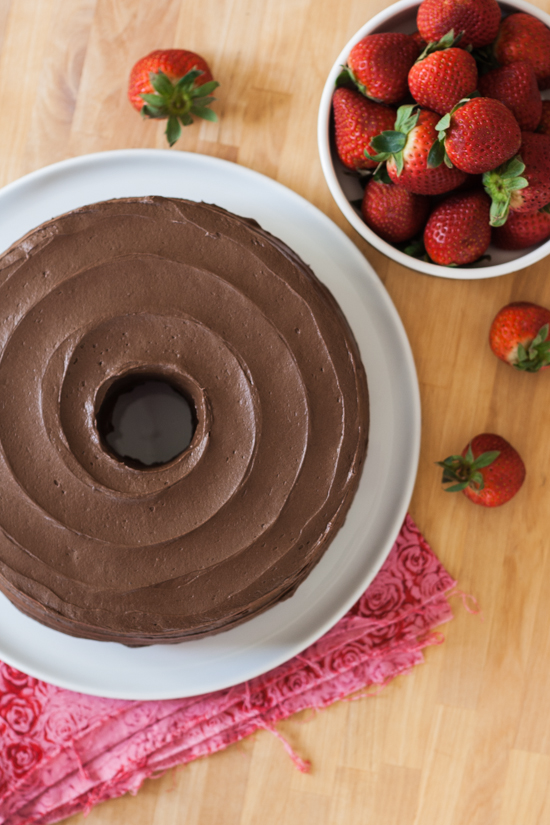 When you get ready to bake your own scratch angel food cake — because you really, really should — don't forget the other critical lesson I learned: this sweet, airy cake is the perfect vehicle for chocolate frosting.
You're going to love it.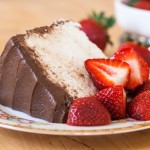 Print Recipe
Angel Food Cake with Chocolate Frosting
Ingredients
Cake

1

cup

plain cake flour (3 ounces)

sifted

1 1/2

cups

granulated sugar

sifted and divided

12

large egg whites

1

teaspoon

cream of tartar

1/2

teaspoon

salt

2

teaspoons

vanilla extract

1 1/2

teaspoons

lemon juice

Chocolate Frosting

1

cup

butter (2 sticks)

softened but still cool

3

cups

confectioners' sugar

plus more as needed

1/2

cup + 2 tablespoons

unsweetened cocoa powder

1/2

teaspoon

salt

1

tablespoon

vanilla extract

1/4

cup

milk or cream

plus more as needed
Instructions
For the cake, place oven rack to the lower-middle position and preheat oven to 325º F. Wipe clean a large tube pan (16 cup capacity) with removable bottom. Do not grease!

Combine flour and 3/4 cups of the sugar in a small bowl, whisking well. Set aside.

Beat egg whites in the bowl of a standing electric mixer at low speed until the eggs are beginning to froth. Add cream of tartar and salt. Increase speed to medium and beat until whites form soft, billowy, slightly translucent mounds. Keeping the mixer on medium-speed, add remaining 3/4 cup sugar one tablespoon at a time.

Continue beating on medium speed until the whites form soft glossy peaks that bend over at the points. Resist the temptation to increase mixer speed, and take care not to over-beat; the batter should still flow when the bowl is tilted.

Add vanilla and lemon juice and beat until just blended.

Sift a fine layer of the flour-sugar mixture over the whites (no more than 3 tablespoons at a time) and fold it in gently using a large silicone spatula. Repeat with remaining flour-sugar mixture.

Scrape the batter into the ungreased pan, smooth the top, and tap the pan on the counter two times to release any large air bubbles.

Bake until the cake is golden brown and the top springs back when pressed firmly, about 50 to 60 minutes. Let the cake cool upside down for 2 to 3 hours; invert the pan on a wine bottle if the pan does not have prongs around the rim.

To unmold the cake, slide a thin knife or spatula around the inside edge of the pan, pressing firmly against the pan to avoid tearing the cake. Slide the cake from the pan and run the knife under the cake on the removable bottom in the same way to detach it. Place cake bottom-side up on a platter.

To prepare the frosting, cream butter in the bowl of a standing electric mixer with the paddle attachment.

When the butter is light and fluffy, turn off the mixer and add powdered sugar, cocoa powder, salt, vanilla, and milk to the bowl.

Stir to combine on low speed until the mixture comes together. Increase mixer speed to medium and beat for about 3 minutes.

Adjust the consistency with more powdered sugar or milk as needed.

Frost cake and serve!
Some of the links in this post are affiliate links. If you click through and make a purchase, I earn a small commission for my referral at no additional cost to you. Thank you for supporting Flour Arrangements.
You Might Also Like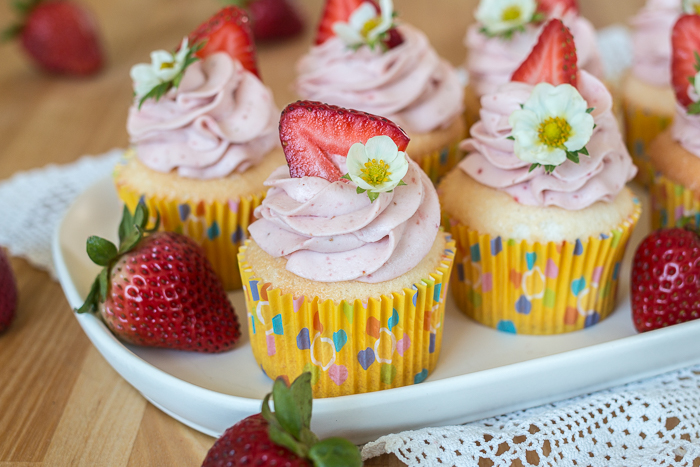 Angel Food Cupcakes with Strawberry Whipped Cream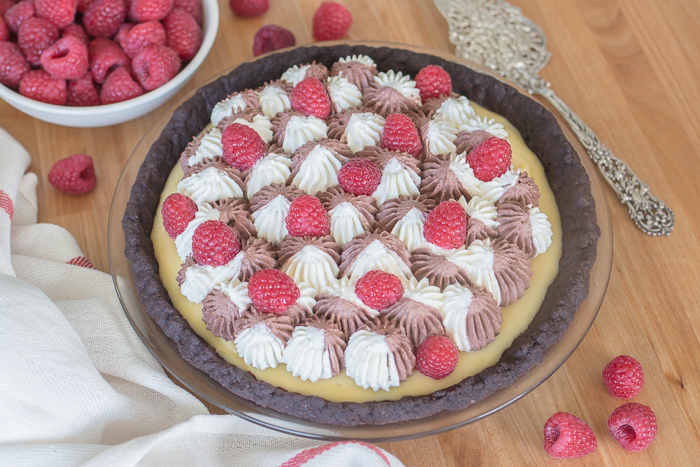 Vanilla Cream Pie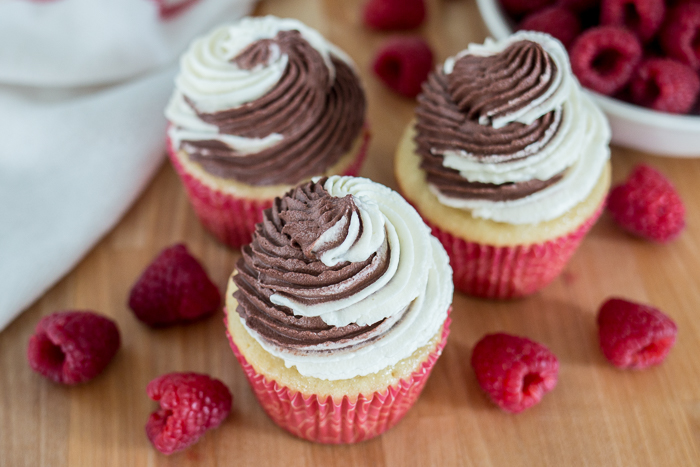 Cocoa-Vanilla Swirl Whipped Cream
Pin It For Later