Flavor-packed and delicious, Ginger-Spiced Waffles topped with Balsamic Roasted Strawberries works well as an indulgent breakfast or a simple dessert.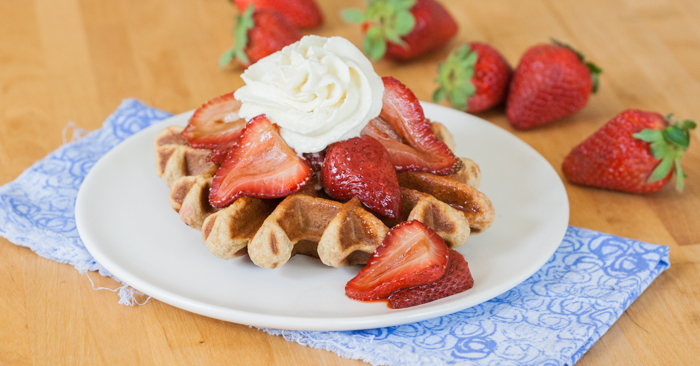 I've been addicted to balsamic roasted strawberries since my husband mixed them into homemade ice cream a few years ago. 
Tossing berries in balsamic vinegar before roasting cranks up their flavor and gives them a sassy edge.  Whenever we have loads of strawberries, many of them make it into the oven. It's an especially great trick with berries that are a bit past their prime or aren't super sweet.
Balsamic roasted berries make pretty much anything better. We've tucked them in profiteroles, sandwiched them in strawberry shortcake, and layered them on vanilla ice cream under a dollop of hot fudge. Once you start roasting strawberries, I guarantee that you'll never run out of ways to eat them.
While you're getting carried away with roasted strawberries, you're going to want to try them with waffles, Ginger-Spiced Waffles to be exact.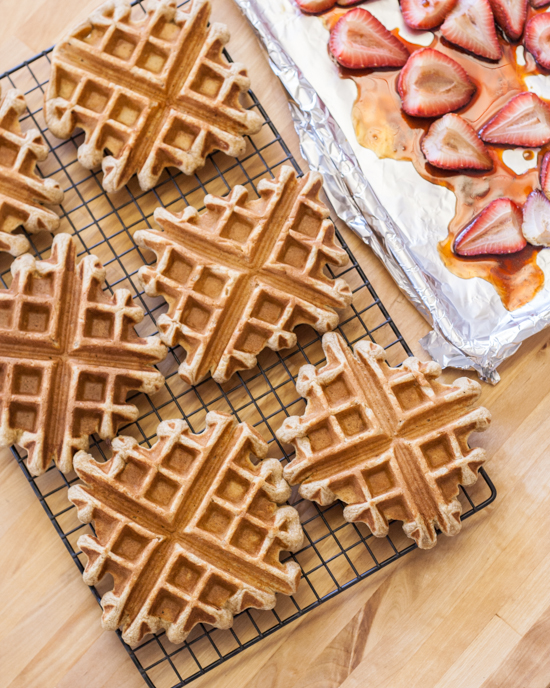 In addition to fragrant spices, these waffles call for a bit of balsamic vinegar to echo the flavors in the roasted strawberries. It's just a splash, really, but it adds depth and intrigue that waffle-eaters may find hard to place.
Don't you love it when food has secrets?
Here's another secret to this flavor-packed combination: since we're talking breakfast food, we're going to mix maple syrup into everything — the strawberries, the waffles, and the whipped cream.  Why not?
And while these waffles and strawberries do make for a great breakfast, they're pretty awesome for dessert as well. While you're at it, add a scoop of ice cream and some chocolate sauce. Enjoy!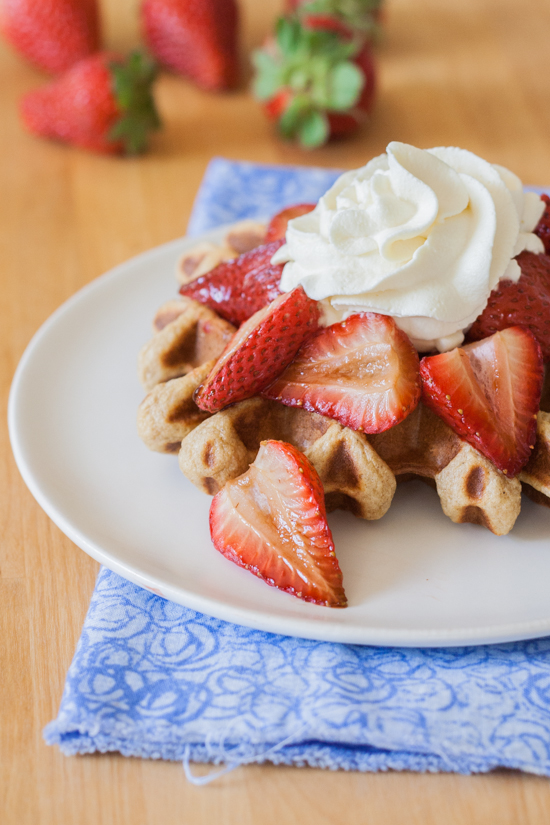 Print Recipe
Balsamic Roasted Strawberries with Ginger-Spiced Waffles
Ingredients
Roasted Strawberries

3

tablespoons

maple syrup

1

tablespoon

balsamic vinegar

pinch

salt

2

pints

fresh strawberries

trimmed and halved lengthwise

Waffles

1 3/4

cups

unbleached all-purpose flour

2

tablespoons

sugar

2

teaspoons

baking powder

1

teaspoon

baking soda

2 1/2

teaspoons

ground ginger

3/4

teaspoons

cinnamon

3/4

teaspoons

ground cardamom

1

teaspoon

salt

2

eggs

1 1/2

cups

sour cream

2

tablespoons

balsamic vinegar

2

tablespoons

maple syrup

1

teaspoon

vanilla

1

stick unsalted butter (8 tablespoons)

melted

Whipped Cream

1

cup

heavy cream

1

tablespoon

maple syrup

1/2

teaspoon

vanilla extract
Instructions
To roast the strawberries, preheat oven to 350°F. Mix maple syrup, balsamic vinegar, and salt in a medium bowl. Add strawberries and toss gently. Arrange strawberries cut side up on a foil-lined baking sheet. Drizzle remaining juices over the tops of the berries. Roast until strawberries look slightly dried but remain firm, about 30 minutes. Remove from oven and set on a cooling rack until ready to serve.

For the waffles, whisk dry ingredients together in a medium-sized mixing bowl. In another bowl, beat together eggs, sour cream, balsamic vinegar, maple syrup, vanilla, and melted butter. Combine wet and dry ingredients, mixing until smooth.

Brush preheated waffle iron lightly with vegetable oil. For a Belgian-style waffle iron, use about ½ cup batter. Cook for 2 to 3 minutes until the iron stops steaming and the waffles are golden.

For the whipped cream, combine ingredients in a medium bowl. Whisk until soft peaks form.

Serve waffles warm layered with the strawberries and topped with whipped cream.