Making Peek-A-Boo Easter Eggs is a fun, kid-friendly project. With a little help, kids can take charge of measuring, mixing, shaping, and decorating.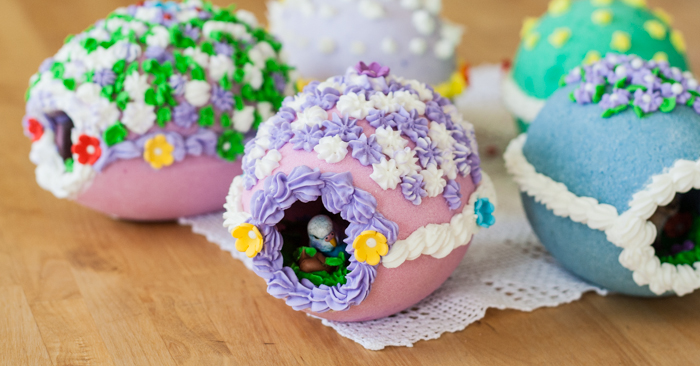 When I was a kid, my grandmother got really into decorating cakes. For my one of my birthdays, she made me cake that looked like a basket full of flowers.
Another time, she made me one of those princess cakes with a doll in the middle. In addition her spectacular cakes, she used her skills to create amazing peek-a-boo eggs that my mom still busts out for Easter every year. It continues to amaze me that remain in near-perfect condition after at least 30 years.
If you're not familiar with peek-a-boo eggs, they're decorative confections — made almost exclusively of sugar — with spring-time scenes inside that are visible through a small peep hole. My kids love picking up the ones grandma made so they can really take in the Easter-themed scenes.
In the interest of trying to keep these ancient eggs intact, I decided it was about time to try creating our own peek-a-boo eggs.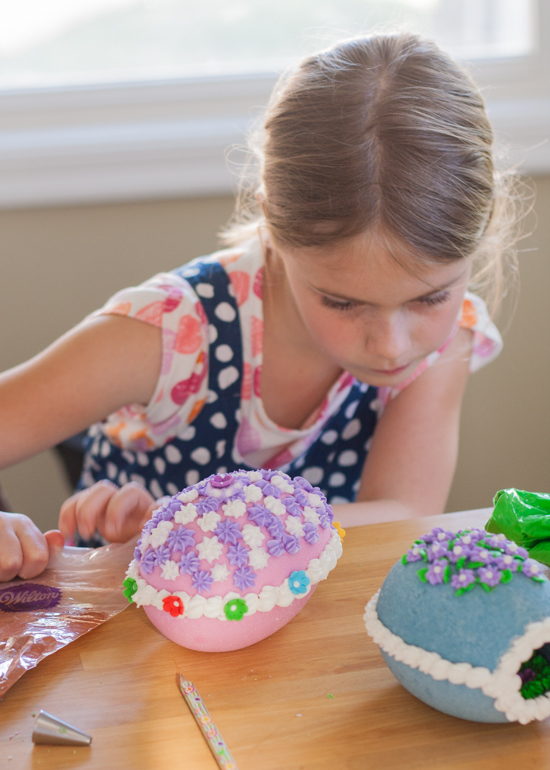 I happened to mention the idea to my parents the other day, and my mom ran to grab a box from her garage. As I dug into it, I found my grandmother's sugar egg molds and a binder full of hand written recipes.
I had no idea that my mom had these treasures stashed away, but I'm so glad she did. Our project had just became about 10 times cooler.
Eliza was so excited about the idea of using her great grandmother's molds that she immediately started quizzing my dad about what color egg great grandma would like and what kind of animal he thought she'd like to see inside it.
Fortunately, making sugar eggs is super easy, so it's a perfect undertaking with kids. With a recipe that's simple to read and follow, you can put your kids in charge of measuring and mixing, and, most importantly, choosing and adding the food coloring.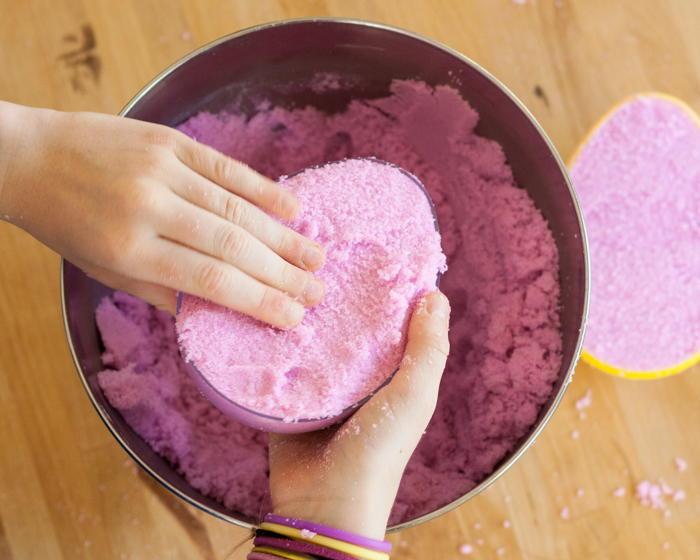 Since the recipe calls for a large quantity of dry ingredients and very little liquid, it's a fine time to teach kids the importance of starting the mixer on very slow speed.
If you fail to enforce this critical detail before they crank the mixer up as high as it will go, the resulting hurricane of sugar will make this project memorable for reasons other than your keepsake eggs.
Once the ingredients reach a brown-sugar like consistency, it's time to fill the molds.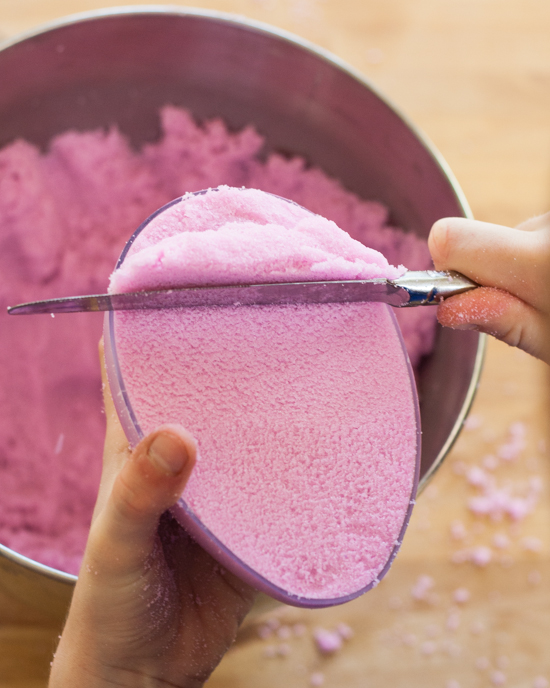 My kids loved packing the mixture in, pressing it down with their little fingers, and smoothing the tops of the eggs with a knife.
If you decide to make sugar eggs with kids, make sure they've really pressed the sugar mixture down well; we had at least one egg fall apart because it wasn't packed enough.
After turning the eggs out on a baking sheet, they go into an oven for a quick drying. This step hardens the outside enough to hold the egg together so you can hollow out the middle.
Be sure to watch the timer carefully during baking; we let one batch bake too long. It was like cracking concrete rather than digging in compressed sand.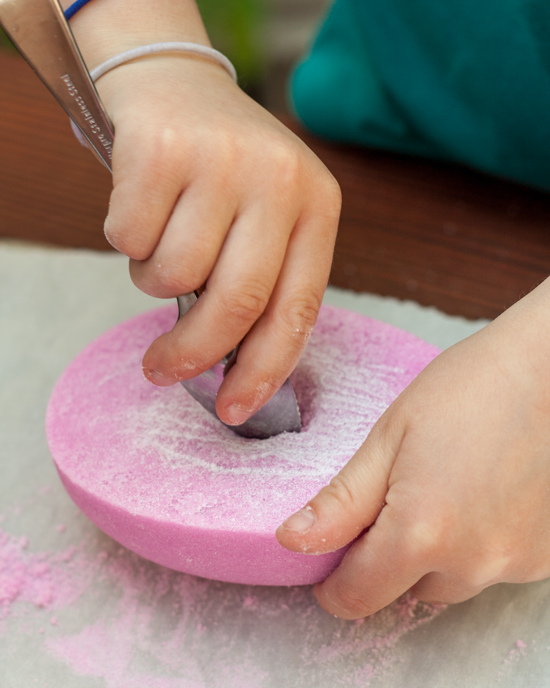 We started digging into the sugar with regular spoons, and this worked fine, but we found that grapefruit spoons are really the perfect tool for the job.
Once we'd finished, the pile of discarded sugar troubled me; I hated the idea of tossing it out, so I added a bit of water to it, mixed it again, and found that there was enough leftover from our two-egg recipe to make a third egg. You can even add more food coloring at this point to add variety.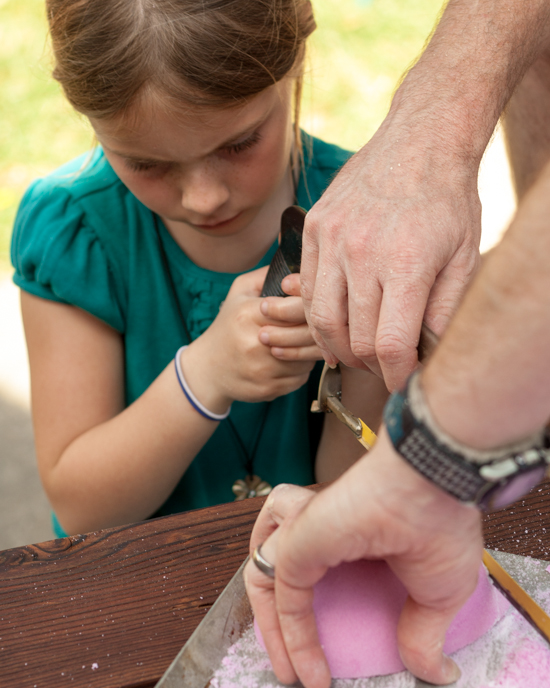 Many people recommend using a sharp knife to cut the peek-a-boo hole in the hollowed sugar eggs, but if you have a hacksaw, it works much better. Whether you use a knife or a saw, work slowly and carefully to prevent cracking.
Once you've trimmed one half of an egg, line it up with the other half.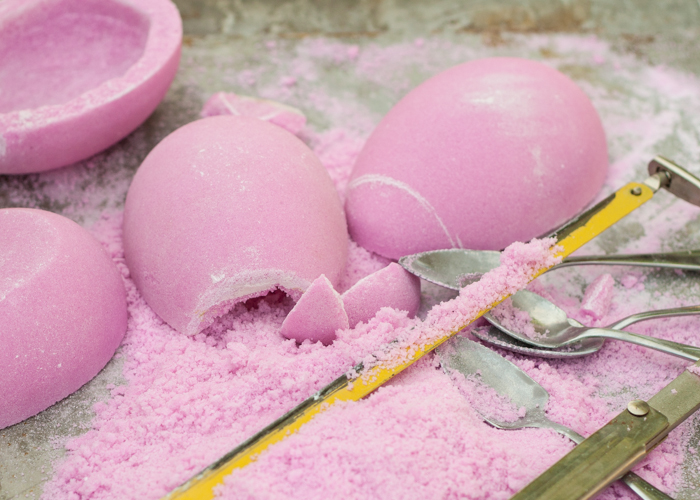 Mark a matching cut line to ensure that the egg has an evenly shaped opening.
After you've hollowed eggs and prepared their peek-a-boo openings, it's time to decorate.
Mix up royal icing and mix in food coloring. Piping the frosting may be the best part of the project!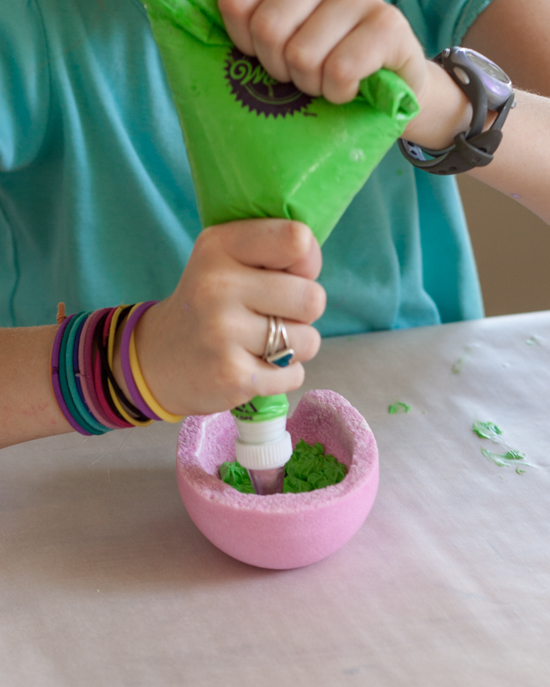 We piped royal icing grass inside the eggs to help us attach small figurines and sugar flowers.
Once the interior scenes were finished, we added a thin strip of royal icing around the rims of the eggs to help the top halves adhere.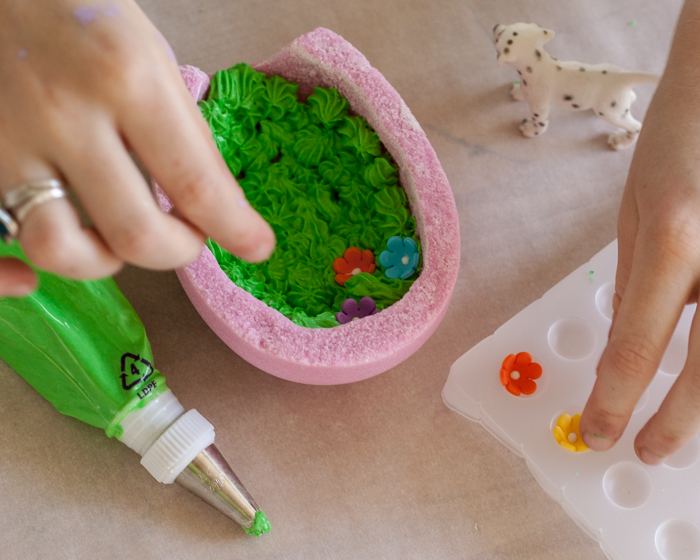 Before the girls got started on the external decorations, they practiced piping on dinner plates and parchment paper as they worked out how best to hide the seams between the egg halves as well as figure out other icing embellishments to add.
Eliza was unhappy with a few of her decorations, so she wiped them off carefully with a dry rag and started over. As long as the color isn't too dark, this works pretty well.
If marks are left behind, it's not a big deal, though, because you can always add decorations over any stains or smudges.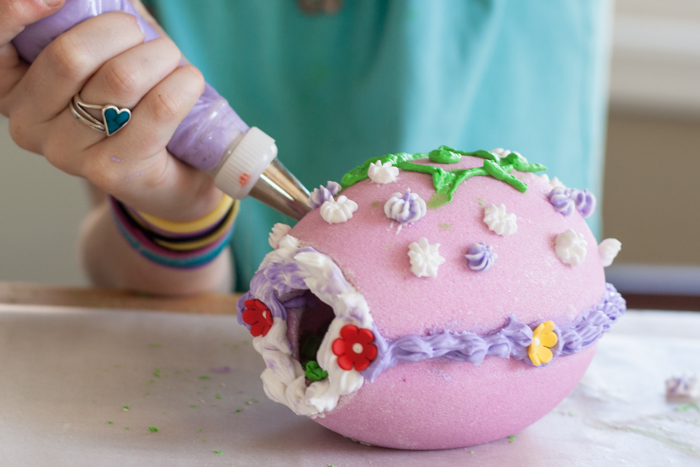 My daughters have already made two eggs each, and they have big plans to make more. Fortunately, they're excited about giving their eggs away.
There's a limit to how many sugar eggs I'll hold on to for 30 years.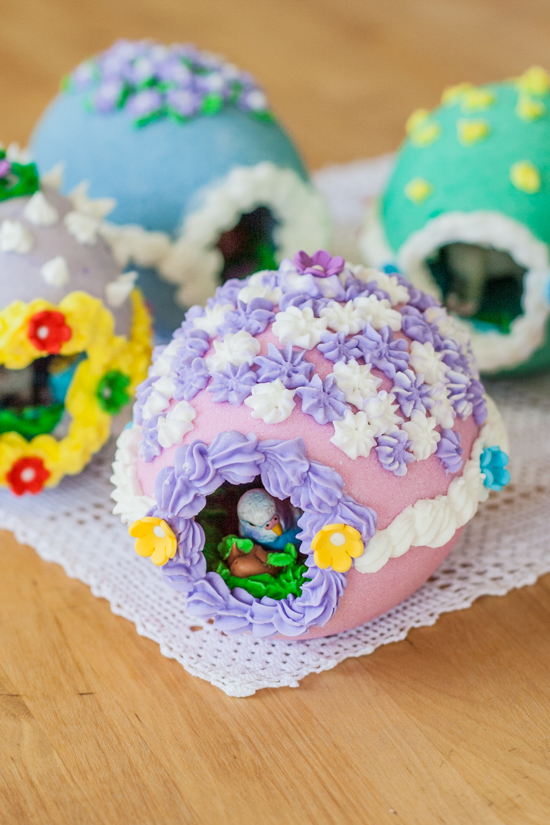 Some of the links in this post are affiliate links. If you click through and make a purchase, I earn a small commission for my referral at no additional cost to you. Thank you for supporting Flour Arrangements.

You might also like