Light in texture and sweet and tangy in flavor — with added indulgence from gooey chocolate — these Chocolate Chip Pancakes are a simple, fast breakfast treat.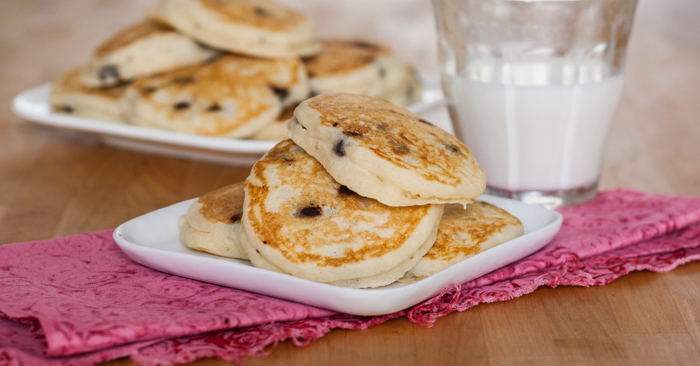 I had every intention of making apple pancakes for breakfast. My parents had delivered bags full of Golden Delicious Apples from their tree, which are perfect for baking, and I'd been looking for ways to use them. Tessa and her friend Finn had other plans, though.
Before I had the chance to make the suggestion, Tessa asked if we could have Chocolate Chip Pancakes for breakfast. Once that was on the table, the idea of apple pancakes seemed ridiculous, especially when the kids offered to make the pancakes themselves.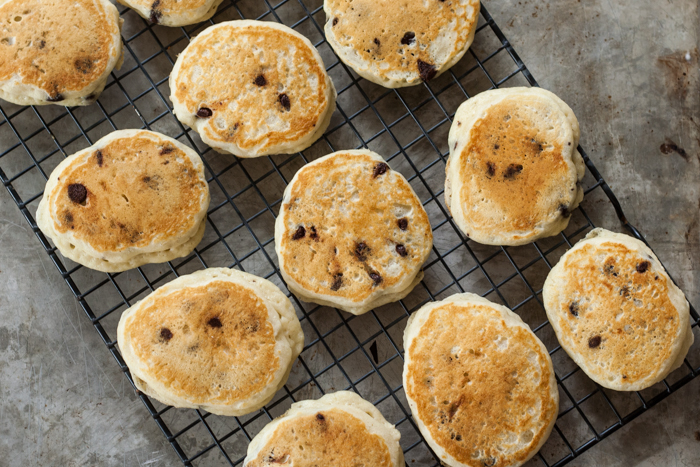 Tessa and Finn's Chocolate Chip Pancakes, which they adapted from a basic pancake recipe in Cook's Illustrated New Best Recipe Cookbook, turned out perfectly light and fluffy with a sweet, tangy flavor enhanced by gooey, rich chocolate. The kids added chocolate chips by the handful, which I've translated to a generous cup. If you're a huge chocolate fan, by all means throw in a few additional handfuls; I won't stop you like I stopped them.
I've been thinking quite a bit about the benefits of having kids work in the kitchen lately, and this pancake-making experience helped me focus on one more important life-skill kids can practice there: teamwork. Tessa, who's seven, and Finn, who's six, took turns preparing and adding ingredients to mix into the batter with almost no prompting from me. When it came time to ladle out the batter, on their own, they divided the griddle down the middle, and each one took a side for cooking pancakes. These two had such a good time making breakfast together that it made me glad I hadn't forced them to make apple pancakes instead.
While simple enough for kids to make, these Chocolate Chip Pancakes don't skimp on taste. If you can't find any kids to make them for you, you should totally make them on your own. While your pancakes will be equally delicious, your kitchen will probably look at lot cleaner in the end.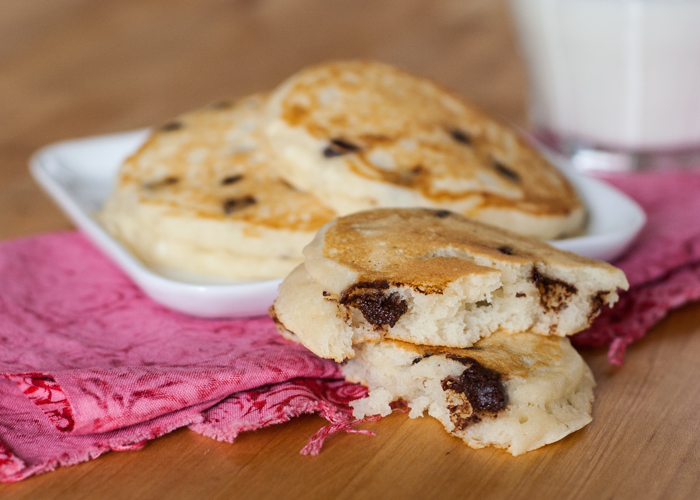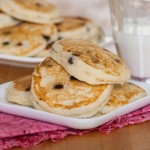 Print Recipe
Chocolate Chip Pancakes
Makes 24 three-inch pancakes.
Ingredients
2

cups

buttermilk

1

large egg

3

tablespoons

butter

melted and cooled slightly

1

teaspoon

vanilla extract

2

cups

unbleached all-purpose flour

2

tablespoons

sugar

2

teaspoons

baking powder

1/2

teaspoon

baking soda

1/2

teaspoon

salt

1

cup

chocolate chips
Instructions
Combine buttermilk, egg, butter, and vanilla extract in medium bowl or large measuring cup with a pour spout. Whisk until well combined.

Whisk flour, sugar, baking powder, baking soda, and salt in a medium bowl to combine.

Add the wet ingredients to the flour mixture and whisk very gently to start combining the ingredients. Add chocolate chips and fold them in with a spatula, taking care not to over-mix the batter.

Using a 1/4 cup measure, add batter to a lightly greased griddle or skillet preheated to medium-high. Cook pancakes until large bubbles begin to appear on the top surface, about 1 1/2 to 2 minutes. Flip pancakes with a thin, wide spatula and cook until golden brown on the second side, about 1 to 1 1/2 minutes more. Serve immediately or keep pancakes warm in an oven heated to 200º F until ready to serve.
Some of the links in this post are affiliate links. If you click through and make a purchase, I earn a small commission for my referral at no additional cost to you. Thank you for supporting Flour Arrangements.
Pin Chocolate Chip Pancakes for Later