Kahlua Chocolate Cupcakes deliver rich chocolate flavor with warm Kahlua undertones. A simple espresso buttercream adds sweetness with an edge.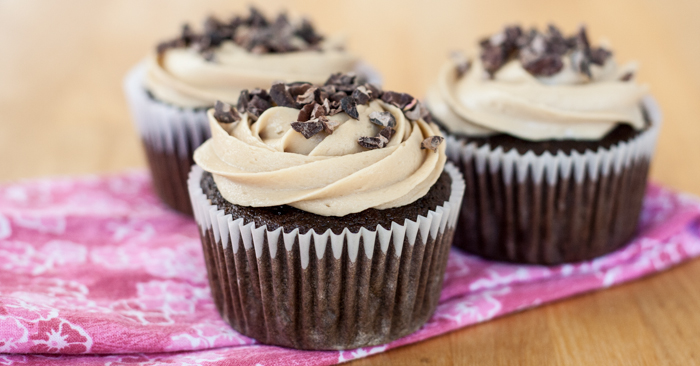 These little Kahlua Chocolate Cupcakes pack a big punch. Don't let their petite cupcake cuteness fool you; they're deep, dark, and decidedly indulgent with a shot of sweetness from the espresso buttercream frosting.
The hefty dose of chocolate chips mixed into the batter adds extra richness, and a sprinkling of cocoa nibs over the top as a finishing touch adds an almost earthy, bitter crunch that offsets the sweetness of frosting. I'm going to go out on a limb here and say that just one cupcake will probably be enough to satisfy almost any dessert-lover at one sitting.
The recipe is a variation of my ever-popular Kahlua Chocolate Cake recipe. I have made cupcakes from both the scratch and doctored box recipes of this cake, but I found that I always ended up overfilling my cupcakes!
I wanted a recipe that would produce smaller cupcakes in no more than two standard-sized muffin tins. This scaled recipe produces perfectly-sized cupcakes that won't overflow cupcake liners and make a mess of your muffin tins.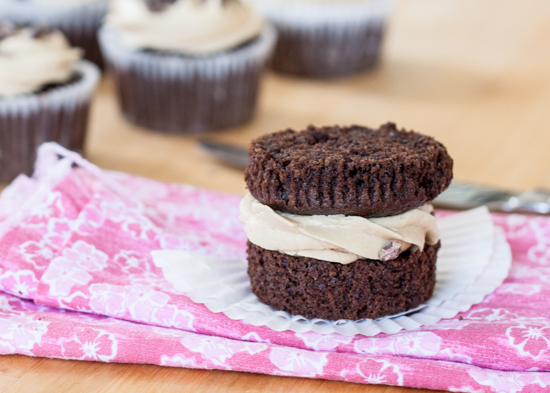 And speaking of messes, if you like to keep your nose free of frosting, slice these cupcakes in half lengthwise to make little sandwiches. Not only do sandwiches make for tidier eating, they're way more fun to eat.
And if you're not afraid to send your kids (or yourself) out the door with a little sugar, you'll be happy to know that tucking cupcake sandwiches in lunch boxes is easier than figuring out how to pack straight-up frosted cupcakes.
Wrap that sweet little sandwich up in plastic wrap or tuck it in a small container, and you're good to go.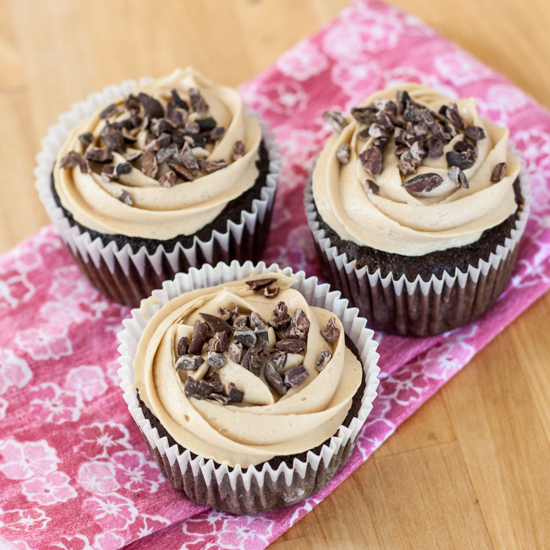 Just do it.
Honestly, you'd probably rather have everyone eat these caffeine-rich treats mid-day when there's time to run off all that energy.
Serve after dinner at your own risk.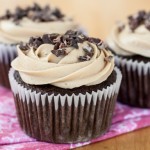 Print Recipe
Kahlua Chocolate Cupcakes with Espresso Buttercream Frosting
Makes 22 cupcakes.
Ingredients
Cupcakes

2

ounces

unsweetened chocolate

finely chopped

1

cup plus 2 tablespoons

unbleached all-purpose flour

2

tablespoons

unsweetened cocoa powder

3/4

teaspoons

baking soda

1/4

teaspoon

salt

1/2

cup

sour cream

1/2

cup

Kahlua

2

tablespoons

water milk, or coffee

1

teaspoon

vanilla extract

5

tablespoons

butter

softened but still cool

3/4

cups

brown sugar

packed

2

large eggs

1

cup

chocolate chips

Frosting

2

tablespoons

Kahlua

2

tablespoons

milk

1 1/2

teaspoons

espresso powder

pinch

salt

3 1/2 to 4

cups

confectioners' sugar

sifted if lumpy

1/3

cup

2/3 stick butter, softened but still cool

cocoa nibs or chocolate shavings

for garnish
Instructions
For the cupcakes, preheat oven to 350° F. Grease or line 22 cups in standard-size muffin tins. Set aside.

Melt chocolate in a double boiler or in a bowl set over a pan of simmering water. Set aside to cool slightly.

Combine flour, cocoa powder, baking soda, and salt in a bowl and set aside.

Add Kahlua to a glass measuring cup and then spoon in sour cream until the two ingredients reach the 1-cup line. Stir in water (or milk or coffee) and vanilla extract. Mix well and set aside.

In the bowl of a standing electric mixer, cream together butter and sugar until light and fluffy. Add the eggs to the butter mixture, one at a time, beating well after each addition. Add the chocolate mixture and stir to mix.

Alternate adding the flour mixture and sour cream mixture to the batter in two additions. Stir until well combined. Fold in chocolate chips.

Fill prepared muffin cups about half full with batter. Bake in preheated oven until firm to the touch and a tester inserted in the center of a cupcake comes out with a just few crumbs clinging to it, about 13 to 15 minutes. Remove from oven and cool in pans.

To prepare the frosting, combine Kahlua, milk, espresso powder, and salt in the bowl of a standing electric mixer. Swirl the bowl gently until espresso powder and salt have dissolved.

Add 3 1/2 cups of the confectioners' sugar and the butter. Mix slowly with the paddle attachment to combine, and then increase speed to medium-high and beat until smooth and creamy. Add additional powdered sugar if needed to achieve a frostable consistency.

Pipe frosting atop cooled cupcakes or use a small spatula to add a generous layer of frosting to each cupcake. Garnish with cocoa nibs or chocolate shavings.
YOU MIGHT ALSO LIKE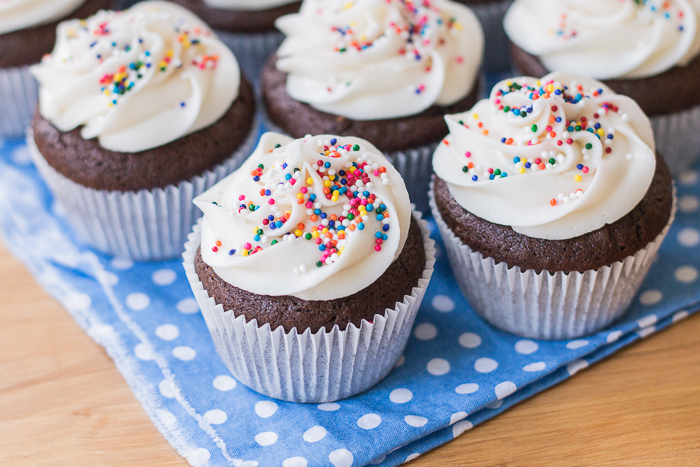 Simple Chocolate Cupcakes with Vanilla Frosting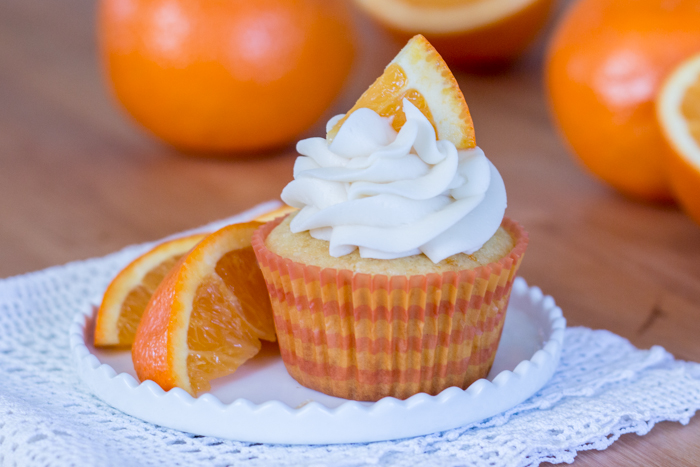 Orange Creamsicle Cupcakes
Pin Kahlua Chocolate Cupcakes for Later