Summer on San Juan Island almost makes you forget all about dark at-four o'clock-San Juan Island-winters. Warm days where light dances on the the harbor until 10:00 pm can sometimes make us forget about bedtime for the kids.
My husband works at the marine lab year-round, but most of the scientists who do research here just come for all or part of the summer season. I know someday we will have to move away, but I tell myself, rightly so or not, that we'll always come back for the summers.
When the long days bring friends from far and wide, we squeeze in as much time with them as we can before the ferry boats carry them away. We invited the Murrays for pizza soon after they arrived. Days full of beach play, art classes, and swim lessons–alternating with study days for me with the girls at school–make meal prep time scarce, so I planned a quick and easy meal. I promised myself I'd sit on the couch like a good girl and complete the astronomy homework that will magically turn me a into a "highly qualified science teacher" (Sounds easy, right? By the end of next year, this English teacher will also be a government/civics, history, and social studies "expert." At least on paper.).
All I had to do was make dough for pizza and chop vegetables after our friends arrived. If we needed something sweet after dinner, we could always have ice cream. I read chapter seven about "The Universe," and then headed to the store, grateful to get off the couch and out into the sunshine. I hadn't even gotten through the door when the strawberries stopped me in my tracks. Not your white-tinged with red monsters these; no, these berries–each with it's own quirky shape and personality–looked like they started out red and just kept going.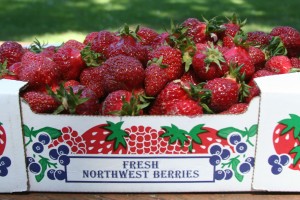 I watched my hands reach out for a flat and put it in the cart — my cart! Then I went along my merry way, tossing in green onions, broccolini, and mozarella while mentally checking that I had everything I needed at home to make strawberry shortcake. Just like that, chapter eight on "Exploring the Solar System" vanished from my afternoon horizon like a red dwarf shifting phases into a variable pulsating star.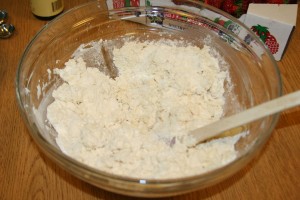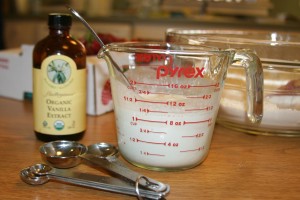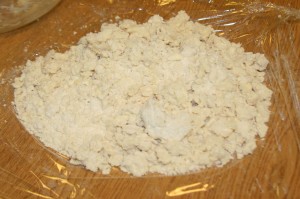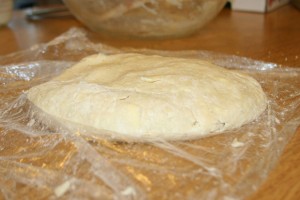 Fortunately, shortcake comes together easily and quickly. Unfortunately for my astronomy homework, I never did made it back to chapter eight. Too nice a day.
Strawberry Shortcake
Adapted from Foster's Market
.
Makes 12 3-inch shortcakes
4 cups all-purpose flour
1/2 cup sugar
2 teaspoons baking powder
2 teaspoons baking soda
1 teaspoon salt
2 sticks cold, unsalted butter, cut into 1/4-inch cubes
1 1/2 teaspoons vanilla extract
1 1/2 cups heavy cream
Preheat oven to 375 degrees Fahrenheit. Line a baking sheet with parchment paper and set aside.
Combine flour, sugar, baking powder, baking soda, and salt in the bowl of a food processor. Whirl to mix.
Add half of the butter and pulse until you don't see chunks anymore. Add the remaining butter and pulse lightly, leaving substantial hunks of butter in the mixture. Pour the mixture into a large bowl.
Measure the cream. Add the vanilla extract to it and stir. Pour cream mixture over the flour mixture and stir until the dough just comes together. Turn the dough out onto a very large piece of plastic wrap. Pull the sides of the plastic wrap together and lightly press, folding the dough's rough edges over as needed to incorporate the dry bits. Gently press the dough into a flat disk.
Unwrap and roll out on a lightly floured surface to a thickness of 1/2 to 3/4 inches. Cut six-inch rounds with a cutter, re-rolling scraps to form additional shortcakes.
Place rounds on prepared baking sheet and bake 12 to 15 minutes, until golden brown. Cool on a baking rack.
Slice each shortcake through the center like a sandwich. Cover the bottom with strawberries, add a dollop of whipped cream, add more berries, and then replace the top.
Some of the links in this post are affiliate links. If you click through and make a purchase, I earn a small commission for my referral at no additional cost to you. Thank you for supporting Flour Arrangements.