Soft and fluffy, with a lovely orange hue, these Sweet Potato Rolls deliver incredible flavor and texture.
I try not to complain too much when I find random wing nuts in the couch or notice computer cables weaving precariously through an open window. I really try. And when I feel frustrated and get close to chucking all his crap through that open window, I remind myself how often his projects turn out just awesome.
One of his latest projects involves a Brinkmann Electric Smoker
. Notice the wires coming out of the meat. Yes, those are the ones that lead from the smoker, across the porch, and up through the kitchen window.
He wrote a computer software program that monitors whatever he's smoking. It generates a graph of the meat's temperature on a cute little Eee PC. But wait, there's more: he got it to text him updates in case he's not by the computer. His friend Neil, who likes to smoke meat the old fashioned way, likes to hassle him about this. But I say, bring on the text messages. They mean we can row to town or go to the beach or do whatever else strikes our fancy on a Saturday afternoon. If a raccoon gets so hungry it knocks over the smoker, the drop in temperature will generate a text to tell us to head home. At least this is the way I imagine it works when I'm out enjoying my day.
This last weekend for our Fourth of July gathering, he smoked some pork butt (three pieces, actually; high-tech graph aptly labeled "three little piggies"). Pulled pork tastes better on soft rolls, so his project complements my interests well; I've made potato rolls, buttermilk rolls, and seeded rolls. As he perfects his project, I perfect mine. And I have discovered the perfect pulled pork sandwich vehicle: the sweet potato roll.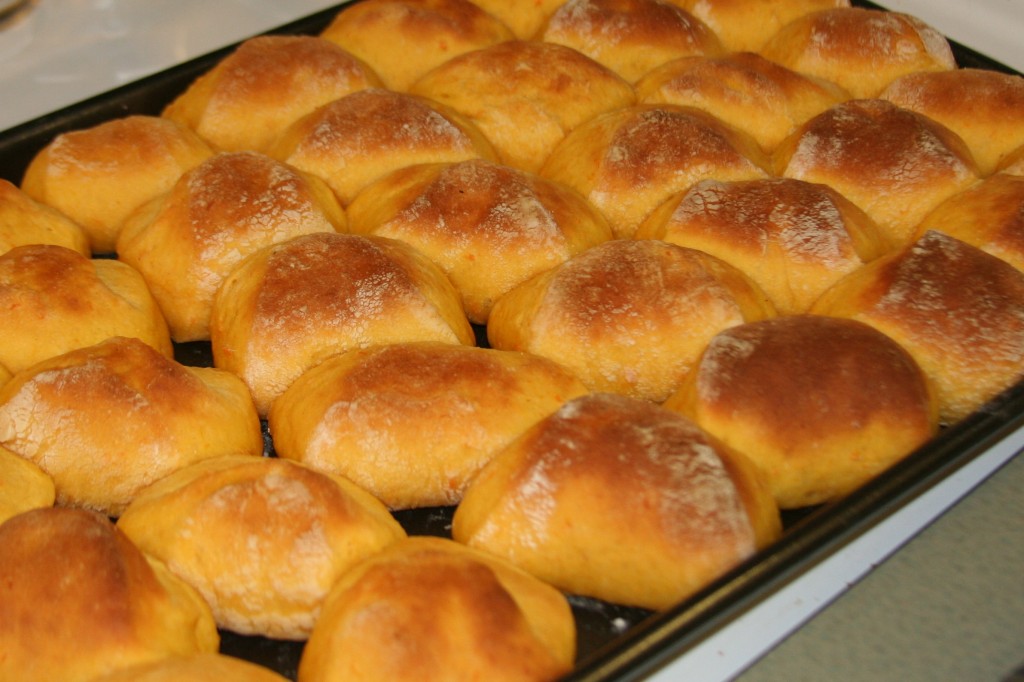 The recipe suggests preparing the dough ahead of time and refrigerating it until you're ready to bake. I've never liked using cold dough, so the first time I attempted it, I skipped that step. The soft, sticky dough made rolling and cutting difficult, so I decided to try letting the dough rise in the fridge this time. It turned out to be the right thing to do; the dough handled more easily when cool. And, the ability to pull cold dough from the fridge and then warm rolls from the oven just before dinner time emancipated my mind from the distraction of dinner-roll-rising mental calculations while I enjoyed watching Friday Harbor's small town parade.
These little rolls are perfect in so many ways. I love the way their gorgeous peach dough that bakes into a pale golden orange, and the way their soft, tender texture melts in your mouth without getting gooey. I love their sweet, buttery flavor, which makes them impossible to stop eating. Most importantly, their small size means there's always room for one more pork sandwich. Oh, and kids who despise vegetables of all kinds somehow love to eat them.
Sweet Potato Rolls
Adapted from Sara Foster's Southern Kitchen
. Makes about 5 dozen 2- 2 1/2 inch rolls. For a smaller, updated recipe, click here.
1 tablespoon plus 1 teaspoon active dry yeast
1/2 cup warm water (105-115 degrees Fahrenheit)
3/4 cup plus 1 teaspoon sugar
1 1/2 sticks unsalted butter
1 cup milk
2 teaspoons salt
2 cups mashed sweet potato (from one large or two small sweet potatoes, baked, peeled and mashed)
2 large eggs
7-8 cups all-purpose flour
3 tablespoons unsalted butter, melted
Lightly grease a large bowl with oil. Set aside.
Combine yeast and 1 teaspoon sugar in small bowl. Add warm water, stir, and set aside while completing the next step. The yeast should froth and double in size.
Melt butter in a small sauce pan. Add milk, 3/4 cup sugar, and salt. Stir over low heat until sugar dissolves. Turn off heat and cool to 115 degrees Fahrenheit before continuing.
Add yeast to milk mixture. Stir to combine.
Beat potato and eggs in the bowl of an electric mixer with the paddle attachment. Add milk-yeast mixture and beat to mix.
Add two cups of flour and beat hard for two minutes. Add five cups of flour, about a half a cup at a time, allowing it to incorporate before adding more. Add additional flour if needed, but prepare yourself for incredibly sticky dough; resist the temptation to add too much flour. Switch to the dough hook and knead for 3 to 5 minutes. Scrape the dough into greased bowl, flipping it once to coat dough with oil. Cover bowl oiled plastic wrap and let the dough rise for 2 hours or in the refrigerator overnight. It should double in size.
Butter two rimmed baking sheets or cover them with parchment paper. If you refrigerated the dough, let it sit at room temperature for 20 to 30 minutes before continuing. Turn out the dough onto a floured surface. Divide it in half. Roll out half the dough to a thickness of about 1/2 inch. Cut circles with a 2-to 2 1/2-inch round cutter, placing the the circles close together on the baking sheets. Gather scraps to re-roll. Repeat with remaining dough.
Preheat oven to 400 degrees Fahrenheit. Brush rolls sparingly with melted butter. Fold the rolls in half, pressing lightly in the center so they stick together.
Cover with plastic wrap and let rise until doubled in size, about 30 to 40 minutes.
Bake for 14-16 minutes, until golden brown and gently firm to the touch. Serve warm.
Some of the links in this post are affiliate links. If you click through and make a purchase, I earn a small commission for my referral at no additional cost to you. Thank you for supporting Flour Arrangements.
YOU MIGHT ALSO LIKE
Sweet Potato Rolls (updated recipe)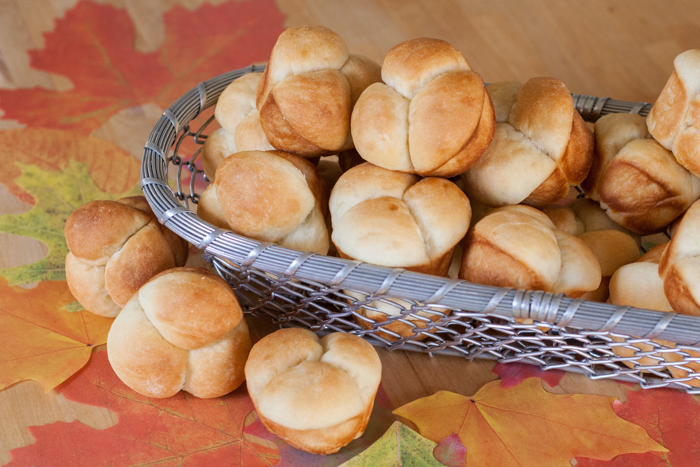 Buttermilk Dinner Rolls