With a subtle raspberry-sweetness layered with smooth, chocolaty richness, this dessert featuring Raspberry Meringue Hearts with Chocolate Pudding will make you fall in love all over again. It's a perfect Valentine's Day treat.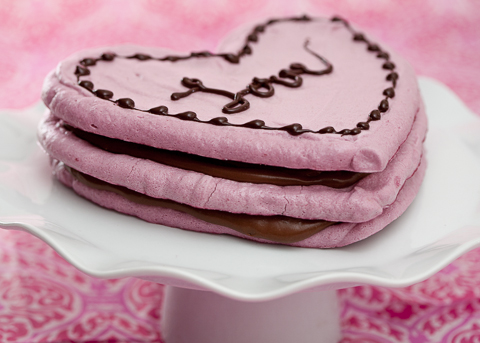 Ten years ago last October, I got married.
At my wedding, my husband's sister Trisha read this Ogden Nash poem:
To keep your marriage brimming
With love in the loving cup,
Whenever you're wrong, admit it;
Whenever you're right, shut up.
When Trisha finished reading on that dazzlingly sunny fall day, everyone laughed.
Of course it made us laugh. How often have you heard the words, "shut up" in the middle of a wedding ceremony?
I still chuckle every time I think about this poem, and part of my delight — aside from the memory of that collective laughter — arises from the fact that I can feel the truth of its words in my heart.
Nash makes successful relationships sound so easy, doesn't he?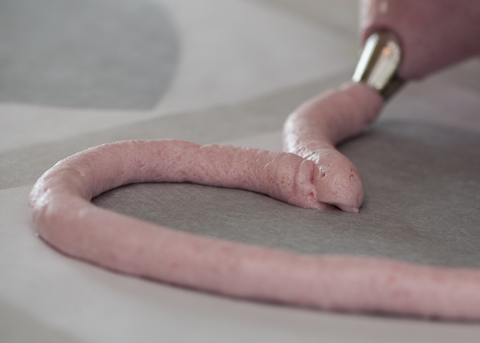 Some people may have this stuff dialed in (although I'm convinced that such people surely harbor other darker flaws), but I freely acknowledge myself to be a work in progress in this area. Admitting the error of my ways, especially to the people I love most, doesn't always come easily. And swallowing that "I told you so" in a moment of extreme frustration doesn't happen as often as it should.
That makes Nash's poem the perfect poem for me.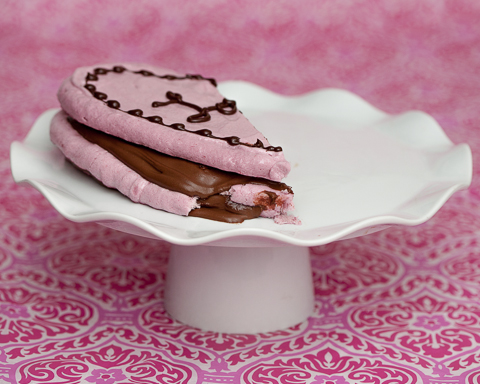 I know it by heart. Okay, sure, it's only four lines, but on very lucky days, my mind replays those last two lines at just the right moment, prompting me to speak with genuine compunction or to squelch some smug, unhelpful words before they come tumbling out of my mouth; when this happens, I always feel grateful.
Someday, rather than needing the memory of the poem to do the right thing, I hope to live its words by heart.
I recognize that this could be a long time coming, but I'm trying. I hope that counts for something.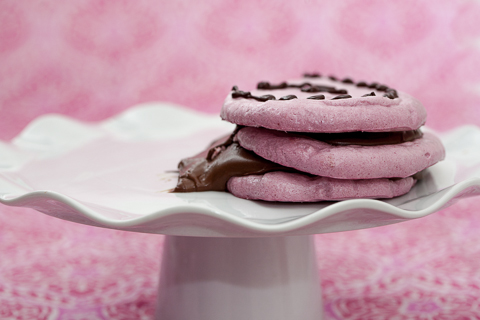 Since I'm so reliant on the poem, it seems worth mentioning its role in the evolution of this Raspberry Meringue Heart Stack.
I recently made a chocolate meringue stack filled with chocolate pudding. My husband went wild for it. He suggested that I figure out how to make pink meringue hearts layered with chocolate pudding for Valentine's Day.
I scoffed, wondering how I'd get them pink without food coloring. "Maybe try mixing in raspberries," he suggested.
I felt doubtful, but gave it a try just the same. If I can't make a special Valentine's dessert — requested by my very own true love — what good am I, anyway?
The first attempt was far from perfect, but I had to admit — it tasted delicious. My husband was totally right; thanks to Nash's poem, I made the effort to tell him so.
I timed my second attempt with a dinner date we had planned with some friends. When my husband suggested that I make the meringue the night beforehand, I reminded him about how humid our tiny house gets any time someone showers or boils a pot of tea. Surely, I explained, this would make the meringue soggy.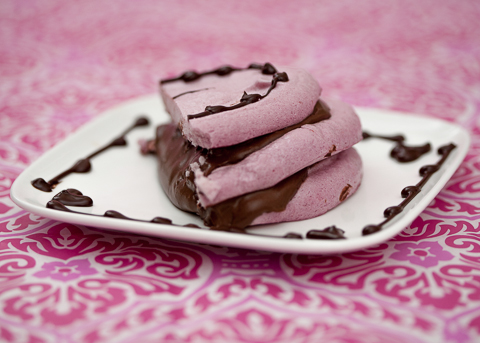 "Just leave it in the oven all day," he said. "It's sealed, so it won't be a problem," he explained convincingly.
When I opened the oven the next afternoon, instead of crisp, dry meringue, I found a gooey mess.
Despite the appearance of things, it was a lucky day. Rather than let loose some snide comments about "sealed ovens," I remembered Nash's poem, quietly chucked the gooey hearts, and made them again.
The second batch turned out airy-light and crisp. The look of this dessert alone is enough to help anyone lose track of past grievances. And the subtle raspberry-sweetness layered with smooth, chocolaty richness will make you fall in love all over again. It's just the thing to enjoy with with the people who fill your heart with love.
Have a Happy Valentine's Day.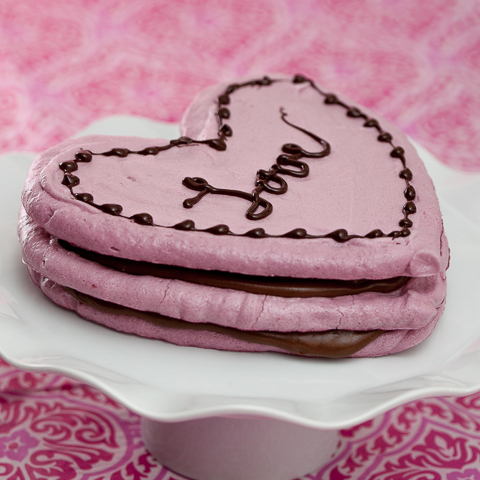 Raspberry Meringue Hearts with Chocolate Pudding
Resist the temptation to assemble this dessert ahead of time. When it sits, it becomes a gooey mess.
Meringue
1 cup fresh raspberries (fresh or frozen)
2/3 cup sugar
1 teaspoon vanilla extract
1/4 teaspoon cream of tartar
4 large egg whites
Chocolate Pudding
4 large egg yolks
1/4 cup sugar
1/8 teaspoon salt
1 tablespoon plus 1 teaspoon cocoa powder
1 tablespoon plus 1 teaspoon flour
3/4 cup whole milk
1 cup heavy cream
4 ounces bittersweet chocolate, chopped
1 teaspoon vanilla extract
Chocolate Piping
3 ounces bittersweet chocolate, chopped
1 tablespoon butter, cut in four pieces
For the meringue, preheat oven to 170° F (or your oven's lowest setting). Trace three 7-inch hearts on parchment lined baking sheets or tape heart templates on baking sheets before taping parchment paper on top. Set aside.
Combine raspberries and sugar in a small saucepan over medium-high heat. Stir often, crushing berries with the back of a wooden spoon. Once it comes to a boil, cook for one more minute and then remove from the heat. Strain the berry mixture through a fine-mesh sieve into a measuring cup, pressing down on the berries with a rubber spatula to extract the juice. Discard the seeds and stir the vanilla extract into the sauce. Allow to cool for at least 10 minutes before proceeding.
Place egg whites in a mixing bowl and sprinkle the cream of tartar over them. Beat the egg whites in the bowl of standing electric mixer with the whisk attachment until they hold stiff peaks.
Stir the cooled raspberry sauce before gently folding 1/3 of it into the beaten egg whites. Repeat two more times with the remaining raspberry sauce until evenly mixed.
Spoon meringue into a gallon-size zip lock bag fitted with a 1/2-inch piping tip. If you don't have a tip, simply snip about 1/4-inch from the corner of the bag.
Pipe meringue around the outside edge of one heart shapes. Repeat with remaining hearts to ensure that you will have plenty of meringue to form nice, smooth edges. Once each heart has a border, pipe along the inside edge of one of the hearts, working your way to the center to fill in the heart. Repeat with remaining two hearts. Smooth the top of each heart with the back of a spoon.
Bake for 2 hours, rotating the baking sheet after 1 hour so they will dry evenly.
Turn off the oven and allow meringues to remain in the oven for at least two hours to finish drying. If, after two additional hours, if the hearts seem damp still, heat in the oven at 170° F until dry and firm to the touch.
For the chocolate pudding, melt the chocolate in a double boiler or by microwaving in spurts (15 to 20 seconds each at 50 percent power), stirring occasionally, until melted and smooth. Set aside.
In a small bowl, whisk egg yolks, sugar, and salt until well combined. Add the cocoa and flour, whisking well. Set aside.
Warm the milk and cream in a medium saucepan over moderate heat until the mixture just starts to steam. Pour the warmed liquid into the egg mixture while whisking. Pour everything back in the saucepan and return it to the burner. Stirring constantly, bring the mixture to a boil. When it has thickened, take it off the heat and stir in melted chocolate and vanilla.
Transfer mixture to a bowl and cover with plastic wrap, pressing the wrap directly onto the pudding to prevent the formation of a skin. Allow it to cool on the counter. If needed, cool mixture in an ice bath, stirring frequently, to speed along assembly.
For the chocolate piping, melt chocolate in a double boiler or by microwaving in spurts (15 to 20 seconds each at 50 percent power), stirring occasionally, until melted and smooth. Add butter and stir until the butter is melted and the mixture is smooth.
Spoon chocolate-butter mixture into a piping bag or a small zip lock bag fitted with a decorating tip (I used a number 4). Allow to cool for about 15 minutes before using.
Peel cooled, dried hearts carefully from the parchment paper (you may want to peel all of them first in case you destroy one in the process—the layering obscures most damage that might befall to all but the top layer).
Place one of the meringue hearts on a flat plate, spread with one half of the pudding, and then add the second heart. Spread remaining pudding atop the second heart and add the final heart.
Pipe decoratively with chocolate and serve immediately. Use remaining chocolate to decorate serving plates.
Pin It For Later