These Mini Corn Dog Muffins strike just the right balance of sweet and salty. This crowd-pleasing snack recipe is simple to prepare.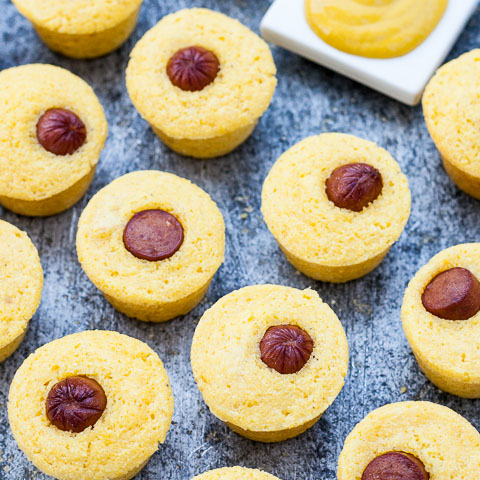 The day before birthday parties at my house, I'm usually scrambling to assemble an elaborate birthday cake.  But for Eliza's birthday celebration this year, I got off easy:  I made cupcakes and baked mini corn dog muffins.  I'm thinking I could get used to this.
Despite my slacking, the festivities did, in fact, include an elaborate "cake" — by far the most ambitious project ever attempted in our tiny kitchen.  My husband, enamored with the idea of creating a gingerbread Ferris wheel, pulled out all the stops.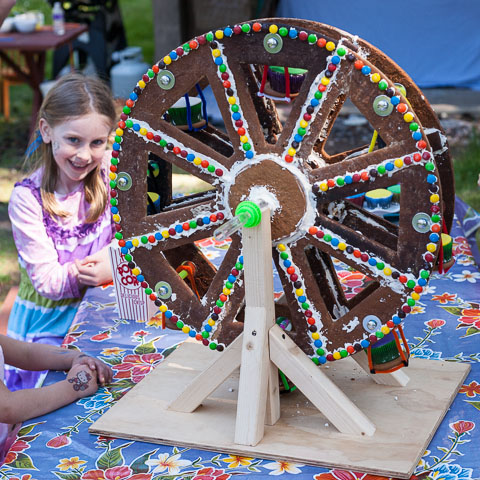 Any project my geeky-scientist husband undertakes involves one or more of the following:  electronics, computers, power tools, breaking stuff, and unflagging optimism.   You can read about the details of his week-long gingerbread bender — which required at least four batches of gingerbread, three sleepless nights, two trips to the hardware store, and one Tormach CNC mill – over at ManKitchen, which, I must warn you, is not for the faint of heart.
Up until an hour before the party, we still didn't know if the heavy gingerbread wheel would hang together on its frame.  But hang together did, and Eliza got to blow out her candles one at a time as the wheel rotated:  eight cupcakes — each topped with a fondant kid and a candle — completed the wheel.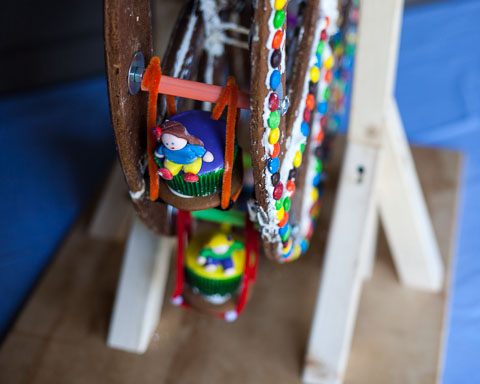 What with the gingerbread, cupcakes, leftover fondant, sno cones, and bowls of M&Ms, we subjected our guests to immoderate quantities of sugar.
To offset this cloying abundance, we served salty, buttered popcorn and, of course, my mini corn dog muffins.  I'm almost sorry we didn't deep-fry something just to perfect the aura of unhealth looming over our party.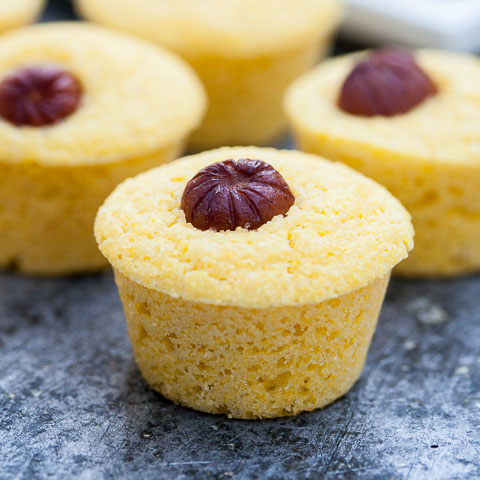 Mini Corn Dog Muffins
These muffins, with just the right balance of sweet and salty, taste great on their own;  plopping a hot dog in the middle takes them to the next level.  And here's the best part:  they don't leave you with that gut-in-a-knot-feeling that comes from eating deep-fried corn dogs.  Makes 24 mini muffins.
6 large hot dogs
1 cup unbleached all-purpose flour
1 cup yellow cornmeal
1/4 cup granulated sugar
1 tablespoon baking powder
1/2 teaspoon salt
2 large eggs
1 cup buttermilk
1/4 cup butter (1/2 stick), melted
Preheat oven to 400° F.  Grease a mini muffin pan with 24 cups.  Slice each hot dog into four pieces;  set aside.
Measure flour, cornmeal, sugar, baking powder, and salt into a large bowl.  Whisk well to combine.
In another bowl, combine eggs, buttermilk, and butter.  Whisk well to combine.   Add the wet ingredients to the dry ingredients and stir with a spatula until the ingredients just come together, no more than 20 strokes.
Transfer the batter to the prepared muffin tin, filling the cups about 3/4 full.  Insert a piece of hot dog in the center of each muffin so it rests about 1/8 to 1/4-inch from the bottom of the pan.
Bake on the middle rack for about 15 minutes, until the muffins are set and not yet starting to brown.  Cool for about five minutes in the pan before removing to a rack.  Serve with small bowls of mustard and ketchup for dipping.
PIN IT FOR LATER