This pear streusel tart delivers pure pear perfection under a generous layer of nutty, lightly spiced, brown-sugar topping.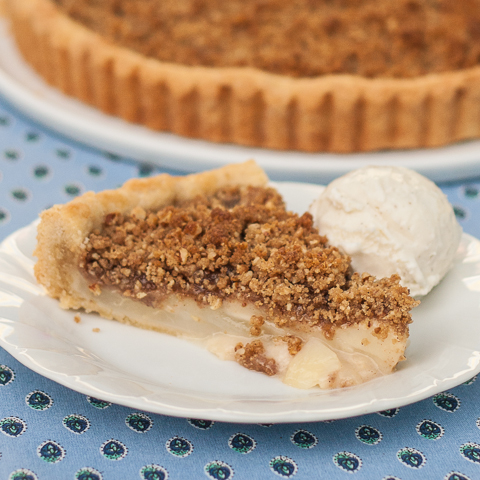 Aside from this summer, when moving madness prevented me from baking regularly, we usually have something sweet around the house. I like desserts of all kinds, but I especially love pie.
I grew up helping my mom bake pies with fruit picked from our neighborhood and backyard, which gives this particular genre of dessert a special place in my heart.
I also consider pie — chock-full of fresh fruit as it is — health food. Sometimes we eat it for breakfast.
You can't do that with chocolate cake, whatever Bill Cosby says.
But here's the sad thing about pie. My five-year-old daughter Tessa refuses to eat it. When I bake a pie or tart, she asks if she can have a piece of candy for dessert instead.
Candy.
One piece.
It almost breaks my heart.
This week, I made a Pear Streusel Tart. When I prepared to serve it, I — ever hopeful — asked Tessa if she wanted any. Often, she'll taste a bite of whatever I've baked to help her "decide" whether she wants a slice or not. But without exception, rather than choose to eat homemade dessert full of fresh fruit and love, she always opts for a piece of candy from the revered "treat" box. This treat box, I might add, contains sweets of uncertain age hauled home by my daughters once-upon-a-Halloween, Easter, Fourth of July, and birthday party pinata. Not only is the selection past its prime, but it was of indifferent quality to begin with. And, if the girls happen to miss anything that normal people would consider "good," my husband takes care of it soon after it enters the box. I do my best not to feel slighted every time Tessa rejects real dessert in favor of inedible candy. Really, I do.
This time, though, after I handed her a fork-full of tender, juicy pear mingled with sweet, slightly crunchy topping, she didn't ask for a stale piece of candy. She asked for a slice of tart.
I tried not to overreact, but I almost started crying. She even ate the whole piece.
In retrospect, this shouldn't have surprised me. The girl loves pears and brown sugar, and this tart delivers pure pear perfection under a generous layer of nutty, lightly spiced, brown-sugar topping. Now, I only wish I'd thought to make it sooner.
I'm hoping this Pear Streusel Tart will serve as the"gateway" dessert that will expand her palate for pie. Maybe someday she'll even start baking on her own like her sister, but I won't hold my breath. For now, I'll take what I can get. If that means cranking out more Pear Streusel Tart, I'm happy to bake it.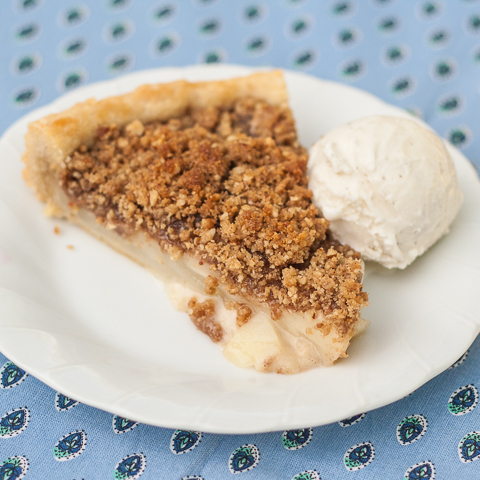 Pear Streusel Tart
Makes one 10-inch tart.
Crust
1 1/4 cups flour
1/4 cup powdered sugar
1/2 teaspoon salt
1/2 cup (1 stick), plus 2 tablespoons butter, cut in slices
2 tablespoons ice water, strained, plus more as needed
1/2 teaspoon vanilla extract
Filling
1 1/2 pounds firm ripe pears (about 3 medium-large)
1/3 cup granulated sugar
1/8 teaspoon salt
2 tablespoons unbleached all-purpose flour
Streusel Topping
2/3 cup unbleached all-purpose flour
2/3 cup pecans
2/3 cup packed brown sugar
1 teaspoon cinnamon
1/4 teaspoon salt
5 tablespoons butter, melted
For the crust, whirl flour, powdered sugar, and salt in the bowl of a food processor to combine. Add about 2 tablespoons butter and process until you no longer see chunks. Add remaining butter and process briefly, leaving chunks the size of peanuts.
Working quickly, turn on the food processor and pour the ice water and vanilla through the feed tube, stopping before the dough comes together. Pinch a bit of the dough between your fingers. If it does not stick together, add a couple teaspoons more water and whirl briefly.
Turn out the dough onto a large piece of plastic wrap. Use the plastic wrap to help you create a large, flat disk: fold the edges of the dough toward the center and press down to smooth out the roughness. Refrigerate dough for at least 30 minutes.
While the dough chills, prepare the filling. Peel, core, and cut pears into 1/4-inch slices. In a large bowl, gently toss pears with sugar, salt, and flour.
For the streusel topping, add flour, pecans, brown sugar, salt, and cinnamon in the bowl of a food processor. Whirl to combine. Add butter and pulse until the mixture resembles coarse crumbs.
Roll out the chilled dough into a circle to fit a 10-inch tart pan with about an inch of overhang all the way around the pan. Transfer dough carefully into the tart pan, and then fold overhanging edge down inside the tart pan, pressing gently to help it adhere. Prick the bottom of the crust in several places with the tines of a fork.
Distribute the pear mixture atop the crust. Cover evenly with streusel topping.
Bake for 15-minutes in an oven pre-heated to 425° F. Reduce heat to 350° F and bake for 20 minutes more, until the crust is golden brown. Remove pie from oven and cool completely on a wire rack.