Pale orange in hue with pecan slivers for stems, these tender, subtly-spiced Pumpkin Dinner Rolls make for a great snack or dinner accompaniment.
The other day I took a shot at baking Kaiser rolls. My husband makes amazing Gorgonzola-stuffed burgers, and it always seems a shame to eat such extravagant fare on ordinary hamburger buns.
Knotting and looping dough to achieve a Kaiser-roll effect took some getting used to, but I just reshaped the (many) clumsy-looking rolls until I felt happy with them. Despite my fumbling fingers, making these rolls felt much more satisfying than preparing standard-issue burger buns.
As I worked, Eliza asked how I was going to add the stems to the pumpkins. While I am clearly in a pumpkin phase right now, Eliza was way ahead of me on this one; my rolls did indeed look just like squat little stem-less pumpkins. Suddenly, my obsession shifted from perfecting Kaiser rolls to creating pumpkin rolls.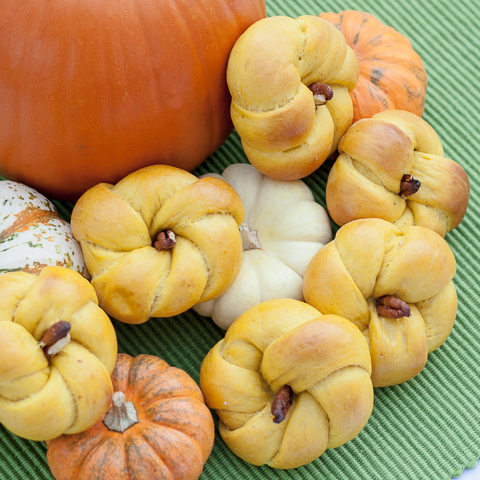 I knew I needed to scrap the hamburger bun recipe in favor of one that actually included pumpkin. I had tried baking cloverleaf-shaped pumpkin rolls once before, but they tasted bland and uninspiring.
This time around, I added a few pinches of saffron, some curry powder, and dried ginger, which gave these rolls the personality they needed. Looks, as we all know, aren't everything. What good are cute rolls if you don't want to eat them?
I downsized the pumpkins from hamburger-sized buns to dinner rolls. Pale orange in hue with pecan slivers for stems, these tender, subtly-spiced rolls make for a great snack or dinner accompaniment.
Now that I've cranked out two batches of pumpkin rolls in just two days' time, I'm anxious to try making Kaiser rolls again. After all that practice getting loopy with dough, I think I've finally gotten the hang of it.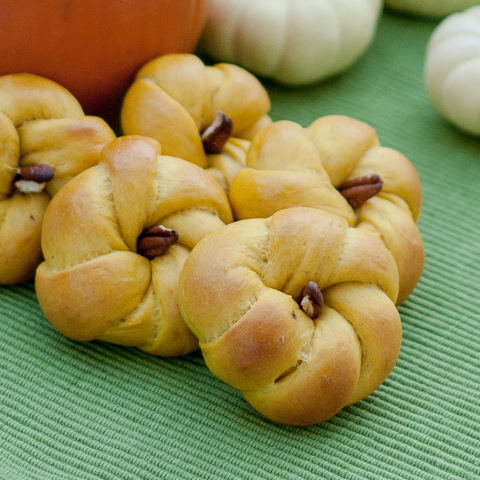 Pumpkin Dinner Rolls
Makes 32 3-inch rolls.
1/4 cup warm water
1 tablespoon active dry yeast
6 tablespoons butter
1/8 teaspoon saffron
1 1/2 teaspoons curry powder
1/2 teaspoon dried ginger
dash cayenne powder
3/4 cups milk
1 cup pumpkin puree
1/4 cup brown sugar
1 tablespoon salt
1 large egg
4 1/2 to 5 cups unbleached all-purpose flour
1 large egg beaten with 1 tablespoon water or 1/4 cup butter, melted
16 large pecan halves, sliced lengthwise
Combine water, yeast, and a pinch of brown sugar in the bowl of a standing electric mixer. Stir to dissolve and let sit until foamy, about 10 minutes.
Meanwhile, melt butter in a medium saucepan. Crumble saffron into the melted butter, and then add the curry powder, ginger, and cayenne. Remove from heat and add milk, pumpkin puree, brown sugar, and salt. Stir to combine. Add egg and mix well.
Add contents of the saucepan to the yeast mixture along with 2 cups of the flour. Add remaining flour, about a half a cup at a time, allowing it to incorporate before adding more. The dough will be very sticky. Switch to the dough hook and knead for 3 to 5 minutes. Scrape the dough into the greased bowl, flipping it to coat the entire surface with oil. Cover with plastic wrap and let rise until doubled in size, about 1 to 2 hours.
Turn out the dough onto a lightly floured surface. Divide into 32 evenly-sized pieces. Working a few at a time, roll each piece of dough into a 12-inch rope on an unfloured surface. Before shaping, lightly dust ropes with flour, and then, with floured hands, turn each one a pumpkin.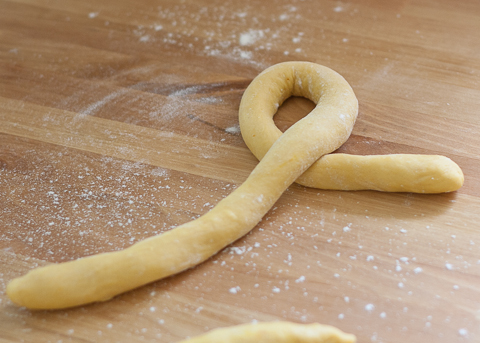 Create a small loop in the rope with a long tail on one side and a short tail on the other.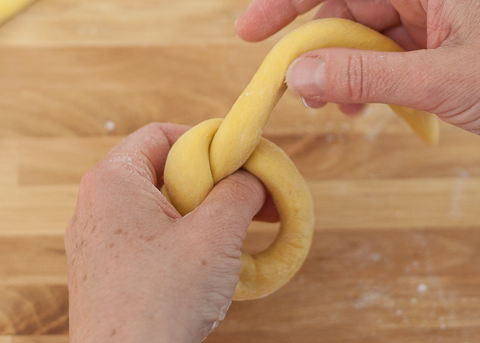 Wrap the long tail around the edge of the loop 2-to-3 times.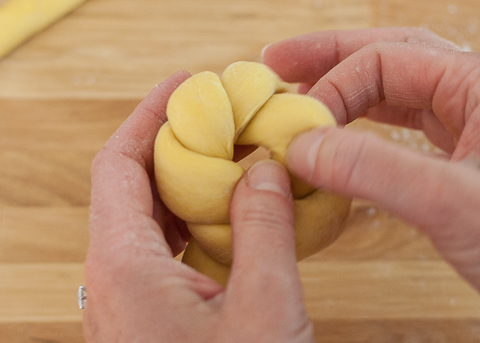 Hold the remaining end of the long tail on the bottom-side of the loop with a finger to keep it from unraveling as you continue to work.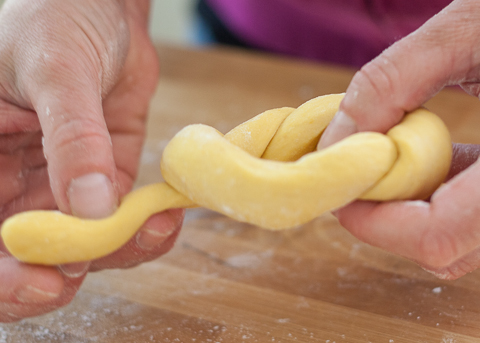 Wrap the other tail around the edge of the loop, tucking it through the center of the loop.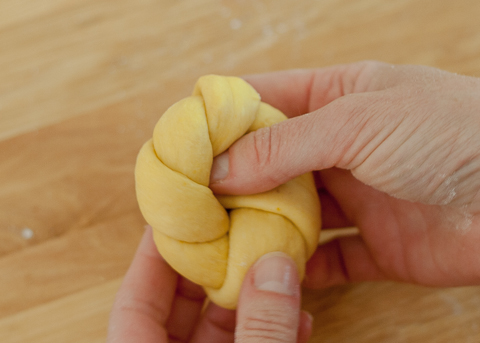 Pinch both of the ends together where they meet on the bottom side of the loop.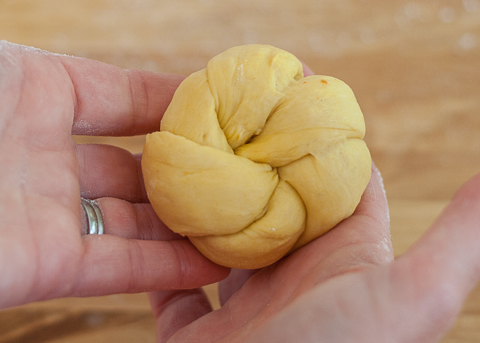 If you're not happy with the look of any of the rolls, simply set them aside for about 10 to 15 minutes and reshape.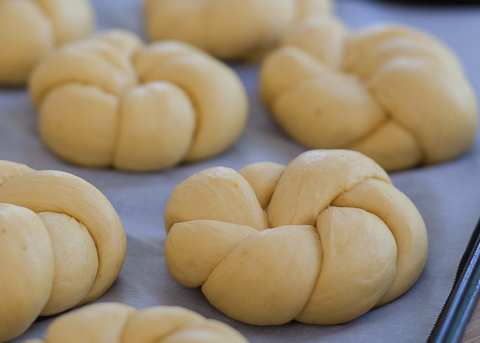 Place finished rolls on parchment lined baking sheets. Cover rolls loosely with plastic wrap and let rise for about 10 minutes.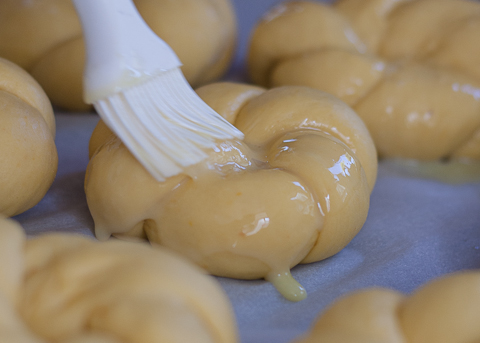 Just before baking, brush rolls with an egg wash for a shiny look or butter for a matte finish.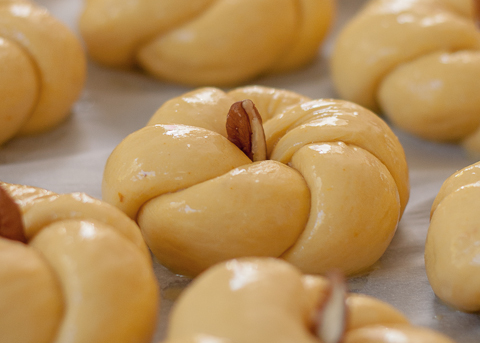 Insert a sliced pecan into the center of each roll, pressing so the pecan touches the pan.
In an oven preheated to 400° F, bake rolls for 12 to 15 minutes, rotating halfway through baking time. Rolls should be golden brown and gently firm to the touch. If not serving right away, shorten the baking time by several minutes and finish baking right before eating.

YOU MIGHT ALSO LIKE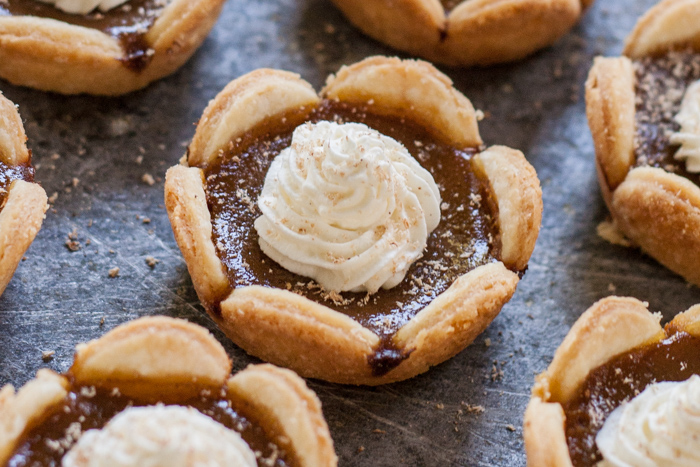 Mini Pumpkin Pies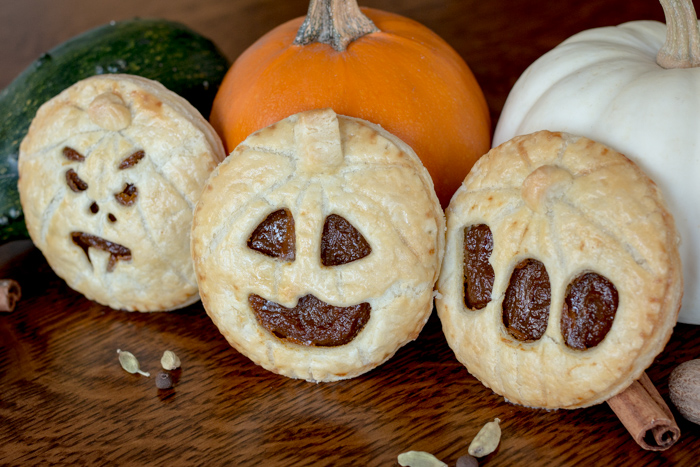 Sweet Pumpkin Hand Pies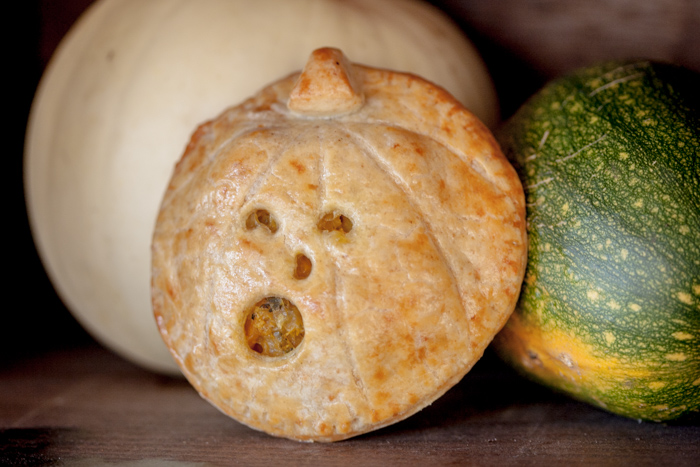 Savory Pumpkin Hand Pies