Tiny Pumpkin Pies simplify serving dessert. Deeply spiced smooth pumpkin filling gets extra depth and flavor from caramelized brown sugar as well as molasses.
I
've been baking pie for as long as I can remember. I love to make it, and I love to eat it.
Apple
,
blackberry
,
chocolate cream
,
butterscotch
,
peach
,
pumpkin
, you name it — pie is practically perfect. And I only add the "practically" because slicing pie makes me curiously anxious. It may seem silly that — after spending considerable time and effort to bake it — slicing into a finished pie troubles me so, but it does. I worry about making lopsided slices. I worry that each piece will fall apart while I lift it to the plate. And then, after serving a few slices, I start to worry that I won't have enough pie to go around.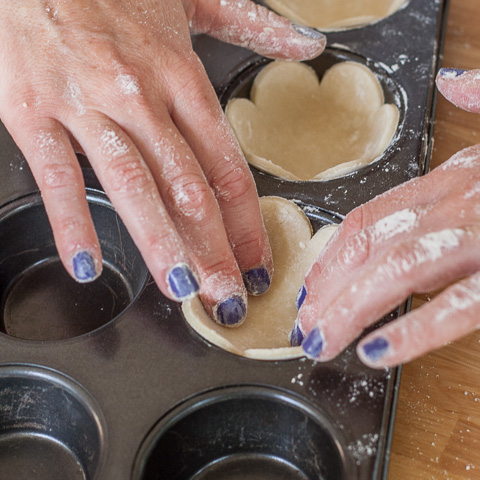 Worrying about pie, practically perfect as it is, amounts to a whole lot of wasted energy. Whenever I can, I pass the knife to someone else so I can relax and enjoy dessert. This usually works just fine, but I needed a better solution for Thanksgiving. In our excitement about being in a
new house
in the Bay Area, we invited our families to come for the holiday this year. We're thrilled that, at last check, 25 people will join us for two separate turkey dinners. The idea of slicing that much pie into so many tiny slices — even if I'm not the one wielding the knife — was making me nervous to a distraction.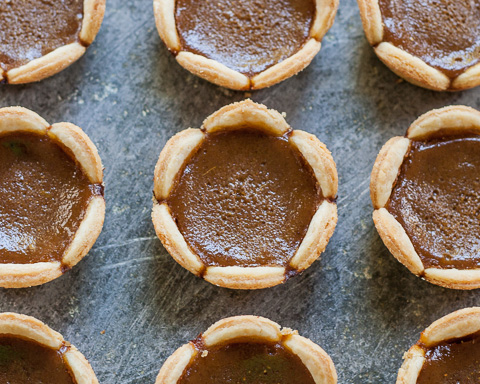 I set out to make tiny pumpkin pies to simplify serving dessert, but it turns out these little sweet treats will streamline our Thanksgiving meal preparations as well. They keep in the refrigerator for a day or two, so I can make them ahead of time. And, since they fit nicely inside a long flat casserole dish, they're easier to store in the fridge than several large pies.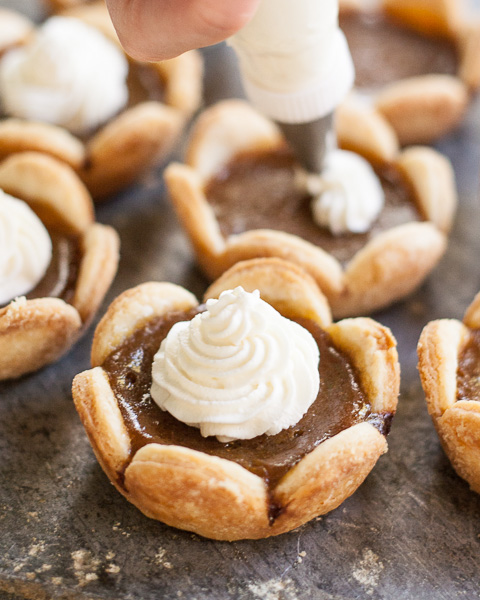 When I brought an experimental batch of mini pumpkin pies to a party this weekend, people loved their fluted edges. Using a
flower-shaped cookie cutter
gives them this finished look, but better yet, it allows the dough to slide effortlessly into the muffin cups by eliminating excess dough from bunching up near the top of each pie.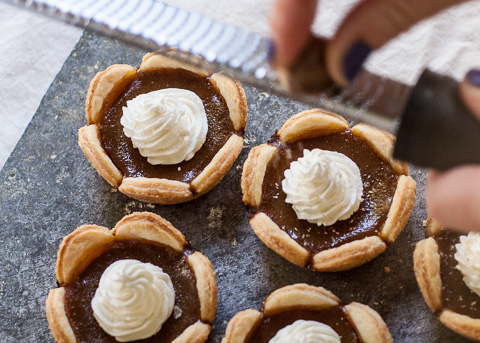 Adding filling to the prepared cups with a spouted measuring glass makes it easy to pour in the small amount needed for each pie, and, since they're so little, these pies bake for less than half the time required for a full-size pie, which means the oven will be available sooner for baking
rolls
. Cinnamon, ginger, and cloves add spice to the smooth, creamy pumpkin filling, which gets extra depth and flavor from caramelized brown sugar as well as molasses. I can't wait to bake these pies again next week for Thanksgiving. In the meantime, now that I'm free of pie-slicing anxiety, I have all kinds of energy to attempt making
mini apple pies
.
Mini Pumpkin Pies
I planned to make 24 pies since that would fit neatly in my two standard-size muffin tins. When I found I had extra filling, I borrowed a third muffin tin from a neighbor, rolled out the remaining pastry scraps, and managed to make six more pies. If you can't fit three muffin tins in your oven at a time, simply hold off on adding filling to the last muffin tin until the first two have finished baking. Adapted from my
grandmother's recipe
. Makes 30 mini pies.
Crust
2 1/2 cups all-purpose flour 1 tablespoon powdered sugar 1 teaspoon salt 2 1/2 sticks butter, cut in 1/4-inch slices 1/3 cup plus 1 tablespoon ice water, strained
Filling
3/4 cup brown sugar 3 tablespoons water 1/3 cup heavy cream 1 cup pumpkin puree 1/4 teaspoon salt 1 1/2 teaspoon ground cinnamon 3/4 teaspoon ground ginger 1/8 teaspoon ground cloves 1 generous tablespoon molasses 2 large eggs 1/2 cup milk or heavy cream
Topping
whipped cream freshly grated nutmeg, optional To prepare the crust, whirl flour, powdered sugar, and salt in food processor with the blade attachment. Add slices from one stick of butter and whirl until no chunks remain. Add remaining slices and whirl briefly to chop them up slightly. Turn food processor on again and quickly begin drizzling ice water through the feed tube, stopping before the dough comes together. Pinch some crumbs between your fingers; if they don't stick together, add a bit more water and whirl briefly. Turn the mixture out onto a large piece of plastic wrap. Use the plastic wrap to help you bring the dough together; fold the edges of the dough toward the center and press down until it holds together, taking care not to overwork the dough. Divide it in half and shape into two flat disks wrapped tightly in plastic wrap. Refrigerate dough for at least 30 minutes. Begin making the filling by placing the brown sugar in a small sauce pan. Crush or remove clumps any clumps before pouring water over the sugar. Swirl the pan and heat over medium-high, moving the pan frequently to prevent scorching. Bring to a vigorous boil and heat until the sugar smells caramelized and starts to darken. Off heat, add 1/3 cup cream, whisking until smooth. Set aside to cool. While the sugar mixture cools, roll one of the chilled pastry disks to a thickness of about 1/8-inch on a floured surface. Using a 3 3/4-to 4-inch
flower-shaped cookie cutter
, stamp out as many flowers as possible. Gently transfer the dough to the wells of standard-size muffin tins, tucking each flower carefully into one of the cups. With a toothpick or sharp skewer, prick holes in the dough around the bottom edge of the cup, about 1/8 to 1/4 inch apart, adding a few holes in the center as well. Gather the scraps for re-rolling and hold them until you've rolled and stamped flowers from the second piece of dough. Combine remaining dough with the reserved scraps and re-roll. Transfer muffin tins to the refrigerator to chill as you continue preparing the filling. In the bowl of a standing electric mixer, combine sugar mixture with pumpkin puree, salt, cinnamon, ginger, cloves, molasses, eggs, and milk or cream. Beat to combine. Transfer mixture to a 4-cup measuring glass with a pour spout. Pour pumpkin filling into the prepared muffin cups, taking care to add filling until it just barely reaches "V's" that form at the base of the flower petals. Place muffin tins in an oven preheated to 425°F. Bake for 15 minutes. Reduce the temperature to 350° and continue baking for about 10 minutes, until the middles are just set and a knife inserted into the top of the filling leaves a sharp crack. Cool in muffin pans for at least 20 minutes before removing pies with a thin spatula. If not serving the same day, cool to room temperature and then refrigerate. Before serving, top with whipped cream and a dusting of freshly grated nutmeg, if desired.
Pin it for Later