Adorable mini apple pies burst with apple-cinnamon goodness. Pecan-streusel topping adds sweetness and a subtle nutty flavor.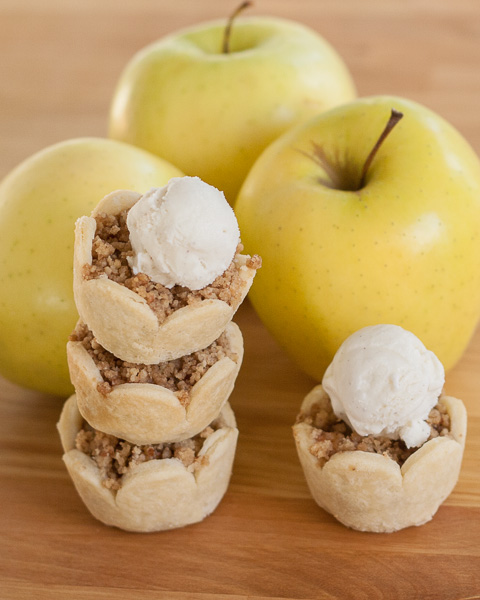 I've enjoyed apples aplenty this fall, including many from my parents' apple trees.
Delighted as I've been to eat apples from my childhood home once again, I was still feeling sorry for myself for missing out on the Shaw Apple Raid this year. I mourned the crisp morning sail, the quiet walk to the orchard, and the inexplicable sight of decrepit trees laden with bright fruit.
Then I learned that Friday Harbor Labs didn't head to the University of Washington's parcel on Shaw Island this year for the annual apple harvesting adventure. While this knowledge may have vanquished my self-pity, it still depressed me abysmally.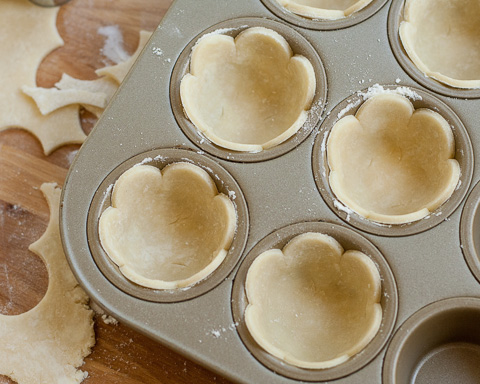 Even if I couldn't participate in the apple raid, I wanted lab families and friends climbing ancient trees to shake grizzled branches. I wanted showers of apples raining down on the thick, damp grass. I wanted bucket loads of apples piling up precariously in the back of an old pick up truck. And I wanted to know that, the next morning, these same people chugged fresh-pressed cider as they scrambled to find enough containers to capture the precious golden liquid before it spilled through the dock and into the harbor.
I feel grateful that my family had the chance to take part in the apple raid for as many years as we did. As I watch my daughters grow accustomed to life in an urban setting – where we can acquire nearly everything we need without a day-long adventure requiring a ferry ride and a drive — I hope they will remember, among other island traditions, what it feels like to spend a weekend picking apples and turning them into cider.
The apples we picked on Shaw weren't especially delicious. While great for cider, they didn't make great eating apples. Even so, every year after the apple raid, I hoarded apples for my kitchen. No one seemed to mind, especially since many of these apples made their way back into the hands of my fellow apple raiders as apple-cinnamon rolls at the cider pressing or apple cake at lab parties.
After sharing baked goods around the lab, I especially loved it when, few days later, I'd hear in passing that others had dug into their own apple stashes to bake my recipes for themselves.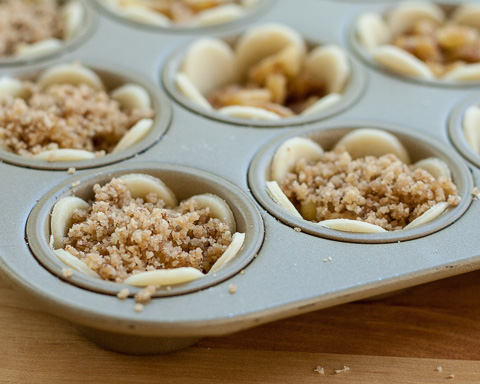 These mini apple pies are just the kind of dessert I would have shared after an apple raid, especially since they require no slicing or utensils of any kind for serving them. They're strictly finger food, even with a small scoop of ice cream on top. I made them for this very reason with this year's overly-ambitious Thanksgiving dinner in mind.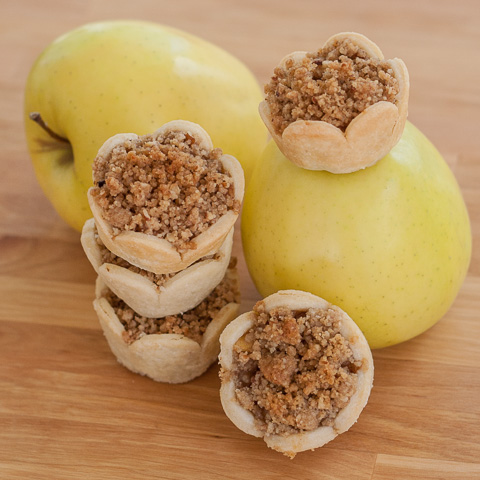 They're cute, to be sure, and they're easy to serve, too, but they're also really worth eating. Each flaky, butter-rich pie crust bursts with apple-cinnamon goodness, and the pecan-streusel topping adds sweetness and a subtle nutty flavor.
Since they're so small, it's easy to get carried away eating them. When I said I planned to make a single recipe for Thanksgiving, my husband protested, saying, "People are going to want to eat three at least."
If you bake these little apple pies for family or friends, let me know, will you? And please don't forget to tell me where you got your apples, even if, like me this time around, you bought them at the store. Hearing that you made them will give me that feeling of apple community that I missed out on this year. And to all you labbies in Friday Harbor, don't let next year pass without heading to Shaw for another apple raid.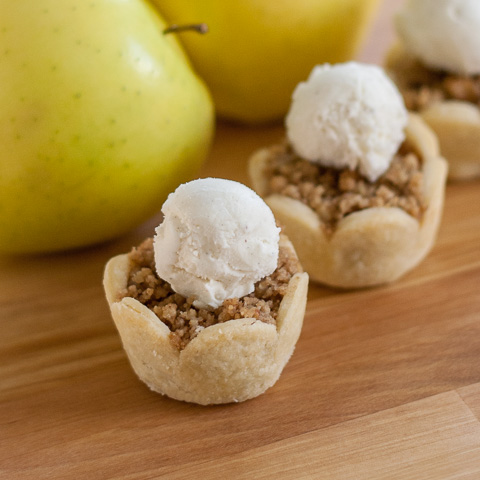 Mini Apple Pies with Pecan-Streusel Topping
Makes about 30 two-inch apple pies. I found great variation in the size of cups in mini muffin pans, so quantities may vary. Also, with my smaller-cupped pan, I sized down my flower cutter.
Pie Crust
2 cups unbleached all-purpose flour
3 tablespoons powdered sugar
3/4 teaspoon salt
1 cup butter (2 sticks), sliced
3 tablespoons ice water, strained
Filling
2 tablespoons butter
3 large apples, diced (about 4 cups)
1/8 teaspoon salt
2 tablespoons lemon juice
1 teaspoon cinnamon
2 tablespoons unbleached all-purpose flour
1/3 cup brown sugar
Streusel Topping
1/3 cup flour
1/3 cup brown sugar
1/3 cup pecan halves, toasted
1/8 teaspoon salt
2 tablespoons butter, melted
To prepare the crust, whirl flour, powdered sugar, and salt in food processor with the blade attachment. Add slices from one stick of butter and whirl until no chunks remain. Add remaining slices and whirl briefly to chop them up slightly. Turn food processor on again and quickly begin drizzling ice water through the feed tube, stopping before the dough comes together. Pinch some crumbs between your fingers; if they don't stick together, add a bit more water and whirl briefly. Turn the mixture out onto a large piece of plastic wrap (set aside bowl of food processor without washing to make the streusel topping). Use the plastic wrap to help you bring the dough together; fold the edges of the dough toward the center and press down until it holds together, taking care not to overwork the dough. Divide it in half and shape into two flat disks wrapped tightly in plastic wrap. Refrigerate dough for at least 30 minutes.
To prepare the filling, melt butter in a large frying pan over medium heat. Add diced apples and salt. Saute until soft but not falling apart, about 10 to 12 minutes. Stir in lemon juice and set pan aside to cool.
While the apples cool, roll one of the chilled pastry disks to a thickness just shy of 1/8-inch on a floured surface. Using a 2 1/2 to 3-inch flower-shaped cookie cutter, stamp out as many flowers as possible. Gently transfer the dough to a mini muffin tin, tucking each flower carefully into one of the cups. With a toothpick or sharp skewer, prick holes in the dough around the bottom edge of the cup, adding a few holes in the center as well. Gather the scraps for re-rolling and hold them until you've rolled and stamped flowers from the second piece of dough. Combine remaining dough with the reserved scraps and re-roll.
Transfer muffin tins to the refrigerator to chill while preparing the streusel topping. Whirl flour, brown sugar, pecans, and salt in the food processor until nuts are chopped finely. Add melted butter and whirl until the mixture just begins to come together. Set aside.
Continue making the apple filling right before filling the pies. Sprinkle cinnamon and flour over the apples in the pan and mix to combine. Add brown sugar and stir. The mixture should look dry. Divide apples among the prepared crusts and then sprinkle each one generously with streusel topping.
Place muffin tins in an oven preheated to 425°F. Bake for 5 minutes. Reduce the temperature to 375° F and continue baking for about 15 minutes, until the juices begin to bubble up, the crusts are set, and the topping is lightly browned.
Let cool in the pan for about 20 minutes before removing gently with a thin spatula.
Pies can be stored in in a sealed container for several days at room temperature. If serving with ice cream for a crowd, prepare tiny scoops to freeze ahead using a melon baller or a 1 teaspoon measuring spoon.
Some of the links in this post are affiliate links. If you click through and make a purchase, I earn a small commission for my referral at no additional cost to you. Thank you for supporting Flour Arrangements.