Fresh gingerbread layered with raspberries, whipped cream, and a healthy dose of raspberry liqueur combine in an easy, yet impressive Gingerbread-Raspberry Trifle.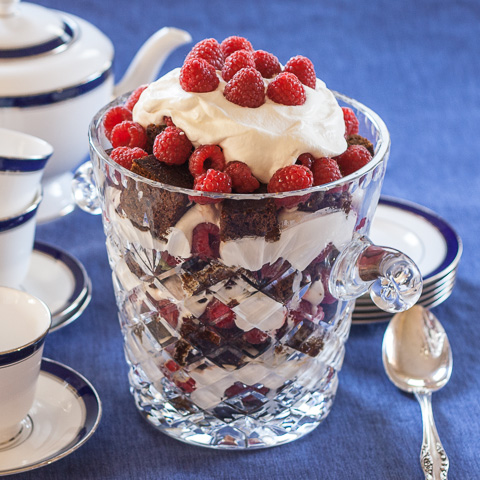 I have this thing about cutting up dessert. I just don't like to do it.
Since we hosted Thanksgiving this year, I took preventative measures — in the form of miniature pumpkin and apple pies — to ensure that no one, especially me, was going to get stuck slicing pie.
By Wednesday evening, while we dined on take-out pizza with visiting relatives, I finished baking dozens of little pies. I even got the sweet potato rolls in the oven.
Having completed my Thanksgiving feast contributions so far in advance, I decided that what we really needed was a dessert trio rather than a duet; I got right to work making little gingerbread cupcakes.
I should of stopped while I was ahead.
The cupcakes baked unevenly and refused to come out of the pan without falling to pieces. While terrible to look at, the deeply-spiced pile of rubble tasted incredible.
In its current form, I couldn't imagine serving this gingerbread next to the cute little pies I'd prepared.
"Maybe I'll make Gingerbread-Raspberry Trifle," I told my husband.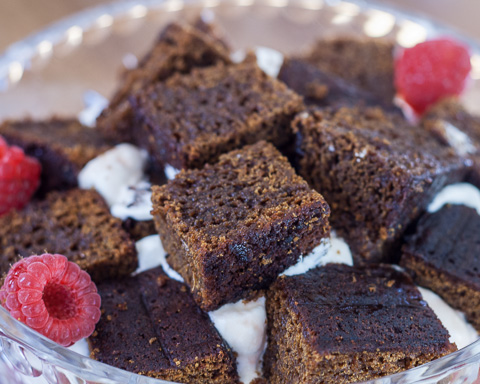 I have no clue where this inspiration came from, especially since, as I scraped moist, fragrant gingerbread from my mini muffin pan, I couldn't answer the obvious question my husband asked: "What's a trifle?"
A quick google search validated my instincts, though: a trifle is a dessert typically made from cake soaked in wine or spirits and layered with fruit, custard, and cream in a tall glass bowl. It sounded like a perfect scheme for disguising my crumbling cupcakes.
Of course I didn't have the requisite trifle bowl, spare whipping cream, custard, or fruit, but I wasn't going to let this stop me. I dusted off a crystal ice bucket we'd received as a wedding gift and headed to the store for ingredients.
Have you ever tried to buy heavy cream at 11 pm on Thanksgiving Eve? Me either, but I now know that it's nearly impossible. Here's a tip, though: check out sketchy liquor stores. We sent out an emergency text before going to bed, and my brother-in-law had no trouble finding heavy cream in San Francisco's Tenderloin the next morning.
I hadn't actually planned on taking the extra step of making custard for this last-minute dessert. This proved fortuitous when a casserole dish of stuffing shattered in the oven, followed by an oven mitt catching fire.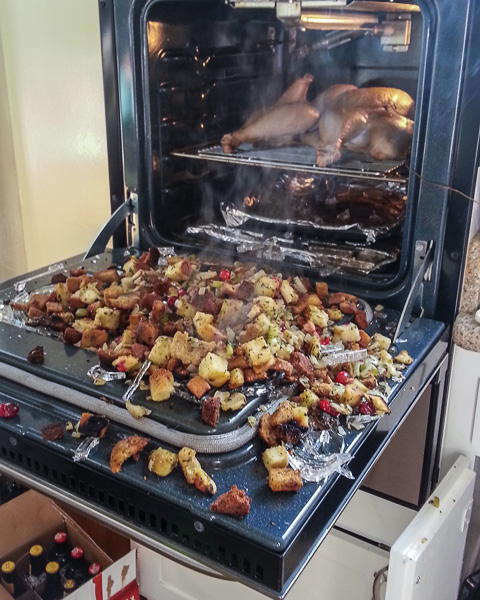 Dealing with broken glass and flaming kitchen implements left little time for extra preparations.
Layered with fresh raspberries, whipped cream, and a healthy dose of raspberry liqueur, my serious gingerbread fail emerged from the ashes as an elegant dessert that tasted far better than the straightforward cupcakes I set out to make. Not only did the Gingerbread Raspberry Trifle taste great, it towered impressively over the dainty, uber-cute little pies I'd spent so much time making.
But here's best part about my new favorite dessert: serving trifle requires no slicing. I may bust this one out for Christmas dinner on purpose.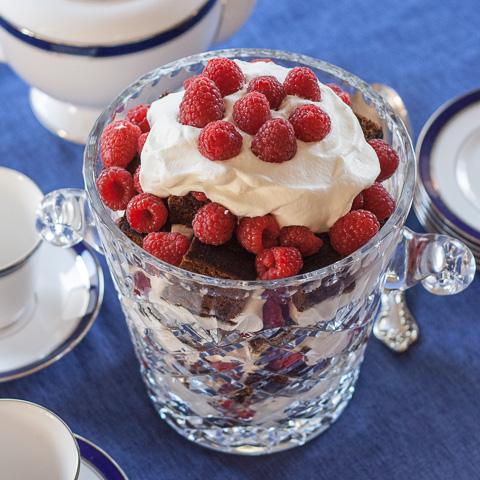 Gingerbread-Raspberry Trifle
Gingerbread recipe adapted from The Joy of Cooking
(1997 edition). Serves 10 to 12.
Gingerbread
1 3/4 cups unbleached all-purpose flour
1 teaspoon baking soda
1 tablespoon ground ginger
2 teaspoons cinnamon
1/4 teaspoon ground cloves
1/4 teaspoon ground cardamom
1/4 teaspoon salt
1 stick (8 tablespoons) butter, at room temperature
1 large egg
1/2 cup packed brown sugar
1 cup molasses
1/2 cup boiling water
3 tablespoons finely chopped crystallized ginger
Whipped Cream
1 pint heavy cream
3 tablespoons powdered sugar
1 teaspoon vanilla extract
Assembly
24 ounces fresh raspberries
1/2 cup raspberry or other flavored liqueur
For the cake, grease a 9-by-9 inch pan and line the bottom with parchment paper. Grease the top of the paper, pressing down to help it adhere smoothly to the bottom of the pan. Set aside.
Sift together flour, spices, and salt. Set aside.
Beat butter and brown sugar in the bowl of a standing electric mixer until light and creamy. Add egg and mix until well combined, scraping down the sides with a silicone spatula as needed. In a slow, steady stream, beat in molasses. Add flour mixture and stir until just combined. Stir in boiling water and crystallized ginger until evenly combined.
Pour batter into prepared pan. In an oven preheated to 350° F, bake until a toothpick inserted in the cake's center comes out clean, 35 to 40 minutes. Allow to cool in the pan for 10 minutes. Slide a thin metal spatula around the edge of the cake before inverting it. Peel off paper liner. Turn the cake right side up on a baking rack and cool completely.
Slice cake into 1-inch cubes. Combine ingredients for whipped cream in the bowl of a standing electric mixer. Beat until soft peaks form. Add liqueur into a measuring cup with a pour spout.
Cover the bottom of a trifle bowl or other container with a layer of gingerbread cubes. Douse the layer of cake with a generous splash of liqueur. Cover the cake layer with raspberries, followed a mound of whipped cream about 1 1/2 inches thick. Repeat with remaining ingredients, ending with whipped cream. Garnish with a handful of raspberries, if desired. The number of layers will depend on the container's size.
Chill for about 4 hours before serving.
Some of the links in this post are affiliate links. If you click through and make a purchase, I earn a small commission for my referral at no additional cost to you. Thank you for supporting Flour Arrangements.