This Roasted Grape Tart features flavorful fruit layered over over sweet mascarpone cream and a brown sugar-pecan crust.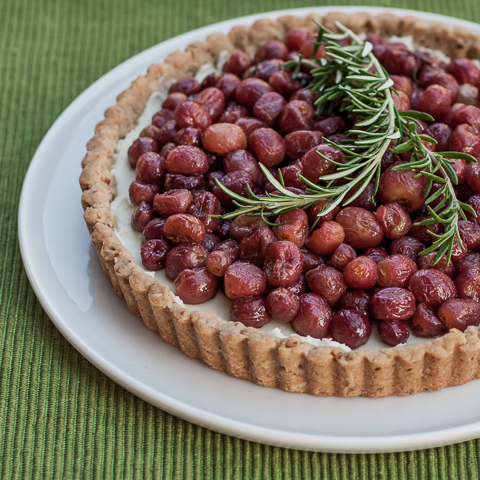 I love grapes. I love their juicy crispness. I love the explosion of sweetness they unleash in your mouth as their taut skins rupture. I love grapes, but I only love them when they're perfect. Once they're even slightly past their prime, I want nothing to do with them.
My genius mom used to pop saggy grapes in the freezer: since water expands as it freezes, juice-filled grapes plump right back up into delicious frozen treats.
I'm pretty sure I didn't realize that she was using the sad, withered grapes that we refused to eat to make this coveted snack. Now, though, I totally appreciate this simple trick for reducing food waste.
These days, ironically, I'm withering perfectly lovely grapes on purpose. Tossing them with a bit of oil, salt, sugar, and herbs and baking them in the oven transforms grapes from simple snack food to elegant cheese platter fare.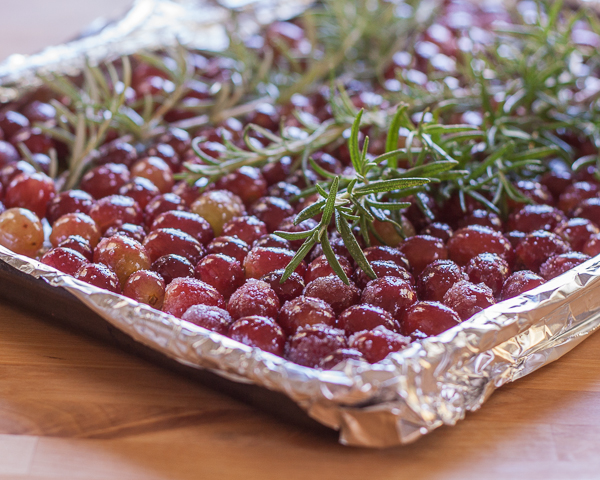 Roasting heightens grapes' flavor as it begins to caramelize the sugars in each juicy globe. As soon as the heat makes them sag in their skins, they're mouthwateringly delicious. With a splash of balsamic vinegar, they're downright addictive.
Adding roasted grapes to dessert gives me some restraint, but not much.
Layered over sweet mascarpone cream in a brown sugar-pecan crust, roasted grapes look and taste quite elegant. I never, ever imagined I'd say that about withered grapes, but there it is.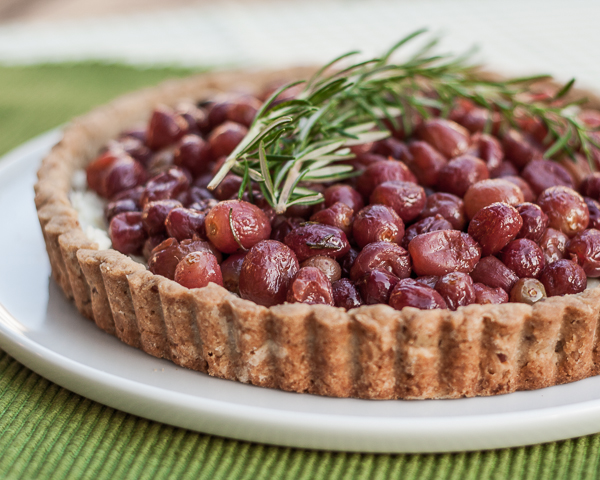 This Roasted Grape Tart comes together in stages. Since I have little bursts of time in which to bake, this means I can easily add dessert to a simple weeknight meal.
The quick and easy pat-in-the-pan crust needs to cool before filling, so you can prepare it hours or even a day ahead of time. If you really wanted to plan ahead, you could freeze the crust, but honestly, it's so simple to prepare that I'm not sure it's worth the effort of clearing a tart-sized space in your freezer.
Roasting grapes requires only a small window of active time as well; after tossing them with sugar, salt, and rosemary, they spend just 15 minutes in the oven, and then they can sit on the counter until you're ready to assemble dessert.
Final assembly merely requires whipping together ingredients for the mascarpone cream, spreading it into the prepared crust, and then topping it with roasted grapes. Simple, easy, and super delicious — it's the best kind of dessert.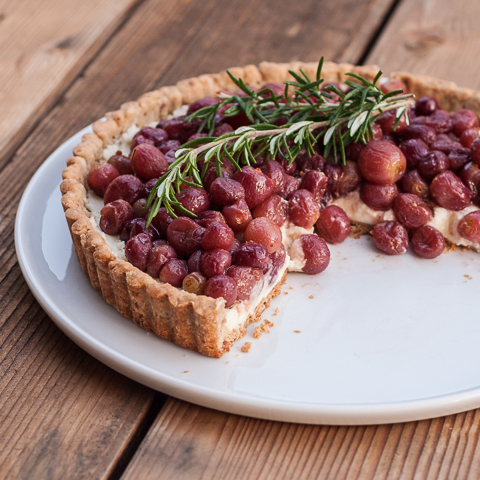 The last time I made this tart, I couldn't resist finding out how I felt about frozen roasted grapes. I tucked a handful of these flavor-packed fruits in the freezer and waited impatiently for them to freeze solid.
Here's the verdict: unlike fresh grapes, they do not plump themselves up to their original glory, and their coldness dulls the vibrant flavor developed during roasting. Darn it, anyway! I thought I might be on to the next great food fad.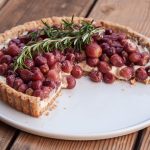 Print Recipe
Roasted Grape Tart
So long as the grapes are seedless and small in size, any variety will do. Serves 8.
Ingredients
Tart Crust

7

tablespoons

unsalted butter, melted

1/4

cup

brown sugar

1/4

teaspoon

salt

1/2

teaspoon

cinnamon

1/4

cup

toasted pecans, chopped finely

1

cup

unbleached all-purpose flour

Roasted Grapes

4

cups

small to medium-sized seedless grapes (about 1 1/2 pounds)

1 1/2

tablespoons

olive oil

2-3

tablespoons

sugar, depending on the grapes' sweetness

1/4

teaspoon

salt

3

large sprigs fresh rosemary

1

tablespoon

balsamic vinegar

Mascarpone Cream

8

ounces

mascarpone (about 1 cup)

1/3

cup

heavy cream

1/4

cup

granulated sugar
Instructions
To make the crust, mix butter, brown sugar, cinnamon, salt, and pecans in a medium bowl. Add flour and stir until just blended. Press the dough evenly over the bottom and up the sides of a 9 1/2-inch tart pan with a removable bottom. Generously prick the bottom and sides with the tines of a fork. Bake in the lower third of an oven preheated to 350° F until the crust is pale golden, about 20 to 25 minutes. Cool completely.

To roast grapes, toss grapes, olive oil, sugar, salt, and rosemary on a rimmed baking sheet lined with foil. Roast in oven preheated to 375° F until just starting to collapse and split, about 15 minutes. Remove from oven. Discard rosemary sprigs (it's okay if a few leaves remain with the grapes) and drizzle with vinegar. Toss gently and set aside to cool to room temperature.

For the cream filling, whisk together mascarpone, cream, and sugar with an electric mixer until it just holds stiff peaks. Scrape mixture into the tart crust, spreading it evenly to the edges. Spoon roasted grapes over the cream filling.

If desired, drizzle slices with remaining juices and garnish with sprigs of rosemary.
YOU MIGHT ALSO LIKE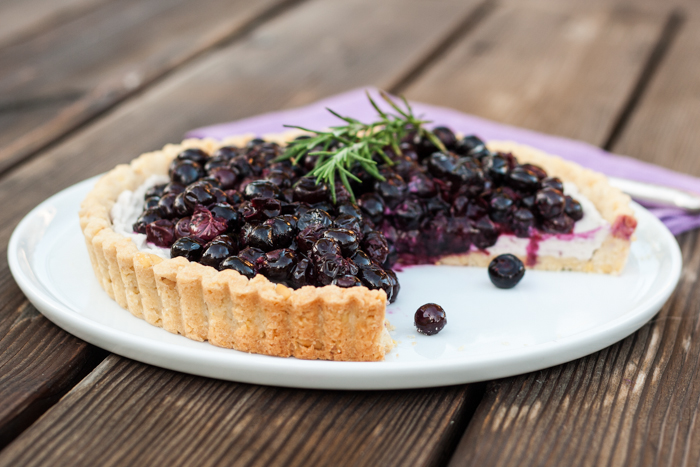 Honeyed Blueberry Tart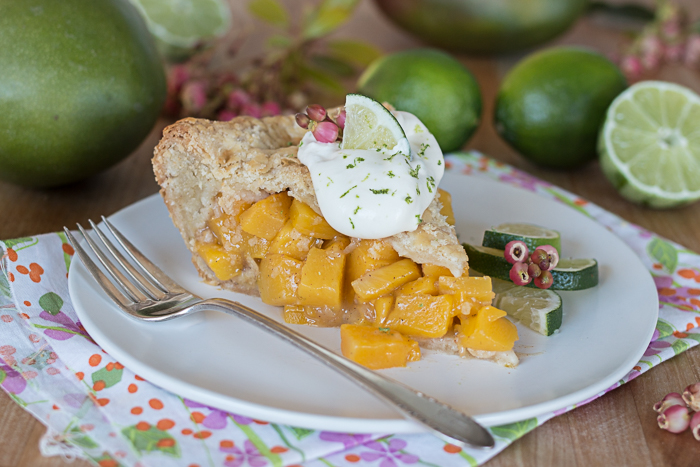 Mango Pie with Lime Whipped Cream
PIN ROASTED GRAPE TART FOR LATER