Full of sweet banana flavor and bursts of deep, rich chocolate, these Banana-Chocolate Blondies take this great flavor combination to new heights. Penuche frosting and a drizzle of chocolate add tempting, extraordinary flair to these tasty little bars.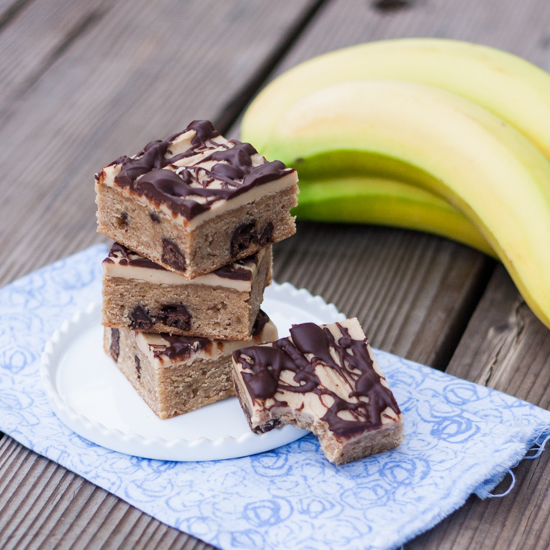 My husband's sister sent him a text the other day: "Tell Suzanne I made banana blondies with penuche frosting yesterday. It came to me like a dream." I've often heard her talk about trying to replicate her mom's penuche frosting — also called brown sugar or caramel frosting — but since she never liked the spice cake that her mom always frosted with it, she's been casting about for the perfect medium for this ambrosia.
I was totally with her on the banana blondie idea, and here's best part: she said the frosting perfectly replicated her childhood memory of penuche.
As luck would have it, I had some bananas on hand, which meant I could get right down to business baking these blondies. Once I mixed the batter, though, its sheer addictiveness nearly prevented me from ever getting to the blondie stage.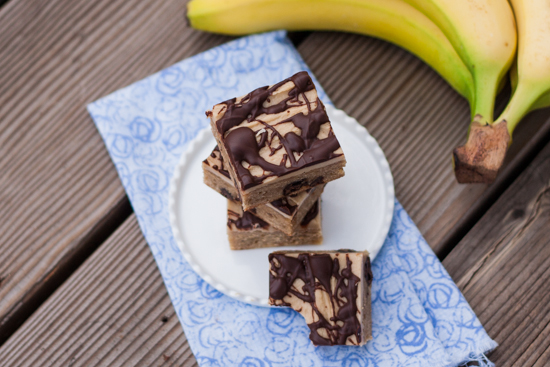 As I wondered, spoonful after spoonful, how I could possibly turn this gooey concoction into bonbons or a tart, I sent Mary a note about its addictiveness.
Here's how she responded: "As I was making this and eating batter, I started thinking hmmm, I might need a smaller pan." This warmed my heart and made me wish that she didn't live so far away from us. Clearly, I need to bake with her.
She cautioned me to save room for the frosting. Of course it was too late by this point, but was she ever right. I couldn't help wondering what this sweet, caramel-like frosting would taste like on other foods. For the record, sandwiched between two pancakes, it's divine.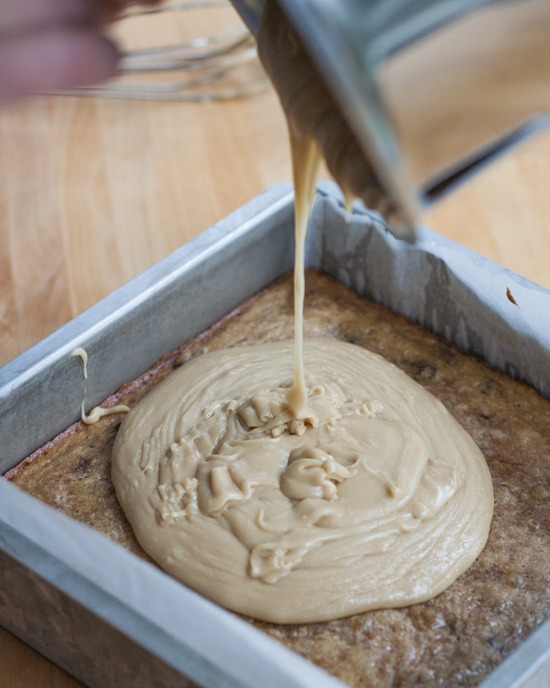 Frosted, cooled, and sliced, these little squares of deliciousness truly are the stuff of dreams. I found myself unable to stop eating them as I savored their tender texture, great banana flavor, and sweet brown sugar frosting.
But it turns out that my sweet dreams do not align with my family's. They simply weren't satisfied with a straight-up banana dessert — even if it did come topped with penuche frosting.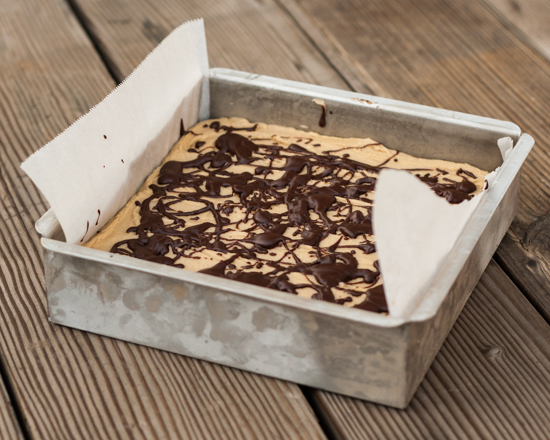 During dessert, my husband couldn't resist sending a quick note to his sister: "Suzanne is in your camp. I think these things taste like bananas, but I found a way to improve them." He attached a picture of his blondie smothered in chocolate ganache.
Since it's no fun (and a very bad idea) to bake dessert that the rest of your family doesn't adore, I mixed up another batch that would surely hook them: this time I mixed in chocolate chunks and added a drizzle of chocolate on top.
They tasted even better than the first batch; the chocolate adds richness and texture to the tender fruity bars, and its deep, subtle bitterness balances out the sweet banana flavor and penuche frosting. It takes these blondies from a simple fruit dessert to a decadent indulgence. They're truly amazing. If it didn't sound so cheesy, I'd say you'll go bananas for them.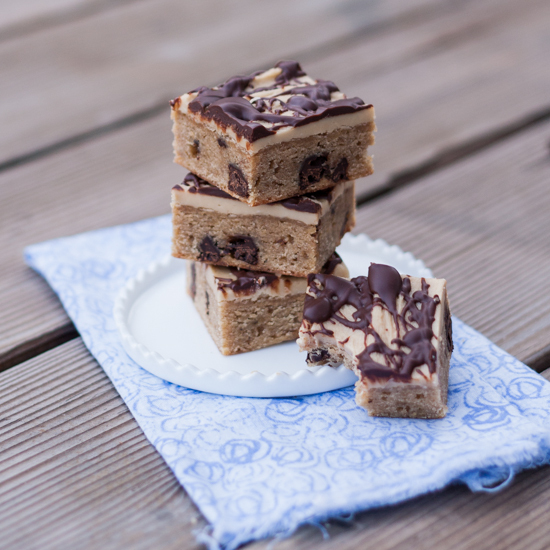 Print Recipe
Banana-Chocolate Blondies
Servings:
4
-6. Makes 16 blondies.
Ingredients
Blondies

1/2

cup

unsalted butter (one stick)

1

cup

brown sugar

¼

teaspoons

salt

1

large banana (should measure 1/2 cup once mashed)

1

large egg

1½

teaspoons

vanilla or bourbon

1

cup

flour

4

ounces

bittersweet chocolate, chopped into good-sized chunks

Penuche Frosting

¼

cup

butter (half stick)

½

cup

brown sugar

pinch

salt

2

tablespoons

milk

1

teaspoon

vanilla extract

1

cup

powdered sugar

Glaze

1

ounce

bittersweet chocolate, chopped

1

tablespoons

butter

1/2

teaspoon

vanilla
Instructions
To prepare the blondies, preheat oven to 350º F. Melt butter in a medium saucepan over moderate heat. Once the butter has melted, add brown sugar and salt, stirring to combine. Continue cooking until the mixture just begins to boil. Remove from heat and cool slightly.

In the meantime, generously butter an 8-inch square metal baking pan. Add a layer of parchment paper, leaving the edges long enough to lift the blondies from the pan once cool for easier slicing. Butter the parchment paper, pressing it down to help it adhere smoothly to the pan. Set aside.

Mash banana in a medium-sized bowl. Add egg and vanilla, mixing well to combine.

Add banana mixture to the pan with the brown sugar mixture, stirring until well combined. Mix in flour until combined. Fold in chocolate chunks.

Spread batter into the prepared pan.

Bake for 25-30 minutes until center is set. Transfer pan to wire rack to cool

When the blondies come out of the oven, begin making frosting. Melt butter in a medium saucepan. Add brown sugar, salt, and milk. It will bubble up a bit; stir carefully until smooth and well combined. Continue cooking until the mixture just comes to a boil. Remove from heat and let cool for 5 minutes.

Whisk powdered sugar into the pan and then spread frosting on top of the blondies. Set aside to cool completely.

Once cool, add the chocolate glaze. Melt bittersweet chocolate and butter in short bursts in the microwave. Once melted, stir until smooth and glossy. Mix in vanilla extract. Drizzle glaze over the frosted blondies.

Once the glaze has set, lift the blondies from pan using the parchment paper and slice into squares.
Pin it for Later