Bright lemon flavor shines against the subtle resinous backdrop of rosemary-pine nut shortbread in these Meyer Lemon Bars.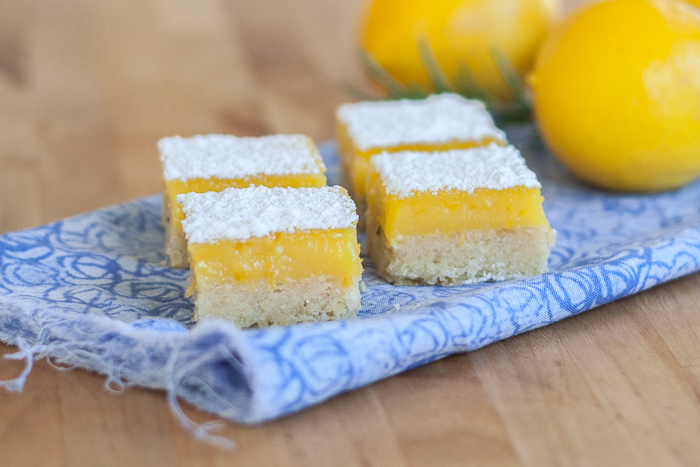 One year ago, while I was coveting the fruit on my neighbors' citrus trees, I never dreamed that the small Meyer lemon tree we planted in our front yard would crank out so many lemons in such a short time. 
While we don't have quite enough for the lemonade stand of my kids' dreams, we certainly have enough for baking plenty of dessert.
Lemon bars seemed like a great place to start with these tangy, almost-sweet Meyers.  As I set out to pick lemons, I couldn't help snipping a few rosemary sprigs to chop up and add to the shortbread mixture.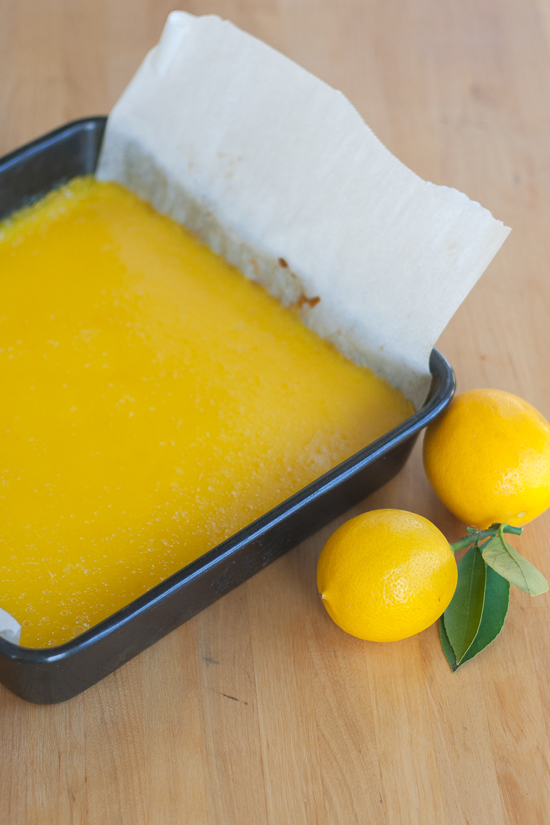 Since the lemon-rosemary-pine nut combination is such a hit in one of our favorite shortbread recipes, it seemed only right to add pine nuts to the recipe as well.
The subtle resinous backdrop from both rosemary and pine nuts sets off the bold lemon flavor in these mouthwatering little bars.
Unlike some lemon bars, these are super-stable and sliceable without feeling over-gelled.  This comes from the extra step of preheating the lemon filling before baking it over the shortbread crust.  And stirring in the zest after heating and straining the filling takes advantage of Meyer lemon skin's sweet zing and lovely, nearly orange-hue. It adds vibrant lemon flavor and deep yellow color to the finished dessert.
Last night, when a neighbor offered me Meyers from her own tree, I didn't jump at them like I would have last year.  I did tell her that — when I eventually run out of lemons — I would happily take some off her hands.
I promised to return a portion of them to her as Meyer Lemon Bars with Rosemary-Pine Nut Shortbread.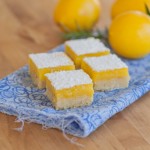 Print Recipe
Meyer Lemon Bars with Rosemary Pine Nut Shortbread
Servings:
6
to 8. Makes 16 bars.
Ingredients
Crust

1 1/4

cups

unbleached all purpose flour

1/2

cup

confectioners' sugar

1/2

teaspoon

salt

1

tablespoon

minced rosemary

2/3

cup

pine nuts

1/2

cup

one stick unsalted butter, sliced

Filling

7

large egg yolks

2

large eggs

1

cup

plus 2 tablespoons granulated sugar

2/3

cup

Meyer lemon juice, from 4 or 5 medium lemons

pinch

salt

1/4

cup

1/2 stick unsalted butter, sliced in several pieces

3

tablespoons

heavy cream

1/4

cup

Meyer lemon zest, reserved from juiced lemons

confectioners' sugar, for garnish
Instructions
Preheat oven to 350º F. Generously butter a 9-inch square metal baking pan. Add a layer of parchment paper, leaving the edges long enough to lift the bars from the pan once cool for easier slicing. Butter the parchment paper, pressing it down to help it adhere smoothly to the pan. Set aside.

To make the shortbread crust, combine flour, confectioners' sugar, salt, rosemary, and pine nuts in the bowl of a food processor and process until the pine nuts are well chopped. Add butter and process in spurts until the mixture is pale yellow and resembles course meal. Sprinkle the loose mixture into the prepared pan and press down on it with your fingers or the bottom of a measuring cup to create a firm, even layer over the bottom of the pan.

Bake on the middle rack until pale golden brown, about 20 minutes.

Begin making filling when the shortbread goes in the oven. Whisk together egg yolks and whole eggs in a medium saucepan. Add granulated sugar and whisk briefly to combine. Add lemon juice and salt and whisk until combined. Add the butter slices and cook over medium-low heat, stirring constantly with a wooden spoon. Continue cooking until the filling thickens to a thin sauce-like consistency and registers 170º F on an instant-read thermometer, about 5 minutes. Immediately pour the curd through a mesh stainless steel strainer set over a nonreactive bowl. Stir in heavy cream and lemon zest and then pour the filling onto the warm crust.

Bake until the filling is shiny and opaque and the center jiggles slightly when shaken, 10 to 15 minutes. Cool to room temperature and then refrigerate for at least an hour.

Remove bars from the pan using the parchment handles. Slice into 2 1/4-inch squares, wiping knife between cuts if necessary. If desired, sprinkle powdered sugar over the bars using a mesh strainer before serving.
PIN MEYER LEMON BARS FOR LATER
You might also like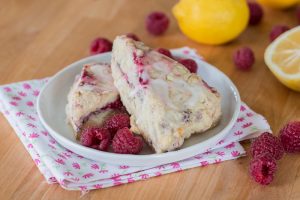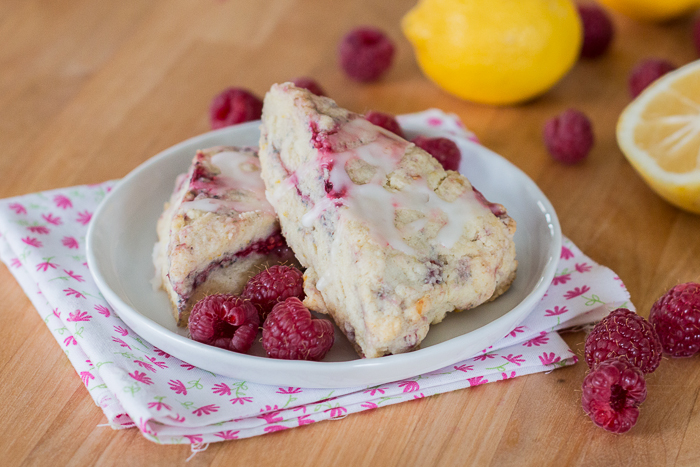 Raspberry Lemon Scones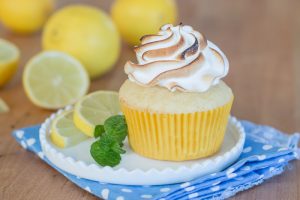 Lemon Meringue Cupcakes