Bright lemon flavor shines against the subtle resinous backdrop of rosemary-pine nut shortbread in these Meyer Lemon Bars.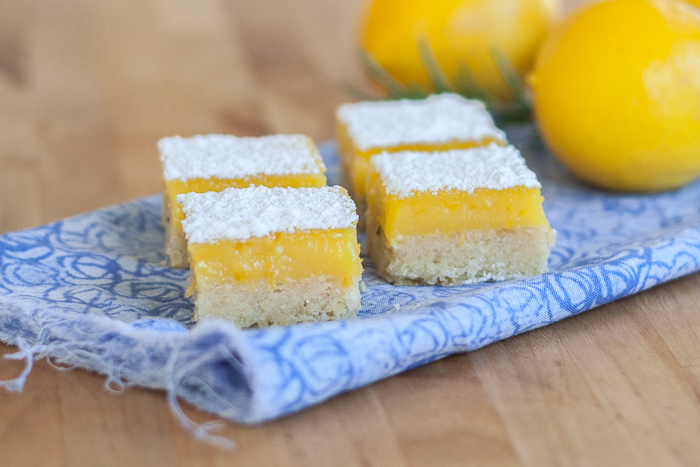 One year ago, while I was coveting the fruit on my neighbors' citrus trees, I never dreamed that the small Meyer lemon tree we planted in our front yard would crank out so many lemons in such a short time. 
While we don't have quite enough for the lemonade stand of my kids' dreams, we certainly have enough for baking plenty of dessert.
Lemon bars seemed like a great place to start with these tangy, almost-sweet Meyers.  As I set out to pick lemons, I couldn't help snipping a few rosemary sprigs to chop up and add to the shortbread mixture.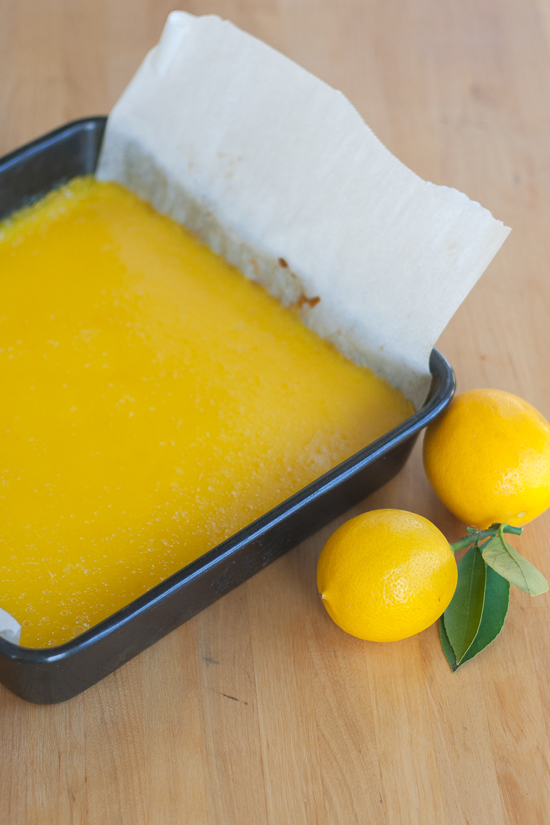 Since the lemon-rosemary-pine nut combination is such a hit in one of our favorite shortbread recipes, it seemed only right to add pine nuts to the recipe as well.
The subtle resinous backdrop from both rosemary and pine nuts sets off the bold lemon flavor in these mouthwatering little bars.
Unlike some lemon bars, these are super-stable and sliceable without feeling over-gelled.  This comes from the extra step of preheating the lemon filling before baking it over the shortbread crust.  And stirring in the zest after heating and straining the filling takes advantage of Meyer lemon skin's sweet zing and lovely, nearly orange-hue. It adds vibrant lemon flavor and deep yellow color to the finished dessert.
Last night, when a neighbor offered me Meyers from her own tree, I didn't jump at them like I would have last year.  I did tell her that — when I eventually run out of lemons — I would happily take some off her hands.
I promised to return a portion of them to her as Meyer Lemon Bars with Rosemary-Pine Nut Shortbread.
PIN MEYER LEMON BARS FOR LATER
You might also like