Ripe apricots, prosciutto, red onions, and arugula get a flavor boost from spicy Sriracha and drizzled honey on this simple summer pizza. This Apricot & Prosciutto Pizza with Sriracha & Honey adds a fresh new twist to homemade pizza!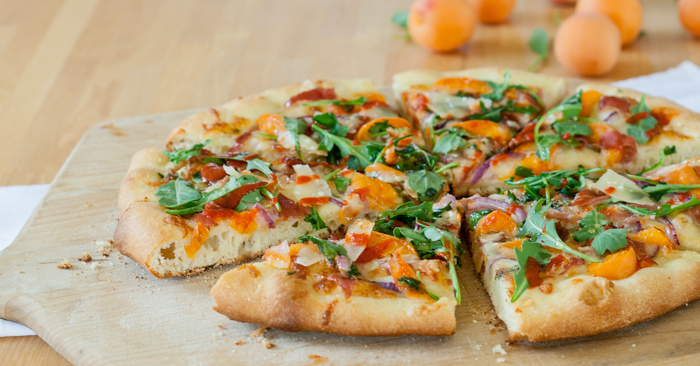 Most of the pizza that we make at our house is pretty improvised. Whatever happens to be on hand ends up on the pizza, and it usually works out pretty well — leftover broccoli and grilled chicken with barbecue sauce, Brussels sprouts with leeks and bacon, or, when we're down to the dregs, marinated artichoke hearts, olives, and salami.
Last week, though, after trying an apricot pizza at Jupiter, we got seriously deliberate with our pizza making.
We hadn't been to Jupiter — one our Bay Area favorites from years ago — in ages.
Since those good old days in the Bay Area, we've moved four times, finally ending up right back where we started. It was about time that we made it back to Jupiter for dinner and a beer from their extensive offering of local brews.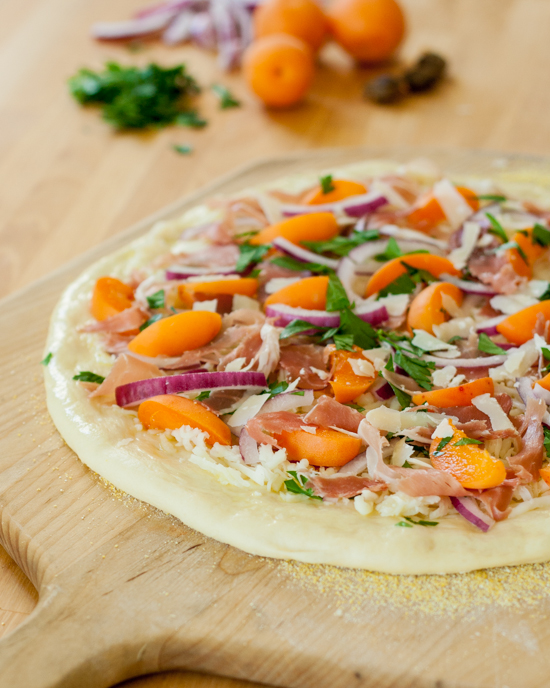 When I first looked at the menu, I felt disappointed when I saw that my favorite ham and cheese sandwich was no longer available. It turned out for the best though, as one of their specials — Apricot Pizza with Sriracha — inspired my new favorite pizza ever, one that I will be eating just as much as I can while apricots are still in season.
When we made our own version of apricot pizza, we added prosciutto, parsley, and a drizzle of honey to the mix of fresh fruit, red onions, mozzarella, greens, and spicy Sriracha.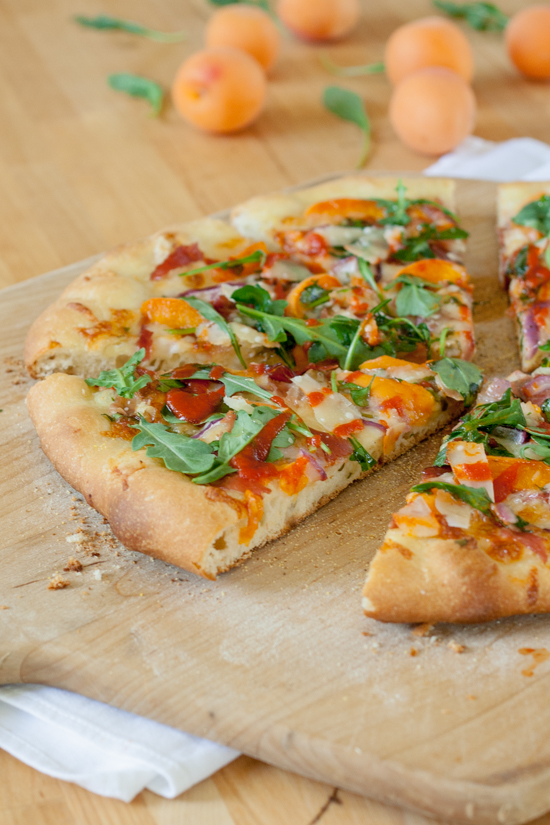 It's a spectacular taste sensation, this pizza, and I'm pretty sure your summer won't be complete without giving it a try.
This recipe makes two 12-inch pizzas; if you want more variety in your meal, simply halve the topping ingredients and get creative with your second pizza. Bon Appetit!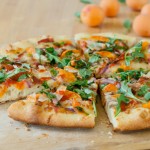 Print Recipe
Apricot & Prosciutto Pizza with Sriracha & Honey
Makes two 12-inch pizzas. If you like more variety, prepare half the topping amounts listed below and use the extra dough to make something different.
Ingredients
Pizza Dough

1 1/3

cups

warm water

(105º to 115º F)

2 1/4

teaspoons

active dry yeast

3 1/2 to 4

cups

unbleached all purpose flour

2

tablespoons

olive oil

2

teaspoons

salt

2

teaspoons

granulated sugar or honey

cornmeal

for dusting

Toppings

olive oil

2

cups

shredded mozzarella cheese

1/2

red onion

sliced thinly and chopped coarsely

6 to 8

apricots

halved and sliced

4

slices

prosciutto

torn

2

tablespoons

coarsely chopped parsley

Parmesan cheese

to taste

2

cups

arugula

loosely packed

Sriracha

to taste

honey

to taste
Instructions
To prepare the pizza dough, add water to the bowl of a standing electric mixer. Scatter yeast over the water's surface. Stir to combine. Let stand until bubbly, about 5 minutes.

Add two cups of the flour, the olive oil, salt, and sugar to the bowl. Using the paddle attachment, mix on low speed to combine, and then increase speed to medium and mix until well combined, about 1 minute. Add remaining flour, about 1/2 cup at a time until the dough clears the sides of the bowl. Switch to the dough hook and knead on medium speed for about five minutes until the dough is smooth and elastic. If the dough feels too sticky, add a bit more of the flour and knead for another minute or two. Transfer dough to a bowl coated with olive oil, turning the dough over once to coat it with oil. Cover with plastic wrap and let the dough rise in a warm place until doubled in volume, about an hour.

Preheat the oven to 475º F. Grease and dust two baking sheets with cornmeal or place a baking stone in the oven (preheat for at least 45 minutes before baking). Gently deflate the dough and turn it out on a lightly floured surface. Divide the dough in half and shape each piece into a ball. Let the dough rest for 10 to 15 minutes as you prepare the toppings.

Working with one at a time, flatten each dough ball on a lightly floured surface, rolling and stretching it into a 12-inch round. Place the dough circles on prepared baking sheets or pizza paddles dusted with cornmeal.

Brush the top of each dough round generously with olive oil. Cover evenly with mozzarella cheese and scatter onion, apricot slices, parsley, and prosciutto over the cheese. Using a vegetable peeler, add strips of Parmesan.

If using a baking stone, slide pizza off the paddle (a baking sheet works just as well if you don't have a paddle) onto the baking stone. If using a baking sheet, place the pan and pizza on the oven's bottom rack. Bake until the crust is browned and the cheese is melted and golden around the pizza's edges, about 12 minutes. Top with arugula and additional Parmesan cheese strips. Drizzle with Sriracha and honey to taste.
Pin Apricot & Prosciutto Pizza with Sriracha & Honey Recipe: