With a hint of cardamom, these shortcakes pair perfectly with sweet peaches tossed with sugar and lime zest. This Summer Peach Shortcake recipe is simple and delicious.
Don't poke the peaches, I keep saying to my daughters. They're so delicate, so fragile, those peaches, and so beautiful, too.
They call out for squeezing and prodding, it's true, but underneath that soft fuzz, orange flesh tinged with deep amber and rose bruises to brown at the lightest touch my girls can muster.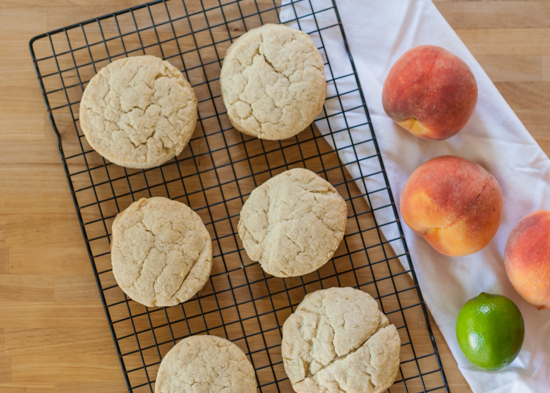 It's not just that the soft, downy skin is so touchable; they want to eat them, of course. I know I shouldn't get worked up that my kids are checking peaches for ripeness. Since I always tell them to focus on the positive, it's time to take my own advice.
I should feel happy that my kids are pining for succulent summer fruit rather than begging me for bags of potato chips, right? Also, I should feel grateful that they're taking initiative to see, on their own, if the peaches are ready to eat rather than badgering me: "Are they ripe now? How about now?" "What about now?" And then there's this: lovingly handled fruit is perfect for chopping up and mixing into summer desserts, especially one as simple and delicious as Summer Peach Shortcake.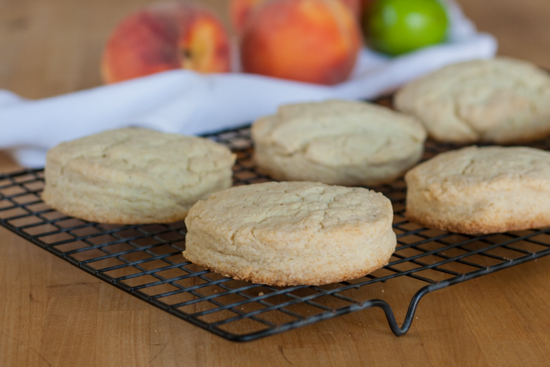 These light-as-air shortcakes — spiced with a hint of cardamom — taste lovely on their own, and they pair perfectly with sweet peaches brightened with lime zest. Sandwiched with cool whipped cream between layers of shortcake, summer peaches really shine.
You can make the shortcakes ahead of time, and even chop and toss the peaches hours before serving as well. Whether or not you have lovingly handled peaches on hand, this recipe's so easy and delicious, there's no excuse not to give it a try.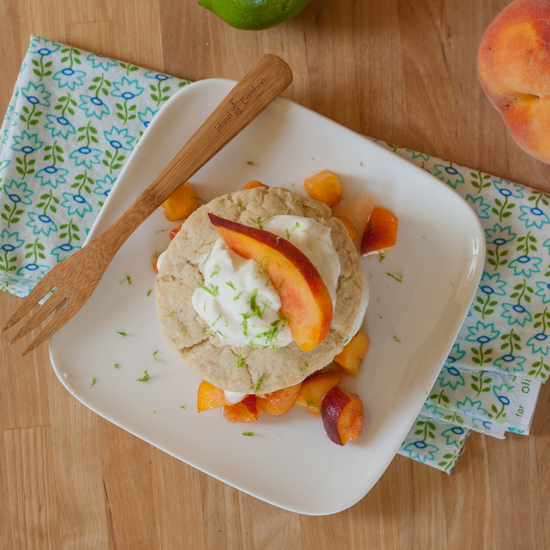 Print Recipe
Summer Peach Shortcake
Makes six 3-inch shortcakes.
Ingredients
Shortcakes

2

cups

unbleached all-purpose flour

1/4

cup

granulated sugar

2

teaspoons

baking powder

1/2

teaspoon

salt

1/2

teaspoon

ground cardamom

1/2

cup

cold unsalted butter

cut in 1/4-inch cubes

3/4

cups

heavy cream

Topping

3-4

large ripe peaches

chopped in 1/4 to 1/2-inch dice (about 4 cups)

1/4 to 1/2

cup

sugar

depending on the sweetness of the peaches

pinch

salt

zest of one lime

plus and an extra lime to zest for garnish, if desired

1

cup

heavy cream

1 1/2

tablespoons

powdered sugar

1/2

teaspoon

vanilla extract
Instructions
To prepare the shortcakes, combine flour, sugar, baking powder, salt, and cardamom in a large deep bowl and stir to mix. Add the butter and cut it into the flour with a pastry blender or two knives until the mixture resembles coarse meal dotted with pea-sized chunks of butter. Add cream and stir to mix until the dough begins to clump together. Press the dough gently together into a mass without overworking it -- it should be crumbly and cracked.

Turn out the dough on a lightly floured surface and flatten it with your fingers into a 3/4-inch thickness (it's okay if it's rough and cracked so long as it mostly holds together). Cut as many 3-inch rounds as you can and transfer them to a baking sheet lined with parchment paper. Press scraps together gently and cut additional rounds, repeating until you've used all the dough. In an oven preheated to 375º F, bake until the bottoms begin to turn golden brown and the tops feel firm, about 15 minutes. Cool on a baking rack.

To prepare the filling, combine the peaches with granulated sugar, salt, and lime zest. Toss gently to mix and set aside for 10 to 15 minutes to allow the peaches to release their juices. You can refrigerate the fruit for several hours until ready to use.

Right before serving, combine heavy cream, powdered sugar, and vanilla extract in a separate bowl. Whisk with an electric mixer or by hand until soft peaks form.

After the shortcakes have cooled, slice each one horizontally through the center to make 12 halves. Working one at a time, place the bottom half of a shortcake cut side up on a plate. Add a large spoonful of peaches and their juices over the shortbread, followed by a generous dollop of whipped cream and the top half of the shortcake. Top with additional whipped cream, a thin slice of peach, and a light zesting of lime zest, if desired. Serve immediately.
Pin Summer Peach Shortcake Recipe for later: