These light, tender Muffin Tin Popovers are quick and easy to prepare, and they don't require a popover pan, so you can make them without investing in specialty equipment.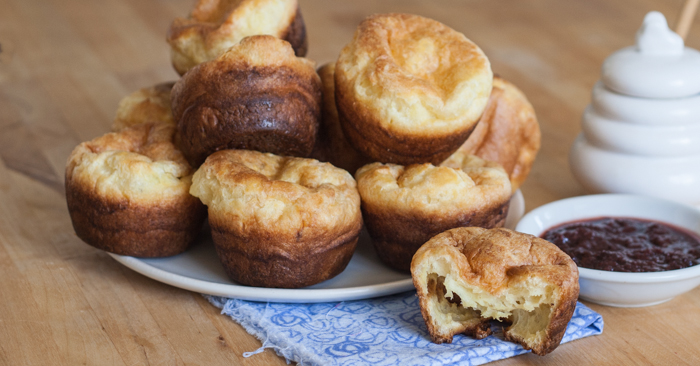 My daughters have been making Muffin Tin Popovers since before they could read. This simple recipe with just five ingredients (including the butter for greasing the muffin tin) comes from Pretend Soup, a pictographic cookbook created for young children by Mollie Katzen of Moosewood fame. These popovers are fun to prepare and a great way to introduce kids to cooking and baking.
The recipe doesn't call for a popover pan, so you can prepare it without investing in any special equipment. And since most kitchens come equipped with a standard-sized muffin tin, these popovers have become a go-to recipe for us both at home and while traveling.
Years ago, when we were visiting friends in Vancouver, BC, Eliza asked if she could make popovers for breakfast. Our friends were totally game to have a three-year-old get to work in their kitchen, but I reminded Eliza that we didn't have the recipe with us.
Eliza, totally unfazed, announced that she'd memorized it and proceeded to produce a dozen perfectly poofed popovers.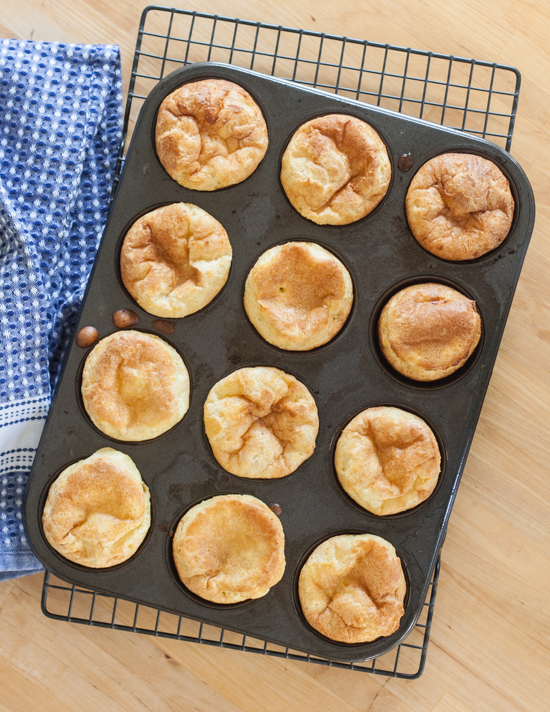 These light, tender popovers are quick to prepare, which is handy since young kids don't always have the longest attention spans. After a mere five minutes of active time and 30 minutes in the oven, warm popovers taste spectacular with drizzle of honey or a dollop of jam.
Here's the very best part: they usually delight even the pickiest of eaters.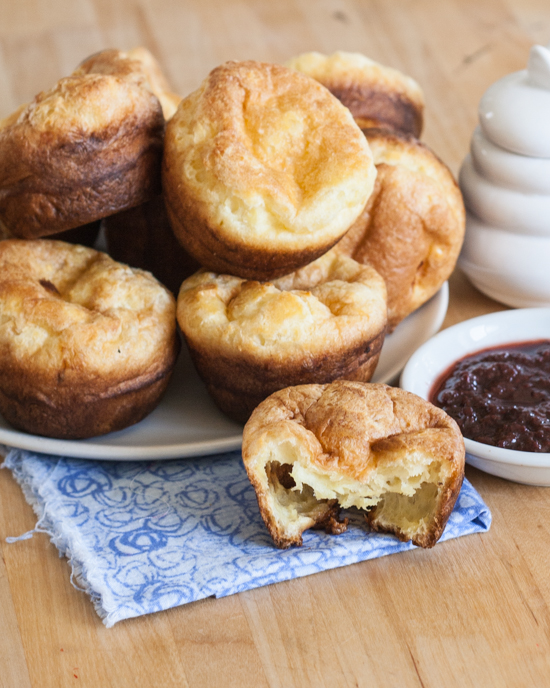 More and more, I'm sharing the kitchen with my daughters and even turning it over to them completely so they can prepare a variety of sweets and treats on their own.
Their ever-growing skills in the kitchen have inspired me to create a new section on Flour Arrangements — Kids in the Kitchen. This page features ideas and tips for helping kids develop kitchen confidence and competence. It also includes starter recipes to try with kids at varying difficulty levels.
As my kids do more experimenting, we'll add new recipes to the collection. If you're new to cooking with kids, this Muffin Tin Popover recipe is the perfect starting point. Enjoy!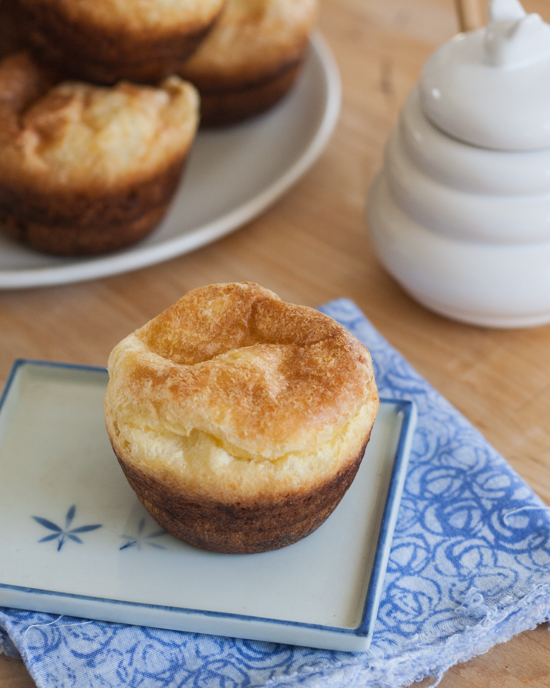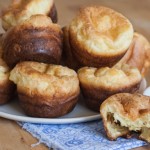 Print Recipe
Muffin Tin Popovers
Ingredients
2

tablespoons

butter

2

large eggs

1

cup

milk

1/4

teaspoon

salt

1

cup

unbleached all-purpose flour
Instructions
Preheat oven to 375º F. In the microwave, melt butter in a small glass measuring cup with a pour spout. Pour a bit of butter into each well of a standard-sized 12-cup muffin tin. Brush the butter up the sides and around the top edge of each muffin cup (if your pan is not non-stick, you may want to use a little extra butter to prevent sticking).

Whisk eggs, milk, and salt in a mixing bowl with a pour spout (a bowl with a pour spout is not strictly necessary, but it makes it much easier and tidier and to add batter to the muffin cups, especially for little hands). Add the flour and whisk until blended.

Pour batter into the prepared muffin cups, filling each cup about half full.

Bake popovers in preheated oven for 30 minutes without opening the oven.

Remove popovers from the oven and prick each one with a fork or skewer to let the steam escape. Serve warm with butter, honey, and jam.
Some of the links in this post are affiliate links. If you click through and make a purchase, I earn a small commission for my referral at no additional cost to you. Thank you for supporting Flour Arrangements.
PIN MUFFIN TIN POPOVERS FOR LATER