Rich and luscious, this Bittersweet Chocolate Cheesecake delivers big flavor in pint-size packaging. With its crisp chocolate cookie crust, smooth chocolate cheesecake filling, and decadent ganache topping, this dessert will delight both chocolate and cheesecake lovers.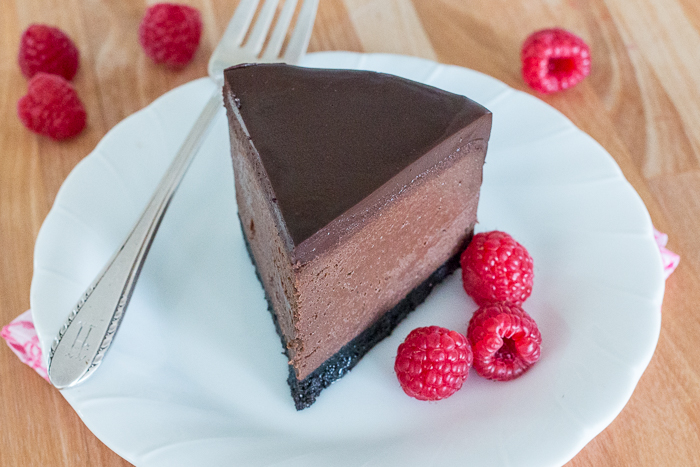 After my daughter Eliza helped me develop a dainty 6-inch Vanilla Raspberry Cheesecake, I decided I needed more cheesecake in my life. Eliza suggested that chocolate cheesecake should be next on our list, and I had to agree with her.
To be clear, when I resolved to have more cheesecake in my life, I didn't mean larger cheesecakes. I needed cheesecake with increased frequency and variety in a sensible, diminutive packaging.
When I started looking for chocolate cheesecake recipes, every single one produced an impressive 9-inch dessert including no less than two pounds of cream cheese!
Unless I'm throwing a big party, a cheesecake of those proportions is just way too big.
Cheesecake is super rich! Despite what the Cheesecake Factory may tell you, most of us rarely need a thick, enormous wedge, especially following a meal.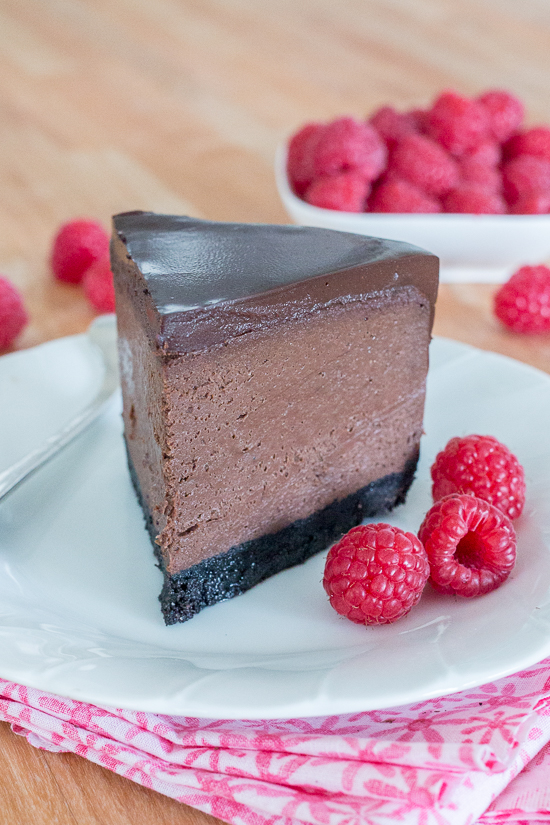 After some experimentation, like trying to bake cheesecake without a water bath (total fail!) and adding more chocolate to the recipe (success!), I finally produced a petite 6-inch chocolate cheesecake just right for a small dinner party. My family and a small group of friends can polish it off, but if we're feeling selfish, we can eat it ourselves without getting stuck with excessive leftovers.
While small in size, this Bittersweet Chocolate Cheesecake doesn't skimp on flavor. Adding dark chocolate and cocoa powder to the cream cheese filling packs this dessert with rich chocolate goodness. Layered over over a crisp, chocolate cookie crust, this smooth chocolate filling is the stuff of dreams.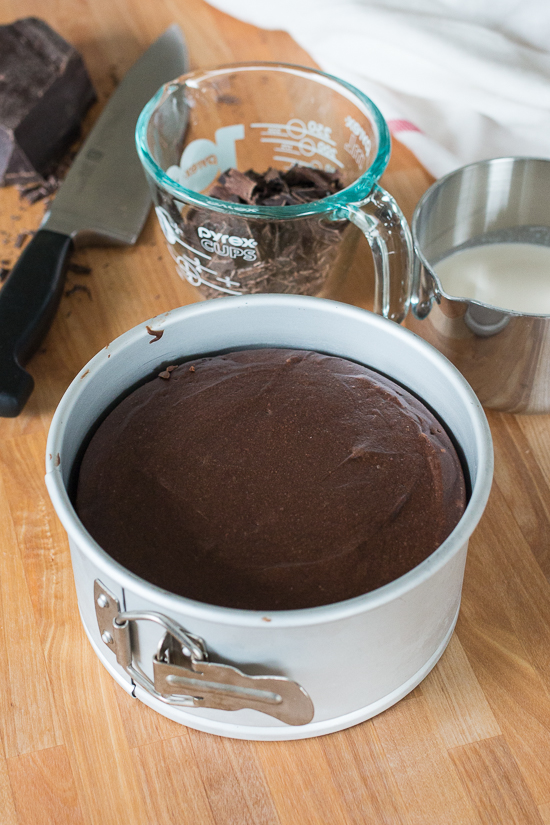 You could totally serve slices of this rich chocolate cheesecake unadorned and feel completely satisfied, but I recommend smothering the whole thing with a thick layer of ganache first. This intense blanket of chocolate adds velvety depth to this already decadent cheesecake.
On my honor, you will not regret the extra time required for this luxurious embellishement.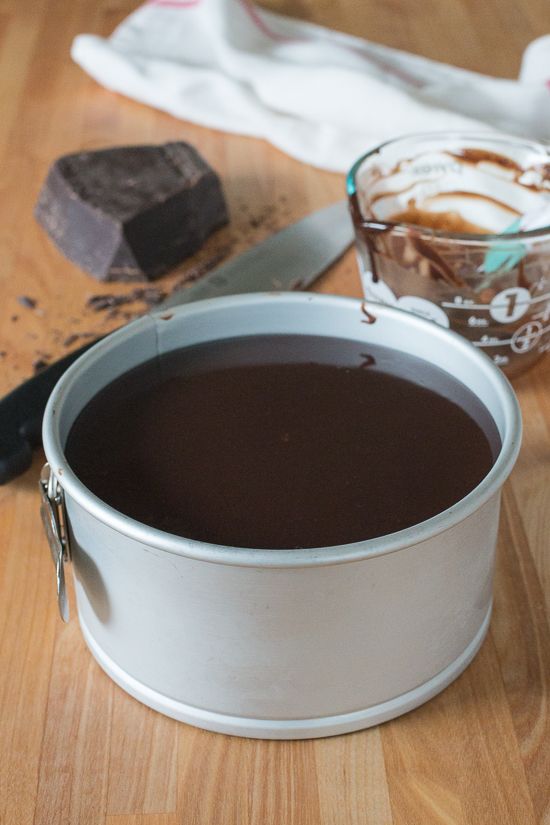 The smooth, glossy finish of the ganache gives this cheesecake a simple elegance with minimal effort. I especially love the layered effect that hints at distinct textures and chocolaty flavors in this dessert.
While this recipe takes some planning in terms being home for the long baking time and leaving time for chilling before serving, its preparation is simple and straightforward.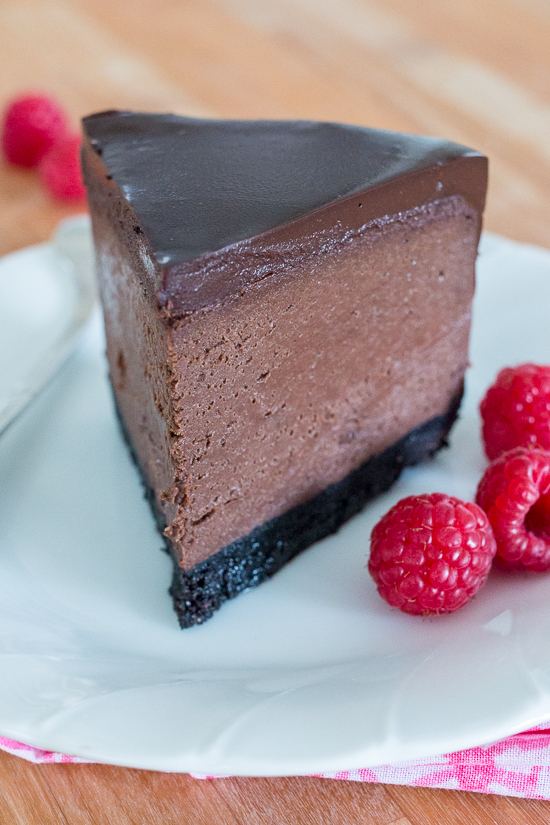 The chocolate cookie crust practically makes itself, and the filling includes a mere five ingredients that come together easily with a mixer. For the ganache topping, just add hot cream to chopped chocolate and mix!
This sweet little chocolate cheesecake will earn rave reviews from your family and friends. Enjoy!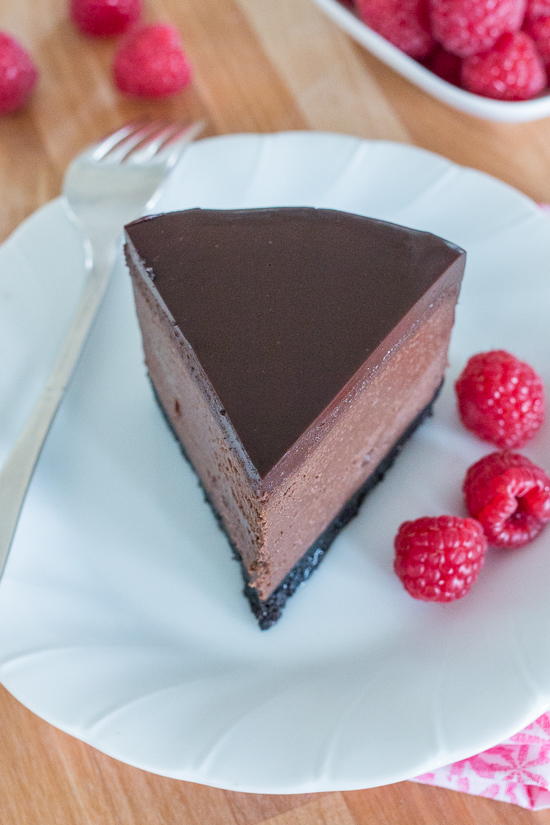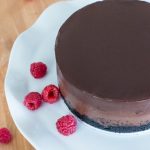 Print Recipe
Bittersweet Chocolate Cheesecake
Note that the prep time doesn't include chilling time! This cheesecake keeps well for several days in the refrigerator, which makes it easy to prepare it ahead of time in stages.
Ingredients
Crust

1

cup

finely ground chocolate wafer cookies

(5-6 ounces of cookies)

2

teaspoons

sugar

3

tablespoons

melted unsalted butter

1

pinch

salt

Filling

5

ounces

bittersweet chocolate

chopped

1

pound

cream cheese

(2 8-ounch packages) at room temperature

2/3

cup

granulated sugar

2

tablespoons

unsweetened cocoa powder

2

large eggs

Topping

1/4

cup + 2 tablespoons

heavy cream

3

ounces

bittersweet chocolate

chopped
Instructions
Preheat oven to 350º F. Butter a 6-inch diameter

springform pan

with 3-inch high sides. Wrap the outside of the pan with foil, taking care not to tear the foil. Set aside.

Combine cookie crumbs with sugar and salt. Add melted butter and mix until well blended. Firmly press the mixture in an even layer across the bottom of the prepared pan. Bake until just set, about 8 minutes. Cool while preparing the filling. Maintain heat in oven.

Stir chocolate in a metal bowl set over simmering water until melted and smooth. Remove bowl from water and set aside to cool slightly.

Bring a large kettle of water to boil and place a roasting pan in the oven. Check the that the foil on the springform pan has no holes or gaps; if needed, add an extra layer of foil to prevent water from entering the pan during baking.

Beat cream cheese in the bowl of a standing electric mixture until smooth. Add sugar and cocoa powder and mix until well combined, scraping up from the bottom of the bowl with a spatula to ensure even mixing. Blend in eggs one at a time. Mix in melted chocolate.

Top prepared crust with the filling and smooth the top. Tap the pan on the counter gently a few times to release bubbles in the filling.

Place the cheesecake in the roasting pan and pour boiling water about ¾ of the way up the outside of the springform pan. Bake until the filling is set and just barely jiggles in the center, about 70 to 80 minutes. Remove cheesecake from the water bath, discard foil, and cool completely on a rack.

Once cool, refrigerate the cheesecake in the pan for at least two hours.

Place chopped chocolate for the ganache in a 1-cup heatproof glass measuring cup with a pour spout. Heat cream in a small saucepan until just simmering. Pour cream over the chocolate and let it sit undisturbed for 2 minutes. Mix with a small spatula until smooth and glossy. Let the mixture cool for a minute or two before pouring it over the center of the cheesecake. Chill until the topping is set, about 1 hour. If preparing ahead, cover pan with foil and keep refrigerated for up to three days.

To unmold, run a thin spatula around the edge of the chocolate ganache to separate it from the sides of the pan. Release pan sides. If needed, warm a long thin spatula and use the edge to smooth the ganache. Let stand at room temperature for an hour or two before serving.
Some of the links in this post are affiliate links. If you click through and make a purchase, I earn a small commission for my referral at no additional cost to you. Thank you for supporting Flour Arrangements.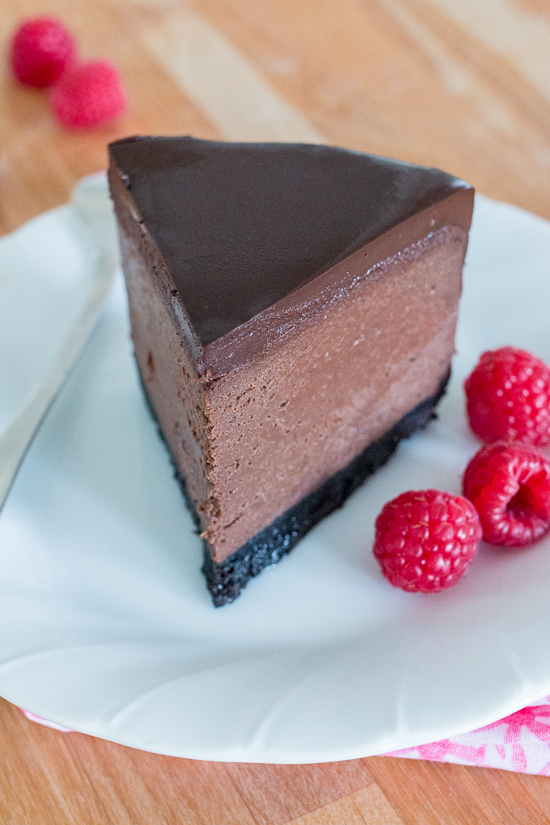 YOU MIGHT ALSO LIKE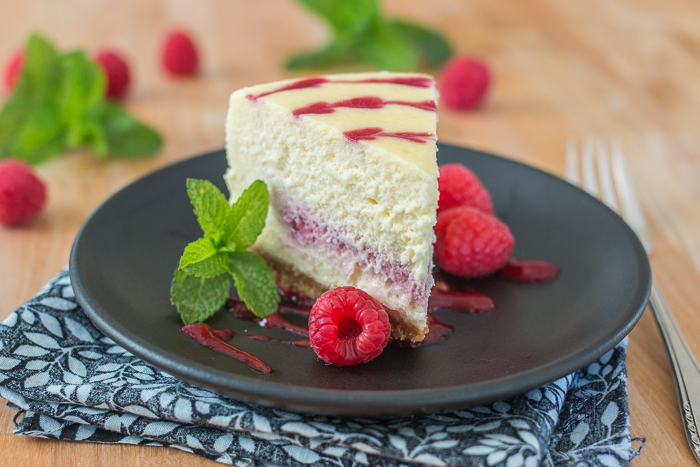 Vanilla Raspberry Cheesecake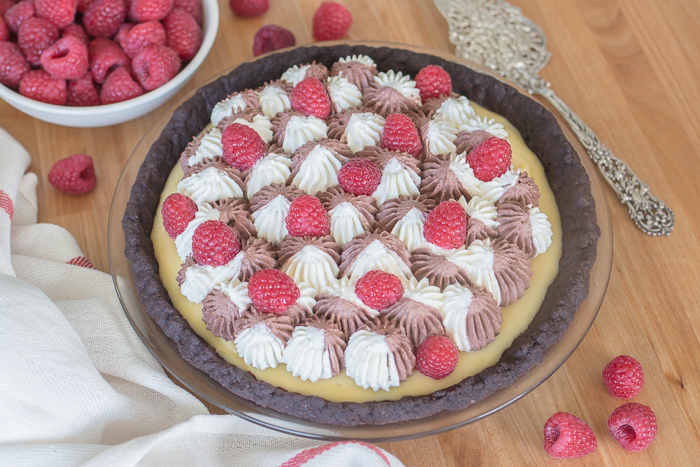 Vanilla Cream Pie
Molten Chocolate-Raspberry Cakes