Smooth and indulgent, this Vanilla Raspberry Cheesecake hides a surprise layer of tart raspberry filling in the center. Decorative heart embellishments add flair to this petite, delicious cheesecake.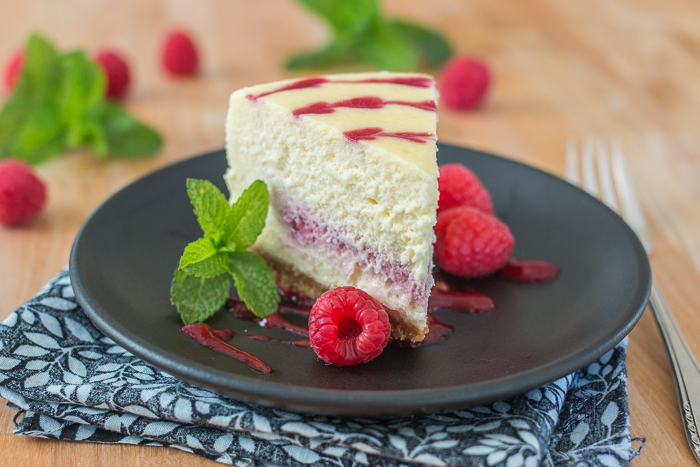 We didn't go on vacation for Spring Break this year, so my kids made lists of activities to fill our week. As the days went by, we checked off things like going to beach, visiting the Exploratorium, riding our bikes, and watching movies.
Our most important activity, though, at least according to my stomach, involved baking an amazing Vanilla Raspberry Cheesecake.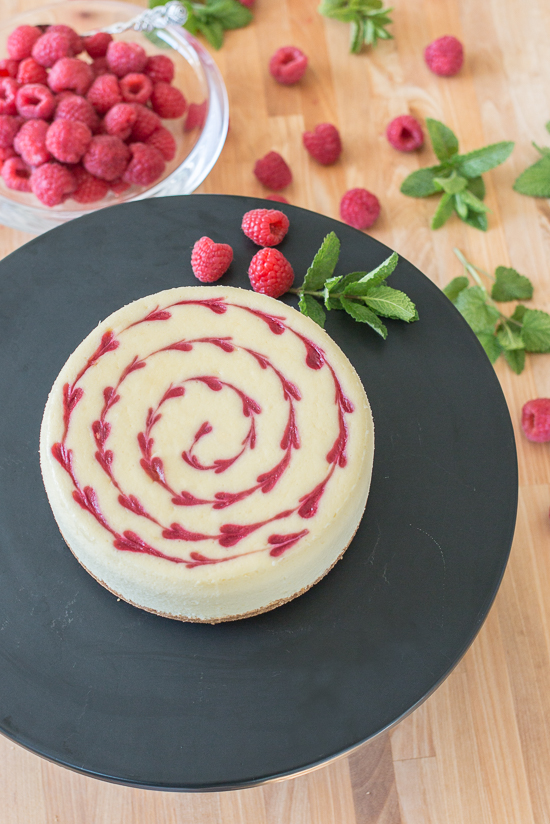 Cheesecake-making ranked number one on Eliza's list, and she had a very clear vision of what she wanted. Her ideal cheesecake should feature raspberry and vanilla filling atop a classic graham cracker crust.
In addition to her required elements, I suggested that we make a smallish cheesecake so she could prepare it frequently without worrying about leftovers.
Eliza would bake every day if she could. With all of the baking that happens at our house, she's used to hearing that she should wait a day or two to make something new. I hate to waste food, so I'm a stickler about finishing whatever dessert we have on hand before adding to the mix.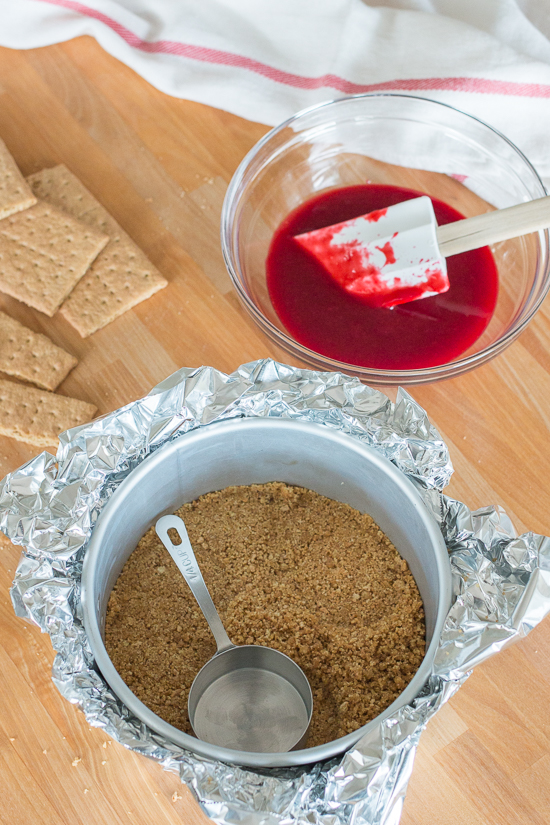 She agreed wholeheartedly. For her, it's never just about eating something sweet. She simply loves to bake.
We couldn't find a recipe that captured everything Eliza hoped for in a cheesecake, so we decided to merge two recipes. Our inspiration came from Cooking Classy's beautiful White Chocolate Raspberry Cheesecake and Miette's petite, adorable cheesecake recipe. They come together in this rich and satisfying Vanilla Raspberry Cheesecake that tastes even better than either of us imagined.
Smooth and indulgent, a thick layer of vanilla filling hides a burst of raspberry goodness tucked in the center. Decorative raspberry hearts on the top add something special while they hint at the bright flavor within. All this sits atop a thick layer of crisp graham cracker crust that provides just enough texture to set off this dessert's creamy decadence.
I admit to feeling somewhat daunted when I first saw the heart-shaped embellishments atop the White Chocolate Raspberry Cheesecake that inspired our decorations, but Eliza was undeterred.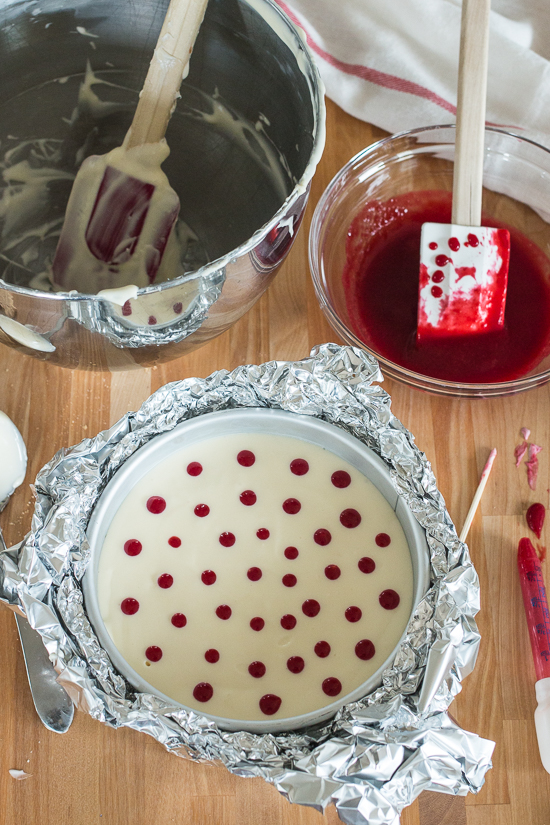 As we read through the directions, we discovered an amazing trick of using a medicine dropper to create patterns with raspberry sauce. The dropper makes it easy to add small circles to cheesecake filling, which turn into hearts as you pass a toothpick or skewer through them. Pure genius!
My head is already spinning with additional ways to use this simple tool for adding flair to brownies, cakes, and other sweets.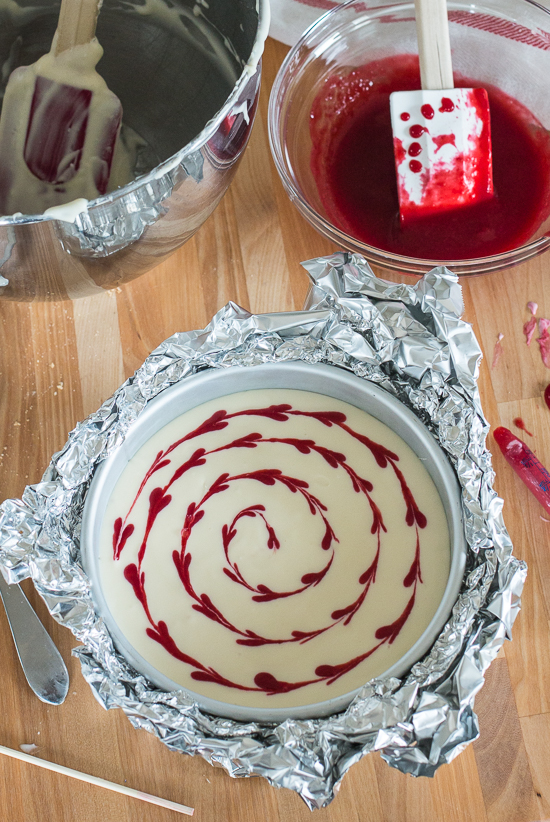 While this recipe takes some time to bake — a whopping 90 minutes — the preparations are quite simple and straightforward. If the decorative pattern makes you feel nervous, take advantage of the chance to practice when you add the layer of raspberry sauce that hides in the cheesecake's middle.
Add some dots with the medicine dropper, turn them into hearts, and practice some more until you're satisfied. When you're ready, add the full layer of sauce before topping it with the rest of the filling.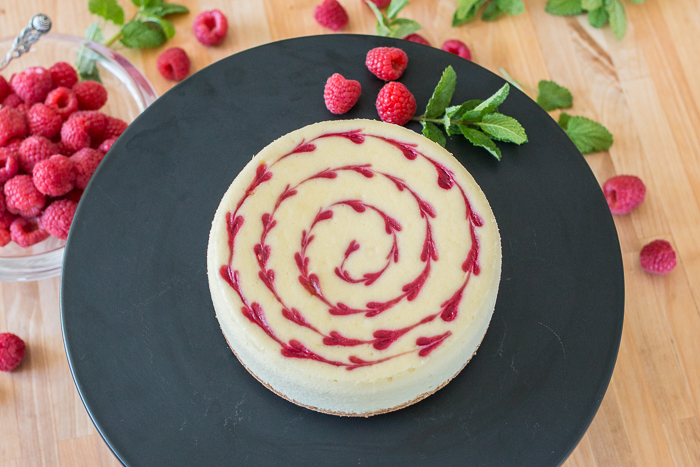 This Vanilla Raspberry Cheesecake may be one of my favorite desserts ever. While it tastes amazing, I especially love that it's something I never would have come up with on my own.
Clearly, I need to do more baking with my kids.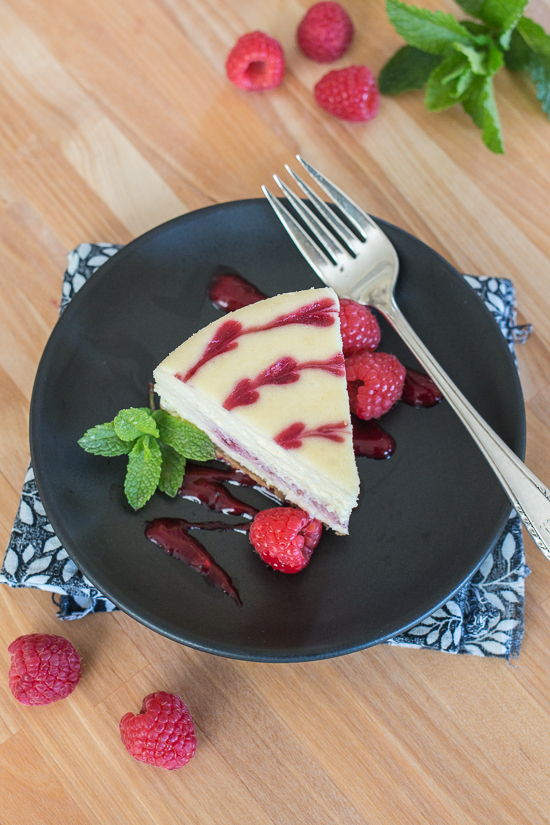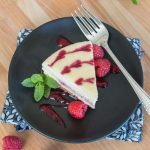 Print Recipe
Vanilla Raspberry Cheesecake
Ingredients
Graham Cracker Crust

6

whole graham crackers

finely crushed (about ¾ cup)

3

tablespoons

unsalted butter

melted

3

tablespoons

brown sugar

Raspberry Sauce

1

tablespoon

granulated sugar

1 1/2

teaspoon

cornstarch

1/3

cup

cold water

1 1/2

cups

fresh or frozen raspberries

Chambord

for thinning sauce before serving (optional)

Cheesecake Filling

1

pound

cream cheese

at room temperature (2 8-ounce packages)

½

cup

granulated sugar

2

large eggs

¼

cup

heavy cream

¾

teaspoon

vanilla extract

Special Equipment

6-

inch

spring form pan with 3-inch sides

aluminum foil

medicine dropper

roasting pan

For Serving

reserved raspberry sauce

Chambord

fresh raspberries

mint sprigs
Instructions
Preheat oven to 350° F. Wrap the outside of a 6-inch spring form pan with foil. Set aside.

Combine graham cracker crumbs, melted butter, and sugar in a medium bowl and mix to combine. Press the coarse, sandy mixture evenly over the bottom of the prepared springform pan. Pack the crust down with the bottom of a small measuring cup or glass. Bake until lightly toasted and firm, about 10 to 12 minutes. Leave the oven on and cool the crust on a rack while preparing the filling.

For the raspberry sauce, whisk together granulated sugar and cornstarch in a small sauce pan. Add cold water and raspberries. Warm over medium heat, whisking occasionally, until mixture comes to a boil. Simmer gently, whisking frequently until the sauce thickens, about 5 minutes. Strain the berry mixture over a fine mesh sieve into a small bowl, pressing with the side of a silicone spatula to separate the sauce from the seeds.

In the bowl of a standing electric mixer fitted with the paddle attachment, beat the cream cheese on medium until fluffy, about 5 minutes. With the mixer running, add sugar in a thin, steady stream, beating until smooth.

Reduce mixer speed to low and add eggs, one at a time, allowing each one to incorporate fully before continuing. Slowly pour in the cream and then add the vanilla. Mix until smooth, about 5 minutes.

In the meantime, bring a large kettle of water to boil and place a roasting pan in the oven. Check the that the foil on the spring form pan has no holes or gaps; if needed, add an extra layer of foil to prevent water from entering the pan during baking.

Pour about half of the filling into the spring form pan. Drizzle 3 tablespoons of the raspberry sauce over the filling, leaving a border of at least an inch around the sides of the pan. Swirl the sauce into the filling with a skewer or toothpick. Ladle remaining filling into the pan, starting around the edges first and ending in the center (this will keep the raspberry from showing through on the sides). Jiggle the pan or tap it on the counter gently to even out the top.

Fill the medicine dropper with raspberry sauce and add small dots of sauce over the top, spiraling out from the center. Starting in the center, pass the tip of a skewer or toothpick through the middle of each dot in a steady, continuous motion until you pass through the final circle. Save remaining raspberry sauce for serving.

Place the cheesecake in the roasting pan and pour boiling water in the roasting pan about 3/4 of the way up the sides of the spring form pan. Bake until the filling is set and just barely jiggles in the center, about 80 to 90 minutes. Remove cheesecake from the water bath and cool completely on a rack.

Once cool, refrigerate the cheesecake in the pan for at least 2 hours before serving. If desired, mix a bit of Chambord into the remaining sauce to thin it for serving. Garnish plates with sauce, fresh berries, and mint leaves.
Some of the links in this post are affiliate links. If you click through and make a purchase, I earn a small commission for my referral at no additional cost to you. Thank you for supporting Flour Arrangements.
Pin Vanilla Raspberry Cheesecake for Later

You might also like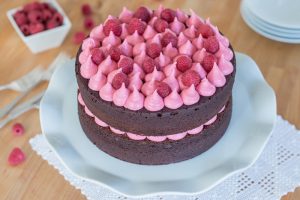 Raspberry Chocolate Layer Cake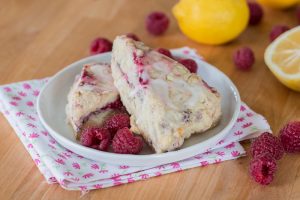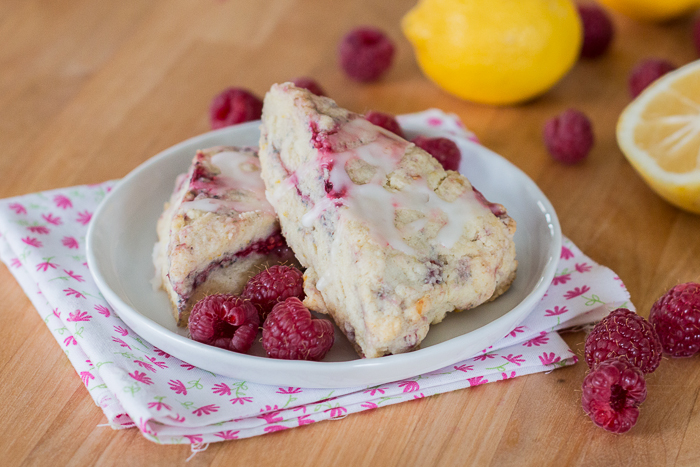 Raspberry Lemon Scones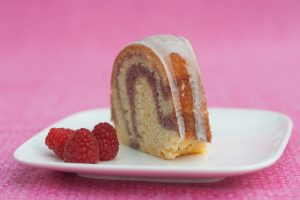 Lemon Raspberry Swirl Cake