Nutty and fruity with great crunch from a generous quantity of chopped peanuts, these Peanut Butter and Jelly Muffins will surprise and delight family and friends.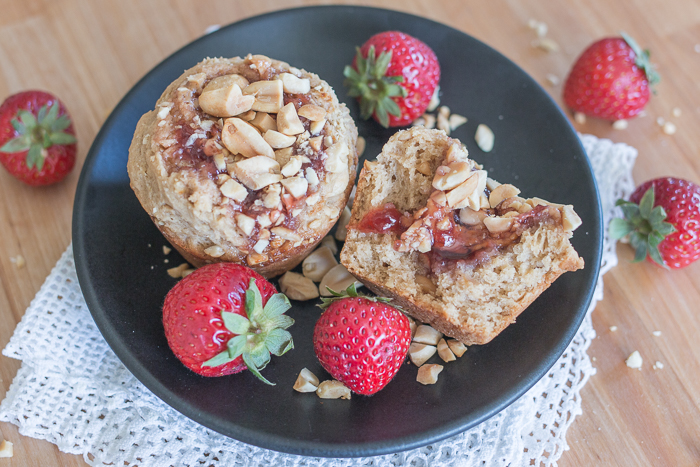 My older daughter used to eat peanut butter and jelly sandwiches for lunch every day. But then she started going to a school that banned peanuts, so we got out of the PB&J habit.
I'm still feeling sad about it.
These Peanut Butter and Jelly Muffins pay homage to that perfect kid-friendly meal, the peanut butter and jelly sandwich.
While I enjoy eating a good peanut butter and jelly sandwich every now and again, I love a Peanut Butter and Jelly Muffin any time.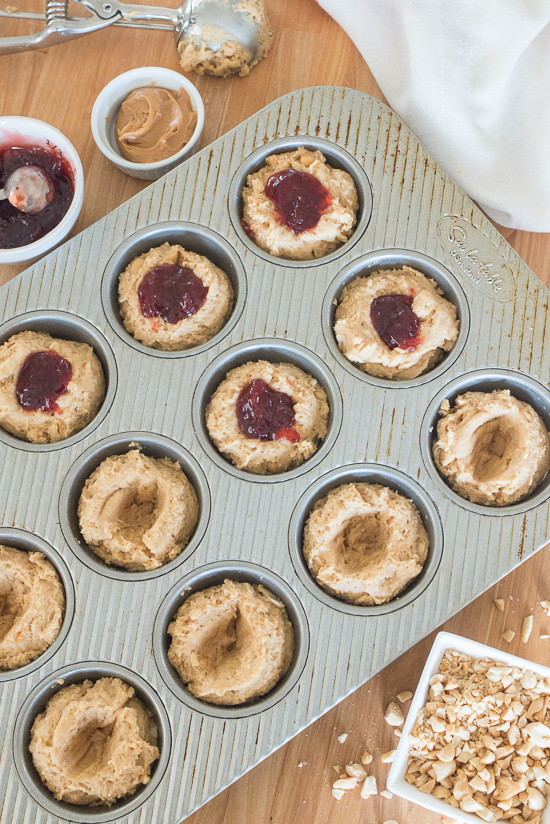 With their cute muffin packaging that hides a generous pocket of jam, they're way more satisfying and fun to eat than a peanut butter and jelly sandwich!
The muffin batter includes both peanut butter and chopped peanuts, which add nutty flavor and a satisfying crunch to the finished muffins. The simple prepared jam filling gives each and every bite a burst of sweet fruity flavor.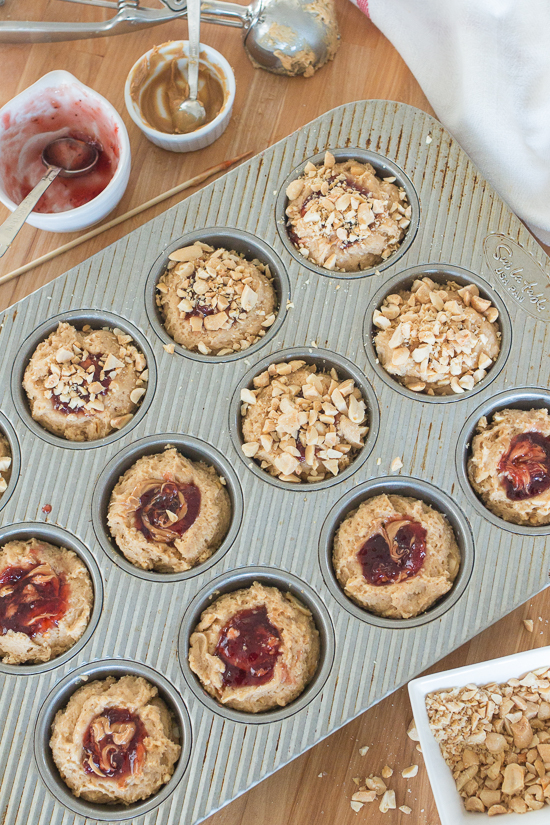 After adding the batter to the muffin tin, creating a deep well in each scoop makes a nest for the jam, which bakes right into the muffins.
When I first baked these muffins, my kids complained that they didn't have enough peanut butter flavor.
On a whim, I swirled a bit of peanut butter into the jam, which, though tiny in amount, miraculously boosted their nuttiness. The concentrated flavor of peanut butter in the filling brings out the peanut flavor in the muffin itself.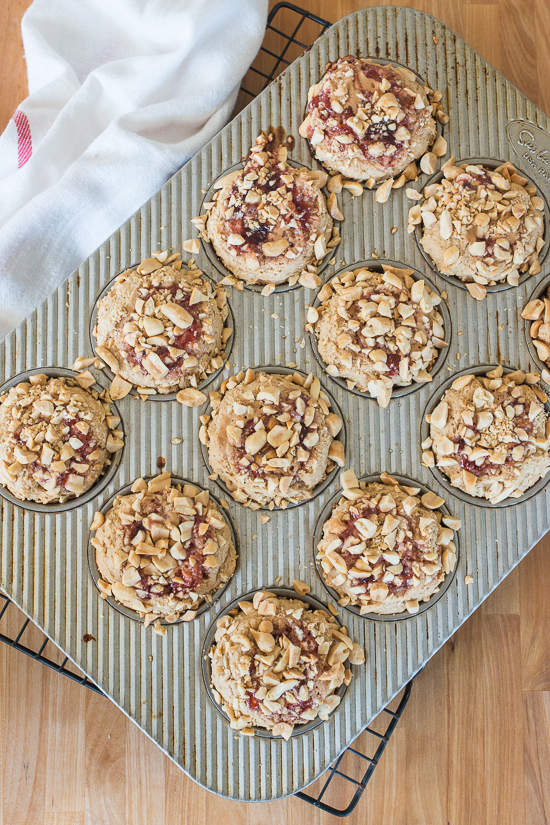 As a finishing touch, I like to sprinkle peanuts on top for extra crunch. This visual cue also helps eaters know these muffins include peanuts, which means anyone with allergies can avoid them.
While these Peanut Butter and Jelly Muffins are great for snacking, I've been eating them for lunch this week.
And why not? With plenty of chopped peanuts and peanut butter, they're packed with protein!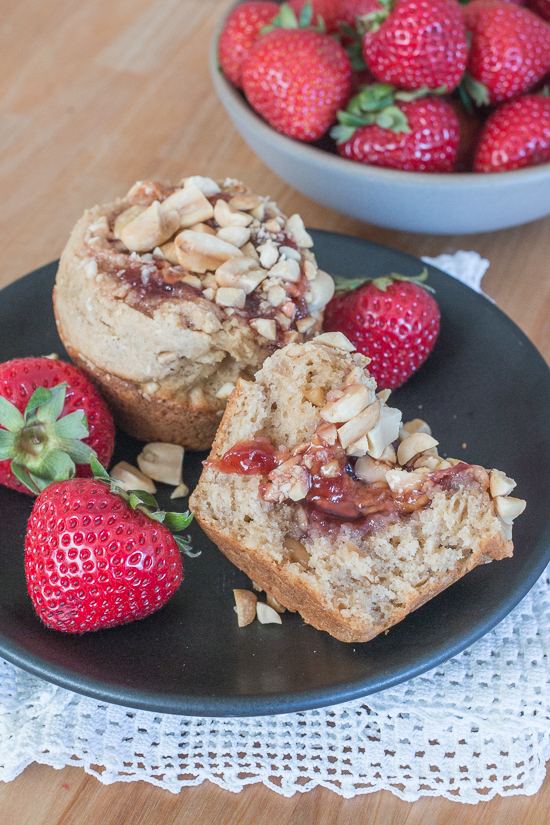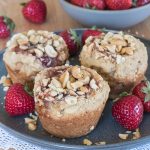 Print Recipe
Peanut Butter and Jelly Muffins
These muffins taste best the day they're baked as the peanuts lose their crunch over time. If you eat them warm, use caution as the jam filling will be quite hot straight from the oven.
Ingredients
2

cups

all-purpose flour

½

teaspoon

baking soda

1½

teaspoons

baking powder

½

teaspoon

salt

1

cup

buttermilk

1/3

cup

brown sugar

1

egg

3

tablespoons

unsalted butter

melted and cooled slightly

2

teaspoons

vanilla extract

½

cup + 3 teaspoons

creamy peanut butter

divided

1

cup

roasted lightly salted peanuts

chopped and divided

1/2

cup

strawberry jam

or your favorite variety
Instructions
Preheat oven to 350° F. Grease or paper line a standard-size muffin pan with 12 wells. Set aside.

Whisk flour, baking soda, baking powder, and salt in a medium bowl and set aside.

Whisk buttermilk, sugar, egg, butter, and vanilla in a medium bowl until well combined. Add 1/2 cup peanut butter to the mixture, whisking until well incorporated.

Use a spatula to mix in dry ingredients and about half of the peanuts until just combined, making sure to scrape up from the bottom.

Divide batter equally between muffin cups; they will be quite full. Grease a small spoon. Dip the spoon into each mound of batter, twirling and pressing down to create deep wells in the centers (the spoon may require wiping and re-greasing as the batter is quite sticky).

Fill each well with a generously rounded teaspoon of jam. Add about 1/4 teaspoon creamy peanut butter to the jam (the peanut butter will resist sticking to the jam, so it works best to attach it near the batter's edge).

Swirl the jam and peanut butter together with a skewer. Sprinkle remaining chopped peanuts over the top of the muffins, pressing them in gently to adhere.

Bake until a skewer inserted into a muffin near the edge of the filling comes out mostly clean, about 15 to 20 minutes. Cool on a wire rack for at least 5 minutes before removing muffins from the pan.

Pile the peanuts that fall off the muffins into the centers, where the filling will settle slightly. Serve warm or at room temperature.

You might also like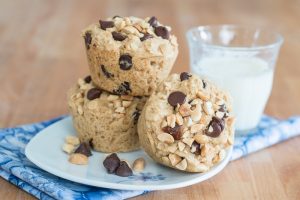 Peanut Butter Chocolate Chip Muffins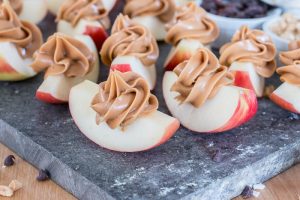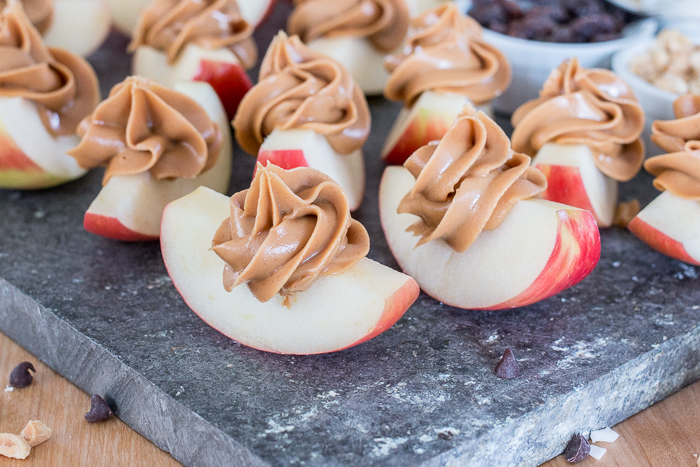 Peanut Butter Apple Slices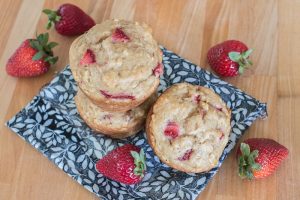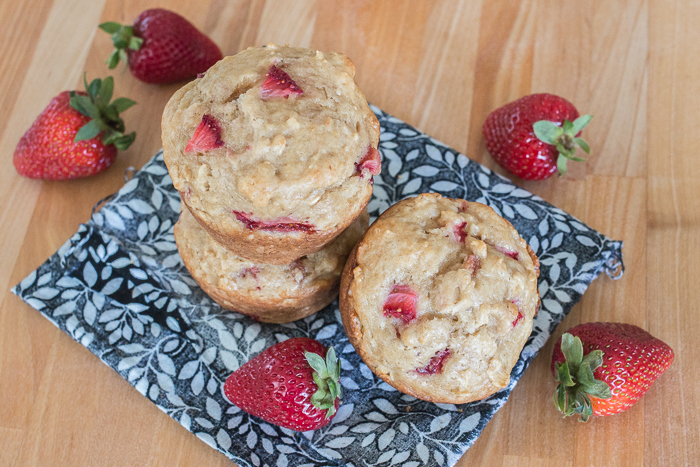 Strawberry Oat Muffins