This Salted Caramel Chocolate Tart delivers pure decadence with a thick caramel layer between chocolate ganache and a tender, chocolate-pecan crust.
A couple of years ago, when Eliza asked how people made salt, my husband grabbed a pot from our kitchen, walked down the hill to his lab, and filled the pot with filtered seawater. He returned in minutes and started heating the water on our stove.
Moments like these remind me–despite the small living quarters–how cool it is to live at a marine research lab.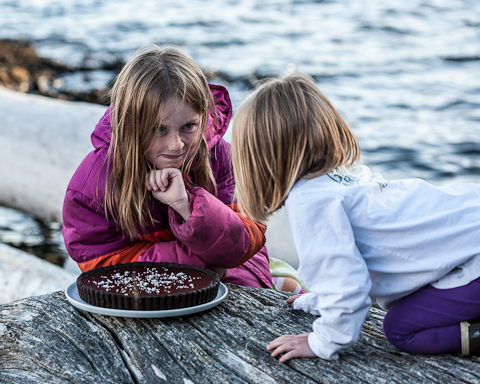 Our pot of seawater boiled, burbled, and then sputtered saline explosions in dangerous arcs through the air. Long after our windows had fogged, long after heavy water droplets streaked down the windowpanes through thick condensation, long after we'd lost interest in monitoring the pot's contents, a thick salty paste coated its bottom. We transferred this sludge to a baking pan and heated it at low temperature in the oven until the salt felt dry to the touch.
Our salt, with its coarse, irregular texture, tasted different, not surprisingly, from ordinary table salt you can buy at the grocery store. Eliza, who would eat salt by the spoonful if we let her, entreated us to make more. And so, inspired by her curiosity and our success, we started making salt full tilt.
We even came up with a goal for ourselves: we hoped to produce little jars of handmade salt as Christmas gifts for friends and family members.
Grasping the serious limitations of salt production in a 900-square-foot cottage didn't take long. About three to four gallons of saltwater yields maybe 150 grams of salt — enough to fill one small jar. Imagine all of that water evaporated into our tiny living space. Even with all the windows open, boiling water for hours on end made our tiny Pacific Northwest cottage seem almost tropical in humidity.
Fortunately, we roped some friends into the project; they usually keep a pot of water on their wood stove in fall and winter, and they loved the idea of handcrafted salt. Soon we were hauling a five-gallon container of filtered saltwater to their house every few days.
Our collective efforts produced enough salt for both of our families to give jars of salt as gifts and leave us with a supply for our own kitchens.
But that was two years ago.
Now that I'm down to the last jar, I use our salt sparingly. Until fall arrives, and I can get our salt factory in production again, I've hidden the jar and only bring it out when a recipe really calls out for it, a recipe, say, like this Salted Caramel Chocolate Tart.
It tastes even better than I imagined, this tart. A thick, sweet caramel layer hides between a smooth, glossy chocolate ganache and a tender, chocolate-pecan, cinnamon-spiced crust. A light sprinkling of salt on top looks stunning and imparts amazing bursts of flavor that set off the tart's rich sweetness.
The process of transforming one set of crystals — sugar — into caramel on my stove, juxtaposed with the final addition of another set of crystals atop the tart — salt — that emerged from a boiling pot of water on that same stove, gives me a certain satisfaction.
To bring this salt's journey full circle, we took our dessert down to the beach. Eliza fashioned herself a kelp cup and washed her tart down with seawater. No kidding.
Of course you can use any good salt to sprinkle on top of this tart, but if you have the chance, I recommend making your own.
Whatever you do, go eat your dessert on the beach.
Salted Caramel Chocolate Tart
Inspired by Saveur and The King Arthur Flour Baker's Companion. Makes one 9-inch tart.
Crust
1 cup pecan halves, toasted
1/2 cup (1 stick) unsalted butter, softened
1/2 teaspoon kosher salt
1 teaspoon vanilla
1 teaspoon cinnamon
1/3 cup confectioners' sugar
1/4 cup Dutch-process cocoa powder
1 cup unbleached all-purpose flour
Caramel
6 tablespoons heavy cream
1 tablespoon crème fraîche
6 tablespoons unsalted butter, sliced
1 1/2 cups sugar
3 tablespoons light corn syrup
1/4 teaspoon kosher salt
6 tablespoons water
Ganache
4 ounces bittersweet chocolate, finely chopped
1/4 cup heavy cream
1/4 cup crème fraîche
sea salt for garnish
For the crust, preheat oven to 400°F. Whirl toasted pecans in a food processor until the pecans are finely ground and the mixture begins to look oily. Set aside.
In a medium-sized bowl, beat 1 stick butter until fluffy. Add the salt, vanilla, cinnamon, sugar, and cocoa, and blend until smooth. Add the flour and stir to blend. Finally, add the nuts. The mixture will be dry.
Lightly grease a 9-inch tart pan with a removable bottom. Press the crust into the bottom and up the sides of the pan. Bake for 15 to 18 minutes, until it the crust is set (the dark color makes it hard to tell, but it's done when you can just begin to smell the chocolate.). Remove the crust from the oven and set it aside to cool.
To make the caramel, combine cream and crème fraîche in a 2-cup measuring glass. Whisk gently to combine, and then add butter pieces; set aside.
Whisk sugar, corn syrup, salt, and water together in a 2-quart saucepan. Over medium heat, bring the mixture to a boil–without stirring–until a candy thermometer inserted into the syrup reads 340°F. Remove pan from heat and add the cream-butter mixture (the mixture will bubble up like mad); whisk until smooth. Pour caramel into the tart shell and allow it to cool slightly; cover with plastic wrap and refrigerate until firm, at least 4 hours.
For the ganache, place chocolate pieces in a 2-cup measuring glass; set aside. Gently whisk cream and crème fraîche together in a 1-quart saucepan; bring to a boil over medium heat. Pour hot cream into prepared measuring glass; without stirring, let the cream-chocolate mixture sit for 1 minute. After 1 minute elapses, stir slowly with a rubber spatula until the mixture is smooth and glossy. Acting quickly, pour ganache over the caramel, and then carefully pick up the tart pan, tilting and rotating to spread the ganache to the tart's edges. Refrigerate uncovered until set, about 4–5 hours. Sprinkle tart with sea salt, slice, and serve chilled.
Some of the links in this post are affiliate links. If you click through and make a purchase, I earn a small commission for my referral at no additional cost to you. Thank you for supporting Flour Arrangements.

You Might Also Like