This simple-to-prepare peppermint patty tart — with its delicious, minty filling and a thick layer of chocolate ganache — will take your breath away.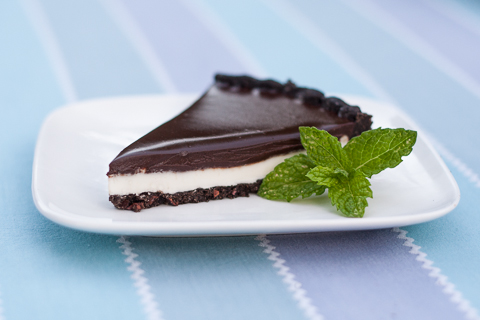 My kids always jump at the chance to go to the hardware store with my husband. Sure, they love his company, but mostly they go because he buys them York Peppermint Patties at the check stand.
I don't eat much candy, but I'm right there with my family on the peppermint patty front. Chocolate and peppermint, like perfect friends, bring out the best in each other.
It didn't take much convincing on my part to take this flavor friendship to the next level. With a bit of experimentation and lots of cheering on from my husband's colleagues via Twitter, we've struck on something far better than peppermint patties: the peppermint patty tart.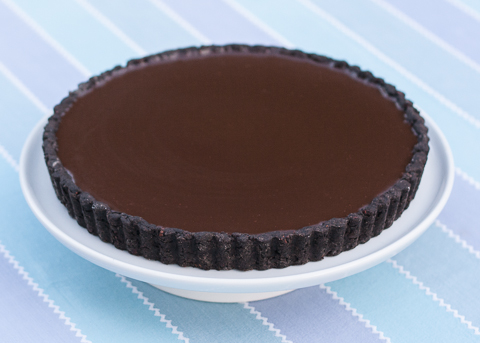 Tucked under a thick layer of dark chocolate ganache, this tart's creamy peppermint filling nearly takes your breath away. The crisp chocolate shortbread crust, studded with cocoa nibs, adds texture and richness to this decadent dessert.
Cocoa nibs, if you haven't yet discovered them, are essentially chocolate in its raw form – fermented, dried, and crushed beans from the cacao plant. They've got a deep, chocolate flavor without any hint of sweetness. They add a delicate crunch and almost coffee-like flavor to any recipe, and they were just the thing to lighten up the dense cookie crust for this tart.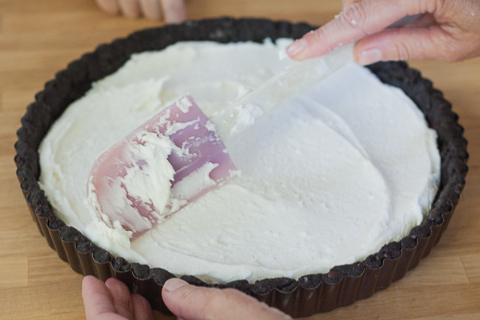 While the finished tart looks impressive and tastes, quite possibly, like the best thing you've ever eaten in your complete, entire life, it comes together with surprising ease. I normally dread pre-baking pastry crust, but this chocolate shortbread crust doesn't shrink or slump a bit. You mix its ingredients in a bowl with a fork and simply press them into a tart pan right before baking. From start to finish, you can have this miracle of a crust cooling on your counter in about 30 minutes. So get started already!
Once the crust has cooled, it's time to bust out the power tools. Combine powdered sugar, butter, peppermint extract, a shot of schnapps, a splash of vanilla, and heavy cream with an electric mixer. Safety googles are totally optional here unless you decide to start your mixer on high speed.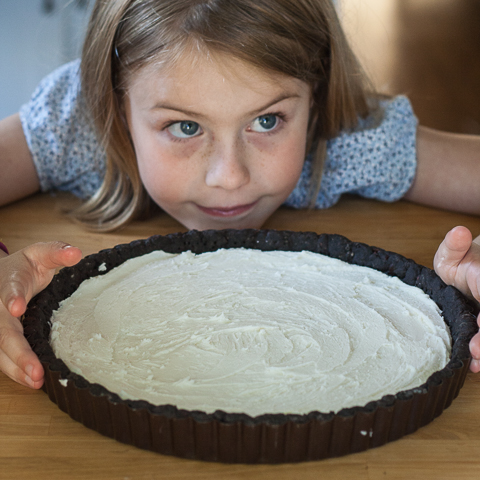 Try not to eat too much of the minty filling as you spread it into the crust. It's delicious, to be sure, but it's even better in the finished dessert.
While the filling chills, combine warmed cream and dark chocolate, whisking until smooth. Pour this luscious combination atop the filling to add that glossy, rich finish that will wow your friends and relations.
If you can, muster the patience to pop the finished tart into the fridge to set. Once chilled, it slices much easier, and serving a perfect wedge of this tart makes it worth the wait. Besides that, chilling the tart accentuates the breathtaking coolness of mint.
I can't remember a dessert that my kids have met with more enthusiasm than this peppermint patty tart. I even have evidence that it tops the candy that inspired it: when my husband asked if anyone wanted to go to the hardware store with him last weekend, my kids asked if we still had some tart left. The answer was yes. They stayed home.
Peppermint Patty Tart
If you don't have a tart pan, by all means use a pie dish. You're going to want to eat this tart just as soon as you can!
Print Recipe
Chocolate Peppermint Tart
Ingredients
Crust
8

tablespoons

unsalted butter

melted and cooled

1/4

cup

cocoa powder

1/4

cup

cocoa nibs

1/4

cup

granulated sugar

1/2

teaspoon

salt

1

teaspoon

vanilla extract

1

cup

unbleached all-purpose flour
Peppermint Filling
3

cups

confectioners sugar

3

tablespoons

unsalted butter

softened

1/4

teaspoon

vanilla extract

1

tablespoon

peppermint extract

1

tablespoon

peppermint schnapps

optional

3

tablespoons

heavy cream
Ganache
8

ounces

bittersweet chocolate

finely chopped

1

cup

heavy cream
Instructions
To make the crust, mix butter, cocoa, nibs, sugar, salt, vanilla in a medium bowl. Add flour and mix until blended. Press the dough evenly over the bottom and up the sides of a 10 or 11-inch tart pan with a removable bottom. Generously prick the bottom and sides of the crust with the tines of a fork. Bake in the lower third of an oven preheated to 350° F until the crust feels firm to the touch, about 20 to 25 minutes. Cool completely.

Combine sugar and butter in the bowl of a standing electric mixer. Stir slowly with the paddle attachment until the butter is no longer visible. Add extracts, schnapps (if using), and heavy cream, stirring slowly until the powdered sugar is completely incorporated. Once mixture comes together, beat on medium speed for another minute or so until it forms a smooth, thick paste.

Scrape the peppermint filling into the cooled tart crust and spread it evenly to the edges, doing your best to smooth the top. Refrigerate until the filling hardens slightly, about 30 minutes.

For the ganache, place chopped chocolate in a measuring glass with a pour spout; set aside. Bring cream to a boil over medium heat. Pour hot cream over the chocolate; without stirring, let the cream-chocolate mixture sit for 2 minutes. After 2 minutes, stir slowly with a rubber spatula until the mixture is smooth and glossy.

Acting quickly, pour ganache over the peppermint filling. Carefully pick up the tart pan, tilting and rotating to spread the ganache to the tart's edges as needed. If desired pop any large bubbles that form with a toothpick.

Refrigerate uncovered until set, about 30 minutes. Serve chilled or at room temperature.
Some of the links in this post are affiliate links. If you click through and make a purchase, I earn a small commission for my referral at no additional cost to you. Thank you for supporting Flour Arrangements.
YOU MIGHT ALSO LIKE
Chocolate Peppermint Cookies
Peppermint Chocolate Cake
Mini Chocolate Cream Pies
Pin Peppermint Patty Tart for Later