Give decadent chocolate brownies an elegant flair by swapping out a traditional square pan for a fluted tart pan. Top wedges of brownie tart with vanilla ice cream, homemade caramel sauce, and cinnamon pecans to create a sophisticated brownie sundae.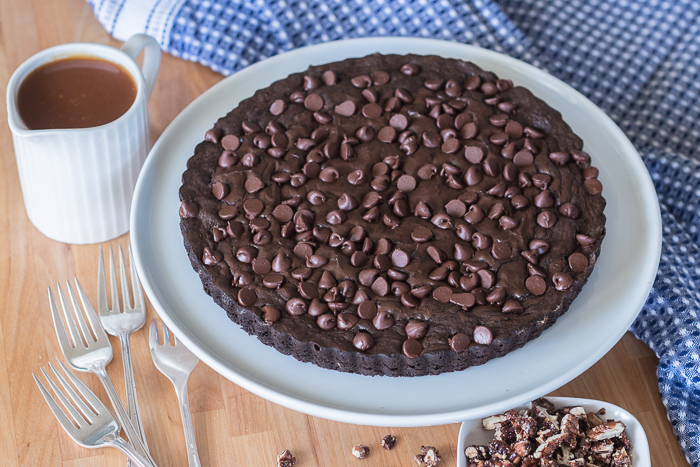 If you're looking for a way to transform a casual sweet treat into something elegant, bake it in a fluted tart pan.
Take chocolate brownies. They're awesome baked in a square pan and served as finger food. They're also great dressed up with a scoop of ice cream and drizzled with caramel sauce.
Here's the thing: if you're already dressing up a simple batch of brownies with ice cream and toppings, why not swap the square pan for a tart pan and bake a brownie tart instead?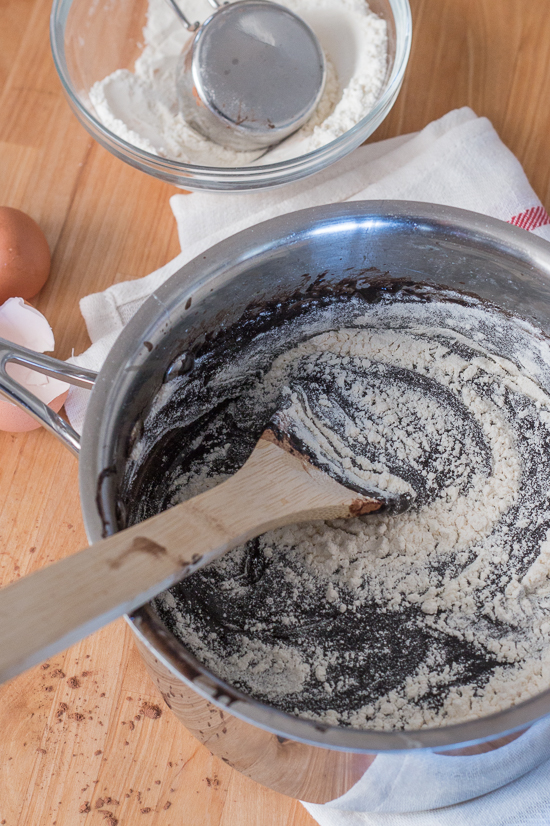 This easy pan switch delivers rich, chocolaty brownies that slice into graceful wedges edged with delicate fluting.
While sophisticated, this brownie tart's fancy appearance belies its simplicity. It comes together quickly with minimal mess and bakes for less than 25 minutes, which means it's a great last-minute recipe, too.
While my tart baked, I imagined how delicious brownie sundaes would taste sprinkled with cinnamon-spiced candied pecans.
Fortunately, it takes less than 10 minutes to make candied pecans, so I had them cooling before the brownie tart came out of the oven.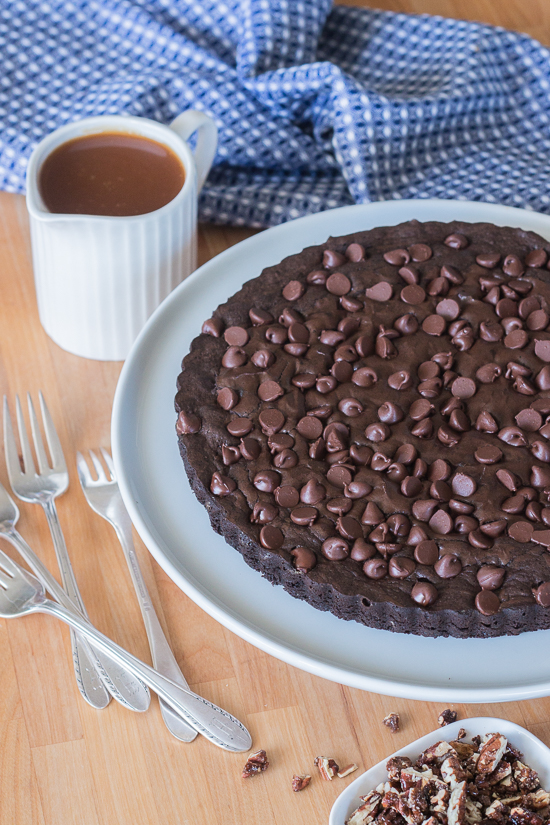 I made a batch of caramel sauce, too, to top our brownie tart sundaes, but it just didn't live up to some caramel sauce my daughter made recently.
When I asked her for the recipe, she handed me her notebook from last summer's baking camp, where she spent a week modifying recipes and developing a signature dessert.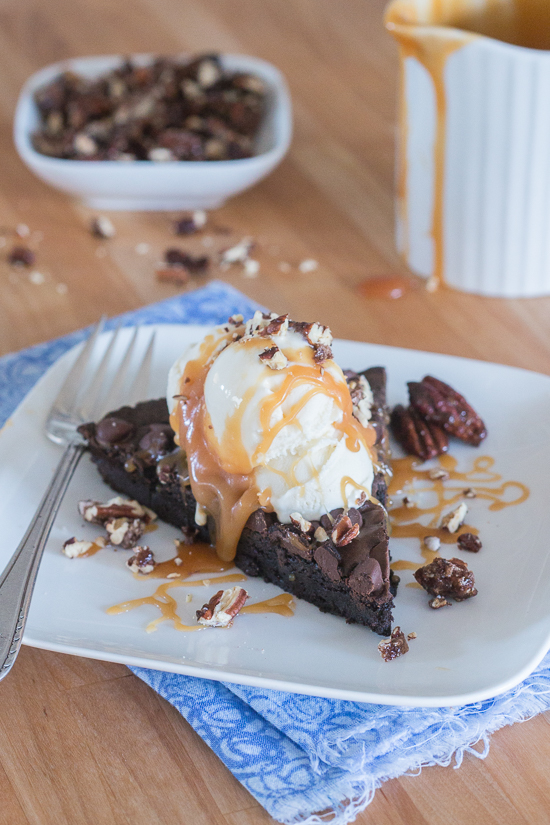 Quick, easy, and delicious, her caramel recipe was perfect. Drizzled warm over sweet vanilla ice cream and rich chocolate brownie, it adds a luscious smoothness to this decadent dessert. The nutty crunch of chopped cinnamon pecans add a finishing touch that rounds out the flavors.
This dessert takes the idea of brownie sundaes to a whole new level. And while I especially love the caramel and spiced pecan version shared here, I consider this brownie tart a blank canvas awaiting a diverse and varied palette of flavors and textures.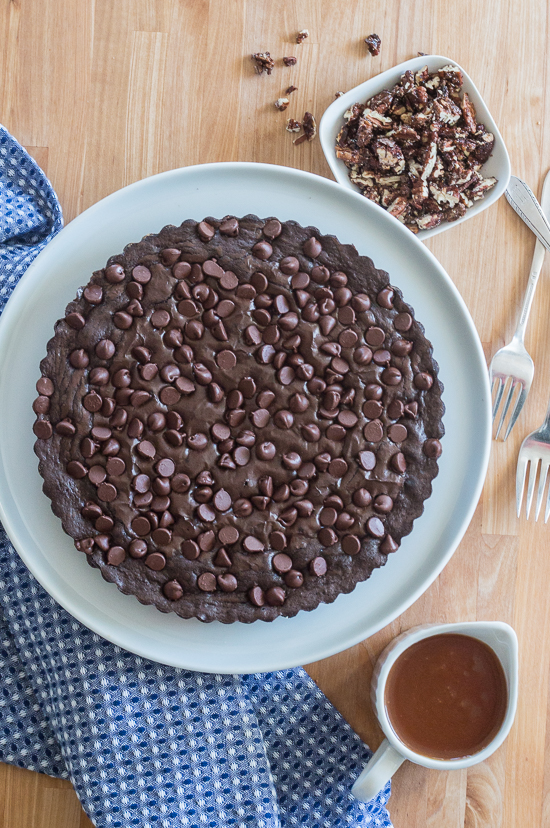 Imagine this rich, chocolate brownie tart topped fresh berries and cream in summer time, peppermint ice cream and hot fudge during the holidays, or strawberry ice cream and meringue hearts for Valentine's Day.
The possibilities are endless! Happy baking!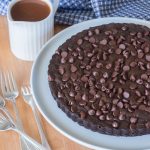 Print Recipe
Brownie Tart with Homemade Caramel Sauce and Cinnamon Pecans
Ingredients
Chocolate Brownies

½

cup

unsalted butter

1

cup

granulated sugar

½

cup

unsweetened cocoa powder

2

teaspoons

vanilla extract

2

large eggs

½

teaspoon

kosher salt

½

teaspoon

baking powder

¾

cups

all-purpose flour

generous 1/2 cup semisweet chocolate chips

Cinnamon Pecans

1

cup

halved pecans

1/4

cup

granulated sugar

1

teaspoon

ground cinnamon

Caramel Sauce

1

cup

granulated sugar

6

tablespoons

unsalted butter

sliced into several pieces

pinch

kosher salt

1/2

cup

plus 2 tablespoons heavy cream

at room temperature

For Serving

1

pint

vanilla ice cream
Instructions
Preheat oven to 350° F. Grease a 9-inch fluted tart pan with a removable bottom and set aside.

For the brownies, melt butter in saucepan over moderate heat. Add sugar and stir to combine. Continue heating the mixture until it is hot but not bubbling; it will become shiny as you stir it.

Remove from heat and stir in cocoa powder and vanilla extract. Add eggs, one at a time, beating until smooth after each addition. Add salt and baking powder, stirring until combined. Add flour, ¼ cup at a time, stirring until the flour is incorporated.

Place prepared tart pan on a baking sheet. Scrape the thick, glossy batter into the pan, spreading it as evenly as you can. Scatter chocolate chips over the top.

Bake until the center is just set, about 22 to 25 minutes. Place pan on rack to cool.

To prepare the cinnamon pecans, toast pecans in a skillet over medium heat, stirring frequently until lightly toasted and fragrant. Add sugar and cinnamon and stir continuously until the sugar begins to melt. Continue cooking until pecans are shiny and well coated, about 5 minutes. Remove from heat and spread pecans in a single layer on a parchment-lined baking sheet (resist the temptation to use your fingers as they will be very hot). Cool completely.

For the caramel sauce, melt sugar over medium heat in a large saucepan, stirring constantly to ensure even heating. Once the sugar liquefies, reduce heat to low and continue cooking the sugar, stirring constantly, until it turns the color of a copper penny, about 2 to 3 minutes. Add butter and salt, stirring until fully incorporated. Remove from heat and add heavy cream, whisking vigorously until it forms a smooth sauce (the sauce will bubble and expand, so using a large saucepan will prevent boiling over at this stage). If the caramel separates from the cream, return to stove and heat until the sugar melts back into the cream.

Serve wedges of brownie topped with vanilla ice cream, warm caramel sauce, and chopped cinnamon pecans.
Pin Brownie Tart for Later

You might also like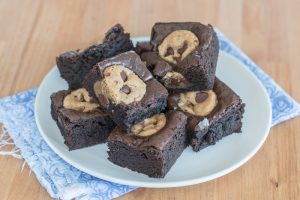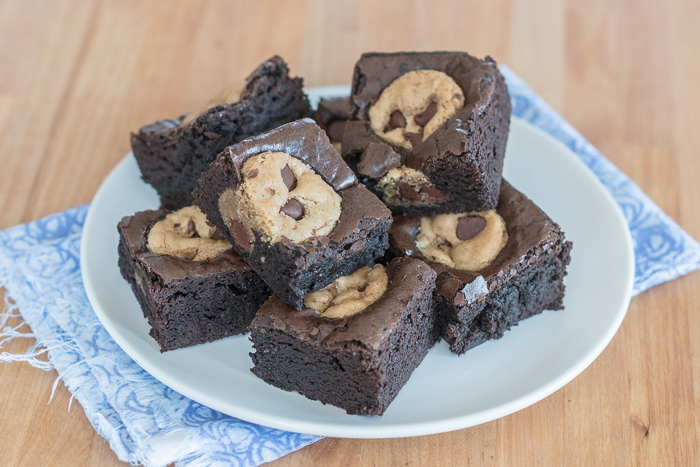 Chocolate Chip Cookie Brownies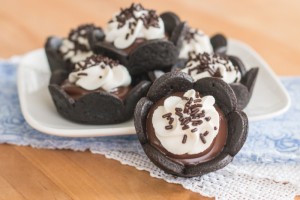 Miniature Chocolate Cream Pies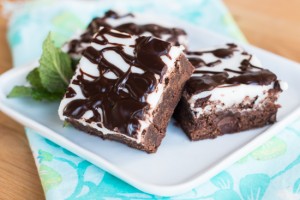 Mint Chocolate Brownies