Spicy gingerbread cookie crusts provide a bold, flavorful backdrop for sweet caramel and rich, smooth ganache in these Mini Salted Caramel Chocolate Tarts.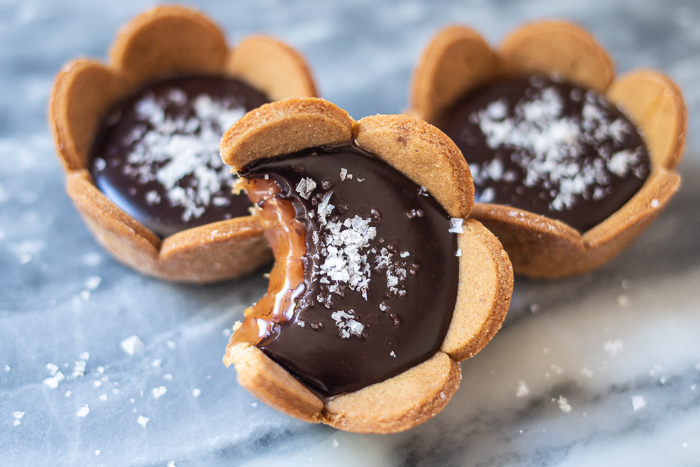 I
n these days of social distancing, we've missed entertaining friends and family members. We're lucky enough to have a small backyard, so we've figured out a way to have occasional dinner parties outside that feel safe and responsible. We've added a second patio table so guests from two different households can sit together at a distance. Before dinner, the conversation feels funny at times; muffled by masks, we raise our voices and enunciate elaborately. To make these meals easy, we usually serve some kind of prepare-ahead
casserole
that we can bake in two separate dishes. Each table gets its own set of bowls and platters for everything we eat, including salads, sides, and sauces.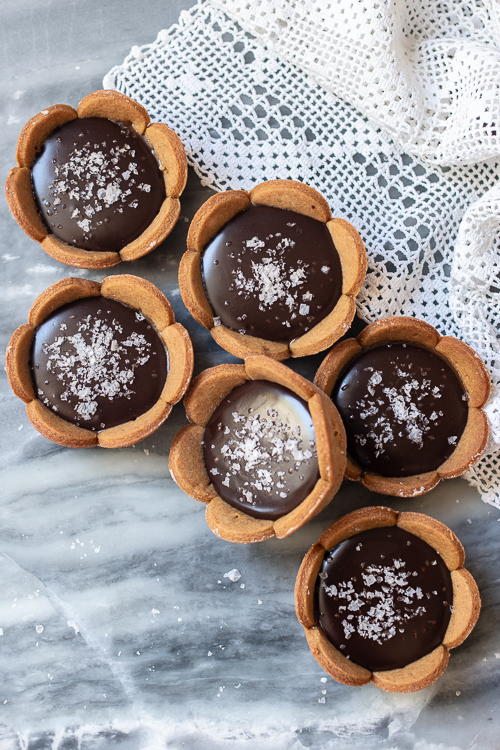 Serving two of everything works the same for dessert, which has led me to update some of my old favorite recipes for ease of socially distant dining. For a gathering the other day, I had my heart set on making
Salted Caramel Chocolate Tart
. Since I don't have two of the right size tart pans, I created a miniaturized version. On my first attempt, I made these Mini Salted Caramel-Chocolate Tarts with
chocolate crusts
. They tasted delicious layered with caramel and chocolate ganache, but I didn't feel totally satisfied. All the elements were fine, but the overall dessert needed more personality. I decided to try again with mini
gingerbread cookie
crusts. I don't usually think of eating gingerbread with chocolate, so I honestly didn't know how it would work, but after one bite, I was hooked.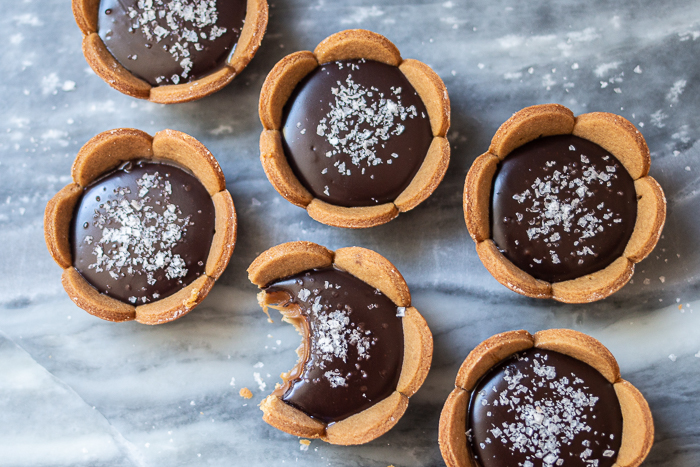 The bold and flavorful gingerbread cookie crusts work surprisingly well with the super-sweet caramel and rich, smooth ganache. The flavors and textures mingle enticingly, especially with a sprinkling of flaky sea salt on top. With the chocolate-crusted version, I felt perfectly happy to enjoy a small tart after dinner. But with this gingerbread rendition, I feel compelled — urgently — to reach for a second and third tart before they all disappear.
How to Make Mini Salted Caramel Chocolate Tarts
This recipe starts with the simple trick of using a
flower cookie cutter
and a muffin pan to make tiny crusts. The flower shape enables the cookie dough to tuck conveniently into the muffin cups without bunching up the excess dough around the top edge. The flower petals also give the cups a pretty decorative edge.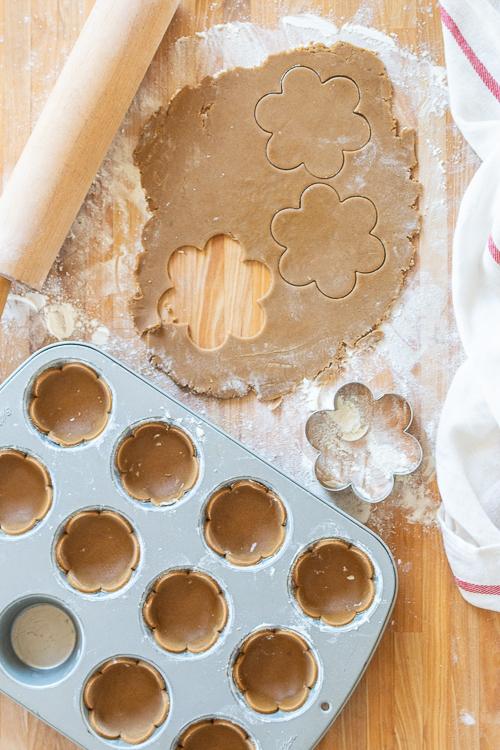 In addition to the cookie cups, this recipe includes homemade caramel and chocolate ganache, which I scaled down from the original recipe. Since I was already making changes, I decided to simplify ingredients and steps, too. My original recipe called for
creme fraiche
in addition to heavy cream in both the caramel and ganache.
Creme fraiche
isn't an ingredient I usually keep on hand, so I skipped it this time around. Guess what? The caramel and ganache both taste great without it! For the caramel, I had previously used a candy thermometer to determine when to add the cream and butter to the molten sugar. This time, I decided to use color as an indicator instead. As soon as the bubbling mixture turned bright copper, I pulled it from the heat and mixed in the remaining ingredients, and this worked just as well as using a thermometer. If this is the kind of short cut that makes you nervous, feel free to use a candy thermometer instead. Heat the sugar mixture to 340°F before proceeding.
While this recipe includes several components, each one comes together easily. Since the different steps require resting and cooling times, the overall preparation gets stretched out, and this makes the whole process feel pretty minimal. Since I'm not going anywhere these days, recipes that come together in stages honestly feel preferable to me. Once the cookie cups have cooled, cook the caramel on the stove. I found that transferring the caramel into a spouted glass measuring cup facilitates pouring it into the cookie cups. Stopping below the lowest point of the "V" that forms between the fluted crust edges prevents the caramel from oozing over the sides. This also leaves room for chocolate ganache. Refrigerate the caramel-layered cups until cool, and then prepare the ganache topping, which is as simple as heating cream and pouring it over chopped chocolate. I updated this version to include a splash of corn syrup, which adds a glossy sheen.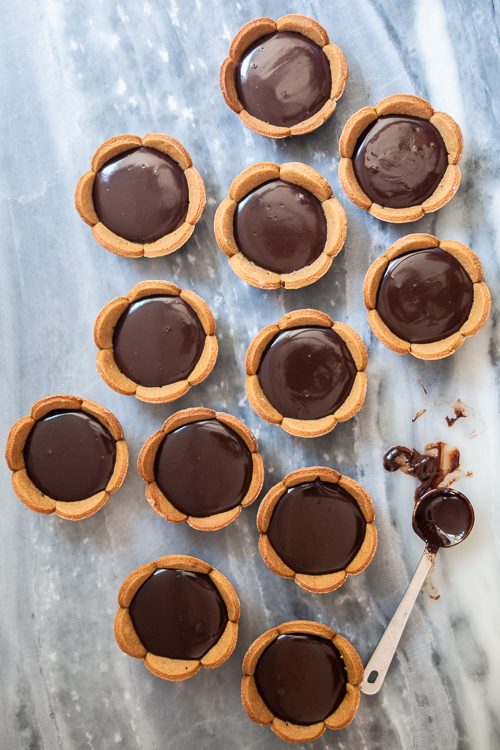 Spoon two teaspoons of chocolate atop the caramel. Shimmy each tart to spread the chocolate to the edges. If bubbles form, tapping the tarts on the counter helps to burst them. Since these little tarts get a sprinkling of coarse salt right before serving, bubbles or other imperfections aren't really a big deal. In these imperfect, weird times, a little sweetness to get us through goes a long way, especially when shared with good friends. If you haven't seen friends in a while, let these Mini Salted Caramel Chocolate Tarts be the excuse you need to plan something. They're a perfect end to an alfresco, socially distant meal. Just sayin'!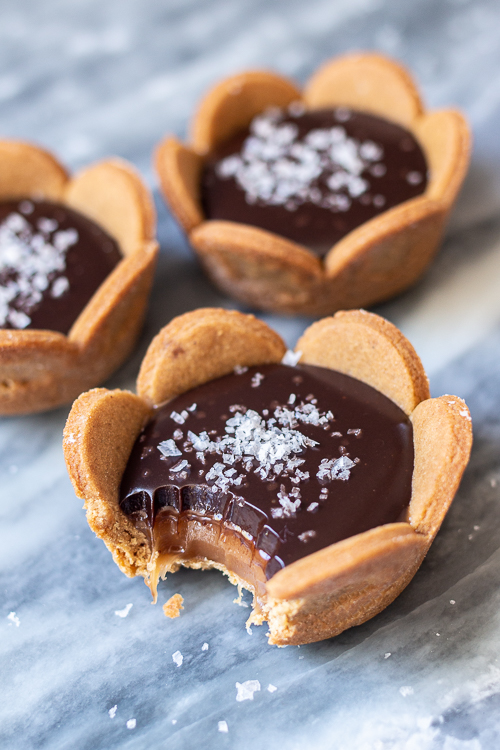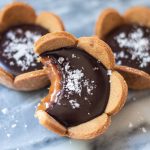 Print Recipe
Mini Salted Caramel-Chocolate Tarts in Gingerbread Cookie Cups
Spicy gingerbread cookie crusts provide a bold, flavorful backdrop for sweet caramel and rich, smooth ganache in these Mini Salted Caramel Chocolate Tarts. This recipe doubles well.
Ingredients
Gingerbread Cookie Cups
1 1/3

cups

unbleached all-purpose flour

1/4

teaspoon

kosher salt

1

tablespoon

ground ginger

1/4

teaspoon

ground cinnamon

1/8

teaspoon

ground cardamom

pinch

ground white pepper

1/2

cup

unsalted butter

softened but still cool

6

tablespoons

packed brown sugar

2 1/2

tablespoons

honey

1

tablespoon

molasses
Caramel
3

tablespoons

heavy cream

3

tablespoons

unsalted butter

diced

3/4

cups

granulated sugar

3

tablespoons

water

1

tablespoon

light corn syrup

1/4

teaspoon

kosher salt
Chocolate Ganache
2

ounces

bittersweet chocolate

finely chopped

1/2

teaspoon

light corn syrup

1/4

cup

heavy cream
Serving
flaky sea salt

for sprinkling
Instructions
Gingerbread Cookie Cups
Whisk flour, salt, and spices in a bowl. Set aside.

In the bowl of a standing electric mixer, combine butter and brown sugar with the paddle  attachment, beating until light and fluffy. Add honey and molasses and mix until fully incorporated.

Add the dry ingredients to the butter mixture in three additions, mixing until the dough comes together.

Form the dough into a flat disk, wrap tightly with plastic, and refrigerate for at least an hour (or up to two days) before continuing. Let the dough sit for a a few minutes at room temperature before rolling.

Preheat oven to 350º F. Lightly grease 12 cups in a standard-sized muffin tin.

On a generously floured surface, roll dough to a thickness between 1/8 and 1/4 inch. Using a 3¾-to 4-inch flower-shaped cookie cutter, stamp out 12 flowers (re-roll scraps if needed).

Gently transfer the dough to muffin tins, tucking each flower into one of the cups. With a toothpick or sharp skewer, prick holes in the dough around the bottom edge of the cup, about 1/8 to 1/4 inch apart, adding a few holes in the center as well.

Bake until the cookies feel just set, about 10 to 12 minutes.

Remove from oven and let cool in the muffin pans for about 5 minutes. Loosen the cups with a thin metal spatula before allowing them to cool completely in the muffin pans.
Caramel Filling
Combine cream and butter pieces in a small bowl; set aside.

Whisk sugar, water, corn syrup, and, salt together in a 2-quart saucepan. Over medium heat, bring the mixture to a boil without stirring until it turns a rich caramel color (if you prefer to use a candy thermometer, heat the syrup until the thermometer reads 340°F).

Remove the pan from heat and add the cream-butter mixture. Taking care as it will bubble up and steam, whisk until smooth. Pour caramel into a spouted measuring glass.

Pour caramel into the prepared cookie cups, filling them just below the V shape between each cup's petals. Refrigerate uncovered until cool to the touch.
Chocolate Ganache
Combine the chocolate and corn syrup in small bowl. Set aside.

Heat the heavy cream in a small saucepan until it bubbles around the edges and steam begins to rise from its surface. Pour the hot cream into the prepared chocolate. Without stirring, let the cream-chocolate mixture sit for 2 minutes. Using a small spatula, stir until smooth and glossy (if the chocolate doesn't melt completely, heat for 5 second bursts in the microwave until smooth). 

Working one at a time, spoon 2 teaspoons of warm ganache atop the caramel on each tart. Shimmy the tart as needed to spread the chocolate to the edges. Tap the tart gently on the counter to burst any large bubbles that form.

Refrigerate the tarts uncovered until ready to serve.
Serving
Remove chilled tarts from the refrigerator about 30 minutes before you plan to serve them.

Right before serving, sprinkle generously with coarse sea salt.
Some of the links in this post are affiliate links. If you click through and make a purchase, I earn a small commission for my referral at no additional cost to you. Thank you for supporting Flour Arrangements.
YOU MIGHT ALSO LIKE
Little Lime Tarts in Graham Cracker Cups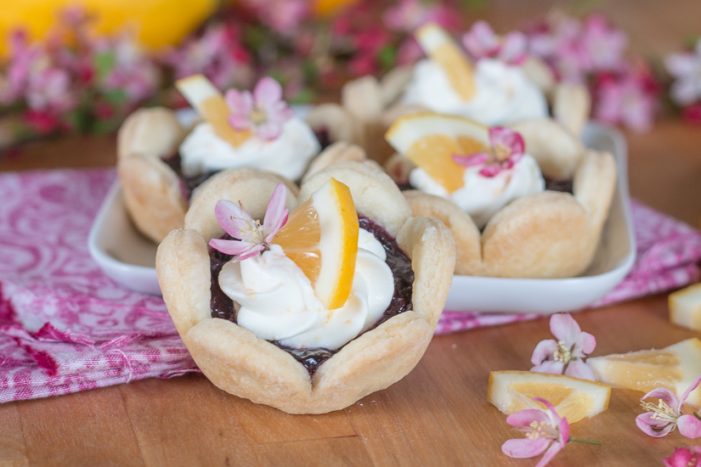 Sweet Cherry Pie-lets with Meyer Lemon Cream