These Savory Pumpkin Hand Pies deliver their thyme-laced pumpkin, Gruyere, and leek filling in a tidy, hand-size package that's almost too cute to eat. Happy Halloween!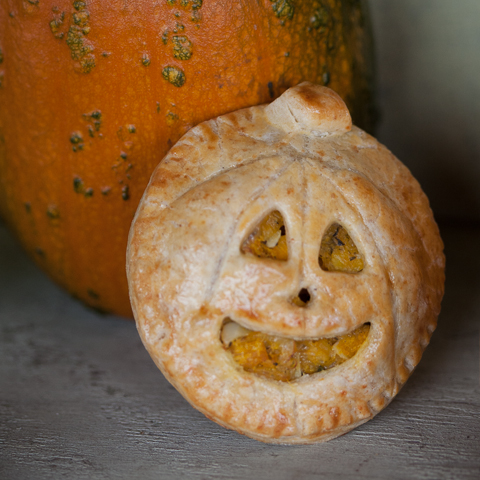 C
atalogs seem to multiply in my mailbox these days. You know what I'm talking about — that endless supply of glossy pages parading seasonal items like bronze pumpkins vases and decorative metal skulls, not to mention berry-and-pine cone-topiary Christmas trees and reindeer-Santa-and-sleigh stitched throw pillows.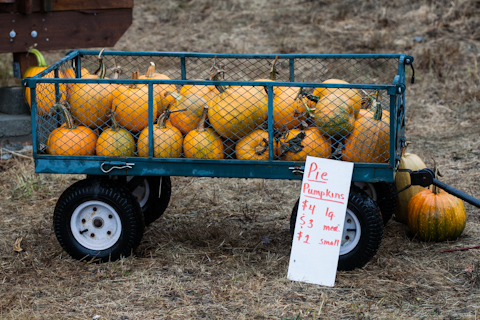 I try not to think about the trees that sacrificed their lives for this visual onslaught. A visual onslaught that, without fail, portrays its melange of holiday items in spacious and spotless living spaces about as far from my reality as life can get. Maybe someday I'll live in a house like that, but it's not likely, at least not any time in the near future. While I wouldn't mind the spaciousness or spotlessness, for some reason, I've never felt a great need to accumulate holiday knickknacks to strew artfully about my house.
Since I currently live in a 900-square-foot cottage with my family of four, I feel grateful that I'm not pining to decorate this cramped space with holiday items. Even if I was, and miraculously found the requisite space needed to display spooky aspen branches for Halloween, I'd never find a place to store all those fluttering black leaves once Thanksgiving arrived.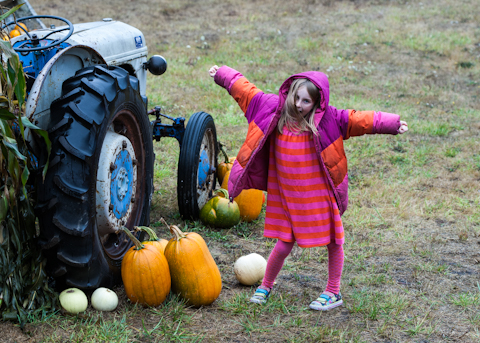 While I may not decorate seasonally, I still wholeheartedly embrace the holidays. I love to stomp around our small-town pumpkin patch with my family.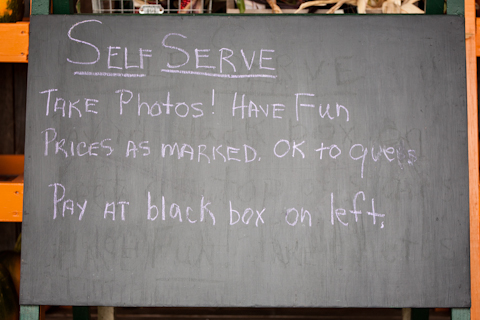 I will happily spend an entire rainy Saturday reading Halloween stories with my daughters. And, of course, I can't help but head to the kitchen in an effort to transform some of my seasonal enthusiasm into food. In Halloween's past, I've made meringue bones and pumpkin-shaped cupcakes and even a three-tiered
ghost cake
. This year, I channeled my Halloween spirit into little Jack 'O Lantern pies. Savory ones.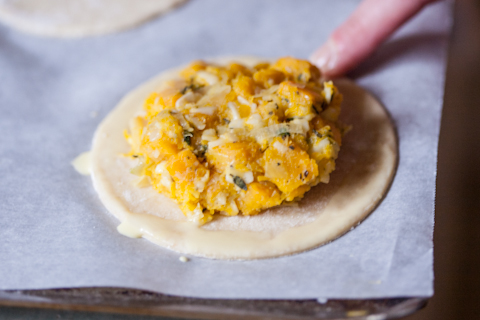 These pies deliver their thyme-laced pumpkin, Gruyere, and leek filling in a tidy, hand-size package that's almost too cute to eat.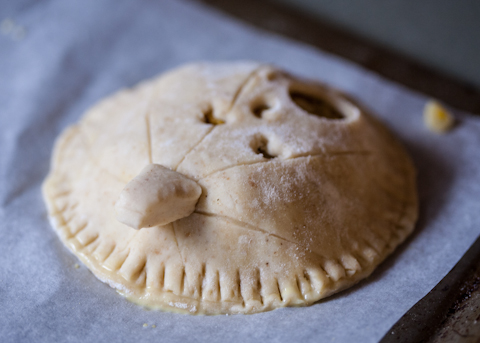 My kids enjoyed creating faces on the rounds of pastry with miniature cookie cutters, as well as the ends of frosting decorating tips.
And just like faces on real Jack 'O Lanterns, each pie came to life with its own, unique character.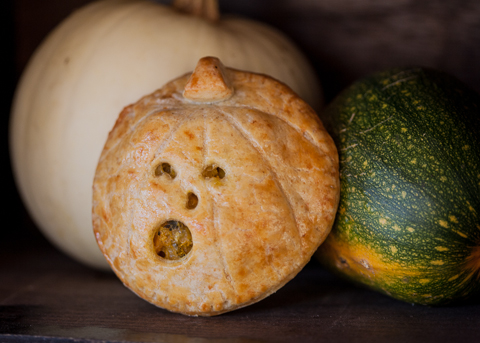 Despite their cuteness, these Halloween pies don't stick around long enough to clutter up my house. That brings me infinitely more cheer than any punched ceramic pumpkin luminary ever could. Take that, Pottery Barn.
Savory Pumpkin Hand Pies
Makes eight 4-inch pies.
Pastry
2 cups all-purpose flour 1/4 cup whole wheat flour 1/2 cup grated Gruyere Cheese (about 1 ounce) 1/2 teaspoon powdered sugar 1 teaspoon salt 3/4 cup butter, cut in slices 1 egg yolk 1/3 to 1/2 cup ice water, strained
Filling
6 garlic cloves, sliced thinly 3 tablespoons olive oil, divided 1 pound chopped pie pumpkin or other winter squash, cut in 1/4-inch cubes (about three cups) 3/4 teaspoons salt, divided, plus more to taste pepper, to taste fresh thyme sprigs, to taste 1 large leek, white part only, cut in half lengthwise and thinly sliced 1/4 teaspoon dried thyme 1/4 cup white wine 1 tablespoon chopped fresh thyme 3/4 cup grated Gruyere Cheese (about 2.5 ounces)
Egg wash
1 egg yolk 2 tablespoons cream To make pastry dough, combine flour, sugar, salt, and cheese in the bowl of a food processor. Whirl to combine. Add butter slices and pulse until butter looks pea-sized. Add egg yolk while pulsing, and then add most of the water, pulsing, in a slow, steady stream. If the mixture seems dry and doesn't stick together, add the remaining water while pulsing. Divide dough into two portions. Flatten each one into a disk. Wrap in plastic wrap and refrigerate for about 45 minutes. Preheat oven to 400° F. Toss garlic, cubed pumpkin, 2 tablespoons oil, 1/2 teaspoon salt, pepper to taste, and thyme sprigs in a baking dish. Bake until squash is tender but still holds its shape, about 10 to 15 minutes. Remove thyme sprigs. Heat 1 tablespoon olive oil in a skillet. Add the leeks, 1/4 teaspoon salt, pepper to taste, and dried thyme. Saute over medium heat until the leeks begin to soften, about 2 minutes. Cover the pan, reduce heat to medium-low, and allow the leeks to steam until tender, about 8 minutes. Add wine and cook, uncovered, over medium heat until the pan is nearly dry. Toss the squash and leeks together with fresh thyme. Season with salt and pepper to taste. Allow filling to cool slightly before tossing with Gruyere cheese. Preheat oven to 375º F. Whisk together egg yolk and cream and set aside. Remove one of the chilled pastry disks from the refrigerator and roll the dough to 1/8-inch thickness. With the first batch, cut eight 4-inch circles, re-rolling scraps as needed. Roll out remaining dough and cut eight 4 1/2-inch circles, re-rolling as necessary. The larger circles are the tops. On the tops, using a sharp knife, score shallow lines that radiate from a center point near the upper edge of the rounds (later, you will place stems atop the center point). Create faces on each scored round using miniature cookie cutters, the pointed ends of decorating tips, or free handing with a sharp knife. Set aside. Use scraps of dough to shape eight small rectangles to use as stems. Set aside. Place the bottom rounds on a parchment-lined baking sheet. Add about 1/3 cup filling to each round, leaving a 1/4-inch margin around the edge. With a clean fingertip, spread egg wash along the exposed edge. Gently place a prepared top over the filling, lining up the edges carefully. Using the back side of a fork, press firmly to seal edges together. Add a dab of egg wash where the scored lines meet near the top of the round and attach a prepared stem. Apply egg wash lightly to the entire surface of the pie. Repeat with remaining rounds of dough. Bake until golden, about 25 minutes. Serve warm or at room temperature.