Sweet vanilla pastry complements flavorful berry jam in these simple Heart-Shaped Toaster Pastries.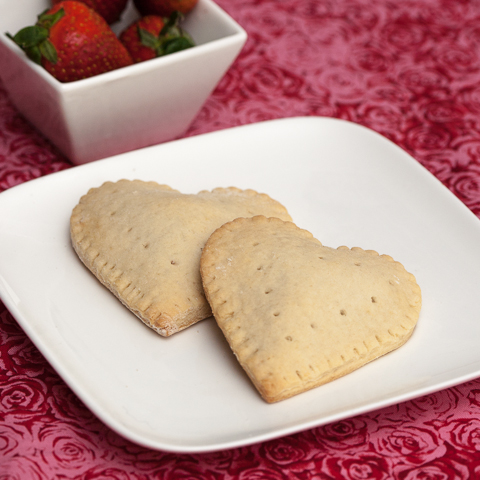 A
s I child, I remember begging my mom to buy me Cocoa Puffs and Coca Cola and Twinkies at the grocery store. She never bought them. Not once. Not ever. Telling her that other kids' moms bought their children such delicacies didn't help a bit. She never budged. My mom wasn't opposed to sweets; without fail, we indulged in dessert every night. Usually we finished our dinner with a generous bowl of ice cream, but often my mom served up some seriously awesome dessert she'd made — flourless chocolate tart with fresh raspberry sauce,
blackberry pie
, almond cake, or grasshopper pie, just to name a few. Now that I have kids of my own, I often avoid the cereal aisle so I don't have to hear them beg for Cookie Crisps or Froot Loops. Sure, I remember how much I pined for such foods when I was small, but like my mother before me, I now can't imagine how anyone thinks they taste good. I refuse to cave in and buy sugary cereals or sodas or snacks because I know that, if I even once back down, I'll never hear the end of it. But here's the upside — since we refrain from indulging on sugary breakfasts, snacks, and beverages all day long, I feel okay about serving
cake
or
pie
or
tart
for dessert after dinner.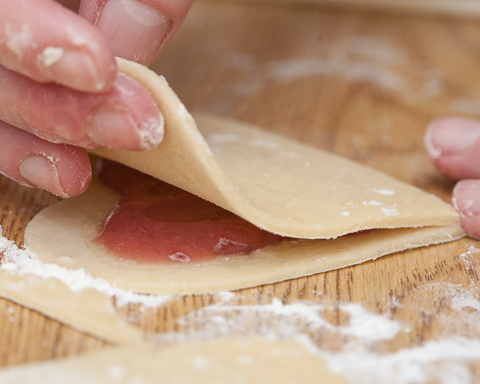 I feel compelled to add a small point of clarification here. When I say "we refrain from indulging," I am not including my husband. He drinks soda. He snacks on handfuls of chocolate chips regularly as an afternoon snack. And when he goes the the store with our daughters, they occasionally come home with some crap I would never buy. Like Pop-Tarts. When they busted out Pop-Tarts for breakfast one morning not so long ago, they raved about them so much that I felt compelled to give one a try. My instincts proved correct; the sugary sweetness overpowered any "fruit" flavor the filling was supposed to have, and my teeth actually hurt as I chewed, making me worry that they were decaying on contact. I handed the remains of the Pop-Tart to my husband, who immediately devoured it with a smile.
When these cookies-masquerading-as-breakfast finally disappeared, my children looked heartbroken. They recognized that it might take a while to sucker their dad into buying more, and they knew, no matter how they asked, that I would never, ever buy them. And they were right. They never dreamed, though, that I would try to make them.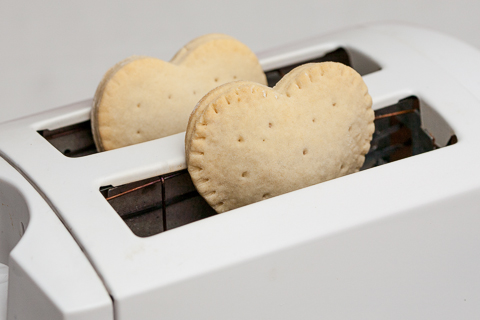 My version turned out sweet enough to fall in the breakfast dessert category, but it doesn't overpower with that sugar-is-the-second-ingredient-sweetness that seems to stay with you all day long, no matter how many times you brush your teeth. And the sweet vanilla pastry complements, rather than overpowers the flavor of the jam inside. I especially recommend mixing strawberry and raspberry jam together; my youngest daughter somehow became obsessed with
combining strawberries and raspberries
whenever possible, so I gave it a try to make her extra happy. These little hearts are not the kind of breakfast I'd serve my kids everyday. I know that they are really just cookies best toasted before eating. In any case, I'd much rather have them beg me to bake them something special than listen to them plead for junk food at the store.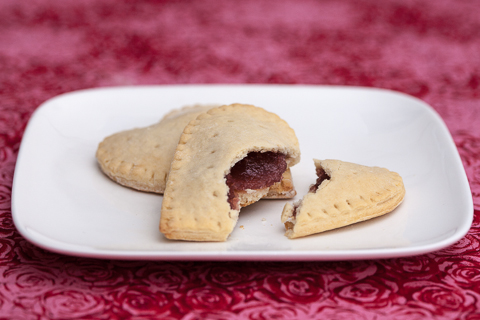 Heart Shaped Toaster Pastries
Adapted from
The King Arthur Flour Baker's Companion
. Makes about three dozen 3 1/4-inch hearts.
Pastry
4 cups unbleached all-purpose flour 2 teaspoons cream of tartar 1/2 teaspoon baking soda 1/2 teaspoon salt 1/2 cup unsalted butter (one stick) 3/4 cup granulated sugar 1 large egg 2 teaspoons vanilla extract 1/2 cup milk
Fruit Filling
1 cup thick jam 3 tablespoons, plus 1 teaspoon unbleached all-purpose flour Whisk flour, cream of tartar, baking soda, and salt together in a small bowl. Set aside. Cream the butter and sugar together in a standing electric mixer fitted with the paddle attachment. Add the egg and vanilla and beat until well combined. On slow speed, add the flour mixture, alternating with the milk, to the butter mixture. Increase speed and mix the dough until blended. Divide the dough in half and press each piece into a flat, smooth disk. Wrap tightly with plastic wrap and refrigerate for several hours or overnight. Preheat oven to 350° F. Remove the dough from the refrigerator and immediately prepare the fruit filling by mixing the jam and flour together. Set aside. Line two baking sheets with lightly greased parchment paper. Roll out one piece of dough into 1/16-inch thickness. Cut as many 3 1/4-inch
hearts
as you can from the dough (pastries made from re-rolled scraps will be a bit tough). With the tip of your finger, lightly moisten around the edge of one heart with water. Spread slightly less than two teaspoons of the jam mixture in the heart, leaving a 1/8-inch border all the way around. Place a second heart on top of the prepared bottom. Press the the edges lightly together with your finger tips before sealing the edges with the flat side of a fork dipped in flour. Prick the top of the tart with a pointed skewer several times to allow the steam to escape. Repeat with remaining heart shapes. Bake for 16 to 18 minutes, until barely golden. Remove from the oven and transfer to a cooling rack. In the meantime, roll out remaining dough, prepare, and bake as directed. Re-roll scraps to make additional hearts, if desired. Best served within a day of making. Toast hearts right before serving. Freeze extra hearts in a zip lock bag; pop them in the toaster to thaw before serving.
Some of the links in this post are affiliate links. If you click through and make a purchase, I earn a small commission for my referral at no additional cost to you. Thank you for supporting Flour Arrangements.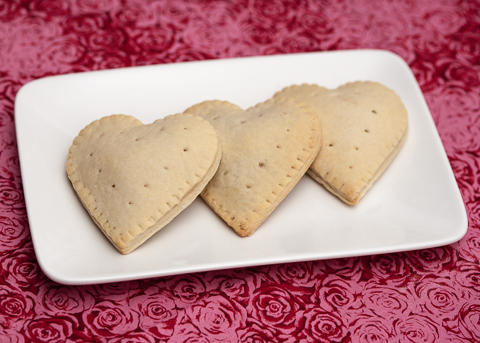 You Might Also Like