Rich, tangy raspberry cream pairs perfectly with little chocolate cookie crusts. These Raspberry Cream Tartlets' small size makes them great party food.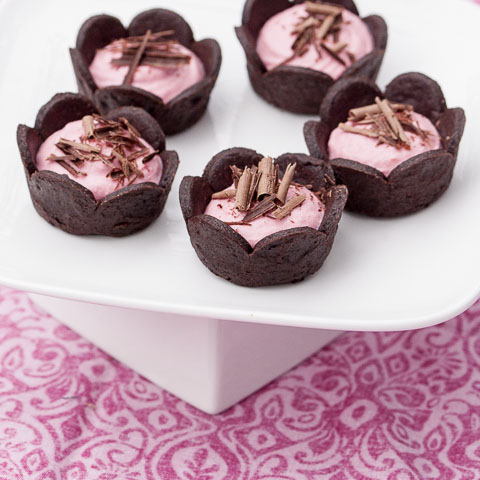 Ever since I made a miniature version of my mom's Grasshopper Pie recipe, I've experimented with all kinds of petite tarts and desserts. Eliza asked me to make her favorite of my diminutive experiments — Raspberry Cream Tartlets — to take to school for her birthday.
The day before her birthday, I used a mini muffin pan to make chocolate cookie crusts. As the crusts cooled, I prepared the raspberry filling.
This simple recipe tastes dangerously good, and I narrowly resisted the temptation to pipe this sweet, tart ambrosia directly into my mouth rather than into the chocolate crusts where it belonged. Honestly, the only thing that kept me on task was remembering that the rich, tangy raspberry cream tastes even better paired with little chocolate cookie crusts.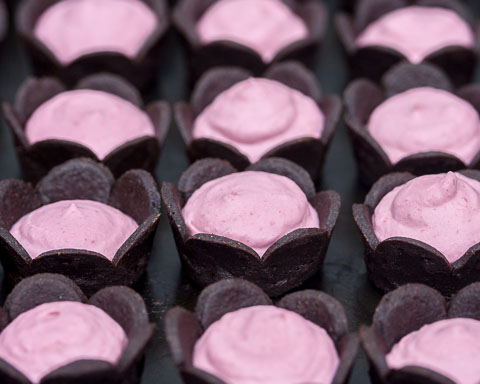 When I set out to make Eliza's birthday treats, I planned to garnish each tartlet with a single raspberry. But then as I set the first raspberry on a finished tart, I realized that it would never do: the raspberry looked just like a nipple on a small, perky breast. A tray full of these raspberry-topped tartlets might strike the right note at a bachelor party, but for Eliza's second grade class, not so much.
I took some extra tartlets to my friend Sharalyn's house for dinner that evening. I'd promised to bring dessert, but mostly, I wanted her opinion; I knew she would tell me if I was overreacting to the sight of a berry on a mound of pale pink filling.
As it turned out, I wasn't. Sharalyn agreed with me. More telling, though, was her one-and-a-half-year-old son's reaction to the dessert. Little Abel — who still nurses — grew wide-eyed when handed a raspberry-topped tartlet. He devoured it in no time and asked for another.

When I handed him one sprinkled with chocolate shavings, he shook his head and made a sad, sad face. We had to talk the kid into eating it.
Since I didn't need all those raspberries for the tarts, we enjoyed fresh berries for breakfast the next morning. They tasted delicious, but I realized that I'll never look at a raspberry in the same way ever again.
Raspberry Cream Tartlets
Makes 24 small or 48 miniature tarts.
Tarts Crusts
1 1/2 cups all-purpose flour
1/2 cup unsweetened cocoa powder, plus more for rolling out the dough
1/2 teaspoon salt
1 1/2 sticks unsalted butter, softened but still cool
1 cup sugar
1 large egg
2 teaspoons vanilla extract
Filling
10 ounces frozen raspberries (about 3 cups)
5 tablespoons, plus 1 teaspoon sugar
3 tablespoons framboise
1 3/8 teaspoons unflavored gelatin (about 3/4 of one packet)
1 cup heavy cream
To make tart crusts, combine flour, cocoa power, and salt in a small bowl. Set aside.
Combine butter and sugar in the bowl of a standing electric mixture on medium speed with the paddle attachment. Beat until light and fluffy. Add egg and vanilla extract and beat until well combined. Add flour mixture and mix on low speed until the dough comes together, about 1 minute. Turn the dough out onto a lightly floured surface and knead 2 or 3 times. Flatten into 2 disks, wrap in plastic, and chill until firm, about 30 minutes.
One at a time, roll out the chilled disks of dough to about 1/8-inch thickness on a counter generously dusted with cocoa powder. Using a 3-inch flower-shaped cookie cutter, stamp out as many flowers as possible. Gently transfer the dough to greased mini-muffin tins, tucking each flower gently into one of the cups (if you prefer larger cups, use a 3 3/4-to 4-inch cutter and tuck the shapes into a standard-size muffin tin).
With a toothpick or sharp skewer, prick holes in the dough around the edge of the cup, about 1/8 to 1/4 inch apart, adding a few holes in the center as well. Gather the scraps, re roll, and stamp out additional cookies to fill the remaining cups. Bake in an oven preheated to 350° F for about 10 minutes, until just set, shifting the baking sheets halfway through for even baking. Let the cookies cool in the muffin tins for 5-10 minutes before running a thin metal spatula around the outside edge of each cup. Leave cups in the pan to cool completely before removing carefully.
For the filling, combine raspberries and sugar in a saucepan. Bring to a boil and simmer for 10 minutes. Using a food mill or a fine-mesh strainer and a spatula, separate the juice from the seeds. Discard seeds and set the raspberry puree aside to cool.
Combine framboise and gelatin in a small, heatproof bowl to soak for 5 minutes. Place the bowl over simmering water to re-liquify, and then whisk the mixture into the cooled puree. Whip the cream and fold the raspberry mixture into it gently until well combined.
Transfer the mixture to a large pastry bag and pipe it into prepared tart crusts. Refrigerate prepared tarts until set. Garnish with chocolate shavings, if desired.
Some of the links in this post are affiliate links. If you click through and make a purchase, I earn a small commission for my referral at no additional cost to you. Thank you for supporting Flour Arrangements.