Each crisp, yet tender bite of these pecan-cocoa nib shortbread cookies has an almost caramelized flavor that harmonizes with the cookies' seductive ingredients.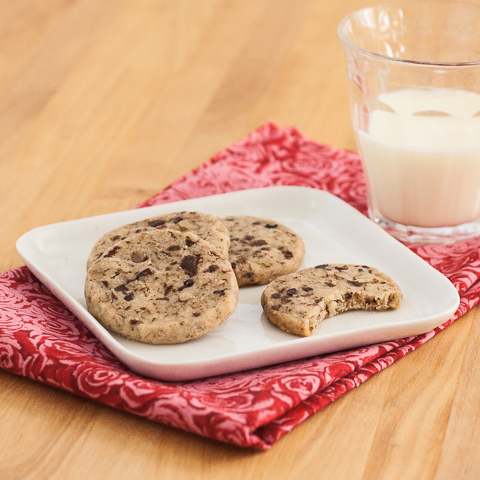 The other day my husband walked through the door with 10 pounds of Guittard chocolate in one arm and five pounds of cocoa nibs in the other. It wasn't Valentine's day. It wasn't my birthday or Christmas either.
He knows that I spontaneously bake with whatever ingredients we happen to have around the house. He clearly wants more chocolate in his life, which is saying something since we've been using both of these ingredients in generous quantities lately in tarts and waffles and fancy s'mores desserts.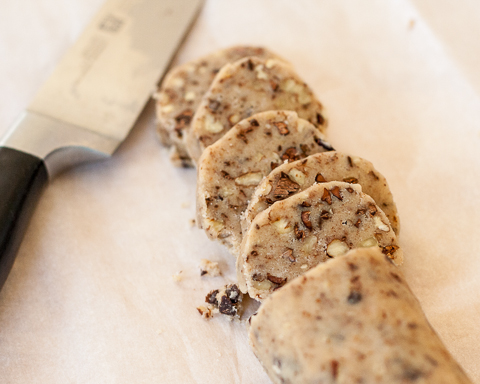 Just as he'd hoped, I did more spontaneous experimenting with chocolate and cocoa nibs when I had some time last weekend. Fortunately for all of us, I totally hit the jackpot with these little pecan-cocoa nib shortbread cookies.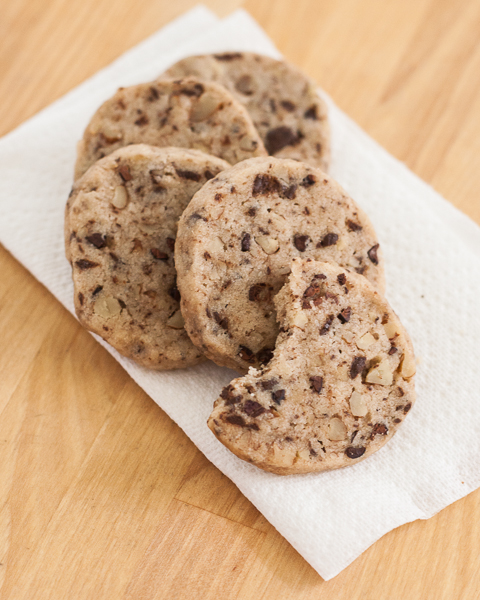 Here are just 10 of the many reasons to love these unassuming, yet sophisticated little cookies:
Toasted pecans give them a deep, nutty flavor
Cocoa nibs impart an almost coffee-like roasted-chocolate sophistication
Flecks of dark chocolate add extra richness to every bite
Baking adds an almost caramelized flavor that harmonizes with the cookies' seductive ingredients
Each cookie's crisp, yet tender texture offers a satisfying crunch
Preparation for these slice-and-bake cookies is a breeze
The cookies have an impressive, granite-like appearance since slicing the dough makes perfect cross-sections of the pecan, nib, and chocolate pieces
Cocoa nibs (or cacao nibs) are totally health food, so you can eat a small stack of these for breakfast with a cup of tea (which, according to experts, is also beneficial to your health)
The cookies' small size and sturdy structure makes them perfect traveling cookies
Christmas creep now starts before Halloween; in case (like me) you're feeling behind the curve, they're perfect Christmas cookies! Mix up a batch now — the dough freezes well for up to three months!
I can't in good conscience recommend the make-and-freeze option right now, though. You're going to want to eat these immediately. Make a batch for yourself first, and get in the giving spirit later.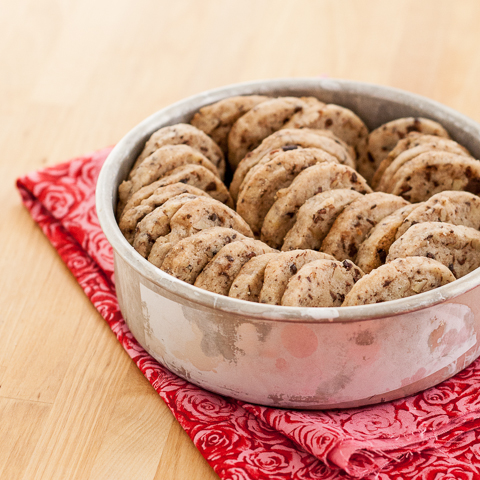 As soon you bite into one of these pecan-cocoa nib shortbread cookies, you'll know what I mean. They're not going to last long, and you can always make them again in December once holiday baking starts up in earnest. By then, I'm fairly certain I'll need another 10 pounds of chocolate and five more pounds of nibs.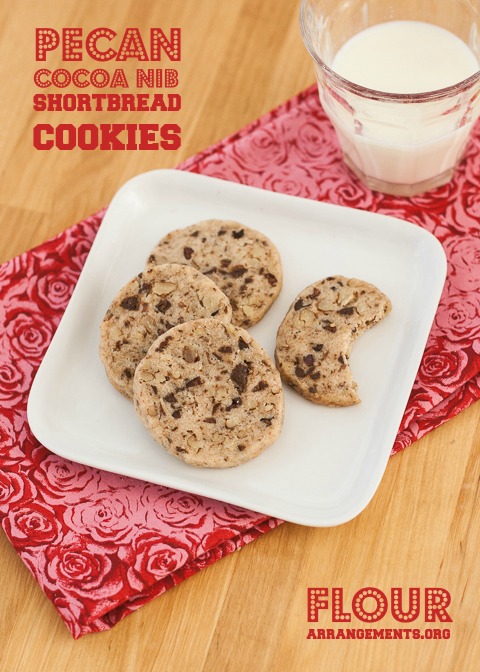 Pecan-Cocoa Nib Shortbread Cookies
Adapted from Seriously Bitter Sweet.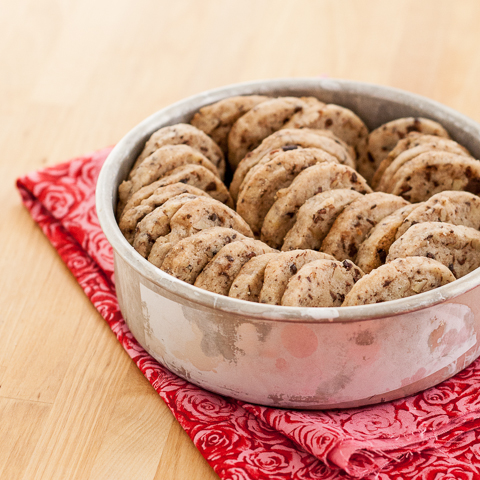 Print Recipe
Pecan-Cocoa Nib Shortbread Cookies
Ingredients
1

cup

pecan halves

toasted

14

tablespoons

unsalted butter

softened but still cool

3/4

cups

granulated sugar

1/4

teaspoon

salt

1

tablespoon plus 1 teaspoon

bourbon

optional

1 1/2

teaspoon

vanilla extract

1/3

cup

cocoa nibs

2

ounces

bittersweet chocolate

chopped or grated

2

cups

unbleached all-purpose flour
Instructions
Combine butter, sugar, salt, bourbon (if using), and vanilla extract in the bowl of a standing electric mixer. Beat on high speed until smooth and creamy but not fluffy, about one minute. On low speed, stir in pecans, cocoa nibs, and chocolate. Add flour and mix on low speed until the flour is incorporated.

Divide the dough in half. Working with one piece at a time, roll the dough into 12-inch logs about 2 inches thick. Wrap the dough logs in parchment paper and refrigerate for several hours or overnight, until the dough is firm and sliceable (dough can be frozen at this point for up to three months).

Using a sharp knife, cut the cold dough log into slices about 1/4-inch thick. Place cookies at least 1 1/2 inches apart on parchment lined baking sheets. Bake in an oven preheated to 350° F until the cookies are pale golden brown at the edge, about 12 to 14 minutes, rotating the baking sheets from top to bottom halfway through baking. Cool completely.
Some of the links in this post are affiliate links. If you click through and make a purchase, I earn a small commission for my referral at no additional cost to you. Thank you for supporting Flour Arrangements.