These simple-to-make Chewy Chocolate Chip Cookies turn out perfectly every single time!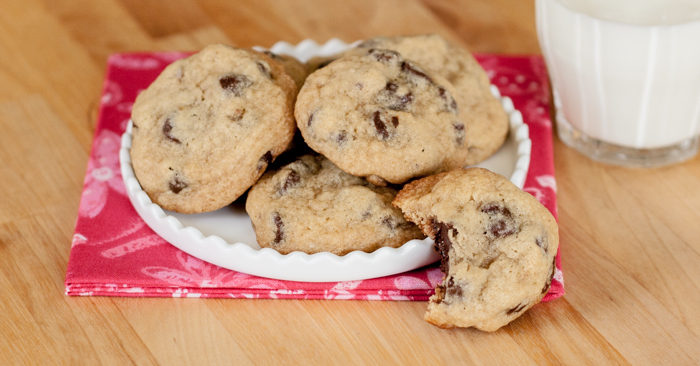 I
spent Mother's Day weekend sick with a massive headache and violent stomach bug. I'm not feeling sorry for myself, though. While I slept all day Saturday (leaving my bed only to, well, I'm sure you can guess), my family, in addition to keeping quiet and letting me rest, did so with a philanthropic spirit. In the morning, while my husband took my younger daughter to ballet class, Eliza, who's 10, kept herself busy in the kitchen. I heard her turn on the mixer, and it sounded like she was making cookies. I assumed that she planned to eat all of the dough while I was too sick to intervene, and, frankly, I was too miserable to care. But when Tessa arrived back home, the girls loaded up their wagon with sweets and supplies. With my husband in tow, they hosted a walking bake sale. It turns out their school had asked students to donate change to help rebuild Nepal, and my kids wanted to do more than offer spare change.
Aside from the
one time
there was a huge estate sale next door, our street doesn't get much traffic, so the girls made out far better with their mobile sale than they would have if they'd set up a table in front of our house. And apparently, when their customers heard what they were raising money for, many told them to keep the change or handed over a few extra dollars to help the cause.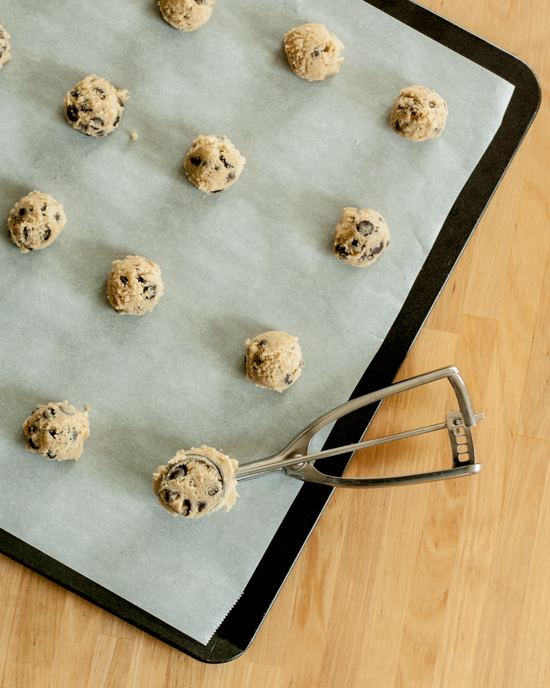 If you have some kids in your life who might like to host a bake sale to raise money for
Nepal
or another cause, I recommend starting with Eliza's cookie recipe, one of her favorites from
The King Arthur Flour Baker's Companion
. It's easy for kids to prepare and the cookies turn out perfectly every time: deliciously chewy and full of chocolate.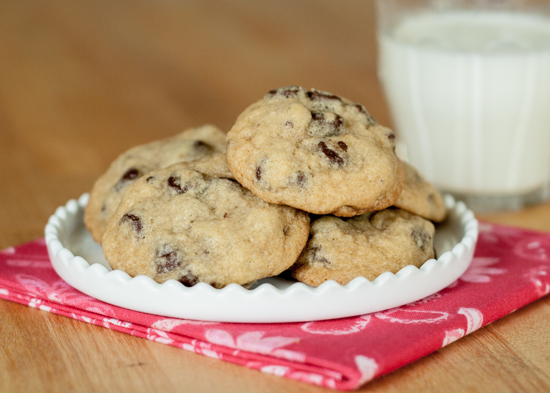 Eliza likes to make her cookies small, and this is a good thing since you can pretty much eat cookie after cookie after cookie without feeling too guilty about it. For bake sale purposes, their diminutive size is also ideal; most people are willing to pay a quarter for a little treat, and often people will buy four for one dollar. While I missed spending time with my daughters this weekend, I feel so proud to that they spent their Saturday on a worthy endeavor.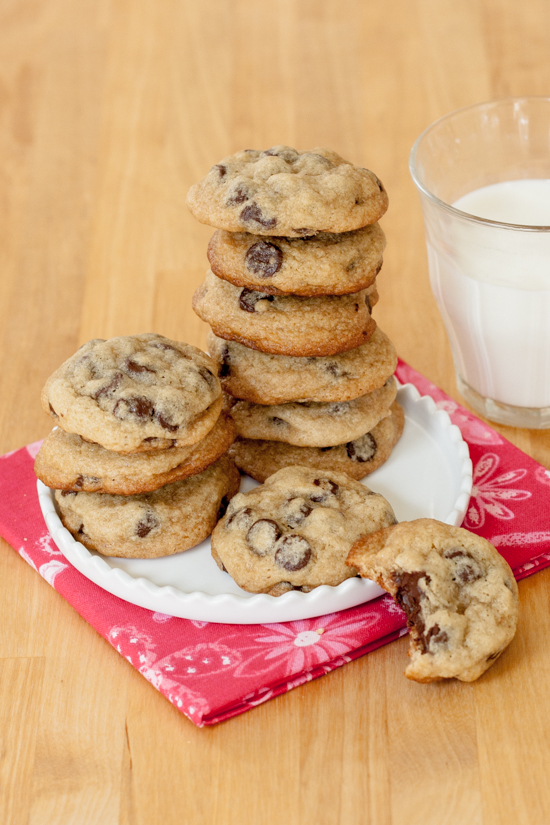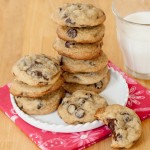 Print Recipe
Chewy Chocolate Chip Cookies
Using a small
ice cream scoop
with a release mechanism makes shaping cookies a breeze. It also helps standardize cookie size.
Ingredients
3/4

cups

unsalted butter

(12 tablespoons)

1 1/4

cups

brown sugar

packed

1/4

cup

light corn syrup

2

teaspoons

vanilla extract

3/4

teaspoons

baking powder

3/4

teaspoons

salt

1/4

teaspoon

baking soda

1

large egg

2 1/4

cups

unbleached all-purpose flour

2

cups

chocolate chips
Instructions
Preheat oven to 375º F.

Combine butter, brown sugar, and corn syrup in the bowl of a standing electric mixer. With the paddle attachment, beat until fluffy. Mix in vanilla, baking powder, salt, and baking soda. Add egg and beat until well combined. Stir in flour and then mix in chocolate chips.

Drop scant tablespoons of dough on parchment-lined baking sheets. Bake for about 12 minutes, rotating trays halfway through baking, until the cookies are just beginning to brown around their bottom edges. The cookies will look underdone on top, but they will set up as they cool. Leave cookies on baking sheets for five minutes before transferring them to a cooling rack.
Some of the links in this post are affiliate links. If you click through and make a purchase, I earn a small commission for my referral at no additional cost to you. Thank you for supporting Flour Arrangements.
PIN CHEWY CHOCOLATE CHIP COOKIES FOR LATER