Let your kids decorate their own birthday cakes! Mixing up marshmallow fondant is simple, and working with it is easier than you think.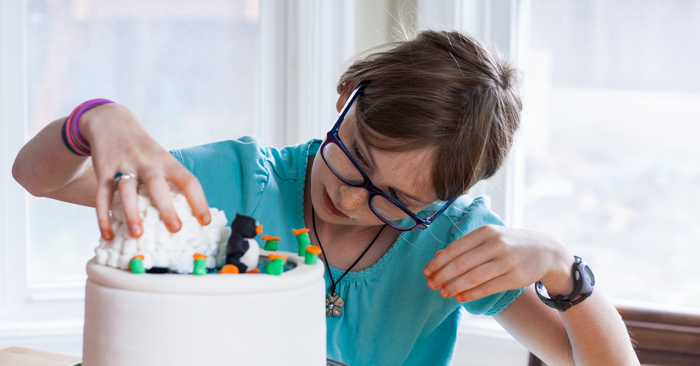 Making birthday cakes for the people I love is one of my favorite things to do. We've celebrated annual milestones with cakes of all kinds: an erupting volcano, a dalmatian, a komodo dragon, and a Georgia O'Keeffe-inspired poppy cake.
While I love making special cakes for my loved ones, I learned that watching my daughter design and decorate her own birthday cake is infinitely more fulfilling than making a fancy one for her myself.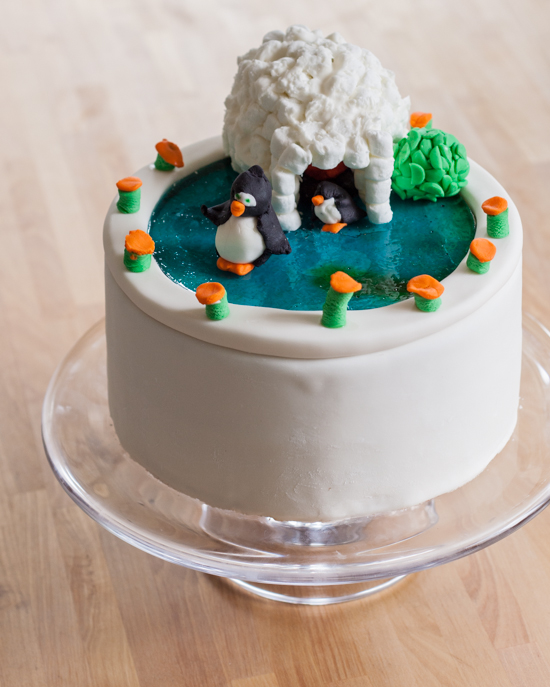 Long before her birthday, Eliza drew a picture of the perfect cake for her ice skating birthday party: it featured penguins skating on an icy lake. The more she talked about her idea, the more I realized how much decorating it herself would mean to her.  I was right, too. Her joy in shaping adorable little penguins and masterminding a marshmallow igloo using a teacup and royal icing showed on her face as she worked.
Really, I can't believe I've never encouraged my kids to make their own birthday cakes before, but from now on, I totally will. Not only do they have plenty of experience shaping objects with play dough and clay (and in our house, with fondant), they come up decorating ideas that I never would have imagined. For example, in addition to Eliza's idea for making the igloo of marshmallows rather than fondant, her idea to to create a frozen lake from a thin disk of candy was a stroke of genius.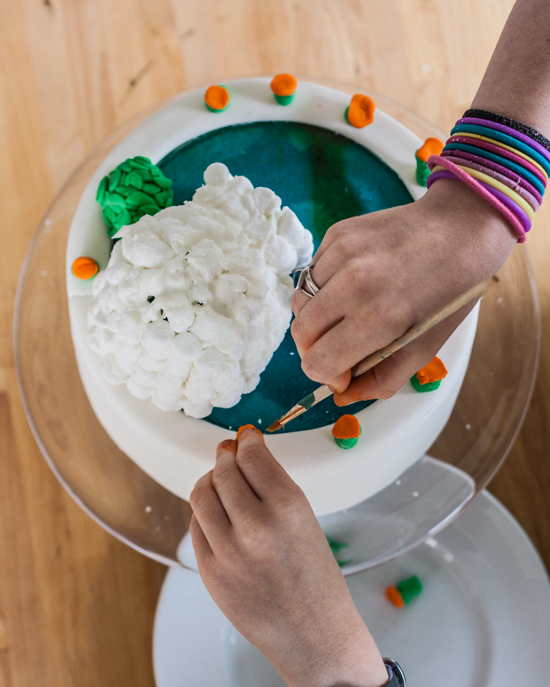 We'd made stained glass cookies before, and Eliza thought this technique would work for creating the icy lake. After a few trials and lots of melted jolly ranchers, my husband figured out how to melt the candies in a spring form pan to create a lake in just the right shape and size. This brilliant idea turned out beautifully.
While I baked the cake this year, and my husband covered it with fondant, I'm guessing that in years to come, Eliza will tackle the whole project by herself.
Hopefully Eliza will find time to write about her cake on her own blog soon. In the meantime, she's offered some helpful advice to inspire all the young cake decorators in your life:
Choose the best flavors you can think of for the cake and filling.
Draw a picture of the cake before you start decorating so you know what you're trying to do.
Mix just a little coloring into the fondant at a time so it doesn't get all over your hands. It's really hard to clean it off your skin.
Sprinkle your counter with cornstarch to help keep the fondant from sticking to it.
Use tweezers or cookie cutters or piping tips to help you shape your decorations.
Use a paint brush to dab a tiny bit of water on the fondant to help the decorations stick to the cake.
Sneak as much fondant into your mouth as you can when your mom's not looking.
Don't try too hard to make everything perfect. Have fun!
Don't get upset of it doesn't turn out just like you thought it would. It doesn't matter what it looks like; what matters most is what it tastes like.
I'm glad to see that my budding cake decorator has her priorities straight!