Sweet, tart raspberries and Framboise blend perfectly with the deep chocolate flavor in this Chocolate Raspberry Cake. Rich chocolate ganache adds a decadent touch to this bundt cake.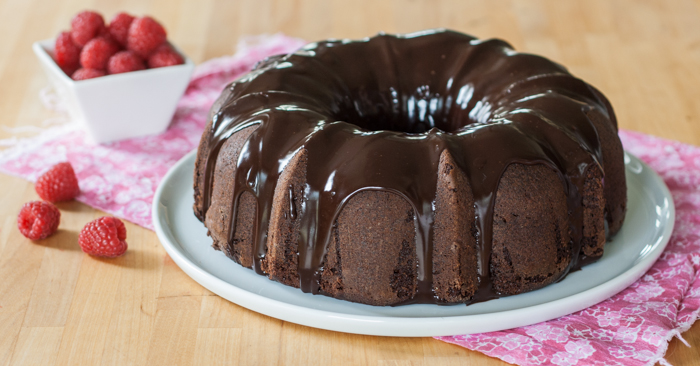 Sweet, tart raspberries and rich, dark chocolate are a perfect flavor combination. I've been totally hooked on this dynamic duo lately, indulging with frightening regularity in this Raspberry Cream Tart. While I could eat this tart happily any time, I started thinking about other ways to get these two friends together.
A rich chocolate cake studded with raspberries seemed like a great idea — a simple yet delicious dessert along the lines of this Kahlua Chocolate Cake recipe. Since I'd picked up a bottle of Chambord for the Raspberry Cream Tart recipe, I figured I could substitute Chambord for Kahlua in the cake recipe, toss in some berries, and call it a perfect Chocolate Raspberry Cake!
Then I remembered just how much Kahlua gets mixed in the batter — one cup — and I thought again. Chambord, while decidedly delicious, is seriously pricey. I don't mind using a splash here and there in baking projects, but a full cup! No way!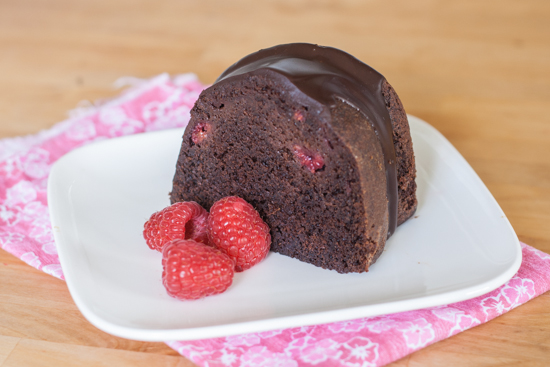 Enter Framboise. We used to drizzle this sweet raspberry wine into mimosas back when we lived in Santa Barbara. Life must have gotten busier and more hectic over the last seven years because I can't remember the last time I sipped a mimosa — Framboise-spiked or otherwise.
I found a tall thin bottle of raspberry wine at Trader Joe's for $7.99, a far cry from the $30.00 price tag for the same size (375 ml) bottle of Chambord. Framboise is full of sweet, concentrated raspberry goodness and, as it turns out, imparts a more pronounced raspberry flavor to this cake than the Chambord does.
I know this, sadly, because I didn't have enough Framboise in that tall thin bottle to bake a second chocolate raspberry cake late Wednesday night. By the time I started baking, Trader Joe's was long past closed, so I grudgingly topped off the remaining half-cup of Framboise with Chambord.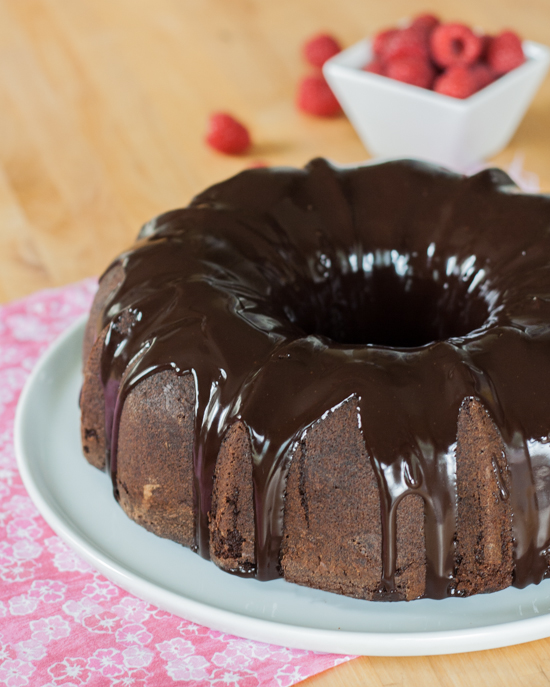 Don't do the math that will tell you the monetary value of a mere half cup of Chambord; rest assured you'll see dollar bills rather than liquid in your measuring cup if you do, and nobody wants to see that. I'm still a bit rattled by the experience, especially since it wasn't worth the money: the less expensive raspberry wine produced a much more flavorful cake.
Here's your public service announcement: buy two bottles of Framboise if you're even thinking about making this cake. You only get one cake out a bottle, and I can guarantee that you will want to make it again (and again and again). Besides, if you have a bottle of Framboise in your cupboard, you can add color and bright berry flavor to your next round of mimosas.
But I digress. This CAKE! All that Framboise and sweet, tart berries mixed in to the batter blend perfectly with its deep chocolate flavor, which comes from a combination of baker's chocolate and unsweetened cocoa powder. A generous layer of Framboise-spiked chocolate ganache gives this chocolate raspberry cake a glossy finish and extra richness. Served with fresh berries on the side, a slice of this cake's an indulgent treat. Add a scoop of vanilla ice cream, too, if you mean business.
Happy baking, and even happier eating!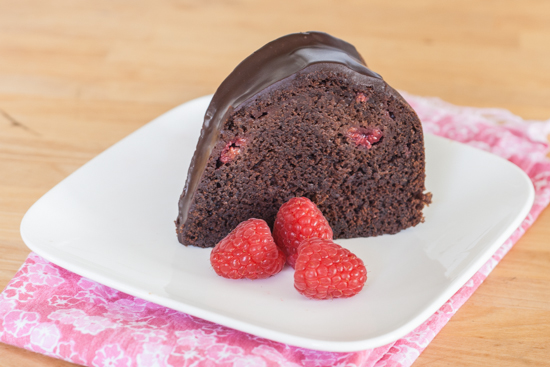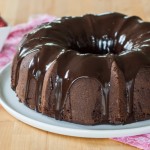 Print Recipe
Chocolate Raspberry Cake
Ingredients
Cake

4

ounces

unsweetened chocolate

chopped

2 1/4

cups

unbleached all-purpose flour

1/4

cup

unsweetened cocoa powder

1 1/2

teaspoons

baking soda

1/2

teaspoon

salt

1

cup

Framboise

1

cup

sour cream

9

tablespoons

butter

softened but still cool

1 1/2

cups

granulated sugar

3

large eggs

1

teaspoon

vanilla extract

1/4

cup

boiling water

1 1/2

cups

fresh or frozen raspberries

Chocolate Ganache

6

ounces

dark chocolate

chopped

1/2

cup

heavy cream

1

tablespoon

Framboise
Instructions
Preheat oven to 350° F. Grease and flour a 12-cup bundt pan.

Place chocolate in a double boiler and melt over medium-low heat, stirring occasionally, until melted and smooth. Set aside.

Combine flour, cocoa, baking soda, and salt in a bowl and set aside. Pour Framboise into a 2-cup glass measure with a pour spout. Spoon in sour cream until the Framboise and sour cream reach the 2-cup line. Mix well and set aside.

In the bowl of a standing electric mixer, cream together butter and sugar until light and fluffy.

Add the eggs to the butter mixture one at a time, beating well after each addition. Beat until well blended. Add the vanilla and melted chocolate and stir to mix.

Add the flour mixture, alternating with the sour cream-Framboise mixture, to the egg-butter mixture. Stir until the dry ingredients are just moist and blended. Do not over mix.

Stir in boiling water and mix until blended. Fold in raspberries.

Scrape the batter into prepared bundt pan, smoothing the top to even out the batter. Bake for 55 to 60 minutes, until the cake is firm to the touch and a skewer inserted into the center comes out with just a few crumbs clinging to it.

Remove from the oven and cool the cake for 30 minutes in the pan. Carefully turn the cake out onto a rack and cool completely.

For the glaze, place dark chocolate in a 2-cup measuring glass with a pour spout. Bring cream to a boil in a small saucepan over medium heat. Pour cream over the chocolate and let it sit without stirring for two minutes before mixing vigorously with a small spatula. Once the chocolate becomes smooth and glossy, add 1 tablespoon Framboise and mix until smooth.

Set the rack holding the cooled cake atop a baking sheet. Stir the ganache well before slowly drizzling the glaze over the cake. Allow the glaze to set for at least 10 minutes before slicing.

Serve cake slices at room temperature with fresh raspberries and scoops of vanilla ice cream, if desired.
Pin Chocolate Raspberry Cake Recipe for Later: