Soft and chewy homemade flatbread is simple to make and super versatile. Use it for sandwiches, serve it with dinner, or dip it in hummus!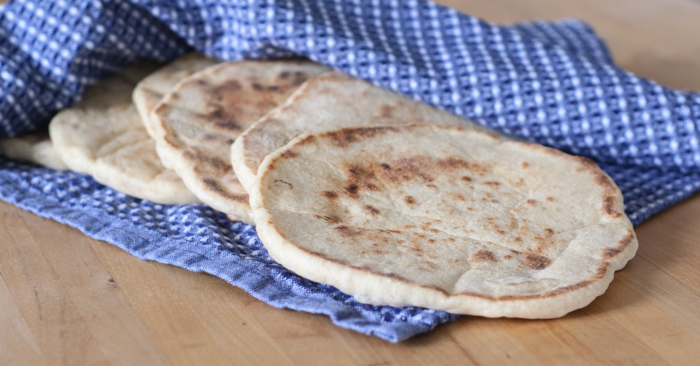 I
have a confession to make. I hate making sandwiches. I love to eat them, but there's something about fitting all the fixings between two slices of bread that makes me crazy. A few months ago, I discovered the perfect sandwich solution: swap out sandwich bread for flatbread.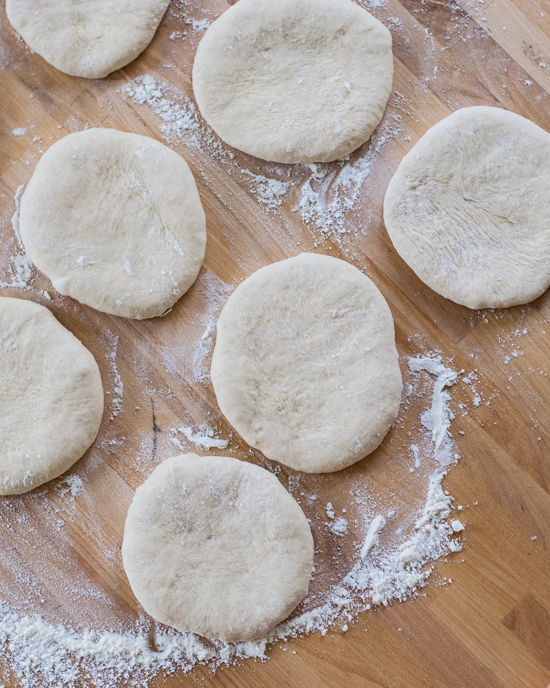 Flatbread's soft, chewy texture makes it an ideal vehicle for lunch meat and veggies and cheese. Folded over like a taco, a flatbread sandwich is easy to eat (as long as you don't overfill!), and it's just the right size for lunch.
This flatbread recipe is simple to prepare and so worth the effort. While I made it with the intention of using it for sandwiches, I couldn't help serving it warm from the skillet with dinner the other night with Chicken Biryani. And did I mention that it's a great snack or appetizer sliced into wedges and dipped in hummus or raita? This flatbread's delicious versatility means I'll have the recipe memorized in no time!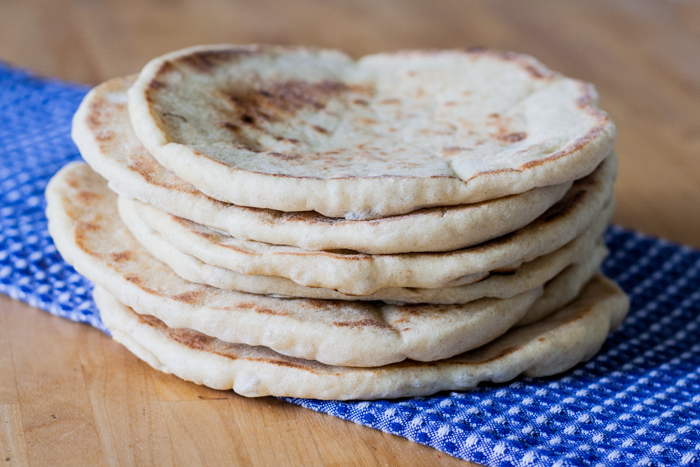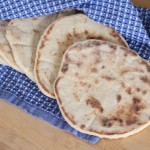 Print Recipe
Homemade Flatbread
Ingredients
1

cup

water

at room temperature

2 1/4

teaspoons

active dry yeast

2

teaspoons

sugar

1/4

cup

whole wheat flour

2 1/2 to 3

cups

all-purpose or bread flour

1 1/2

teaspoons

salt

1/4

cup

plain Greek-style yogurt

(not non-fat)

1

tablespoon

olive oil

plus more for oiling bowl
Instructions
Combine water, yeast, and a pinch of the sugar in the bowl of a standing electric mixer, stirring until the yeast dissolves. Let sit until bubbly, about 5 to 10 minutes.

Add sugar, whole wheat flour, one cup of the all-purpose or bread flour, salt, yogurt, and oil to the yeast mixture. Mix with paddle attachment until smooth and creamy, about 1 minute. Add 1 1/2 cups more flour, 1/2 cup at a time, until a shaggy dough forms.

Replace the paddle with the dough hook and knead the dough on medium speed until smooth and glossy, about 8 minutes. The dough will be sticky. While kneading, add flour in 1-tablespoon increments if necessary for the dough to clear the sides of the bowl (the dough will stick to the bottom of the bowl). Scrape down the sides of the bowl with a rubber spatula as necessary.

Transfer the dough into an oiled bowl, flipping it to coat the entire surface with oil. Cover with plastic wrap and let the dough rise until doubled in size, about one hour. (At this point the dough can be refrigerated for up to 2 days).

Turn the dough onto a lightly floured surface and sprinkle it with flour. Divide the dough into 8 equal portions. Shape each portion into a round ball. Roll each ball into a 4-inch circle, let rest for 10 minutes, then roll each disk into a 6-inch circle.

About 5 minutes before cooking the flatbreads, heat a large, heavy skillet over medium-high heat. Working one at a time, lift the dough circles, gently stretching each one about 1 inch larger, before placing it on the skillet. Cook until bubbles appear on the surface of the dough, about 30 seconds. With tongs, flip the bread and cook until the bottom is speckled and deep golden brown in spots, 1 to 2 minutes longer.

Transfer to wire rack and let cool about 5 minutes. Wrap the breads loosely in a clean kitchen towel and serve warm, or allow them to cool completely to use for sandwiches.
Pin Homemade Flatbread Recipe for Later:

You might also like
Quick & Easy Cheddar Drop Biscuits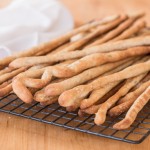 Garlic & Rosemary Grissini
Cheese-Stuffed Monkey Bread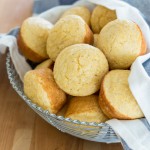 Cornbread Muffins