Simple yet stunning, this tomato galette turns juicy, ripe tomatoes into a satisfying, delicious meal. Gouda and smoked mozzarella provide a rich, slightly smoky backdrop to the bright tomato flavor.
Fat and juicy garden ripe tomatoes really taste better than anything. I love to eat them fresh in salads or over pasta, but roasting them in the oven amps up their already spectacular flavor.
This simple recipe provides an easy way to turn up the flavor of summer tomatoes. Not only that, it produces a stunning, colorful galette that is almost too pretty to eat.
Minced shallots and fresh thyme round out the bright tomato flavor, while Gouda and smoked mozzarella provide a rich, slightly smoky backdrop.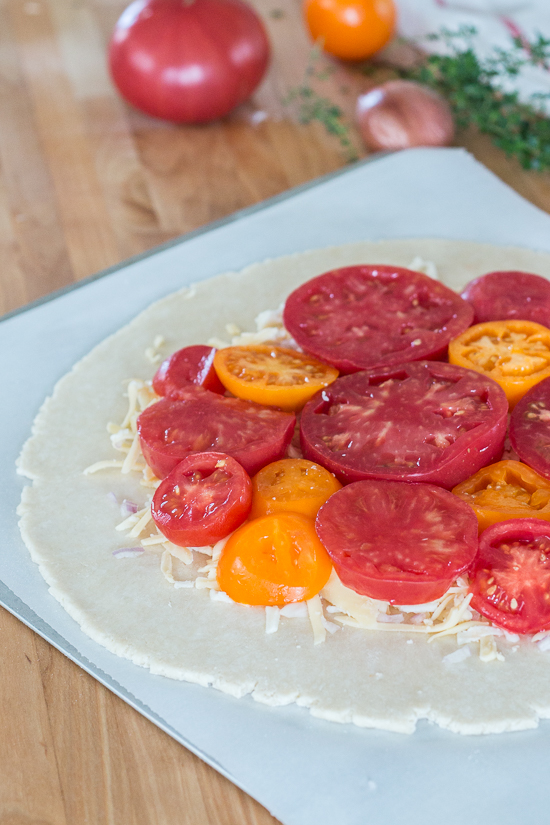 And let's not forget the buttery crust, which manages to be light and flaky despite its ease of preparation.
The layer of cheese helps prevent the crust from getting soggy, but with a succulent filling like tomatoes, as an extra measure, I always slice them well before assembling the galette to allow them time to release some of their juices. The pastry dough needs to chill for 30 minutes before rolling, which provides just the right amount of time for this step.
I also use the chilling time to mince the shallots, snip thyme leaves, grate the cheese, and clean up the kitchen. Once the galette goes in the oven, the kitchen is — aside from a floury counter — pretty tidy.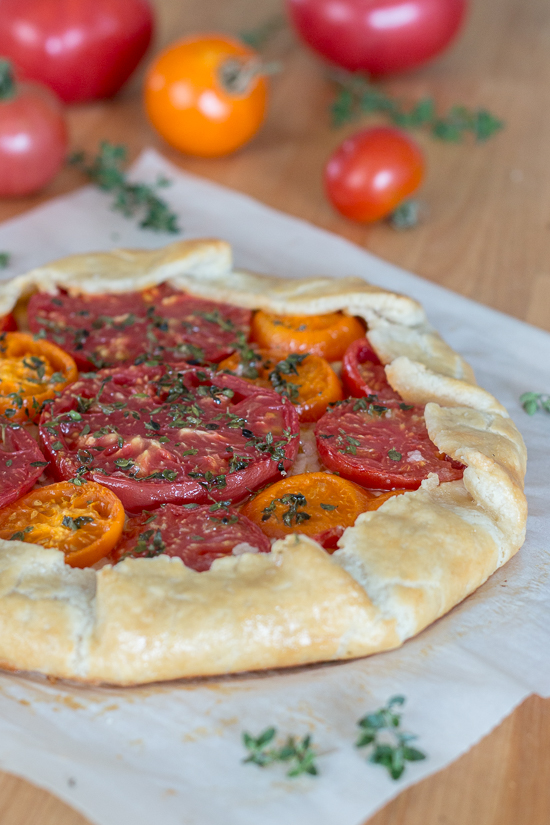 When I first made this galette, I used Smoked Gouda because I felt sure the cheese's rich, smoky flavor would complement the sweet, tangy tomatoes perfectly. While Smoked Gouda's flavor worked well in the tart, its texture did not.
Maybe you already knew that smoked Gouda doesn't melt, but this was news to me.
It did not melt even a little. It still looked grated even after the galette baked!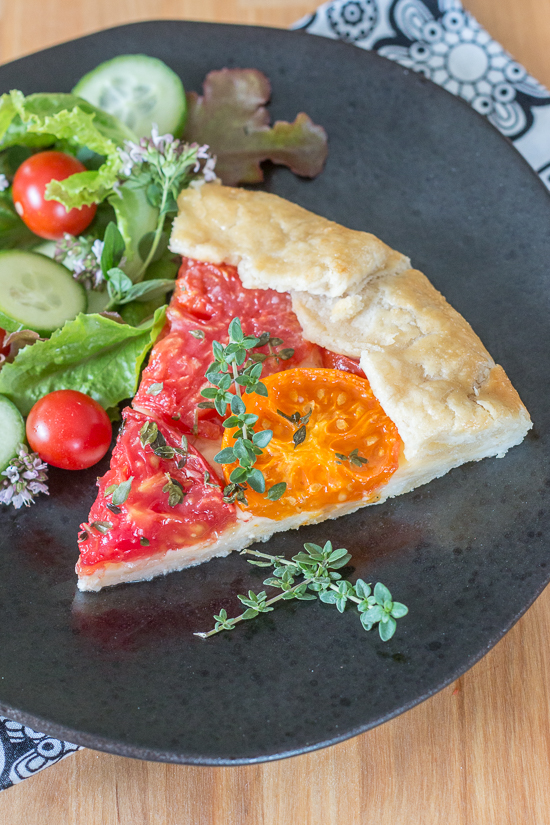 I knew there had to be a logical explanation, so I turned to the internet for answers. A quick search showed that many others felt frustrated and dismayed by Smoked Gouda's unappetizing inability to melt. Who knew!
Gouda is known for being a stellar melting cheese, but not after it's smoked or aged! In all of my reading, I did find some articles that provided methods for melting Smoked Gouda, but these made more sense for fondue than for a simple galette recipe.
Rather than get complicated, I used a combination of young Gouda and smoked mozzarella, and this worked like a charm.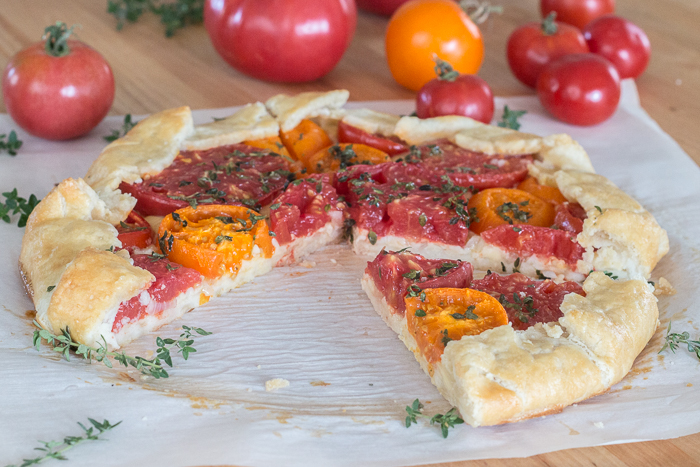 Multicolored tomatoes produce a stunning galette, but I've made this recipe with all red tomatoes, too, and it turned out lovely as well.
You can prepare this recipe with tomatoes of any size, but I've found that using a mixture of shapes and sizes works best. A variety of sizes enables you to fit more tomato goodness into the galette. Putting it together feels almost like completing a tomato puzzle. How fun is that!
I recommend turning some late summer tomatoes into this simple, delicious galette while you still can. If you don't act now, you'll have to wait until next summer to enjoy it!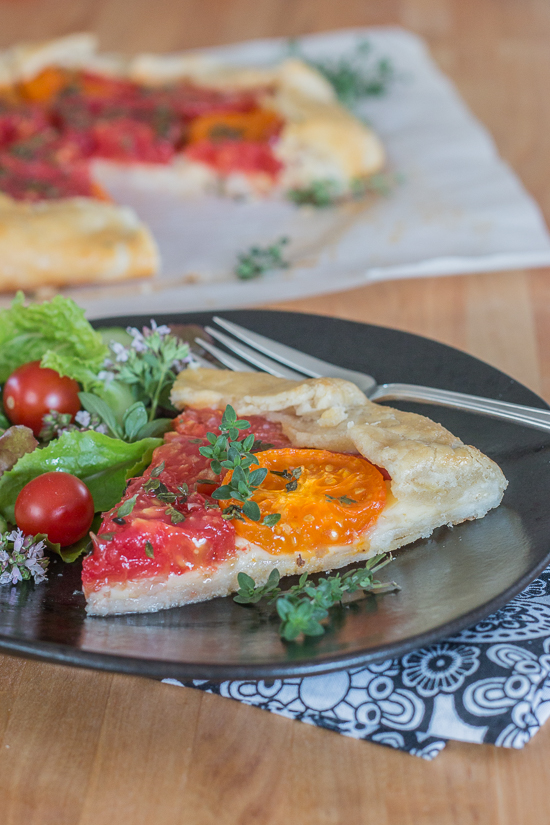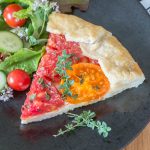 Print Recipe
Simple Tomato Galette
Ingredients
Pastry

1 1/4

cups

unbleached all-purpose flour

1/2

cup (1 stick)

cold unsalted butter

cut into 1/2-inch cubes

1/2

teaspoon

kosher salt

4 to 6

tablespoons

ice-cold water

1

large egg

lightly beaten

Filling

1

pound

ripe tomatoes

(about 4 to 6) depending on size

1

cup

grated Gouda cheese

(about 4 ounces)

1/2

cup

grated smoked mozzarella

(about 2 ounces)

1/4

cup

minced shallot

1

tablespoon

olive oil

1

tablespoon

fresh thyme leaves

plus extra sprigs for garnish

kosher salt

to taste
Instructions
Pulse flour, butter, and salt in a food processor until mixture resembles coarse meal with a few peanut-sized chunks of butter. Turn food processor on again and quickly drizzle 4 tablespoons of the ice water through the feed tube, stopping before the dough comes together. Pinch some crumbs between your fingers; if they don't stick together, add a bit more water and whirl briefly. Turn the mixture out onto a large piece of plastic wrap. Use the plastic wrap to help you bring the dough together; fold the edges of the dough toward the center and press down until it holds together, taking care not to overwork the dough. Press the dough into a flat disk about 5 inches in diameter. Chill dough, wrapped in plastic wrap, for 30 minutes.

In the meantime, preheat oven to 375° F and prepare the filling ingredients. Slice tomatoes into 1/4 to 1/2-inch thick rounds. Set tomatoes aside on a plate to release some of their juices. If they're especially juicy, you may want to set them on a paper towel as well. Turn them at least once as you're preparing other ingredients.

Roll out dough into a 13-inch round on a lightly floured surface. Transfer to a parchment-lined baking sheet. Scatter the cheeses evenly over the dough, leaving a 1 1/2 to 2-inch border around the edges. Sprinkle minced shallots over the cheese and arrange the sliced tomatoes on top, fitting them together as tightly as possible without overlapping. Drizzle olive oil over the tomatoes and scatter thyme and salt on top.

Fold dough in on itself to cover outer rim of filling, pleating dough as necessary. Brush pastry with beaten egg.

Bake galette on the middle rack until the crust is golden and the filling is bubbling, about 30 to 35 minutes. Place baking sheet on a rack and cool for at least 10 minutes before serving.
Pin Simple Tomato Galette for Later

You might also like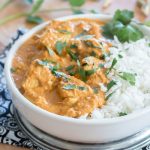 Easy Chicken Tikka Masala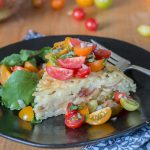 Cheesy Bacon Noodle Cake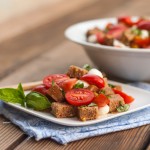 Tuscan Bread and Tomato Salad