Roasted tomatoes really shine against a backdrop of rich caramelized onions, nutty Gruyere cheese, and flaky pastry crust in this tomato & onion tart recipe.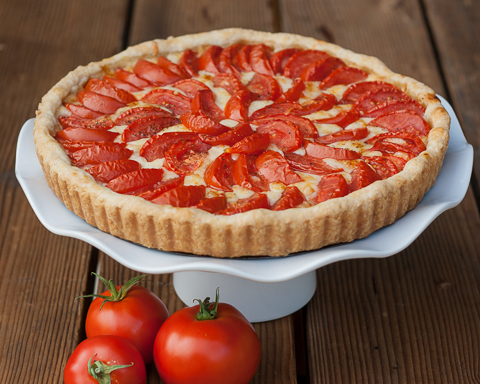 E
very time I bite into a juicy, luscious home grown tomato, the chorus from Guy Clark's
"Home Grown Tomatoes"
plays in my head like a soundtrack:  
Home grown tomatoes, home grown tomatoes
What would life be without home grown tomatoes?
Only two things that money can't buy
That's true love and home grown tomatoes.
It's playing on a constant loop right now since I'm popping little tomatoes in my mouth just as quickly as the plants produce them in these golden days of summer.
Tomatoes are like candy, only better, since you can eat them all you want without any of the sugary guilt. While the zucchini harvest sometimes requires creativity, disposing of an abundance of tomatoes poses no such challenges.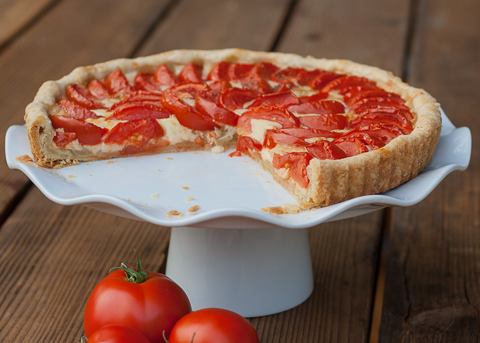 There's no scarcity of dishes that give summer tomatoes' sweet, bright flavor center stage.  On bread or pasta, there's really nothing finer than chopped fresh tomatoes tossed with basil and olive oil.  And as far as lunch goes, what's better than thick tomato slices tucked in a sandwich along with bacon and lettuce? When I'm feeling the need to get more elegant, though, I make tomato & onion tart.
The mere thought of rolling out buttery pastry crust, layering it with caramelized onions, sprinkling on Gruyere cheese, and topping it all off with tomato wedges gets my mouth watering. As the tart bakes, the tomatoes roast slowly, intensifying their already brilliant flavor.  With the sweet, deep richness of caramelized onions, the nutty, complex flavor of Gruyere cheese, and a delicate, flaky pastry crust, this tomato tart pretty much puts anyone who eats it in a state of unmediated bliss.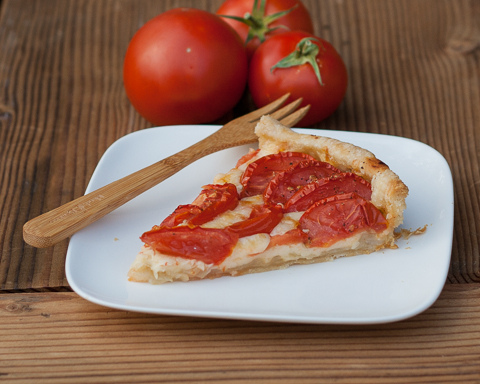 The recipe seems involved, but it's easily prepped in stages.  And really, is caramelizing onions or making pastry dough really such a chore if the potential for unmediated bliss hovers on the horizon? When you break up the tasks, this tart actually feels like a quick, easy meal since prep and clean-up take place in small bursts over an extended period.
When I made it this week, I caramelized the onions and grated the cheese in the morning.  In the afternoon, I prepped the pastry and rolled it out while my kids were at camp.  When the time finally came to assemble the tart, I had it in the oven in about five minutes.
There's something so satisfying about slicing tomatoes into wedges and arranging them in concentric circles atop the onions and cheese, especially when this task occurs in a nearly spotless kitchen.
This tart will only taste as good as the tomatoes you use to make it, so don't even think about trying it with any of those pale, gummy varieties that are always available at the grocery store. If you don't have access to home grown tomatoes — in your yard, or from some neighbor, friend or relative's  bumper crop — take heart.  While you can't buy home grown tomatoes, you can find flavorful tomatoes at farmers' markets and specialty produce stores in the summer time.
Whatever you do, make this tart before summer-time tomatoes disappear;  if you'll don't, you'll have to wait a whole year to taste it.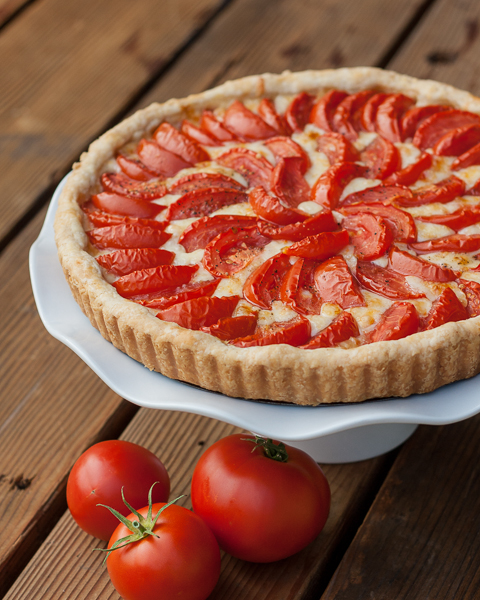 Tomato & Onion Tart
Adapted from Epicurious. [amd-zlrecipe-recipe:33]
Pin Tomato & Onion Tart for Later

You might also like